Welcome to Outfit Formulas 101
Every Thursday we post a new outfit formulas, using popular items featured here on The Well Dressed Life and show you the blue print for wearing them, along with recommendations for the pieces you need to recreate them.
At the end of the year you'll have 52 outfit formulas, and a closet full of versatile items you can mix and match dozens of ways.
As we move through the year, and build out the content, you'll be able to search for looks by item and have everything you need at your fingertips.
What are Outfit Formulas?
Simply put, an outfit formula is a template to follow when creating a look. Like a "plug-and-play" to make the most of your wardrobe purchases.
Thinking of getting dressed as a formula will help you put together a complete outfit for any occasion so you look and feel well dressed. 😉
Make Them Your Own
These formulas are designed to show how and why certain pieces pair well together.
So you'll be inspired and empowered to create unique looks that work within your budget, body-type and lifestyle.
Why Outfit Formulas Instead of Capsule Wardrobes
I regularly hear from readers that capsule wardrobes are limiting. They feel that their lives require a wardrobe with more variety and personality.
Capsule wardrobes can be incredibly helpful, but if you find them challenging, a formula may be a better way to fill your style needs while making sure you get the most out of your wardrobe.
Focusing on outfit formulas will give you more flexibility and more options.
As always, each look in the formula series will be based in modern, classic style, so if that's your jam, you're in the right place.
Every Thursday, we highlight a classic wardrobe staple or a "key piece" and share the "formula" for wearing it right here on The Well Dressed Life.
Each post includes affordable and size-inclusive options from our readerships favorite retailers.
And these outfit formulas are FREE to our readers.
No Membership Fee, or Subscription Needed.
Outfit Formulas are released every Thursday and follow the seasons on the East Coast.
At the end of the series, you'll have 52 outfit formulas and a wardrobe full of versatile items you can mix and match dozens of ways.
Outfit Formulas by The Well Dressed Life
Imagine a closet full of clothes you love and know how to wear.

The beauty of an outfit formula is it makes getting dressed easy.
So often, we overcomplicate the process, reinventing the wheel every time we stand in front of our closets.
What's nice about outfit formulas is that you not only have a guideline to provide clarity and inspiration, but you'll also start to define your style.
During this year-long series, keep in mind that specific formulas will speak to you more than others. And that's the point. 🙂
Please focus on the looks that you feel the best in and replicate them with pieces you already have and new items you purchase through our recommendations.
You'll start to see your personal style emerge when you pay attention to the garments and outfits you turn to over and again.
52 Outfit Formulas for Classic Timeless Style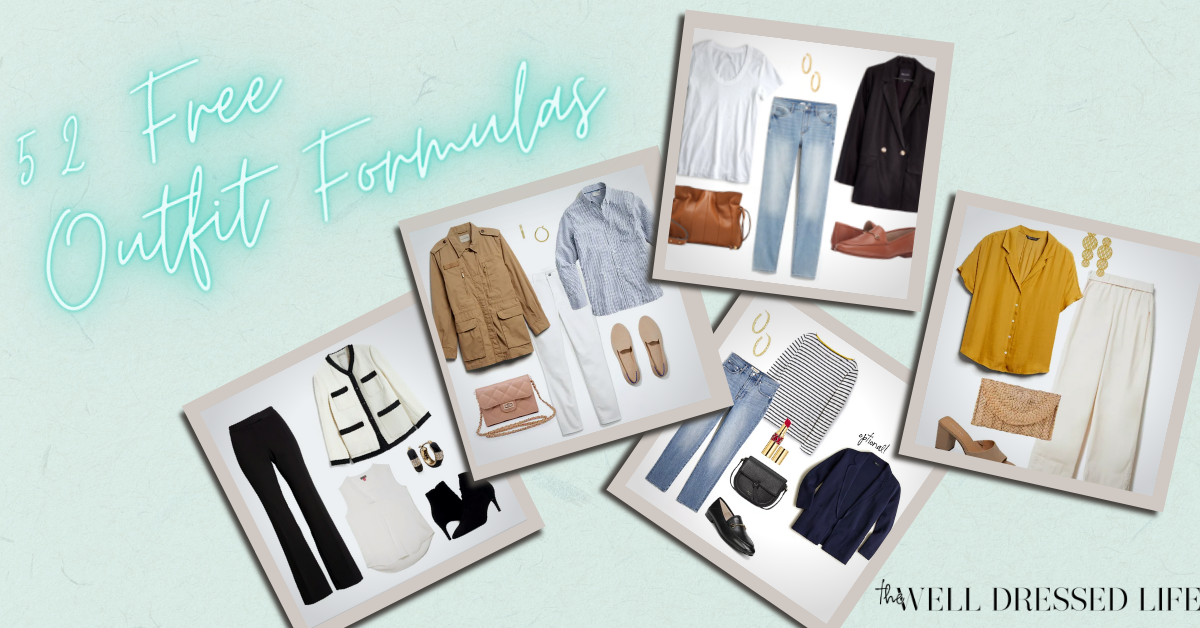 A Flattering Summer Dress Two Ways