A white blazer is one of my most used spring time wardrobe staples.
And you'll see why in today's 14th and 15th Outfit Formula, it's endlessly versatile.
It's a true spring time outfit finisher.
So pick one up now, while it's early in the season, and see just how many times you reach for it.
The White Blazer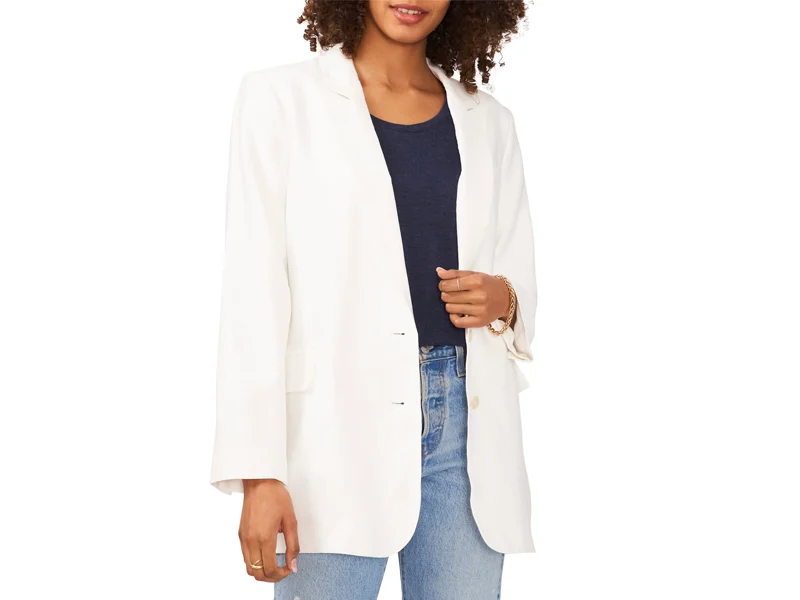 White Blazer, $129
This Vince Camuto classic two-button blazer is our key piece, available at Nordstrom. Vince Camuto is a Reader-Favorite Brand here at The Well Dressed Life.
It's fully lined, and they say it's machine washable, so this might be a nice option if you try to avoid the dry cleaner.
Missy Sizes are available in 0 – 16 and runs a little big, but look at measurements compared to your own because sizes are all over the place. Plus size is available here.
Do not buy this if you are petite, it will swim on you. Instead, consider something like this one-button blazer from Ann Taylor. It will serve the same purpose but fit you much better.
Note: Our recommended blazers are in ivory and winter white. This is very much on purpose as a true white blazer and look too clinical.
Below are TWO Basic Formula to focus on:
And here it is brought to life two ways:
Outfit Formula 14 & 15 The White Blazer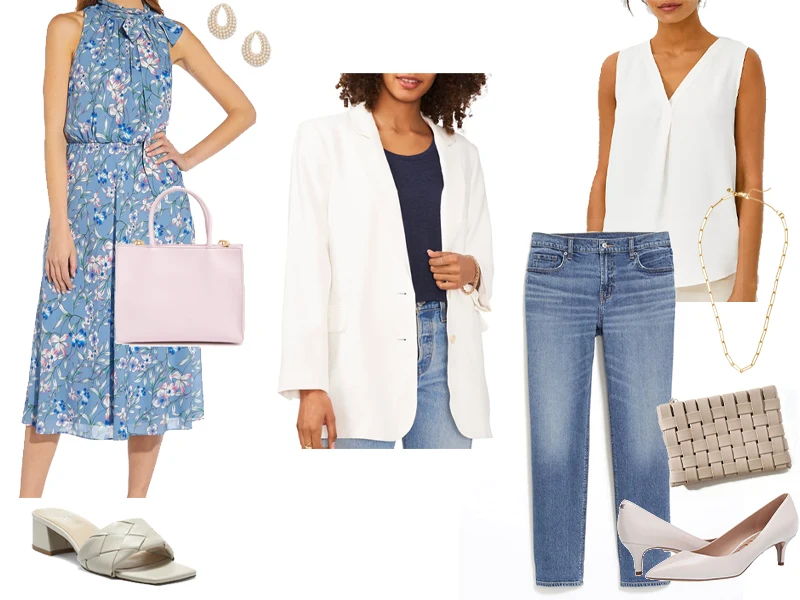 Floral Dress , $111 | Woven Sandal, $99 | Tote Bag, $50 | Pearl Earring, $35 | Tank, $54.50 |Paperclip Necklace, $38 | Jeans, $35 | White Pumps, $96 | Clutch, $80
Today, I created two very different outfit formulas to show how much use you can get out of a white blazer.
Let's start with the dress.
I'm using this pretty blue floral dress from Adrianna Papell, on sale at Nordstrom. I love this for Easter or any spring dress-up event.
Note: We'll have a stand-alone post on dress options in a full size range shortly.
This dress happens to be floral, but it doesn't have to be.
You can use any feminine silhouette. The idea here is that you are creating contrast between the two pieces: a light and breezy dress and a blazer with structure.
Since we're creating contrast, we also have to create balance, so the shape of the bag and the style of the shoe is essential.
I'm balancing the structure of the blazer with a similar feeling bag with this pink tote, and I'm pulling out the color in the dress, so there is cohesiveness.
And then a light shoe to compliment the dress. I'm using our Reader Favorite Vince Camuto Woven Sandal in "new cream."
Finally, I am crazy for these GORGEOUS pearl earrings! They are $35 over at Macy's and work wonderfully in the look.
Next up the jeans.
This second look is one of my personal go-to's.
First, you need a soft, silky tank or shell in a similar tone.
I'm using the Ann Taylor Mixed Media Tank (available in regular and petite) featured here last Sunday.
Here's the thing about mixing whites. The blazer is ivory; the shell is winter white; generally speaking, they blend.
You have to see how things go together in real life because retailers tend to use those terms interchangeably. As long as you work with warm whites, you are good to go.
The only thing you don't want to do is mix pure white with anything off-white.
Then, the jeans. I'm using these light-washed boyfriend jeans from Old Navy. Available in all sizes, including petite, tall, and plus.
Side note: I may never go back to designer jeans. I just spent over $200 on a pair of AG boyfriend jeans, put them on, took them off, put on my Old Navy jeans, and sent the AG's back.
Ok, next, shoes and back to our point about contrast. The boyfriend jeans are casual and loose-fitting, so pairing them with a sleek, pointed, ladylike shoe adds that contrast.
I'm using a fun white pair with a manageable heel from Sam Edelman, on sale on Amazon.
Finally, modern and sleek accessories finish the look. We're reusing the popular Madewell paperclip necklace and carrying this woven neutral clutch I found at Anthropologie.