To kick off our first post, we're talking about the Boyfriend Blazer.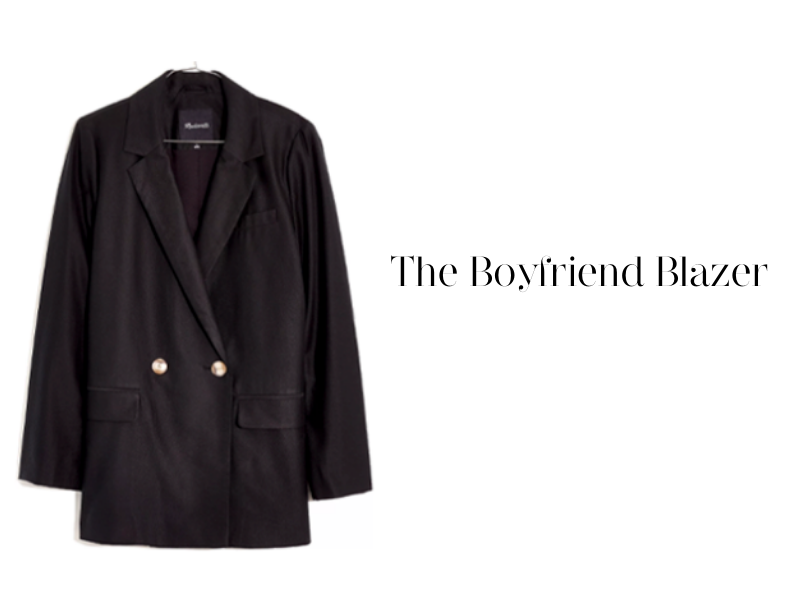 Blazer, $119
The Boyfriend Blazer is one of my favorite wardrobe staples. It's slightly oversized, often double-breasted and gives off a cool and casual vibe.
If you're just building out a wardrobe, you want this in black, or navy, or both. Then, if the style vibes with you, and you're getting a lot of use out of it, look for it in other neutrals and/or a patterned tweed or herringbone.
Our featured item is by Madewell, available in regular sizes, XXS -XXL and plus for $119. A great find.
Below is the Basic Formula to focus on:

And here it is brought to life:
Boyfriend Blazer Outfit Formula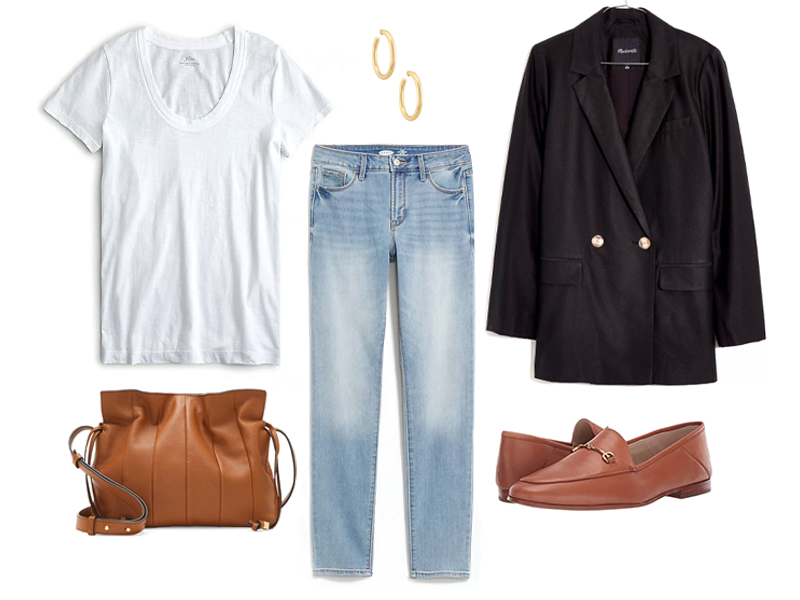 Scoopneck T-shirt, $25 | Loafers, $150 | Blazer, $119 | Crossbody Bag, $178 | Hoop Earrings, $70 | Power Slim Straight Jeans, $40
Boyfriend Blazer + Slim Lined Jeans
The boyfriend blazer, because it is oversized, needs a slim bottom, so grab your skinny or straight leg jean. Here we're using the Old Navy Power Slim Straight Jeans, available in all sizes for only $40.
Does the jean have to be light washed? No, but the contrast between the light denim and the black blazer is fresh, plus the lighter jean is more casual. You can also use a jean with distressing.
Boyfriend Blazer + Slim Lined Jeans + White Tee Shirt
Use your favorite white tee with a long or short sleeve. I'm using a scoop neck tee from J.Crew on sale. You want a scoop neckline because it complements the shape of the blazer and will help elongate the line of your body.
Boyfriend Blazer + Slim Lined Jeans + White Tee Shirt + Loafer
For the shoes, you want something flat, and causal. I'm using these gorgeous tan loafers because I think everyone should have them. The loafer dresses up the outfit nicely while keeping it grounded.
If you want to go even more causal, go ahead and wear your favorite crisp white sneakers.
Finally, let's accessorize.
+ Accessories
Have fun with accessories, and bring in your personality.
I had to use the Vince Camuto crossbody bag from Monday's What to Buy at Nordstrom post. It's the first bag I've been excited about in a long time that wasn't thousands of dollars. (Not that I'm spending thousands on a bag).
You'll notice small gold details on the bag. One of the best tips I can share with you, if you want your outfit to look cohesive, is to match hardware.
You don't have to match your bag and shoes, and you can certainly mix metals in your jewelry. But, keep the metals on your bag, shoe and belt in a similar tone.
Same goes for your jacket buttons. If they are gold, don't wear a belt with a silver buckle, etc. It looks messy.
For this look, you'll notice the metal on the loafer is also gold. I also used these chic gold hoops to finish the look. These are under $100 and fabulous if you are looking to build out a better jewelry collection.
Shopping List
Follow Me on Instagram for Real Life Fashion and Style Advice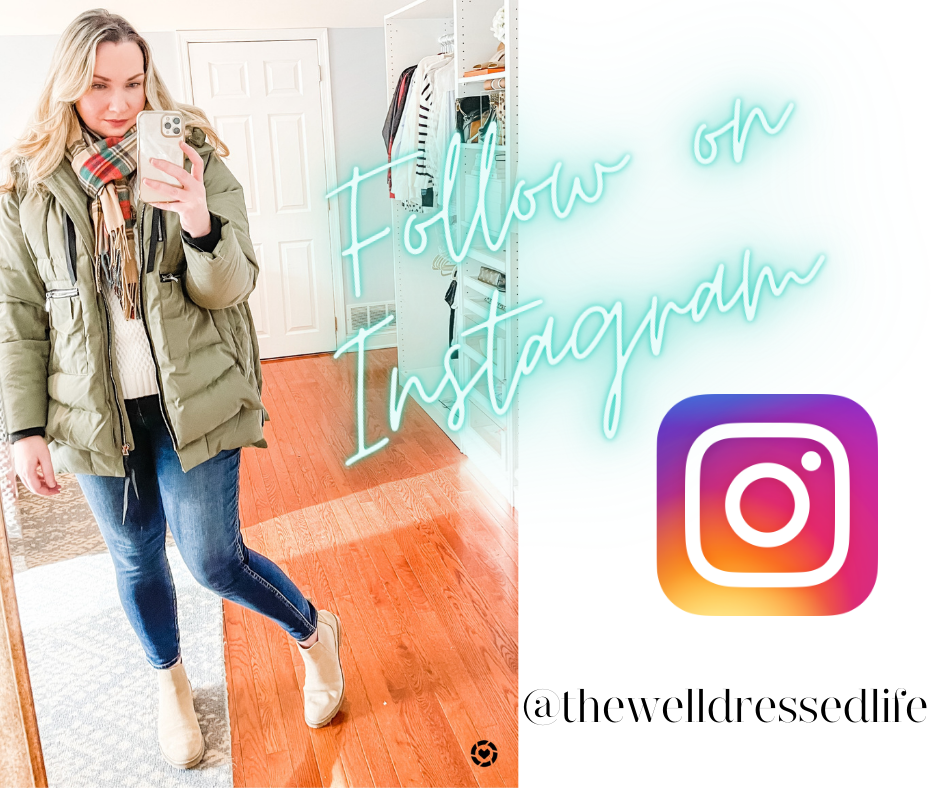 Follow The Well Dressed Life on Instagram for Realistic Style Advice, Fun Behind the Scenes, and Tons of Exclusive Tips and Content.
Our Style Content is Inspired by Our Readers
Our readership inspires all of our posts and is not sponsored or paid for by brands or retailers.
Recommendations are based on my experience as a personal stylist and wardrobe consultant for over a decade. I worked with busy, down-to-earth women who wanted to look chic and feel confident but were often confused by so much of retail.
Some links are affiliate links, which means if you purchase via our site, we receive a small commission.

If you enjoy our content and would like to help us grow, please follow on Instagram and join our Private Facebook Group to access more advice and exclusive in-depth conversations with other like-minded women.
Learn about our mission to help women look and feel their very best, every day, here.
Sign Up for Daily Content and Receive Our Free Classic Wardrobe Checklist