Let's get back to our Weekly Outfit Formulas.
Today, we're talking about The White Sneaker.
You can wear a bright white pair of classic low-top sneakers with pretty much anything in your wardrobe, from athleisure to jeans and blazers, or even a flowy dress.
Their beauty is their versatility, and in 2022, they are a widely accepted form of footwear.
So let's thank the fashion gods that, for a blessed moment, platform stilettos are out, and sporty kicks are in.
Outfit Formula #18: The White Sneaker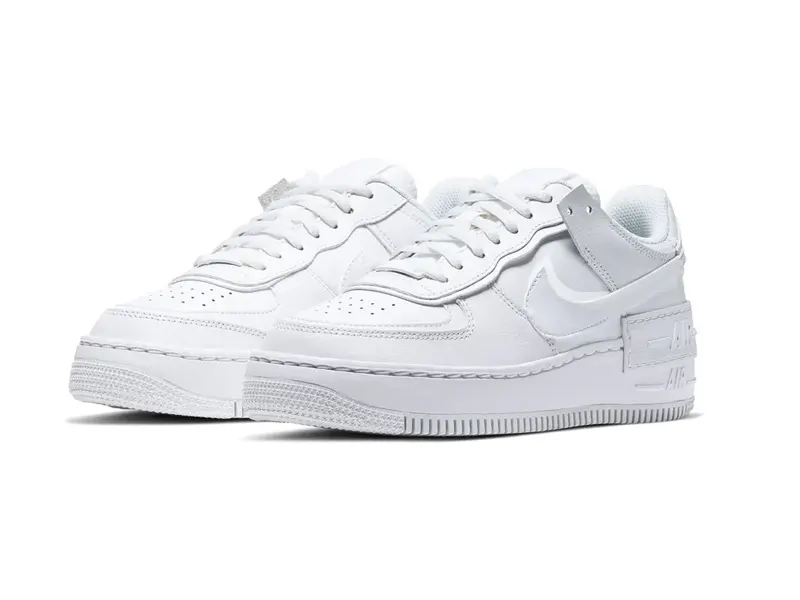 White Sneakers, $120
As always, let's start with the kind of white sneaker because getting this right allows you to pretty much wear them with anything without giving much thought.
I'm featuring the Nike Air Force 1 Shadow Sneaker in all white. These are both trend-right and classic and go with so many things.
They are designed for comfort and style and help make this 42-year-old worn-out mama feel youthful and, dare I say, still cool.
IF you are petite, they may feel too bulky, so, instead, consider something like these Veja Leather Low-Top Sneakers.
They have a slimmer overall profile but won't feel overwhelming.
Finally, if you want something cleaner and less sporty, these timeless Jack Rodgers sneakers look like an elegant updated pair of Keds and are just as versatile.
Below are TWO Basic Formulas to Focus On
But there are dozens of ways to wear incorporate into your wardrobe.


And here it is brought to life two ways:
Outfit Formula #18: The White Sneaker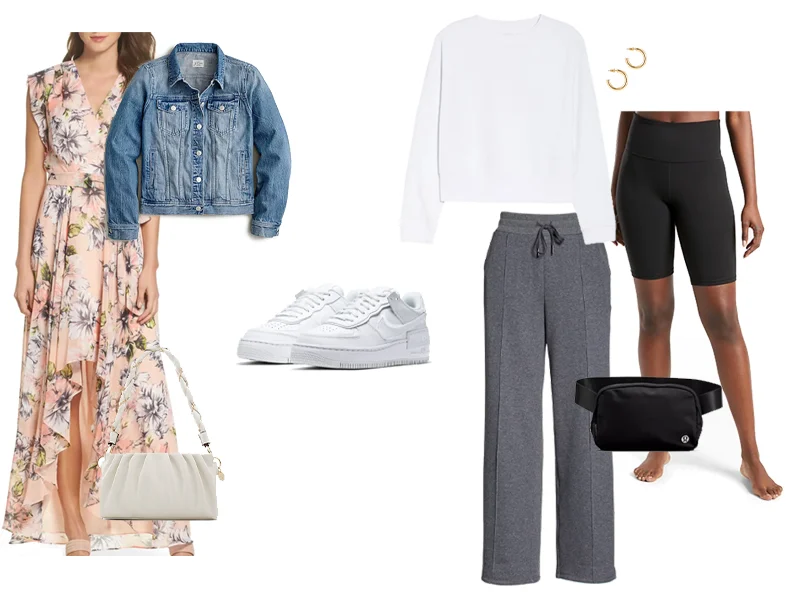 Outfit 1: Dress, $168 | Denim Jacket, $118 | Bag, $70 Outfit 2: Sweatshirt, $59 | Sweatpants, $69 | 9″ Shorts, $59 | Belt Bag, $38 | Hoop Earrings, $14
Let's start with the dress.
If you're like me, you have a handful of pretty, feminine dresses you bought for a springtime occasion and only wore once or twice.
For example, I have a few Eliza J. dresses that I adore.
This one with a flattering high-low hem is available at Nordstrom in sizes 0 – 18.
They always fit well and work beautifully for showers or weddings.
Conventionally you would pair it with a strappy heel and dress it up.
But you can get more mileage out of the dress by simply wearing your white sneakers.
To tone down the look and help balance it, I'm using our favorite denim jacket from J.Crew in a medium wash.
Finally, an elegant yet slim-lined bag works perfectly. You want something that sits between an evening clutch and a crossbody.
For the next look, we're going sporty.
Can we talk about the JOY I find in a sweatsuit being considered a proper outfit today?
For where I am in life it's so freeing. And what's great is that you can still look chic; you just have to have the right things.
So, grab your favorite sweatsuit; it can be a matching set, or break it up and wear separates.
I would wear a set, like the one above from Zella, at Nordstrom. It comes in a few color options, but I would go with all grey.
You can find the sweatshirt here and sweatpants here.
If you're feeling it, you can also create a second look by swapping out the sweatpants with these 9″ bike shorts.
You heard me.
And before I get a bunch of crazy emails yelling at me for suggesting something so scandalous, may I remind you that you do not have to listen to anything I say.
I think it's super cute; very Princess Diana going to the gym and is already in my rotation of casual looks for spring.
Don't forget this fantastic "everywhere" bag from Lululemon and our go-to gold hoops for some unexpected but necessary glam.
Remember, you don't have to limit yourself to just these outfit ideas.
We featured white sneakers in our Outfit Formulas #4, 11, 12 and 13.
You can wear these with your leggings, straight leg jeans, or tee shirt dresses. There are unlimited options!