Welcome to Sunday Sales, our weekly feature highlighting some of the best deals and savings on wardrobe basics, novelty pieces, and accessories.
We found some bright and cheerful pieces perfect if you want to add some pops of color to your winter wardrobe, a $15 sparkly necklace that is a steal, savings on an everyday Tory Burch bag, and a great little addition to your gift closet for only $6.
This Week's Best Sales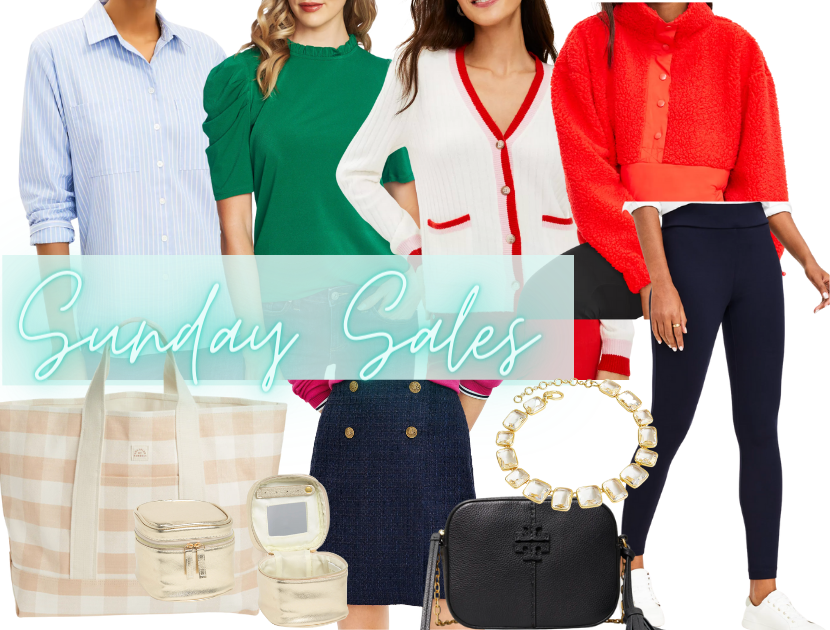 Couple quick things:

There are several options from LOFT below. Repeat after me: We do not pay retail at LOFT.
Under no circumstances. EVERYTHING GOES ON SALE almost immediately.
The current sale is 70% off three or more already reduced merchandise or 60% off one or two.
And most "full priced" items are 30 – 40% off with code YAY.
Today's round up is particularly good for our petite readers as there are many recommendations with petite sizes available.
Please keep in mind all prices are subject to change, sale items sell out quickly, and I am not in charge of sizes.
Tunic tops are always a popular item around here since they are and easy yet polished piece for everyday wear.
Pair with leggings or any other slim bottom and you have a work from home "uniform" that's comfortable while Zoom ready.
Available in regular and petite in XXS – L, sizes are becoming limited.
Originally $74.95, Now $44.99 and you can take an EXTRA 70% OFF* 3+ OR 60% OFF* 1-2 SALE STYLES! CODE: YAY
Alternatively, I actually ordered their Pinstripe Everyday Shirt, on sale for 40% off of $69. It has a subtle ruffle detail and casual fit that will work will with white or dark jeans or shorts in the warmer weather.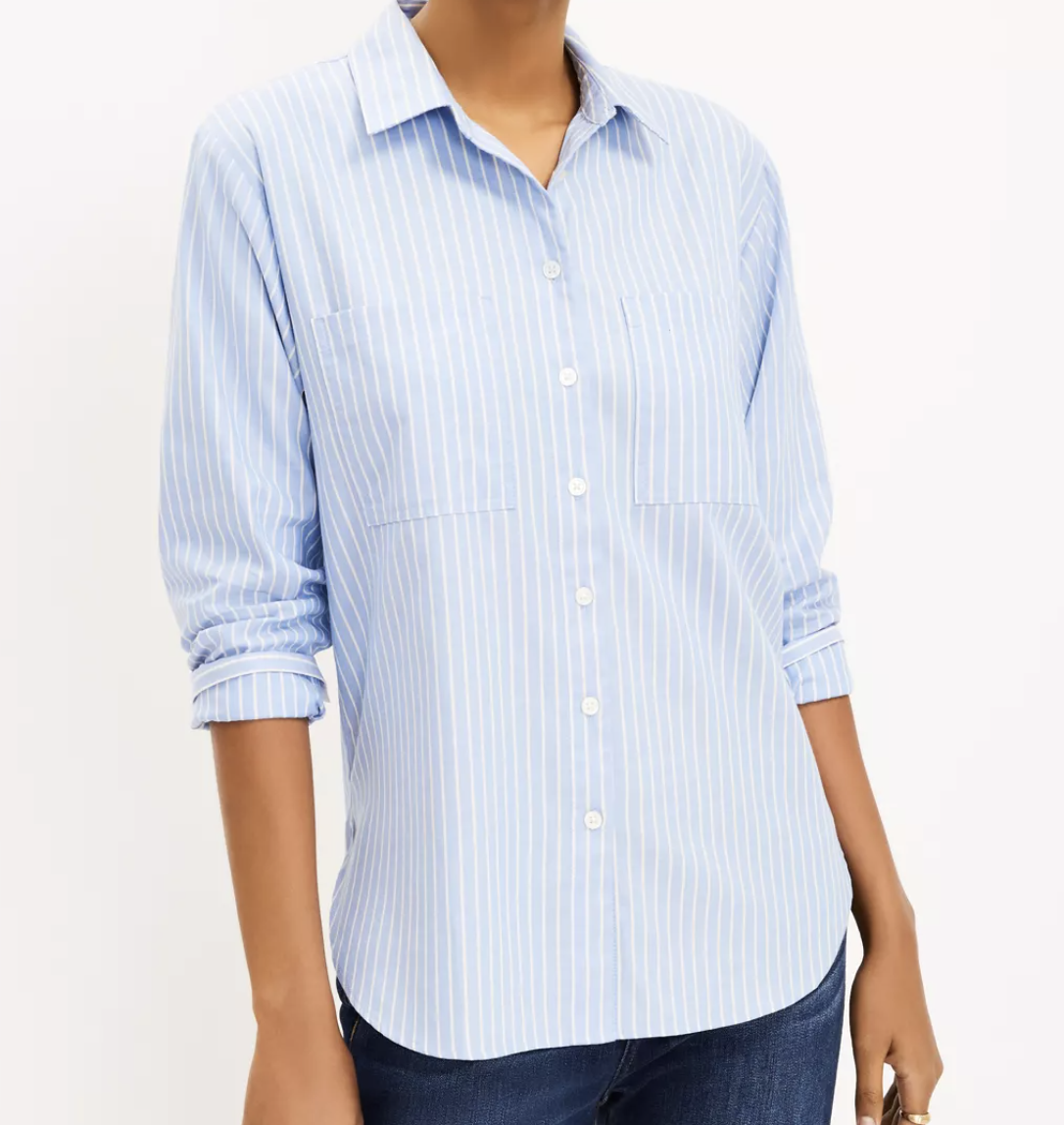 1
Striped Pocket Tunic Shirt
LOFT
$44.99
Tailored yet fluid, this tunic shirt is a polished twist on tomboy cool. Point collar. Button front. Long sleeves with button cuffs. Front patch pockets. Shirttail hem.
A few Sunday's ago we featured a similar red fleece from Ugg and we sold it out by lunch.
This fleece, from LOFT's Lou & Grey brand is a fantastic option if you missed out.
Red is obviously a classic color that's the perfect pop if you wear a lot of neutrals.
Cozy fleeces are a big part of my work from home wardrobe, especially because my office space is always freezing.
Available in red in sizes XXS – XL or ivory with black detail in limited sizes
Originally $98, Now $74.99 and you can take an EXTRA 70% OFF* 3+ OR 60% OFF* 1-2 SALE STYLES! CODE: YAY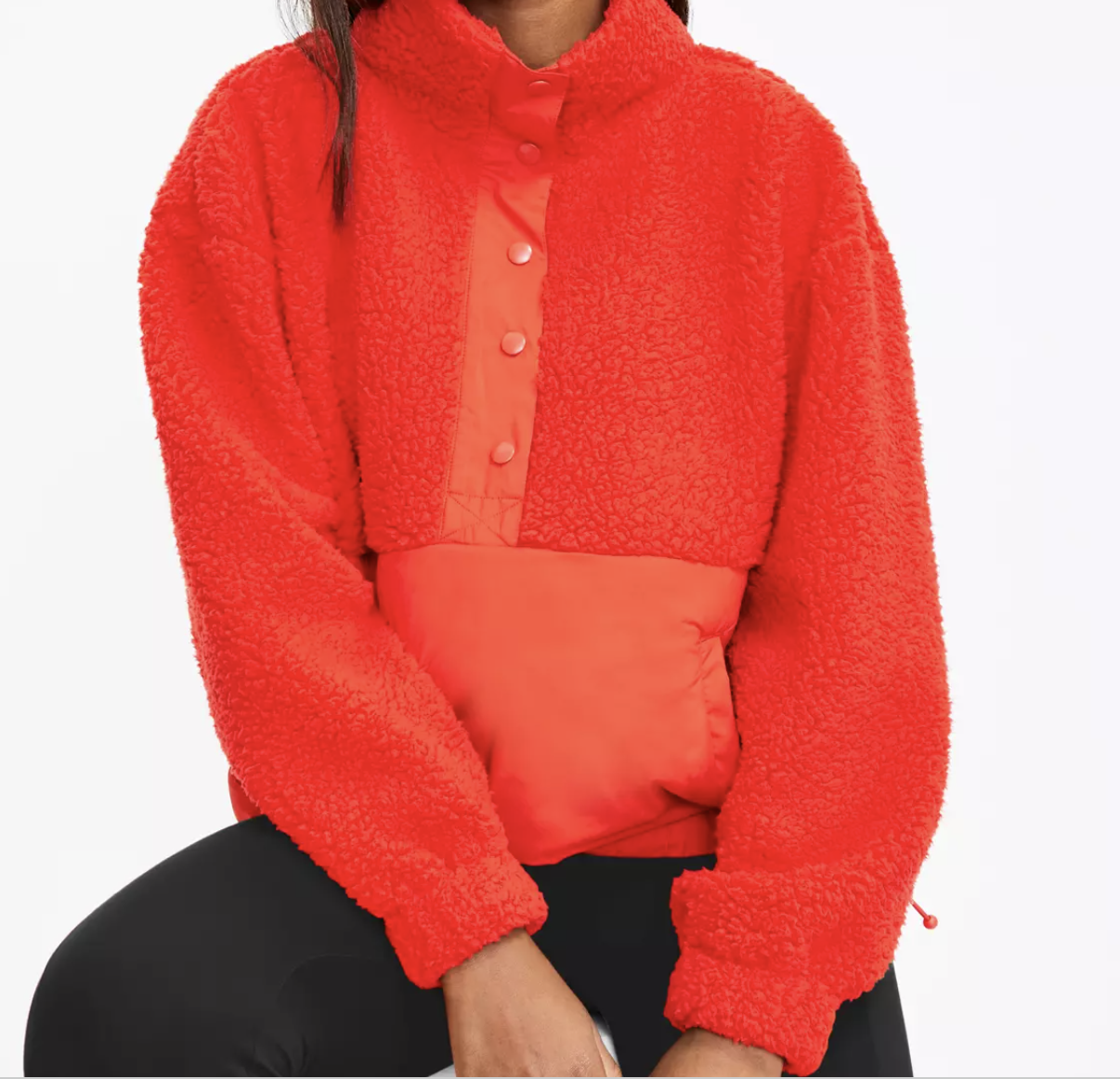 2
Sherpa Jacket
LOFT
$74.99
Colorblocked with sleek woven front panels and luxuriously plush sherpa, this endlessly soft jacket is always up for a cuddle. Stand collar with snaps. Long sleeves with elasticized cuffs. Welt pockets. Elasticized drawstring hem.
You don't see many skirts on The Well Dressed Life. Ever since 2020, they have really fallen out of popularity with our readers.
The ones I do share never make it on our Favorites Report, which is a daily and weekly report I generate to see what our readers bought.
But I'm sharing this one because, (1) it's stinking cute and (2) it's a new year and we're trying new things.
Available in dark blue, with gold-ton buttons, in regular, petite and tall in sizes 00 – 18.
It's marked at $69.95 with 30% off at checkout with code YAY.
Pair with a navy sweater in your favorite style: turtleneck, crew or v-neck and tights. I would make this a navy and black look and use black tights and boots.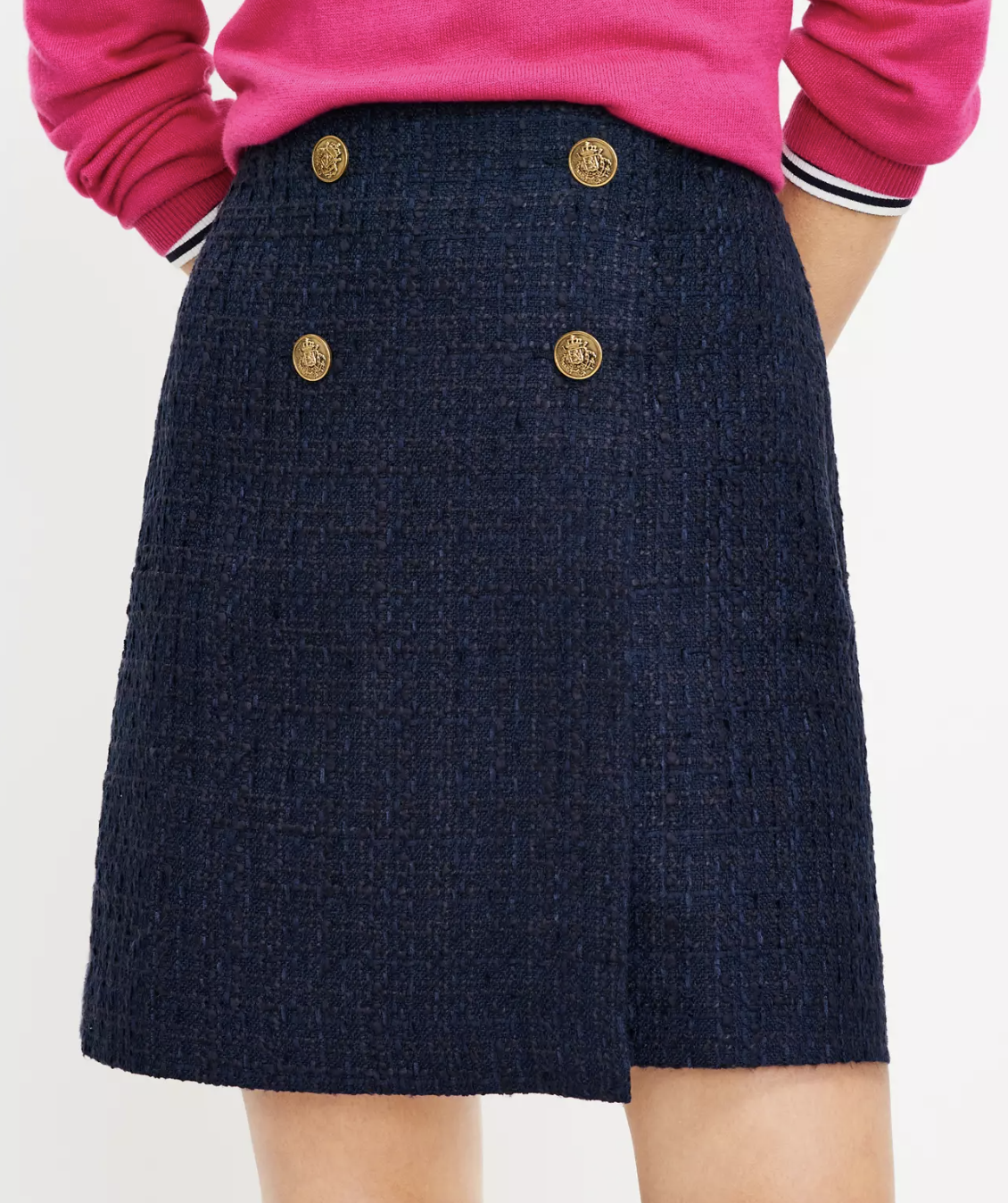 3
Tweed Button Wrap Skirt
LOFT
$69.95
This flattering and pulled-together mini skirt flaunts a cool asymmetric wrap cut with smart buttons for an instantly mod-chic look. Side zip. Lined.
These are the kind of leggings you actually can wear as pants.
The Ponte fabric is thick, so it gives a smooth finish.
Note: these are NOT athletic leggings. They are truly for outfit building.
Pair with a tunic, or oversized sweater. And if you're comfortable, something a little shorter.
Available in navy (below) and black, in regular, petite and tall in sizes XXS – XL.
Marked at $59.95 with 30% off at check out with code YAY.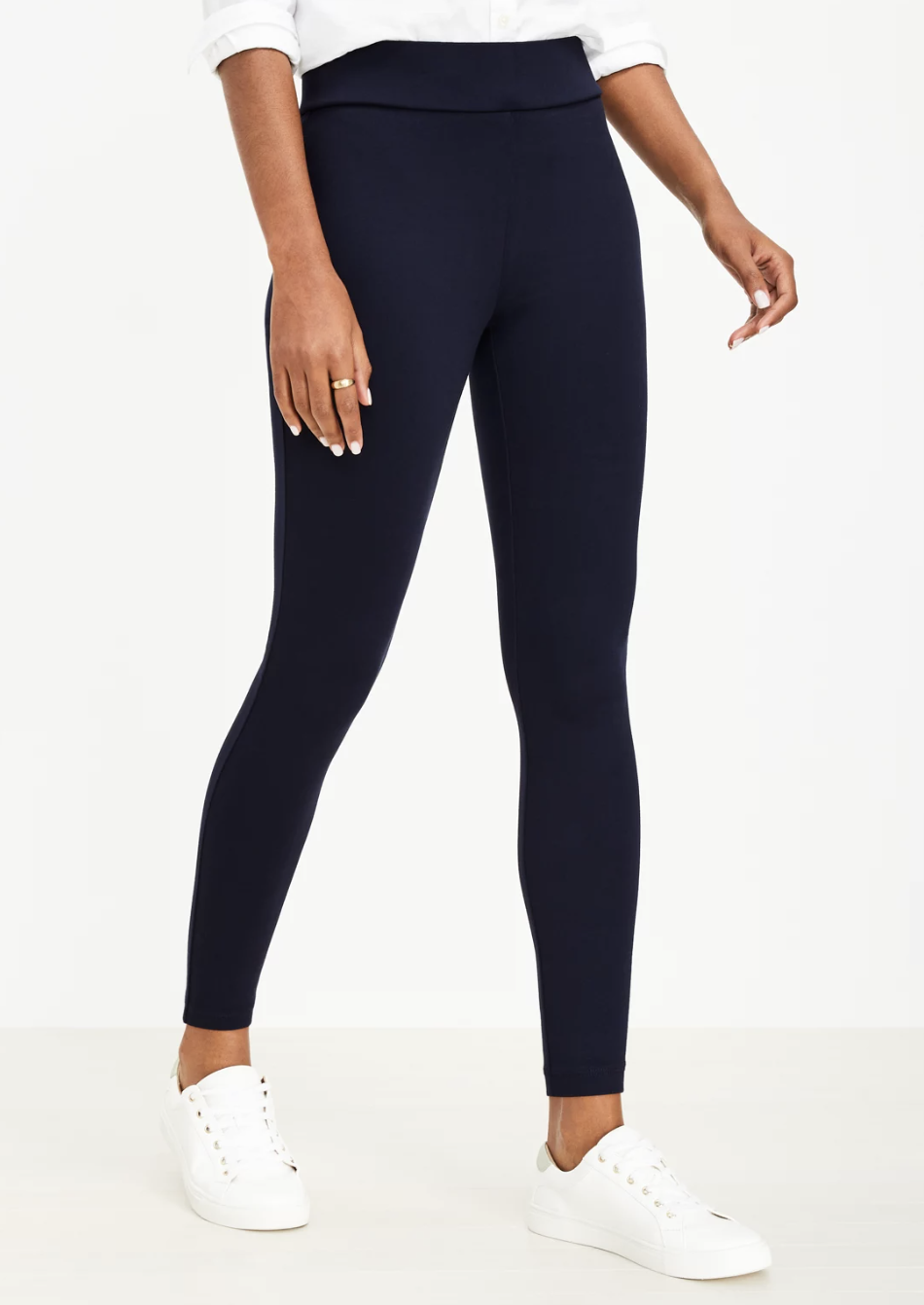 4
Seamed Ponte Leggings
LOFT
$59.95
Hugs all the right places and finishes closely around the ankle. A tight fit, with a clean performance stretch paneled waistband and fabric developed for ultimate hold and comfort.
Tipped Puff Sleeve V-Neck Cardigan
Pink and Red is a killer combination.
This pretty cardigan is an easy way to wear it without having to think. We alone with a simple cami or layer over a tee shirt or button down with your favorite jeans.
And don't freak out over the "puff sleeve" description, it's barely there.
Available in regular and petite, in XXS – XL.
Marked at $74.95 with 40% off at checkout with code YAY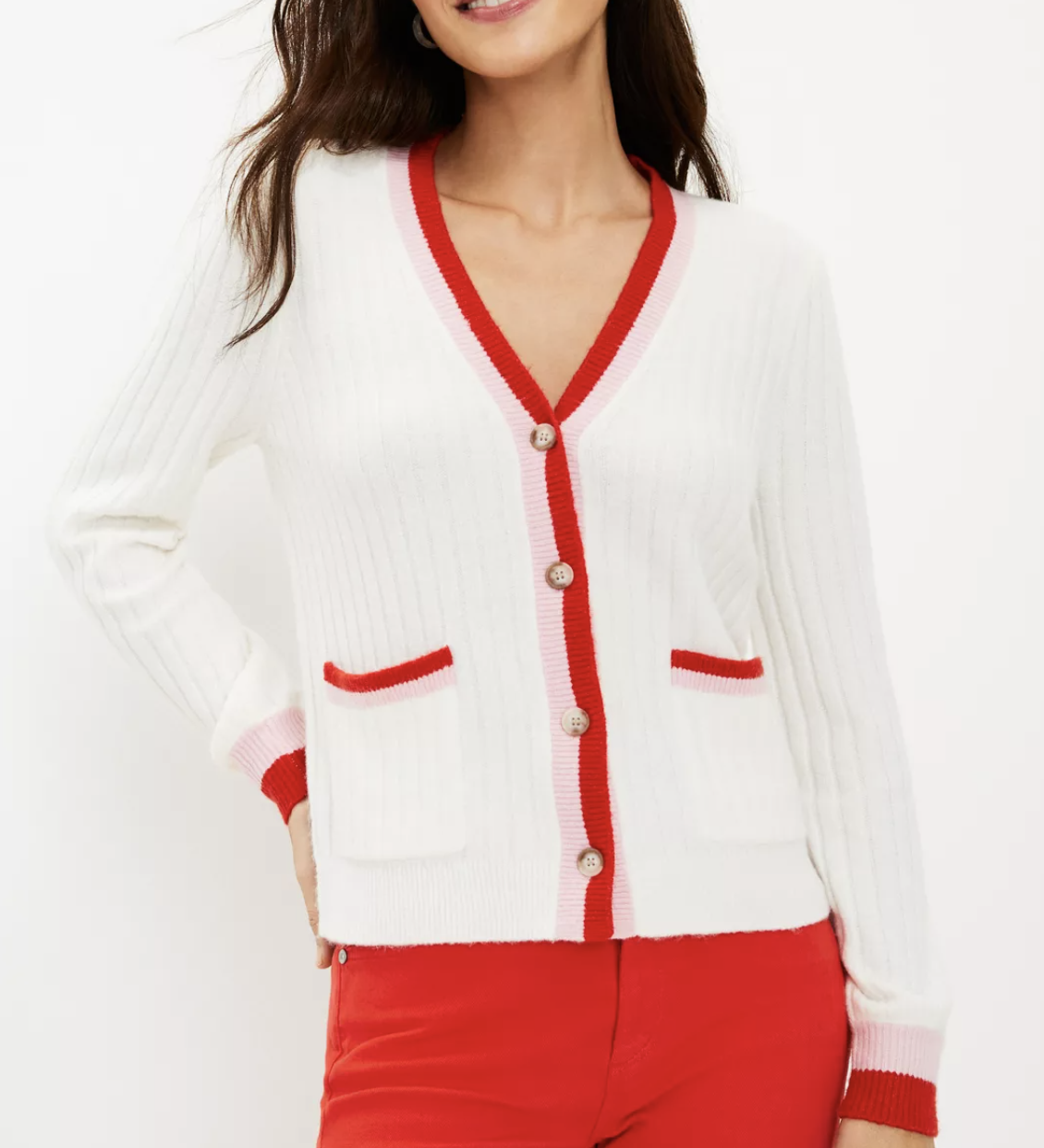 5
Tipped Puff Sleeve V-Neck Cardigan
LOFT
$74.95
Pretty and polish meet with a cozy kind of ease, making this puffed-sleeve pocket cardigan a versatile essential. V-neck. Button front. Long sleeves. Front patch pockets
While Tory Burch regularly goes on sale, we rarely get a wearable style in a neutral color.
So this is a great find.
Anytime you see something described as a camera bag, it's usually just a crossbody, perfect for travel or every day hands free use.
On sale at Nordstrom, originally $328 now $229.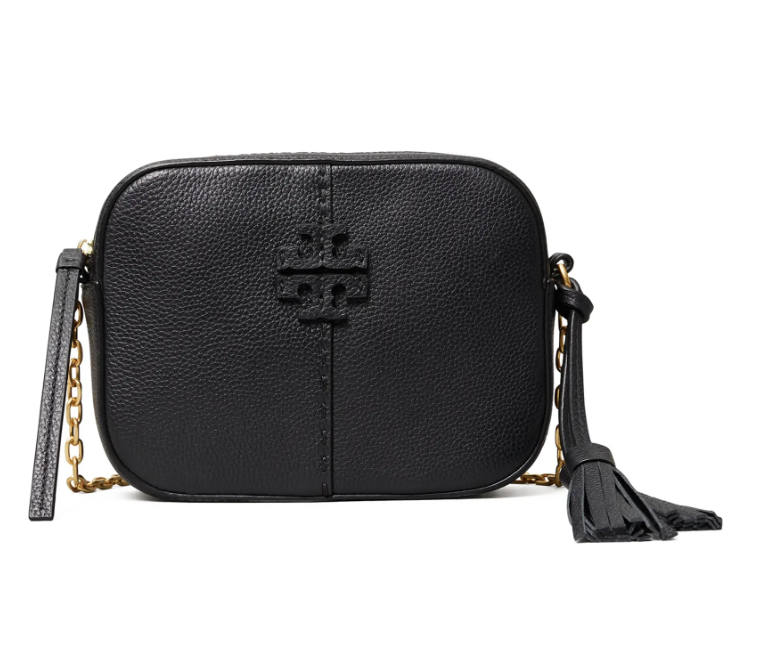 6
McGraw Leather Camera Bag
Tory Burch
$229.00
Hand-sewn pickstitching and a tassel accent add understated vintage character to a richly grained crossbody bag complete with a tonal logo appliqué.
I am always asked for more pretty tops to pair with jeans, and our Sunday Sales is where I tend to put them.
Because I don't think you need to spend a lot here, and it's easy to find some on sale.
The brand CeCe is a long time WDL favorite, specializing in just that, pretty, different tops that work for happy hours, date nights, or any social function where you don't want to wear what you wear to work.
This option below is on sale in green and black, for just under $50 in sizes XXS – XXL.
It's a specific style, so not everyone will like it, AND THAT"S OK you don't have to send me an email telling me how much you hate ruffles, but the cut will work well if you are small busted and have narrow shoulders.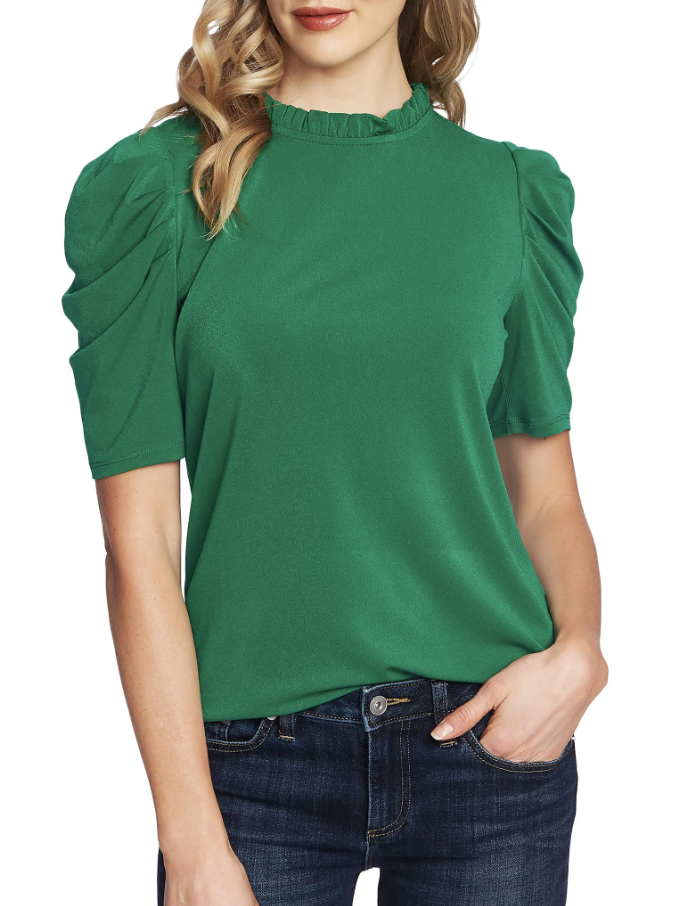 7
Puff Sleeve Crepe Top
CeCe
$47.20
An essential top with gracefully gathered and draped sleeves and a frilly finish at the neck.
I ordered six of these. One to keep because every small travel jewelry organizer I've ever bought needs to be simplified.
I want something small that keeps my things organized in my carry-on AND can sit on the bedside table to corral all my stuff at night.
What am I doing with the other 5?
Keeping them in my gift closet! With three girls (two teenagers), we are always wrapping gifts for friends, especially with my oldest and her crew turning 16 this year.
So instead of a box, we can use these and pop an earring, gift card, lipstick, etc., inside and wrap it up.
For $6 this might be one of my best gift finds.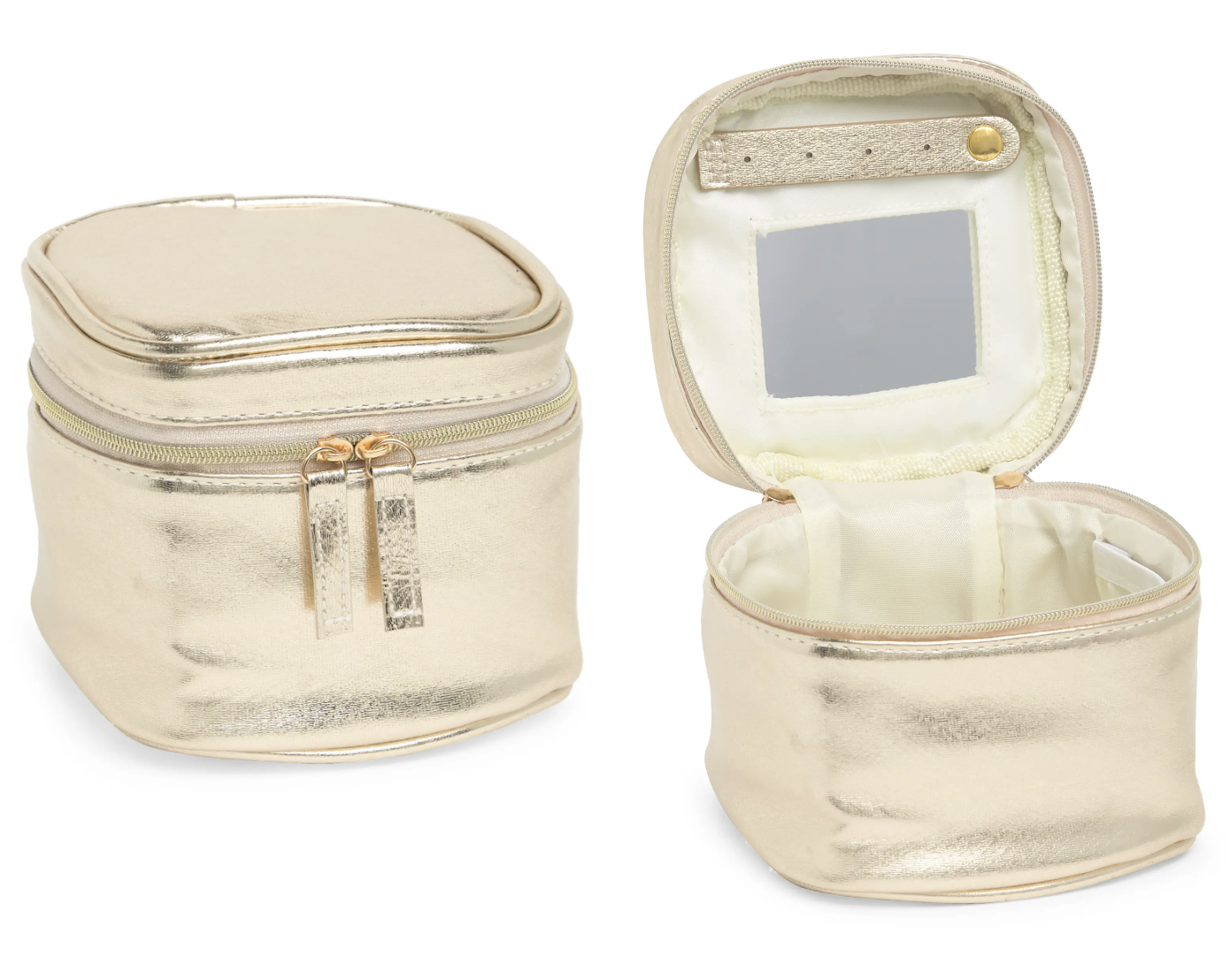 8
Small Square Zip Organizer
Nordstrom
$6.00
Interior pockets keep your accessories organized with a convenient mirror and a metallic finish.
Bodie Oversize Open Tote
This summer, after what will likely be our craziest travel sports season ever, we're heading to the shore for a month. And while Bri and I will be working while we're there, I CANNOT WAIT for four weeks of beach life.
I thought this bag would be cute to make my mobile office, so I can have my lap top and all my gear on hand and organized. Or even for grabbing groceries or taking treats to friends' houses while we're there.
From Loeffler Randall, originally $150, now $90 at Nordstrom.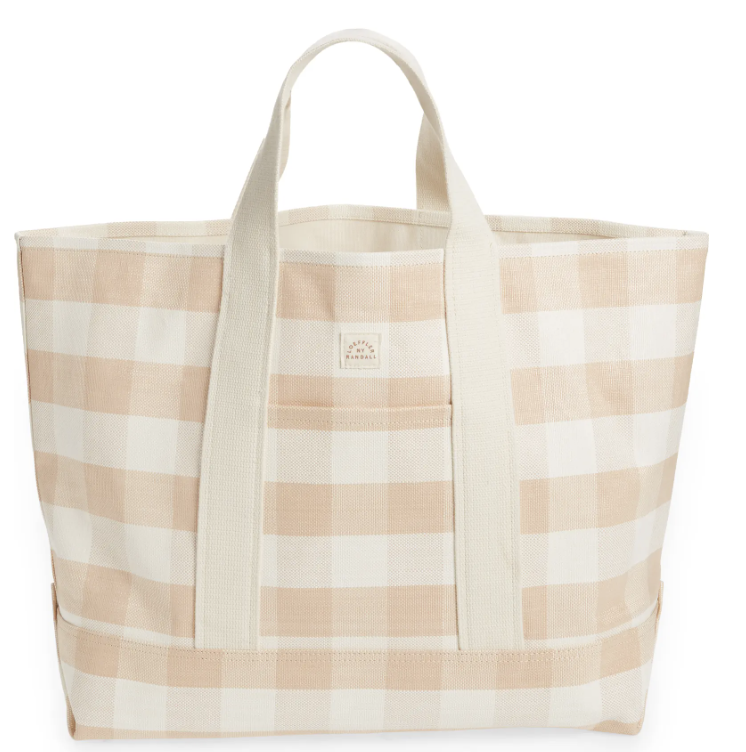 9
Bodie Oversize Open Tote
LOEFFLER RANDALL
$90.00
You won't have to be choosy when packing this oversized tote made from gingham woven plastic and carried by cotton canvas handles.
This necklace is currently on sale for about $15.
$15!
That's right.
It looks familiar because we shared it a lot over the holidays, as a way to dress up a simple sweater or blouse.
Available at J.Crew it was originally $98, is marked down to $69.99, and today you can take 75% off with code EPIC.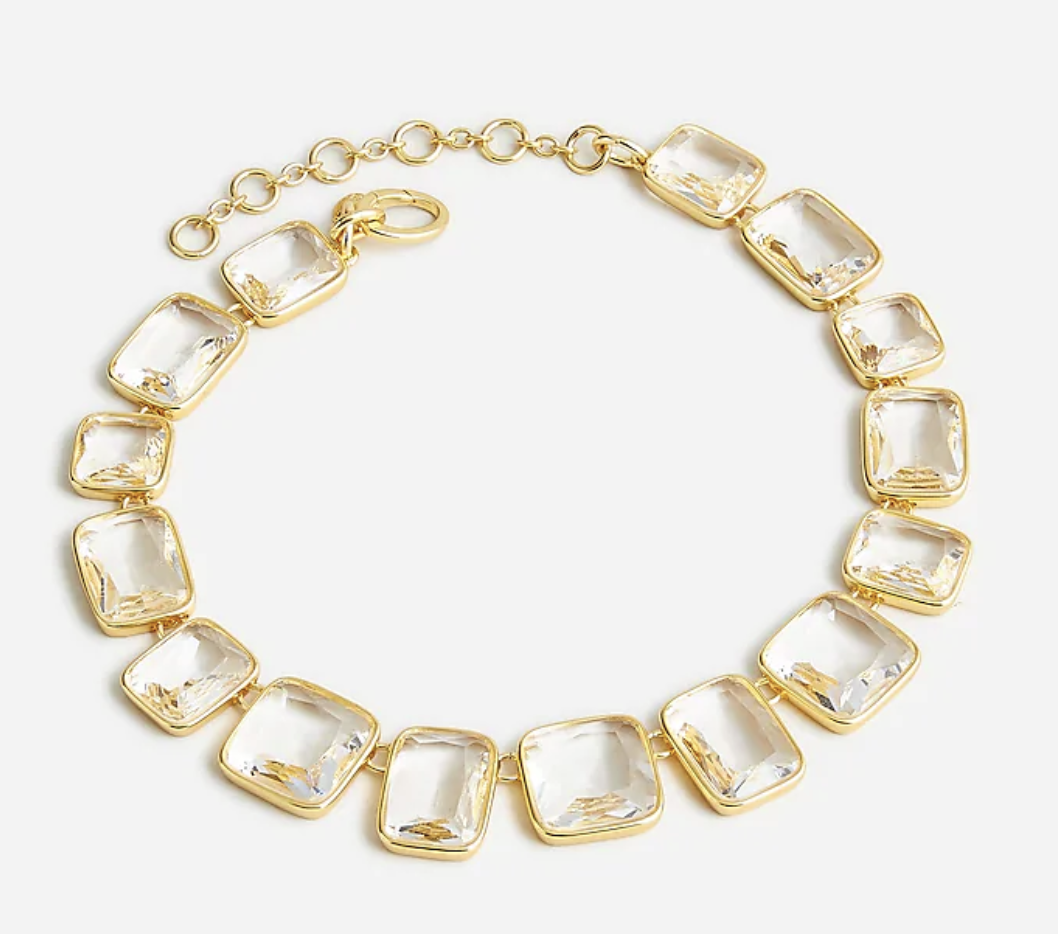 10
Faceted Crystal Necklace
J.Crew
$69.99
This simple collar necklace is adorned with faceted, reflective crystals that elevate every outfit. Feel-good fact: This style was made using eco-friendly recycled glass and zinc casting.