We are kicking off a four day series covering all the sales you need to know about this Memorial Day weekend.
We're taking each day to share the best options at our favorite retailers including Saturday and Sunday.
There are a lot of amazing deals to take advantage of, but it's overwhelming.
So we're starting with Boden, a store that rarely has sales.
Happily, their promotion is straightforward.
Everything is 30% off.
No exceptions, no exclusions.
Sale ends on Monday, May 29th.
30% Off at Boden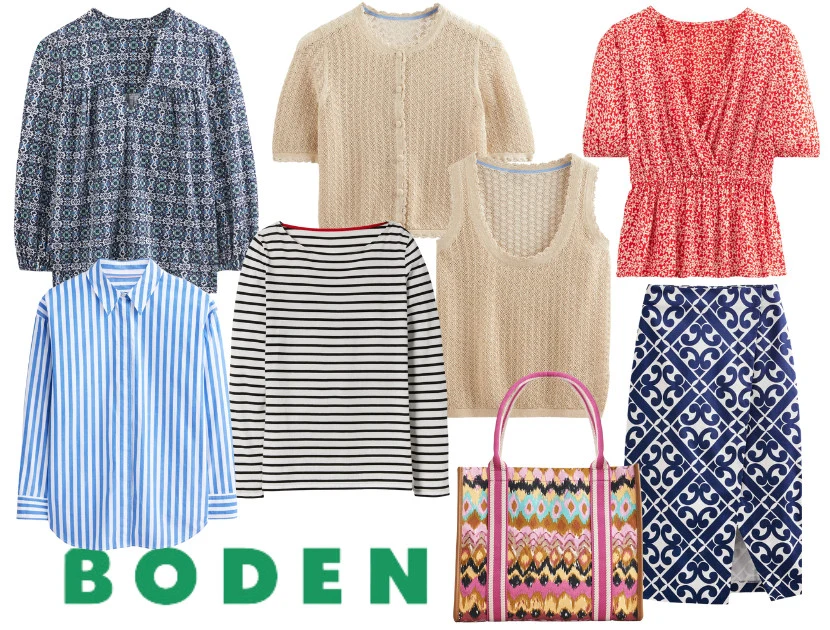 I really love Boden's clothing.
Not worn head to toe, but sprinkled throughout a classic wardrobe their designs add such a lovely pop of personality.
The retail price is fair for the quality, but I prefer to wait for a sale and 30% off is about as low as they go.
Remember, Boden uses UK sizes so double check your measurements before you order.
Let's get into my top picks, admittedly, I did a little damage myself 🙂
Easy Wrap Midi
This midi wrap skirt went straight into my cart.
LOVE it in the navy print, love the slit in the front, and where it hits on the leg (right below your knee).
I'll wear it similar to the model below, with a crips button down, or a white tee or tank, paired with these best selling neutral flat sandals.
Available in regular and petite.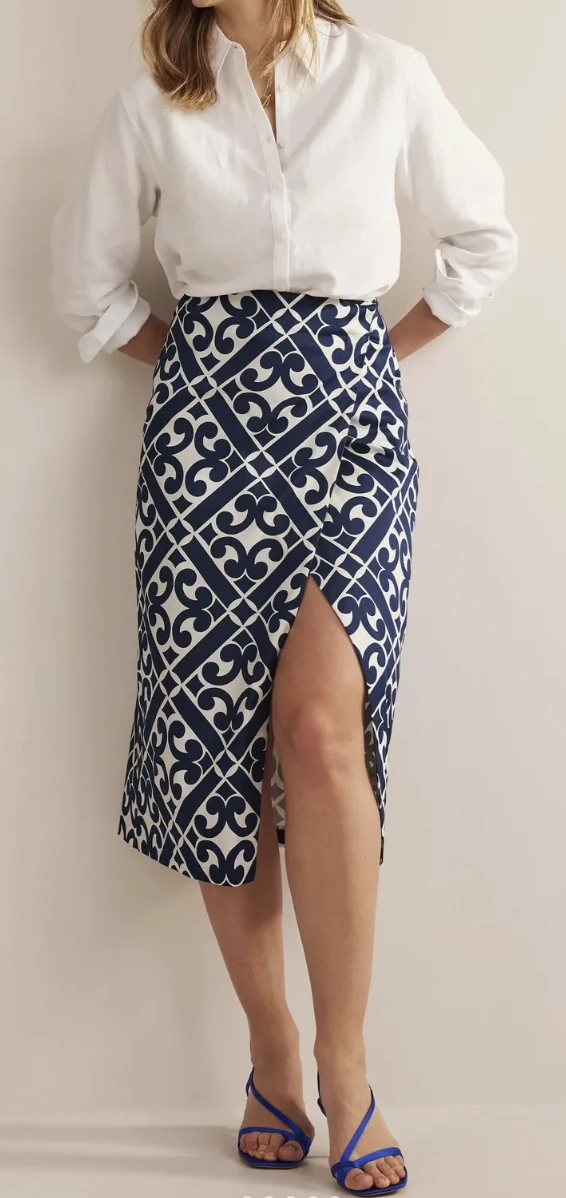 1
Easy Wrap Midi
Boden
$84.00
Cropped Short Sleeve Cardigan
Another piece being called "cropped" when it's really just shorter, which is a length that benefits a lot of body types and shapes and pairs well with higher-waisted styles.
Available in black and "gold sparkle" – featured.
When I saw it, I immediately thought of a few readers this would be perfect for.
Pair with summer trousers or shorts in any neutral, or a coordinating print.
Retail Price: $110, On Sale: $77.00.
The coordinating tank sold separately, on Sale for $52.00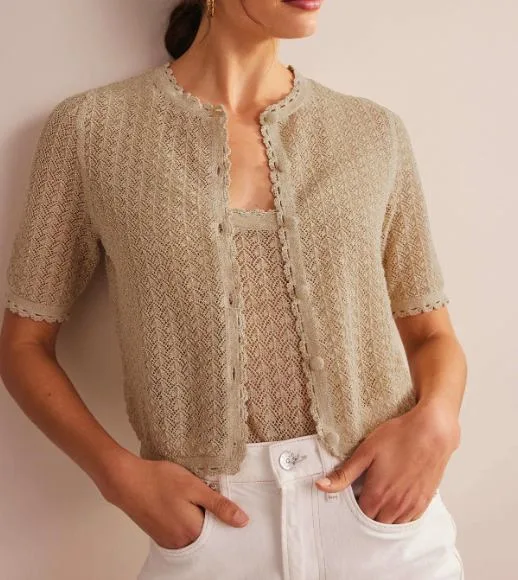 2
Cropped Short Sleeve Cardigan
Boden
$77.00
Wrap Elasticated Waist Top
I ordered this pretty wrap style top to wear to my best friend's annual 4th of July party to pair with either white shorts or ankle jeans.
I like that it's on theme without being a literal translation of the holiday.
Available in red or blue, in UK sizes 2 – 20 (double check your size before ordering).
Retail Price: $90, On Sale: $63.00.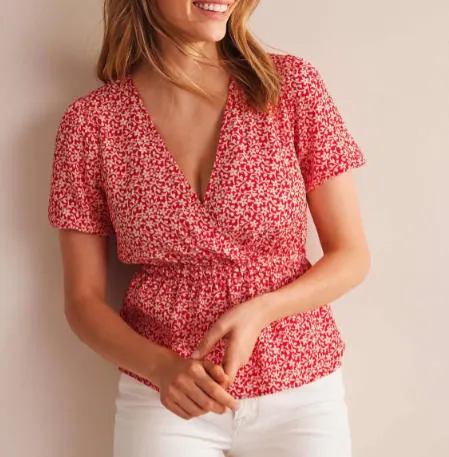 3
Wrap Elasticated Waist Top
Boden
$63.00
Printed Notch Neck Top
Our readers love a split neck top.
It's a universally flattering cut, that works year round.
In the warm month, I tend to wear shorts with a 3/4 to full length sleeve, lightweight top, as it adds balance to the outfit.
And this is a nice option in either navy or red.
Retail Price: $80, On Sale: $56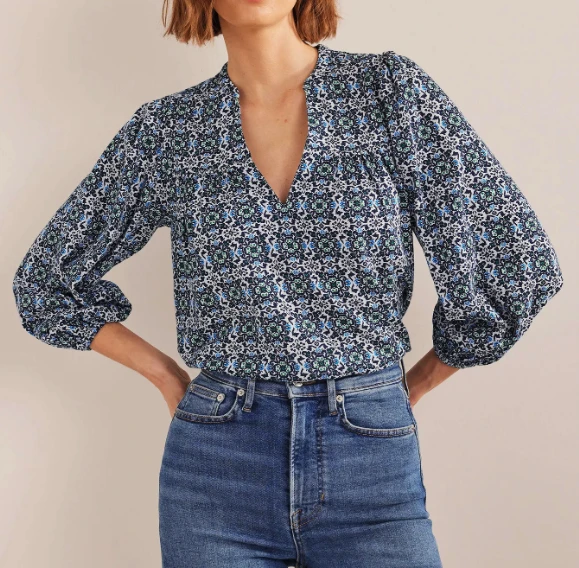 4
Printed Notch Neck Top
Boden
$56.00
Classic Breton Top
This sale is a fantastic opportunity to stock up on Boden's Classic Breton Top.
This style is their classic fit, so it is slimmer on the body.
Retail Price: $40, On Sale: $28, available in various stripe combinations.
They also recently introduced a new shape that has a more relaxed fit.
We featured it yesterday here.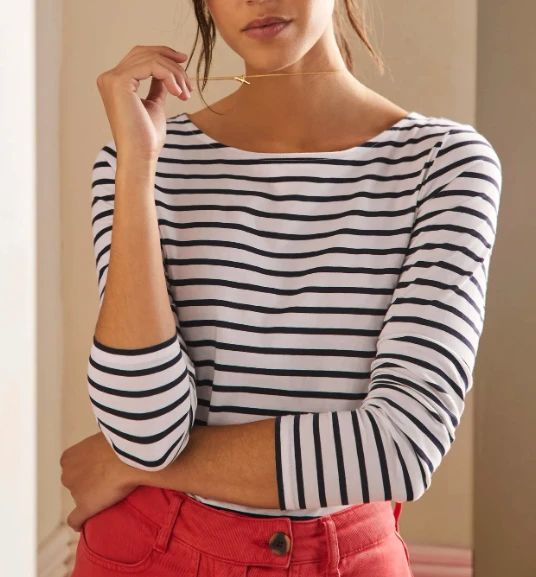 5
Long Sleeve Breton Top
Boden
$28.00
Oversized Cotton Shirt
Another no brainer buy for me is this Oversized Cotton Shirt, available in a range of gorgeous colors and stripes.
I took advantage of the savings and used it as an opportunity to stock up on a better quality button down.
I ordered the cobalt stripe ( featured) and this cheerful coral color.
Retail Price: $95.00, On Sale: $33.59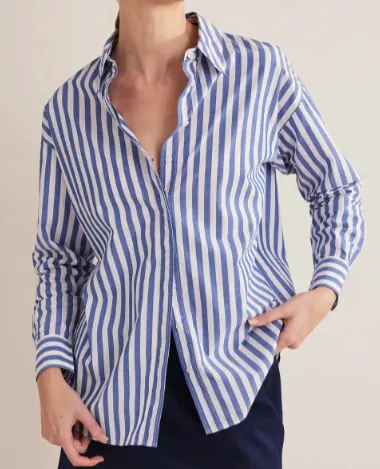 6
Oversized Cotton Shirt
Boden
$34.00
Structured Canvas Tote Bag
Finally, I frequently mention that I don't love prints, but I do love many prints Boden offers.
That's because they work with skilled designers who understand the fundamentals of good design.
So, I am instantly drawn to something like this canvas tote in a modern Ikat print.
Such a fun summer tote that adds personality to a basic outfit.
Retail Price: $85, On Sale: $59.50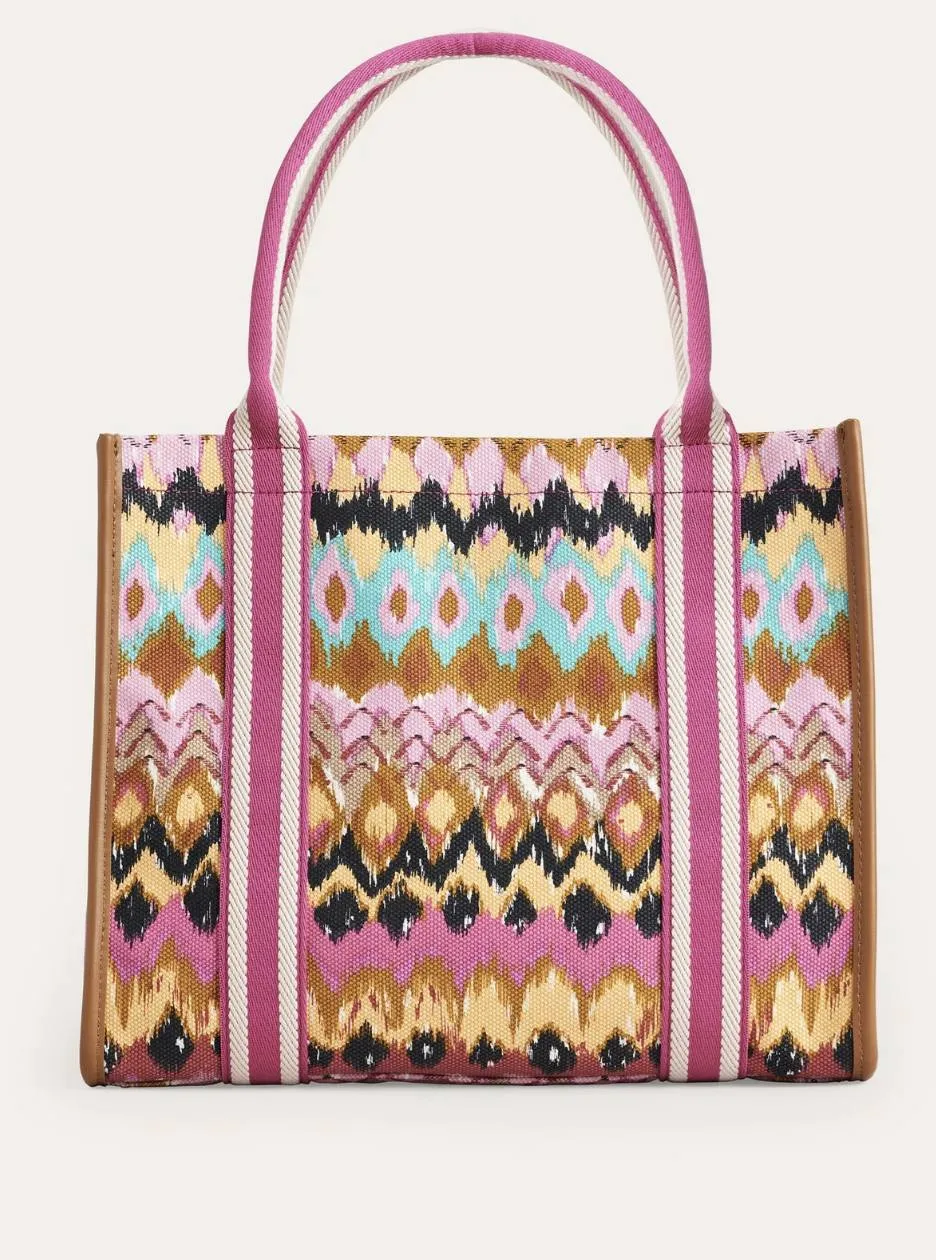 7
Structured Canvas Tote Bag
Boden
$59.50