Welcome to Sunday Sales, our weekly round-up of our best sellers, markdowns and can't miss deals.
This weekend is Cyber Weekend, offering a mix of seasonal discounts and end of year clearance savings.
I went through all the retailers we love, and the best offerings worth sharing came from J.Crew and J.Crew Factory.
Many of these pieces will look familiar, so if you were on the fence about ordering, now might be the time, others will help extend your wardrobe through the rest of the year.
Things are selling out quickly so let's go shopping …
J.Crew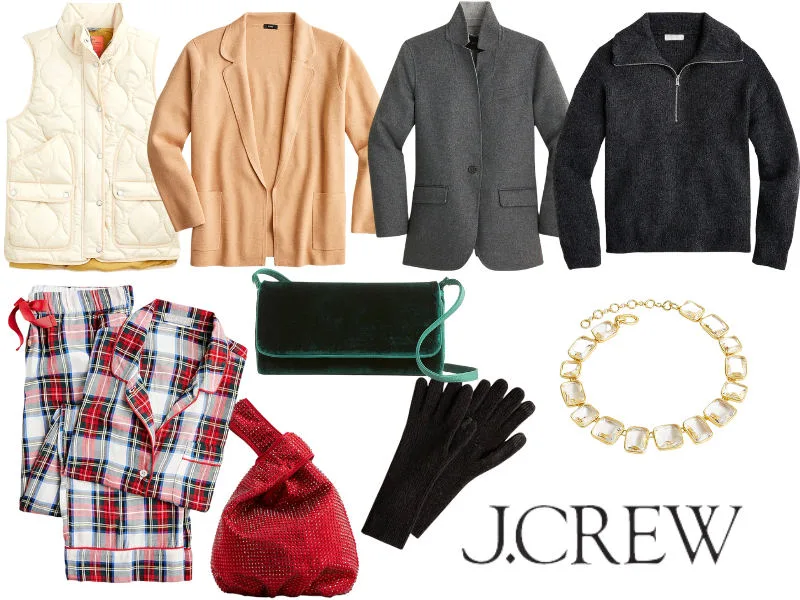 Santorini Bag with Crystals: Sale Price, $45 So stinking cute, in red, green, and black.
New Quilted Excursion Vest: Sale Price, $59 We've featured this vest several times over the last few months. This is a fantastic price, available in ivory, navy, and black.
Ribbed Touch-Screen Gloves in Supersoft Yarn: Sale Price, $14.50 A great stocking stuffer or self-purchase if you are constantly losing gloves, like me 🙂
Eloise Sweater-Blazer: Sale Price, $69.50 The always popular Eloise Sweater Blazer at a can't-beat price. Sizes and colors are limited.
Half-Zip Stretch Wool Sweater: Sale Price, $49 Love this wool-blend sweater with your favorite jeans.
Long-Sleeve Flannel Pajama Set: Sale Price, $49 I scooped this set up for my two daughters as our Christmas Eve Jammies.
Leighton Blazer-Jacket in Double-Faced Wool: Sale Price, $119 A hybrid of a blazer and sweater, this is a modern take on a blazer-jacket. It has a bit more shape than the Eloise Sweater-Blazer above.
Faceted Crystal Necklace: Sale Price, $39 I've had my eye on this necklace but couldn't bring myself to share it when it was the total price ($100), but for $39, I added it to my cart.
Florence Convertible Clutch in Velvet: Sale Price, $49 Finally, if you need a simple yet elegant clutch, I highly recommend this velvet convertible clutch, available in several gorgeous colors (including black) with a removable crossbody strap.
J.Crew Factory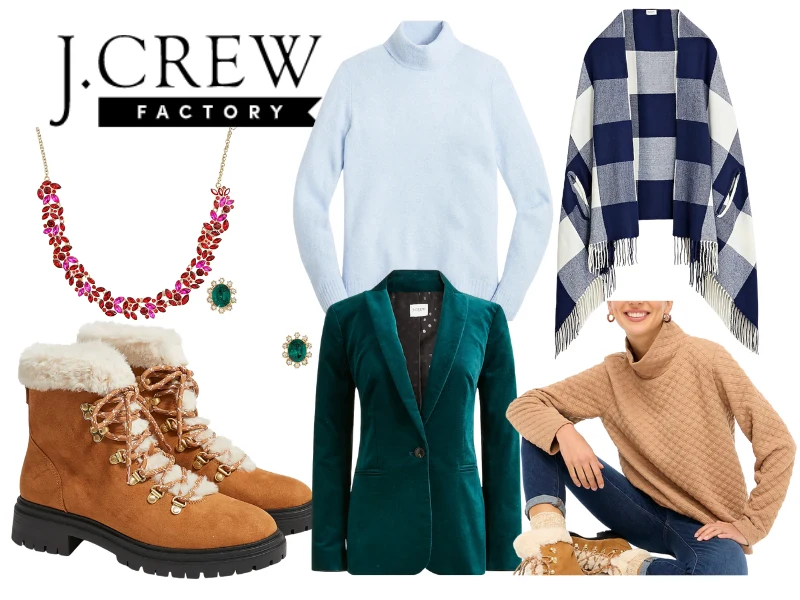 Faux Fur Winter Hiking Boots: Sale Price, $140 A warm and stylish boot for any outside events this month and going into the New Year. Available in chestnut or black, all sizes are currently in stock.
Plaid Cape-Scarf: Sale Price, $29 This looks like Draper James to me, throw over a turtleneck and jeans, with a pair of boots and you're set.
Turtleneck Sweater in Extra-Soft Yarn: Sale Price, $49 For that cozy week between Christmas and New Year, I love this turtleneck with a pair of simple leggings around the house with your slippers.
Velveteen One-Button Blazer: Sale Price, $79 This is a best-selling, reader-favorite blazer we've featured several times this month. Available in regular and petite in 00 – 24.
Crystal Leaf Necklace: Sale Price, $19.50 I grabbed this in the red and pink combination, one of my favorite color pairings. It's also available in clear, which would go with anything this season.
Oval Gem Earrings: Sale Price, $11.00 Finally, as a simple pop of color, these "gem" earrings are on sale for only $11. These are a perfect match for the green velvet blazer above.