Let's talk about how to wear wide leg pants.
Wide-leg, lightweight pants are a fabulous option in the summer if you want an alternative to shorts or capris.
BUT, they are one of the tricker bottoms to wear because the success of the look is dependent on balancing proportions.
You can't just throw on any top.
So today, I'm breaking down how to wear wide leg pants, with three outfits that can take you pretty much anywhere this summer.
How to Wear Wide Leg Pants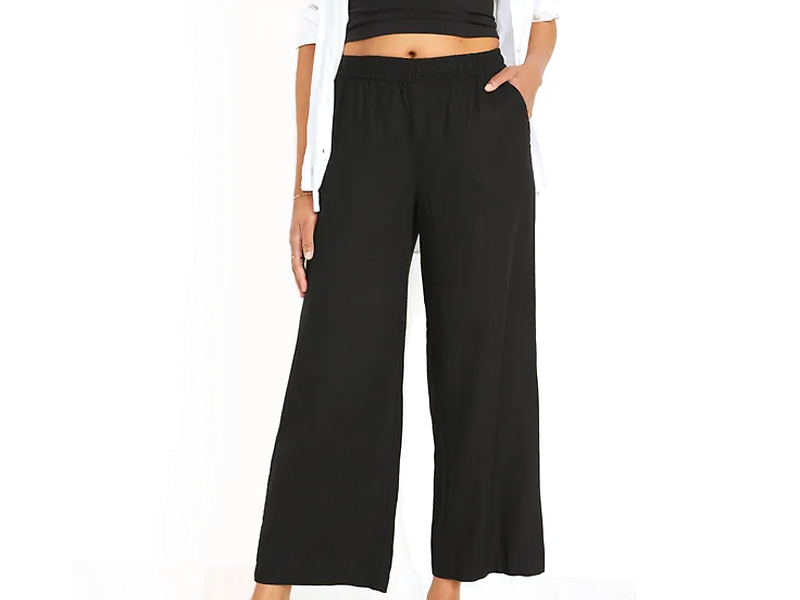 Wide Leg Linen Pants, $40
First, let's talk about what to look for in the pants
Our featured pants are from Old Navy. They are a Reader Favorite from the past few weeks, so I thought it would be helpful to use them.
They are available in regular, tall and petite, from XS – 4X, in four colors. Regular price is $39.99 with 30% off at checkout.
Like many wide leg pants, these are high waisted.
That's important to note because it comes into play with the featured tops.
And they are going to skim your ankles.
Generally, the area around the top of your ankle to the bottom of your calf is the ideal spot for your hem to stop when wearing a summer style pant.
Once you start cutting through the calf, you enter capri territory, and we all know how I feel about that.
Depending on your frame, the width of the pant may be overwhelming.
If that happens, remember, you can have these easily altered by having some of the fullness taken out of the leg.
Or you can swap them with a slimmer leg pant, like these drawstring bottoms from J.Crew on sale for $65.
So how are we wearing these?
The outfits below are perfect for summer, dressed up or down.
As always, you can shop this post full of practical recommendations OR use it as inspiration so you can see how the components work together and pull from your own closet.
Related: Why I Hate Capris and What to Wear Instead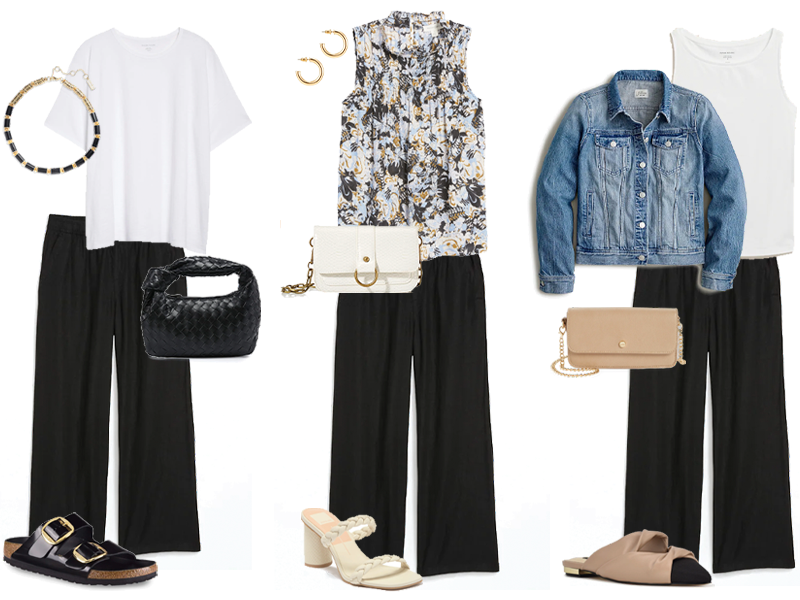 Key Piece: Wide Leg Pants, $40 | Outfit 1: T-Shirt, $68 |Birkenstocks, $170 | Necklace, $175 | Knotted Handbag, $34 | Outfit 2: Shirred Sleeveless Top, $68 | Strappy Sandals, $60 | Crossbody Bag, $40 | Hoop Earrings | Outfit 3: Boatneck Tank, $35 | Denim Jacket, $118 | Pointed Toe Mule, $90 | Crossbody Bag, $78
Boxy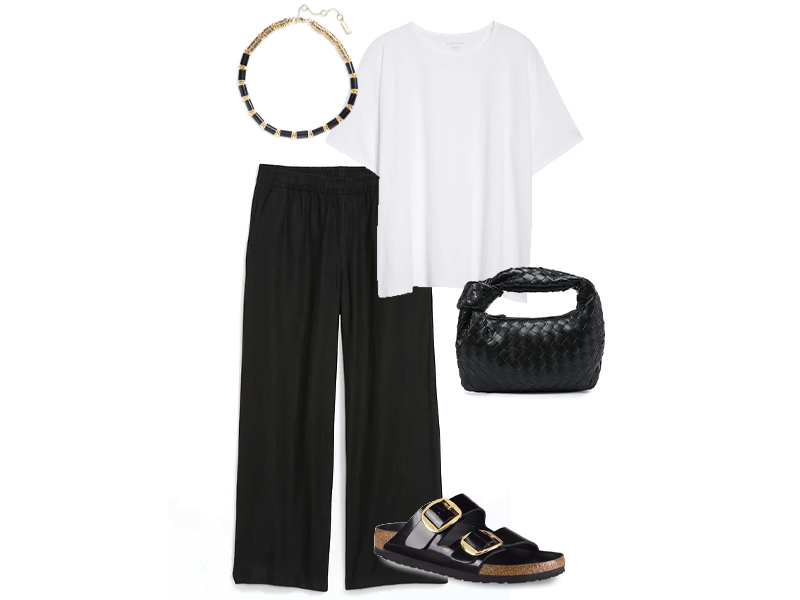 T-Shirt, $68 | Birkenstocks, $170 | Necklace, $175 | Knotted Handbag, $34
For a laid-back casual look, throw on a boxy white tee.
Yes, boxy.
You want this to sit just slightly over your waistband.
If it's a little long, you can half tuck, but the idea here is that because of the high-waisted cut of the pants, you can wear a shorter top and create a fun silhouette while maintaining the length of your legs.
Another top option that would work well and is under $25 is this one from the Banana Republic. They call it "cropped," but it's not; it's just not long.
You can see the model has it tucked.
BUT if you don't like half-tucking, you can wear this out and get the same effect.
To add some polished I added this gorgeous statement necklace.
Then, a pair of chunky, flat sandals because you can pull them off with a wide pant leg. It appears that Hell has frozen over because I continue to say things like, "I like these Birkenstocks."
The oversized gold buckle is funky in a good way.
And for a bag, we're playing with texture and using this inexpensive woven bag from Amazon inspired by the Bottega Veneta Mini Jodie, but at a fraction of the price.
Dressed Up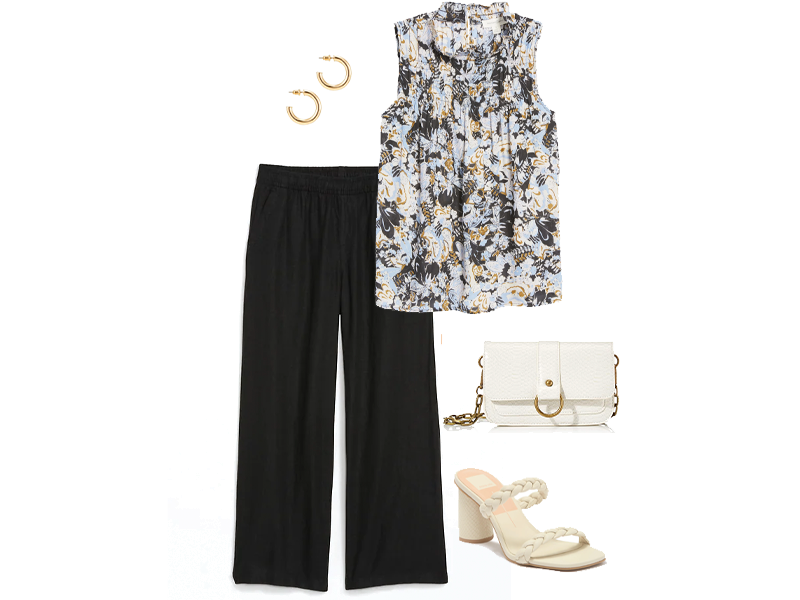 Shirred Sleeveless Top, $68 | Strappy Sandals, $60 | Crossbody Bag, $40 | Hoop Earrings, $14
I love this next look, featuring a floral sleeveless top from Treasure & Bond. The color combination is beautiful, mixing pale blue, gold, black, and ivory. It works wonderfully with the bottoms.
Available at Nordstrom in sizes XXS – XXL (16).
You have many shoe options.
I'm showing these chunky strappy sandals by Dolce Vita 50% off at Nordstrom Rack. These are BIG shoes, so keep that in mind. I show a lot of conservative footwear, so spicing it up now and then is fun.
Alternatively, you could wear these Marc Fisher heels if you ordered them last week.
Round it out, a pretty ivory crossbody bag and my favorite go-to gold hoops both are affordable finds from Amazon.
Layered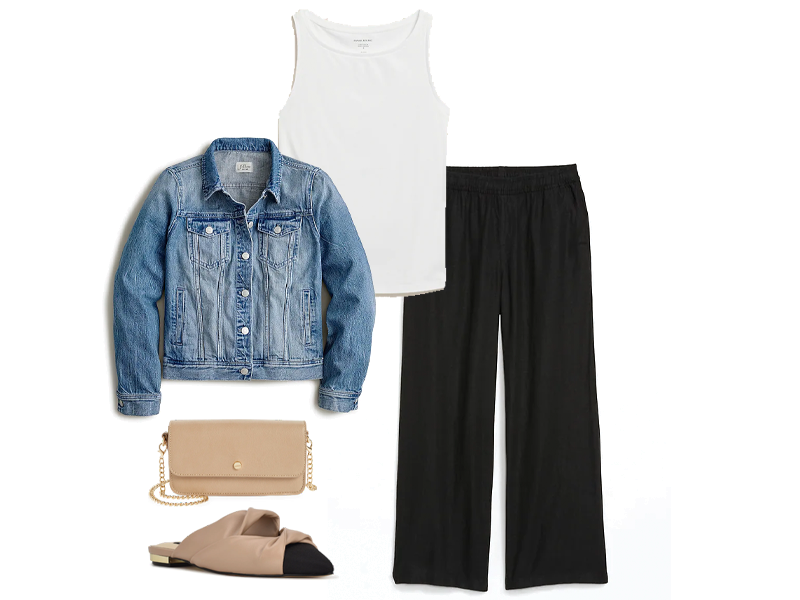 Boatneck Tank, $35 | Denim Jacket, $118 | Pointed Toe Mule, $90 | Crossbody Bag, $78
Finally, a timeless look built with basics I know you already have.
First this perfect boatneck tank from Banana Republic. The neckline is long and open, giving a lovely line to your shoulders, and the fit is on point.
Next, throw on your favorite denim jacket. This one from J.Crew is wonderful. Available in sizes XXS – 3X.
I'm using these interesting mules from Nine West; they feel super high-end for under $100. The elegant pointed toe will help elongate your leg. Available in a few other colors, including solid black.
And for a bag, I found this versatile convertible bag you can wear as a classic crossbody or around your waist.
You can also use the woven clutch from the first outfit to dress up the look and add some texture.
For another bit of inspiration, see these pants featured here with a long sleeve white blouse.
52 in 2022!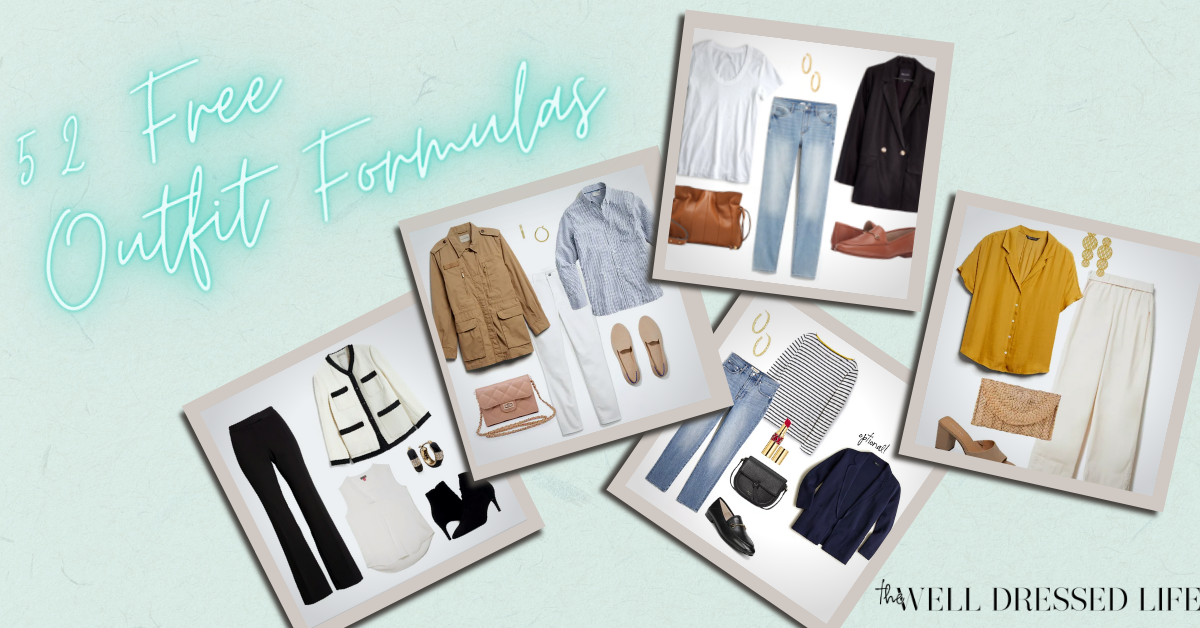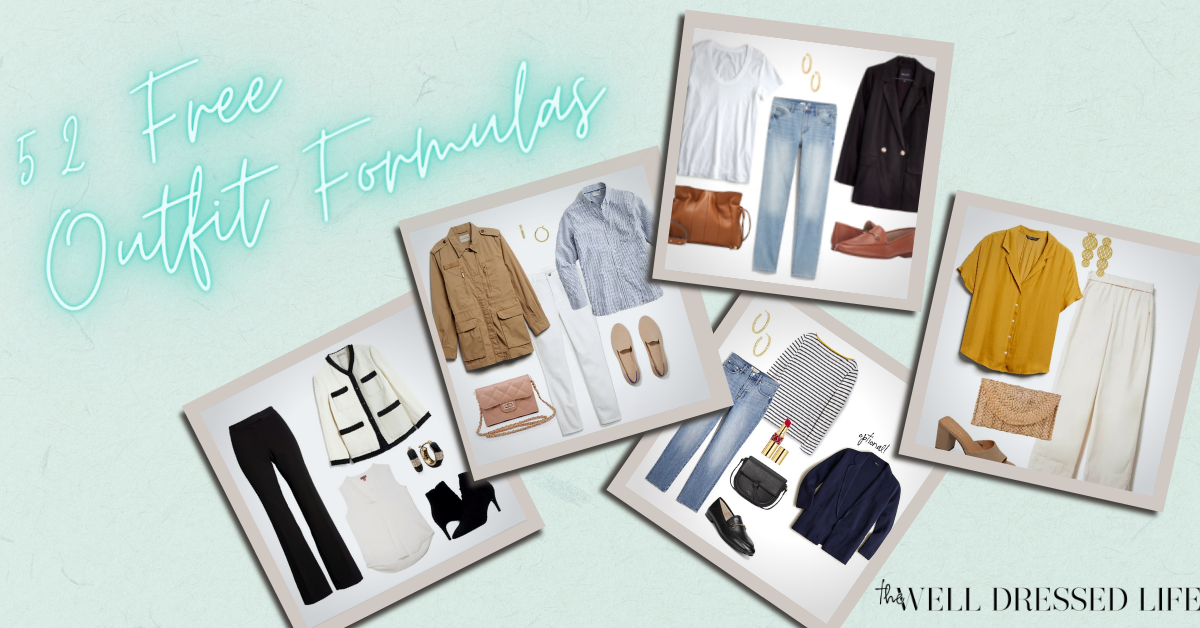 Follow Us on Instagram!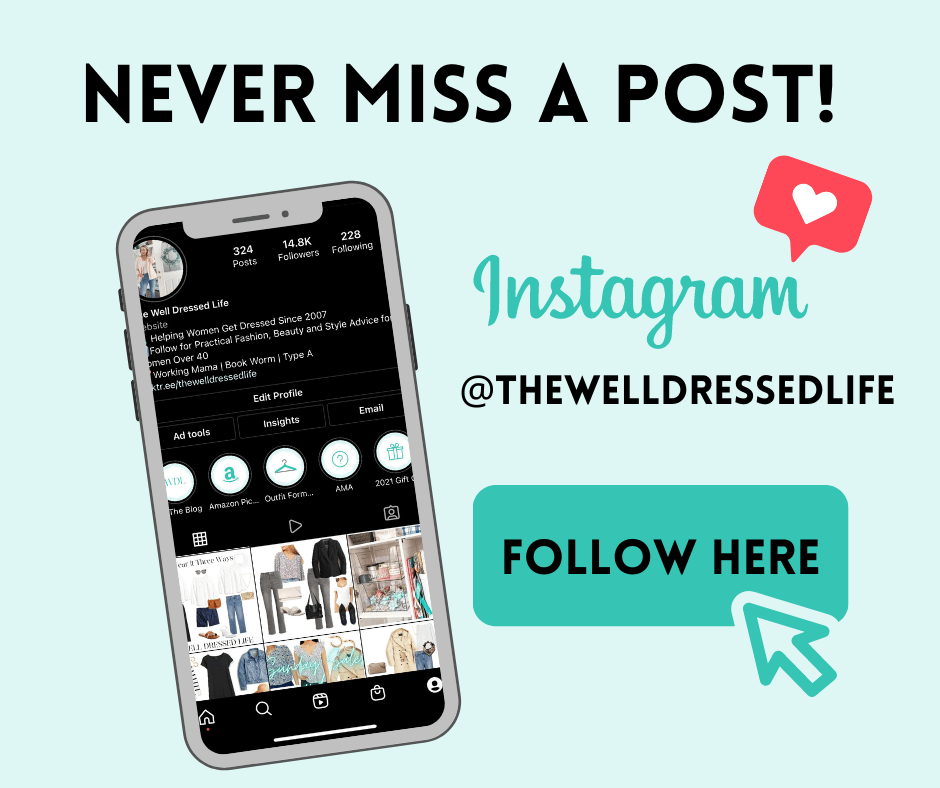 Our Style Content is Inspired by Our Readers
Our readership inspires all of our posts and is not sponsored or paid for by brands or retailers.
Recommendations are based on my experience as a personal stylist and wardrobe consultant for over a decade. I worked with busy, down-to-earth women who wanted to look chic and feel confident but were often confused by so much of retail.
Some links are affiliate links, which means if you purchase via our site, we receive a small commission.
If you enjoy our content and would like to help us grow, please follow on Instagram and join our Private Facebook Group to access more advice and exclusive in-depth conversations with other like-minded women.
Learn about our mission to help women look and feel their very best, every day, here.
Sign Up for Daily Content and Receive Our Free Classic Wardrobe Checklist