Let's talk about how to wear wide leg linen pants.
Wide-leg, lightweight pants are a fabulous option for spring, summer or year round in warm or mild whether and especially nice if you want an alternative to shorts or capris.
BUT, they are one of the tricker bottoms to wear because the success of the look is dependent on balancing proportions.
You can't just throw on any top.
So let's break down how to wear wide leg pants, with three outfits that can take you pretty much anywhere this summer.
How to Wear Wide Leg Pants
These best sellers are back in stock!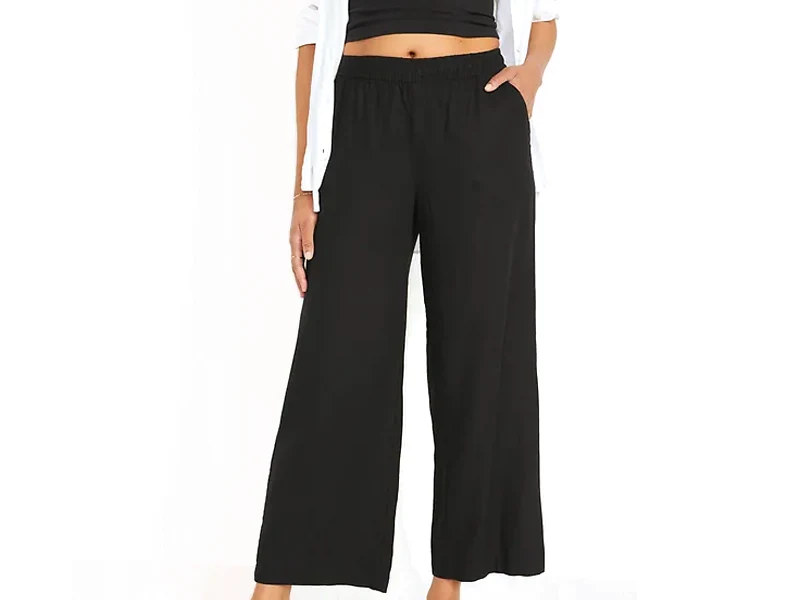 Wide Leg Linen Pants, $40
Our featured pants are from Old Navy. They are a Reader Favorite from the past few weeks, so I thought it would be helpful to use them.
They are available in regular, tall and petite, from XS – 4X, in four colors.
Regular price is $39.99 with 30% off at checkout.
Like many wide leg pants, these are high waisted, but not too high.
That's important to note because it comes into play with your top options.
And they are going to skim at or around your ankles.
You don't want to cutting through the calf or you enter capri territory, and we all know how I feel about that.
Depending on your frame, the width of the pant may be overwhelming.
If that happens, remember, you can easily have these altered and have some fullness taken out of the leg by a tailor or seamstress.
How to Wear Wide Leg Line Pants
As always, you can shop this post full of practical recommendations OR use it as inspiration and pull pieces from your own closet.
Register TODAY for Our Virtual Spring 2023 Well Dressed Woman Workshop on March 31st!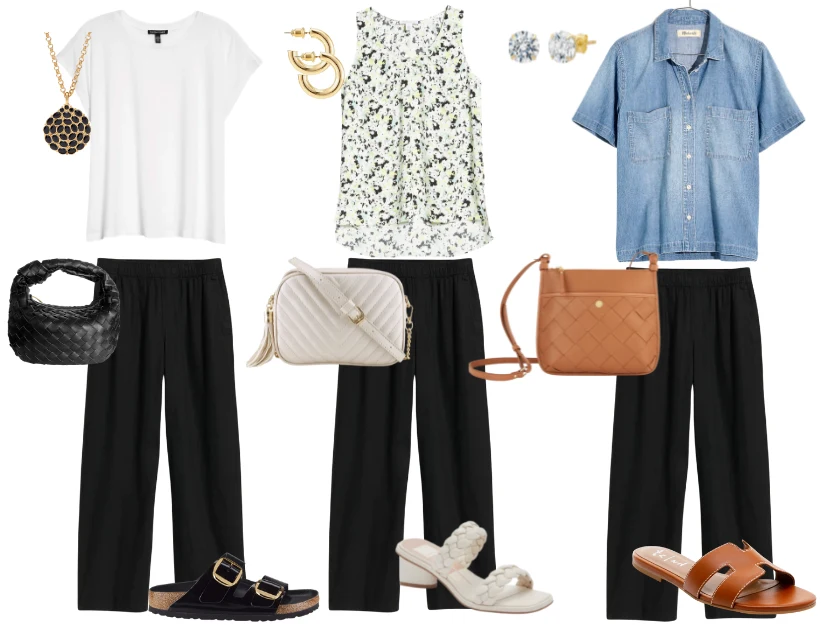 With a Boxy Tee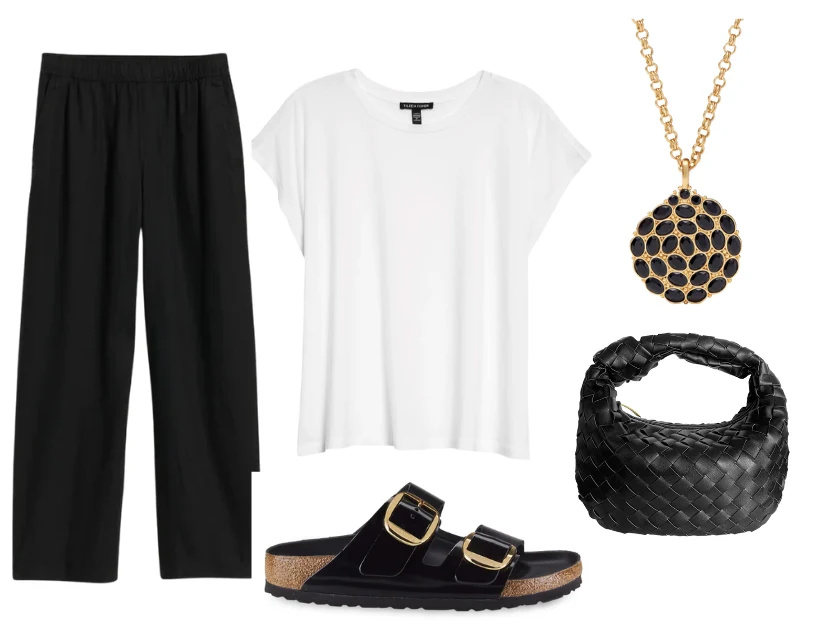 T-Shirt, $98 | Birkenstocks, $170 | Necklace, $235 | Knotted Handbag, $45
For a laid-back casual look that also looks sophisticated, start a boxy white tee.
Yes, boxy.
You want this to sit just slightly over your waistband.
If it's a little long, you can half tuck, but the idea here is that because of the high-waisted cut of the pants, you can wear a shorter top and create a fun silhouette while maintaining the length of your legs.
To add some polished I added this gorgeous statement necklace.
It's really an incredible piece from one of our favorites, Julie Vos. And I love that you can wear it long or double the chain to shorten the length.
Then, a pair of chunky, flat sandals because you can pull them off with a wide pant leg.
It appears that Hell has frozen over because I continue to say things like, "I like these Birkenstocks."
The oversized gold buckle make these funky in a good way. They were hard to find last year so I'm happy they are back in stock.
And for a bag, we're playing with texture and using this inexpensive woven bag from Amazon. It fits what you need for drinks and dinner, I carry it regularly.
With a Printed Sleeveless Top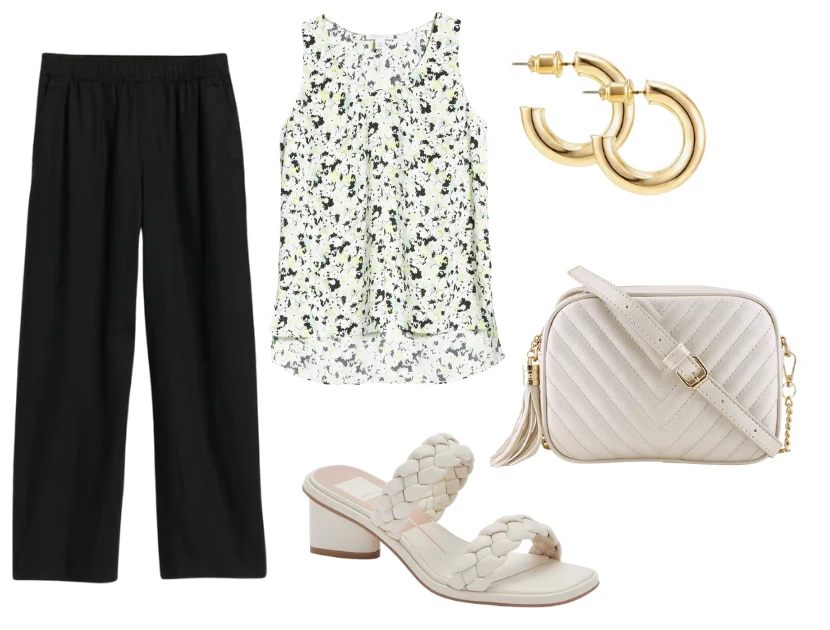 Sleeveless U-Neck Top, $99 | Strappy Sandals, $115 | Crossbody Bag, $20 | Hoop Earrings, $14
Next, let's incorporate a print.
Here, I picked this fresh summer print from Nordstrom. I like the mix of bright colors, grounded with black, which make it work back to the pants and feel purposeful.
I also appreciate the scoop neckline – flattering for everyone, and the high/low hem.
Available at Nordstrom in sizes XXS – XXL (16).
And if you want an additional layer, you can throw on a denim jacket.
I recently ordered this one from J.Crew because it comes with gold-tone buttons!
For shoes, I'm showing these chunky strappy sandals by Dolce Vita from DSW.
They would also pair nicely with a flowy spring dress or skirt.
And to round out the look, a pretty ivory quilted crossbody bag for and my favorite go-to gold hoops both are affordable finds from Amazon.
With a Camp Shirt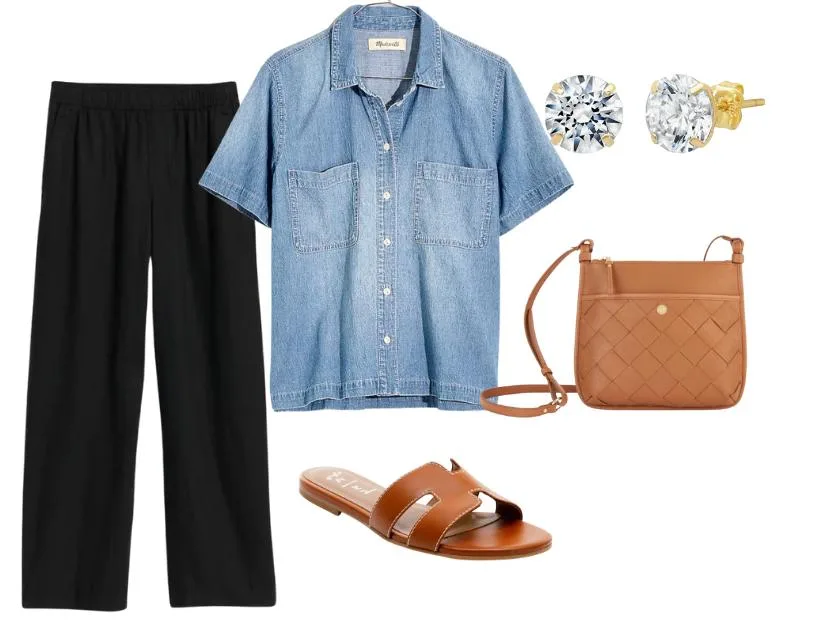 Camp Shirt, $75 | Sandal, $155 | Crossbody Bag, $130 | Earrings, $85
Finally, let's work with a camp shirt.
You'll see lots of versions of these this spring and summer.
Everlane has a beautiful white linen option for $78 that would look chic here, and Quince has an under $40 option in several colors.
But I went with this chambray style from Madewell. It's light and versatile, you can wear it open over a white tank or button it up and tuck in the front.
For shoes, we're using another popular item, these H sandals from Tuckernuck.
I wore these all last summer. They were one of my best buys of the season, and I can't wait for it to be warm enough to put them back in rotation.
Then I added a simple crossbody bag with a pretty woven detail, from Talbots and a pair of sparkly studs, these are Swarovski fro under $100 on Amazon.