Wide-leg, lightweight pants are a fabulous option in the summer if you want an alternative to shorts or capris.
BUT, they are one of the trickiest bottoms to pull off because the success of the look is entirely dependent on balancing proportions.
You can't just throw on any top.
So today, I'm breaking down how to wear wide leg pants, with three outfits that can take you pretty much anywhere this summer.
How to Wear Wide Leg Pants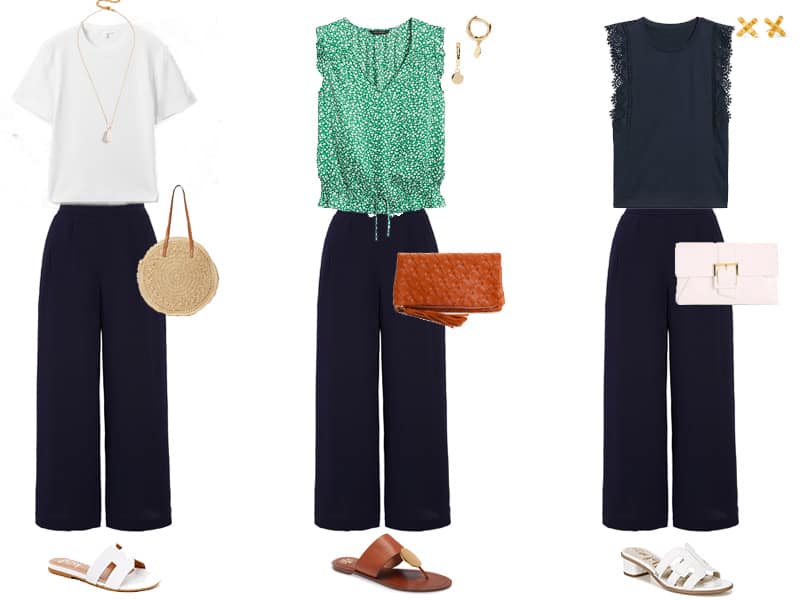 First, let's talk about what you should look for in the pant.
For this post, I went with these navy crepe trousers from 1.STATE. They are on sale at Nordstrom for $59 in sizes XXS – XXL in navy and white, and black for $39 here.
Plus size? This option from Lane Bryant in a similar crepe looks perfect.
As an alternative, Lands End has a simpler pair, also in crepe, also a pull on with less fabric. Available in all sizes, plus here.
Like many wide leg pants, these are high waisted. That's important to note because it comes into play with the featured tops.
Regarding length, you have options. If you want a length, they need to be hemmed perfectly for your height, meaning that when you're in a shoe, they need to just skim the ground. This look works best if you are tall.
In the summer, many of these pants come in some kind of crop. Generally, the area around the top of your ankle to the bottom of your calf is ideal. Once you start cutting through the calf, you enter capri territory, and we all know how I feel about that.
Depending on your frame, the width of the pant may be overwhelming. If that happens, remember, you can have these easily altered. If you try these (or any pair) on and you the fit of the waist and rear, have them hemmed to your most flattering length and ask to take a little bit of fullness out. It's an easy fix.
How are you wearing these?
The outfits below are ideal for the office, a date, or a small get-together. As always, you can shop this post full of practical recommendations OR use it as inspiration so you can see how the components work together.
Related: Why I Hate Capris and What to Wear Instead
Simple Structure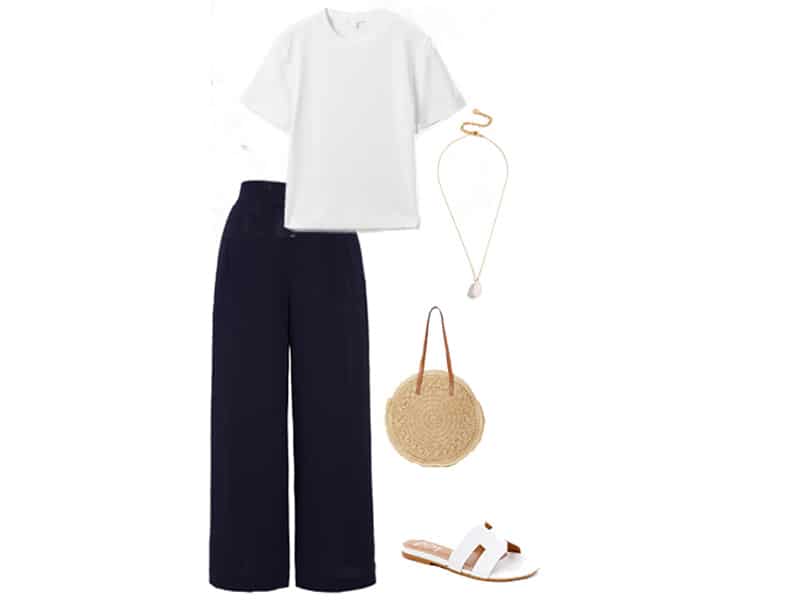 Wide Leg Pants, $60 | Shirt, $28 | Sandals, $150 | Bag, $30 | Necklace, $13
This is one of my favorite looks because it's elegant and has structure. Because the pants are so full, you need a top that will help create balance. This simple white jersey top from COS brings a lovely drape and feel.
They are calling it a "crop" top, but it's not, it's just short, and that's what you want. You won't show your mid-drift. Instead, this will sit over the high waistband, and you can leave it out, full or half tuck it. I LOVE it.
For the shoe, I used these reader favorites from Sam Edelman in bright white. A flat sandal works well here, so would a block heel. Avoid a delicate shoe because the fullness of the pant will overwhelm it.
Keep accessories simple with this long necklace ($13 on sale at Nordstrom Rack) to give a subtle layer that drapes against the fabric of the top, and a round straw bag from H&M provides texture.
Pretty Pattern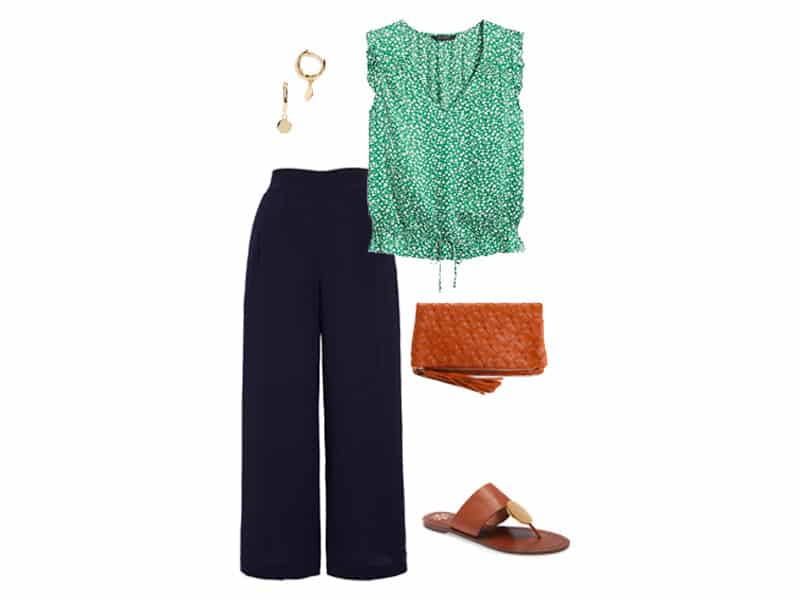 Wide Leg Pants, $60 | Top, $69.50 | Sandal, $248 | Clutch, $25 | Earrings, $45
Next, this patterned sleeveless top (from Banana Republic) is another lovely option because it gathers at the waist, creating a beautiful shape to the outfit. It's a great top for the summer and available in several prints and colors. All are on sale for under $50, in regular and petite up to and XXL.
I used these sweet earrings from Gorjana that mimic the top's pattern, my favorite, splurge-worthy Tory Burch sandals, and this fantastic $25 woven clutch to add depth with texture
Monochromatic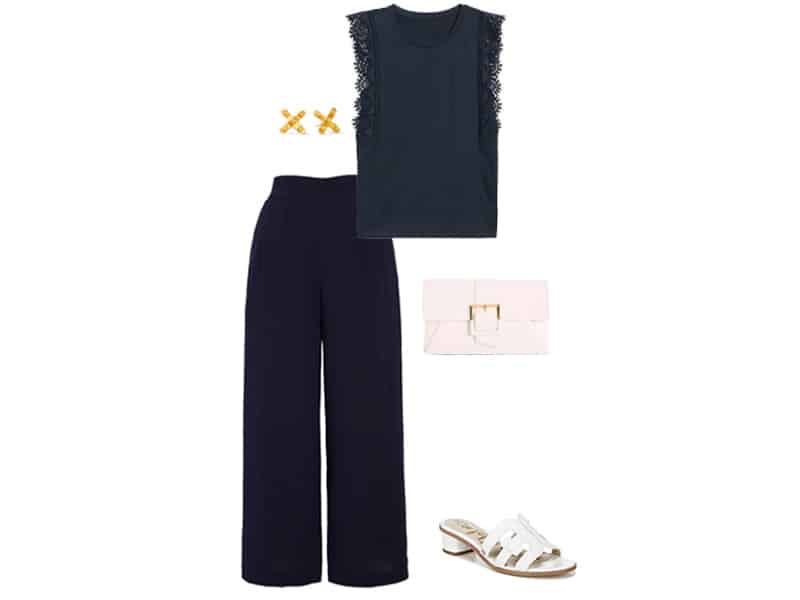 Wide Leg Pants, $60 | Top, $39.50 | Sandals, $120 | Clutch, $17 | Earrings, $68
Finally, a monochromatic navy look. This is important because wearing one color can help you look taller (and slimmer!) so if you are on the petite side, and want to try out a wide leg pant, this is a way to do it.
This navy top has subtle lace trim on the sleeve – another easy-to-wear summer piece from Banana Republic. It also comes in white, light blue, and olive in regular and petite up to an XXL for under $40.
Tuck the top in to show off the detail on the waistband.
The sandals are the block heel version of the flat Sam Edleman sandals in the first outfit. Remember, you can add a heel, but keep the balance by using a block heel.
Then the accessories are effortless. For earrings, my new favorite Soho studs from Julie Vos, and this $17 clutch, again, from DSW.
---
Our Content is Inspired by Our Readers
Our readership inspires all of our posts and is not sponsored or paid for by brands or retailers.
Recommendations are based on my experience as a personal stylist and wardrobe consultant for over a decade. I worked with busy, down-to-earth women who wanted to look chic and feel confident but were often confused by so much of retail.
Some links are affiliate links, which means if you purchase via our site, we receive a small commission.
If you enjoy our content and would like to help us grow, please consider following on Instagram and join our Private Facebook Group to access more advice and exclusive in-depth conversations with other like-minded women.
---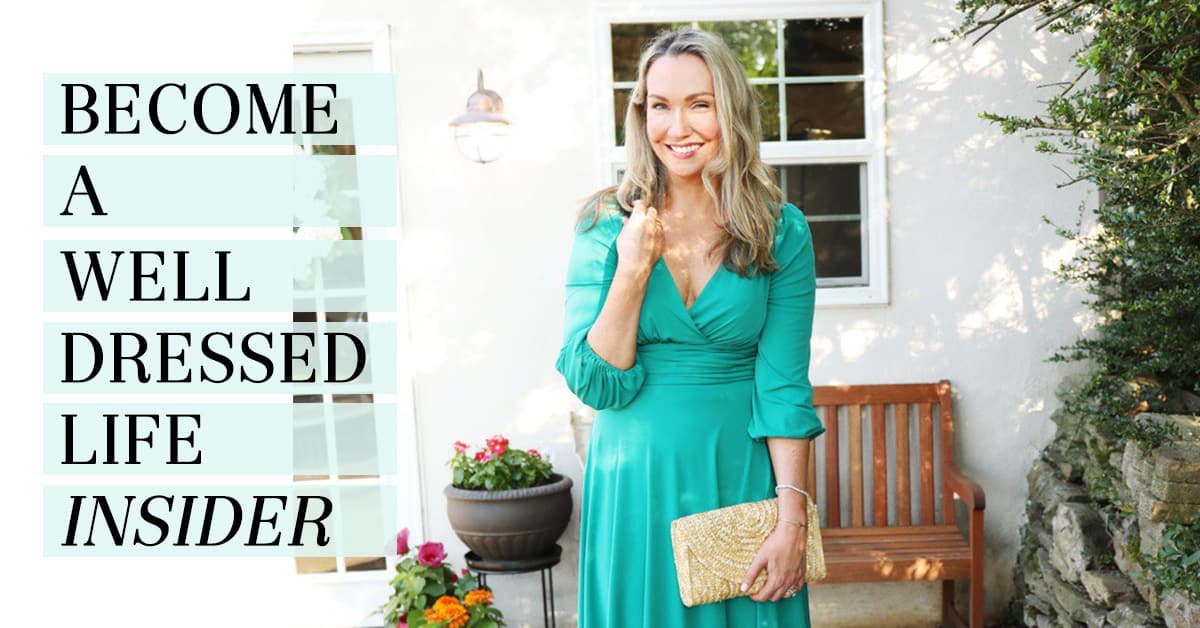 ---