Wondering how to wear Bermuda shorts?
Let's chat.
Bermuda shorts, also known as walking shorts, are casual shorts that hit about one inch above the knee.
They can be challenging to wear only because you have to get the proportions right, but when done well, they are a chic option if "booty" shorts aren't your style. 😉
So today, let's dive into the specifics.
What to Look for in Bermuda Shorts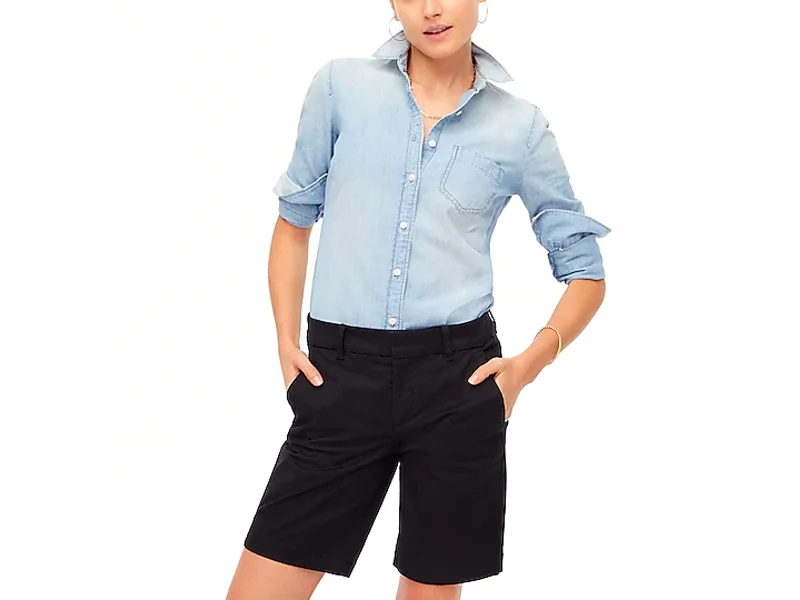 Bermuda Shorts, $34.50
There are many options for Bermuda Shorts available in stores and online right now.
Above is an affordable, chino option from J.Crew Factory. Available in a range of colors, in sizes 00 – 16 for $35.
For a slightly dressier option, I adore these "Boardwalk" Shorts from Ann Taylor. They have a trouser look, available in regular, curvy and petite, in 00 – 18, in black, navy, white and khaki, for just under $60.
Finally, Talbots has a 10.5″ option, in all sizes including, petite, plus and plus petite, and tons of colors, for just under $70. See below.
But here's the important note.
Bermuda shorts can run into capri territory when the length is too long and the width of the leg is too narrow.
How Bermuda Shorts Should Fit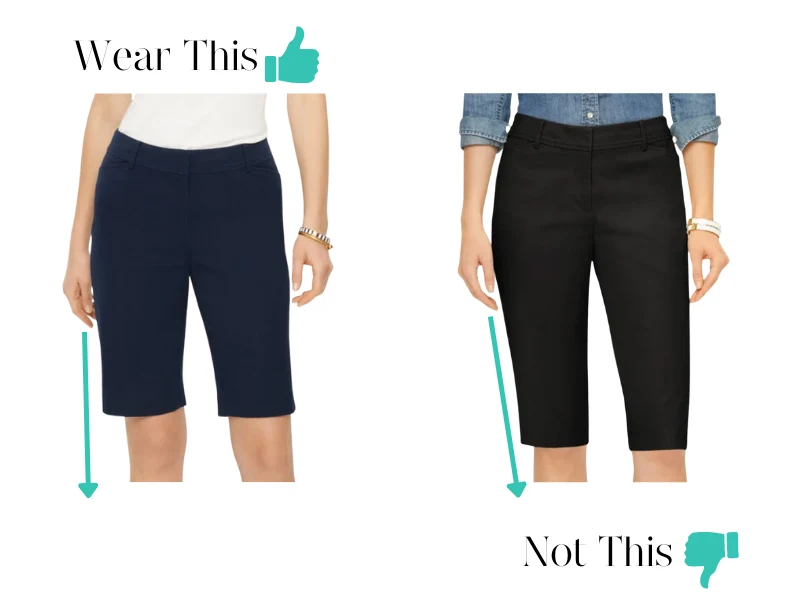 You can see what happens to the line of the body when the shorts get a bit too long and narrow.
Both shorts above are from Talbots.
The one on the left has a 10.5″ inseam, hits an inch above the knee, and the leg line falls straight to the ground.
The shorts on the right are a 13″ inseam, cut the knee in half at an awkward spot, and become narrow, so they tapper in toward the body.
This will make your hips, bum, and belly look wider and fuller than they really are. So if you care about that sort of thing, you want to avoid this style.
Buy definition the shorts on the left are a traditional Bermuda style, and the ones on the right are a little shorter than a clam digger.
But, as we know, retailers misuse terms constantly.
Your best bet with length is to think of Bermuda shorts like a skirt. You want the hem to hit either at the very top of the knee or an inch above.
But when it cuts through the knee, you'll loose height and will throw off the balance of your outfit.
How to Wear Bermuda Shorts Three Ways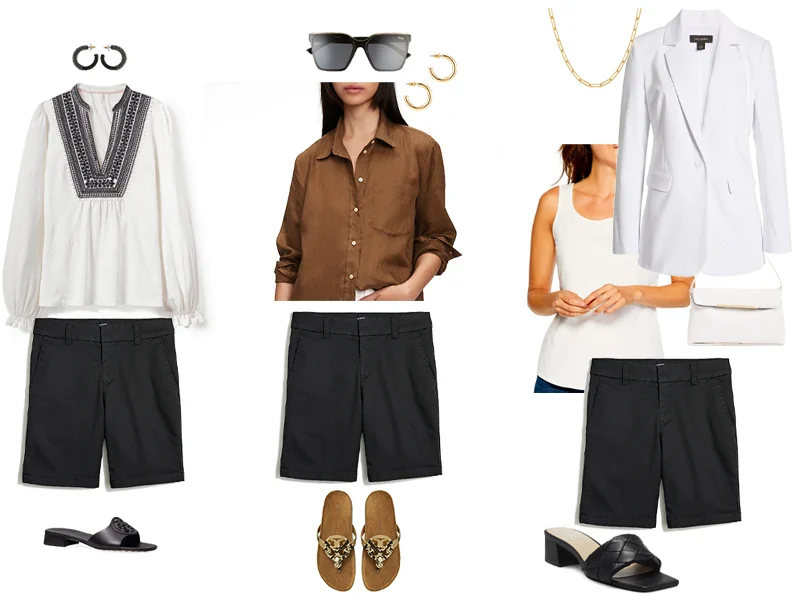 For today's outfits, I am reusing some of our most popular featured items so you can continue to see how pieces build throughout the season.
Dressed Up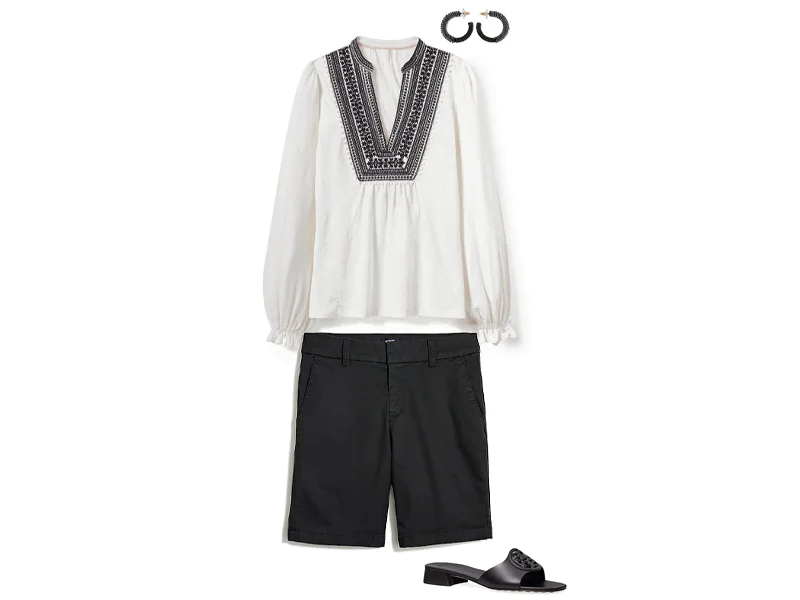 Embroidered Notch Neck Top, $90 | Slide Sandals, $298 | Hoop Earrings, $13
We're styling the shorts for this first outfit with this gorgeous embroidered top from Boden.
We highlighted it earlier this month, and I was excited to see how many of you picked it up.
It dresses the shorts up and makes the outfit.
For accessories, a fun pair of $13 earrings that play off the detail of the top.
To ground the look, a more substantial shoe, like these Tory Burch slides, that give just a little bit of height.
Casual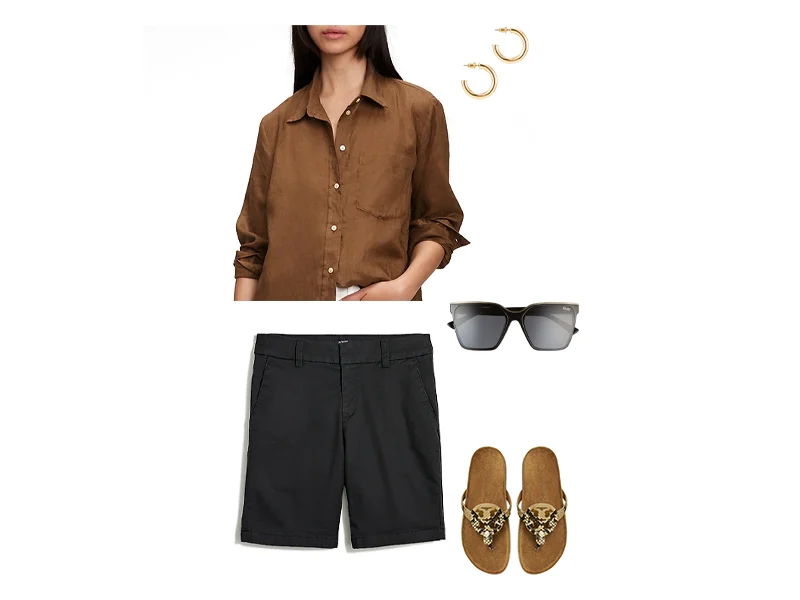 Linen Boyfriend Shirt, $60 | Sandals, $139 | Sunglasses, $75 | Hoop Earrings, $14
For a laid back and casual look I paired the shorts with the linen boyfriend shirt from our Gap feature, in this rich brown.
This shirt is awesome, available in a ton of easy to wear colors, in regular, tall and petite sizes XXS – XXL.
You can wear it buttoned and tucked like the model above, or layer over a white tank and leave open.
Then, another Tory sandal, these have a snakeskin pattern made up of neutrals.
I love how it mixes the black and brown so the look feels intentional. Sizes are limited, but they are on sale, marked down from $228 to $139.
For accessories, I did an oversized pair of sunglasses, these have a cool gold detail around the frame and are under $100 at Nordstrom.
And our favorite gold hoops from Amazon.
Polished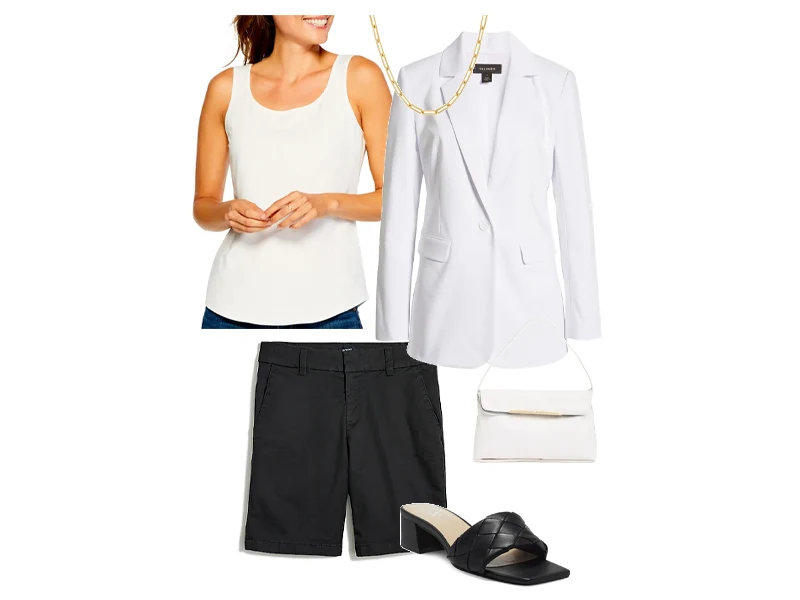 Blazer, $119 | Tank, $48 | Slide Sandal, $100 | Clutch, $80 | Paper Clip Necklace, $88
Admittedly, I love the look of shorts with a blazer.
The contrast and proportion the pairing creates is so fun.
Now, you probably can't wear this to work, but if you can, do it!
Otherwise, keep this for brunch, or drinks and have fun with it.
Here I'm using a tailored one button blazer from Nordstrom's Halogen line. Available in petite and regular, from an XXS – XXL (18).
This is important. You don't want too much fuss on the blazer, rather, one button that doesn't stand out, simple pockets and a traditional lapel.
Layer this over the Nic + Zoe Perfect Tank. You want something that fits close to the body to create a smooth finish under the blazer.
For shoes, I went with the Vince Camuto Woven Slides. We've featured these a dozen times this season and they are selling out in department stores but there is still a nice selection at DSW.
Then, a white pebble leather bag with gold detail (on sale at Nordstrom Rack) and a simple gold paperclip necklace rounds out the look.