Over the last year, I've been asked to share more outfit inspiration modeled on a "real person" instead of our flat lays.
And while I would love to share a range of different body types, that's currently not in the cards.
I would either have to ask my friends to model, and I love them all too much to open them up to being body shamed online, or hire professionals, and there is no budget for that.
So, the best I can do is wear the clothes myself.
I recently heard a quote that resonated with me, "Everything you want is on the other side of feeling embarrassed."
No words have ever been more accurate. Basically, everything I do to run and grow this business is mortifying.
When I first started, I had zero intention of being front-facing, but obviously, the landscape changed very quickly, and the unfortunate reality is if you want to scale and have reached, you have to put yourself out there.
Ugh.
Here's how this works.
There's still a place for flat lays in our content, they have a lot of value, but we are starting to incorporate more photography.
The challenge is that items sell out fast, and promotions come and go, so our articles must be published quickly.
Take today's feature, for example.
We highlighted these pants in our Sunday Sales, they show up as a best seller by Tuesday, and today we can share three real-life outfits using other recently featured pieces.
I pay for all of these clothes with my own money. On the rare occasion, an item is gifted, it will be clearly noted.
As always, there is no photoshop and no retouching of any kind.
So let's kick this new adventure off with the Jamie Elastic Waist Pant from J.Crew Factory. Priced at $52.50, in sizes classic, petite, and tall in 00 – 24 in black and navy.
The current promotion at J.Crew Factory is an additional 20% off any order of $125 or more.
3 Ways to Wear Black Pull-On Pants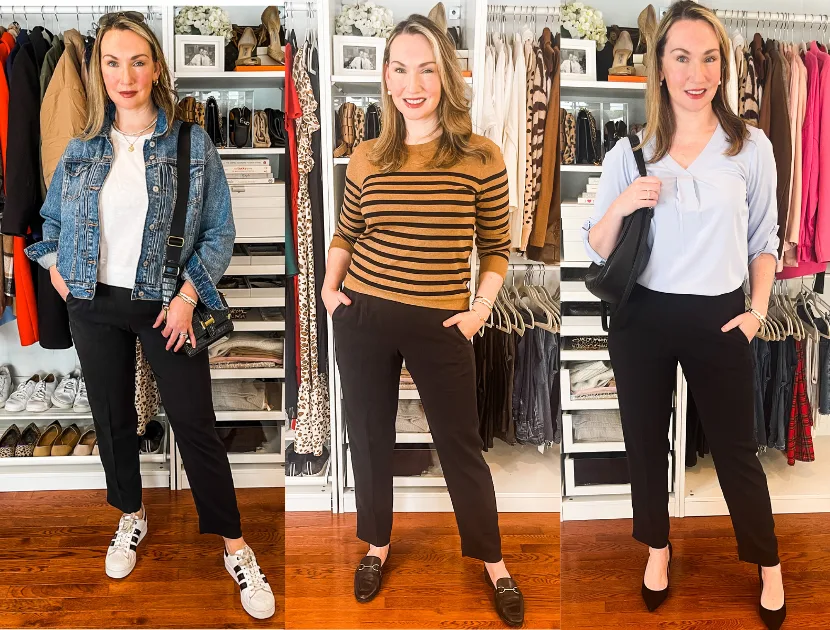 I am 5'10 and am wearing a size 10 Tall.
The length is perfect for me; as you'll see, it works with shoes of different heights.

If you are in between sizes, go up one. I could get away with the eight, but this fits better in my mid-section in the 10.
I am so impressed with the fit and quality.
They are versatile pants you can dress up or down in a fabric ideal for transitional seasons and spring.

For our first outfit, I went casual with other well-priced items that will look familiar.
With Sneakers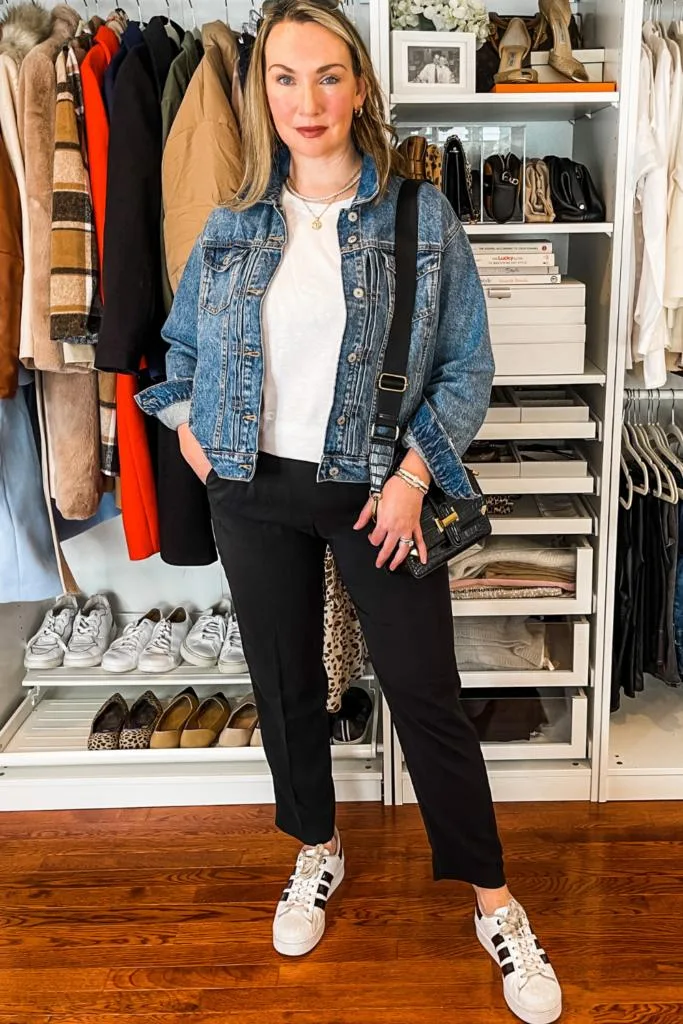 For this look I used the J.Crew Factory Girlfriend Tee Shirt.
Ladies, this is an awesome, inexpensive, classic white tee that isn't transparent.
Available in XXS – 3X, one for $20 or 2 for $35.
Tons of colors available. I took that large which is a little big but I think it will shrink.
Then I threw on this Old Navy Denim Jacket, it's their Distressed Classic Jean Jacket, and it's under $50.
Available in regular, tall and petite in XS – 4X. I'm wearing a regular tall.
My 13 year old has a sick sneaker collection, so I helped myself to her Adidas Superstars. The black detail is shiny, like a patent leather and there is gold detail that's hard to see in the picture.
They are pretty well priced at $100.
I grabbed this popular Amazon crossbody bag, available for $55. The black ALWAYS sells out, but the brown option is currently available.
And because the look is casual, I added this faux tennis necklace for contrast, layered an initial necklace and added these hoops, also from Amazon, in the 20 MM size.
With Loafers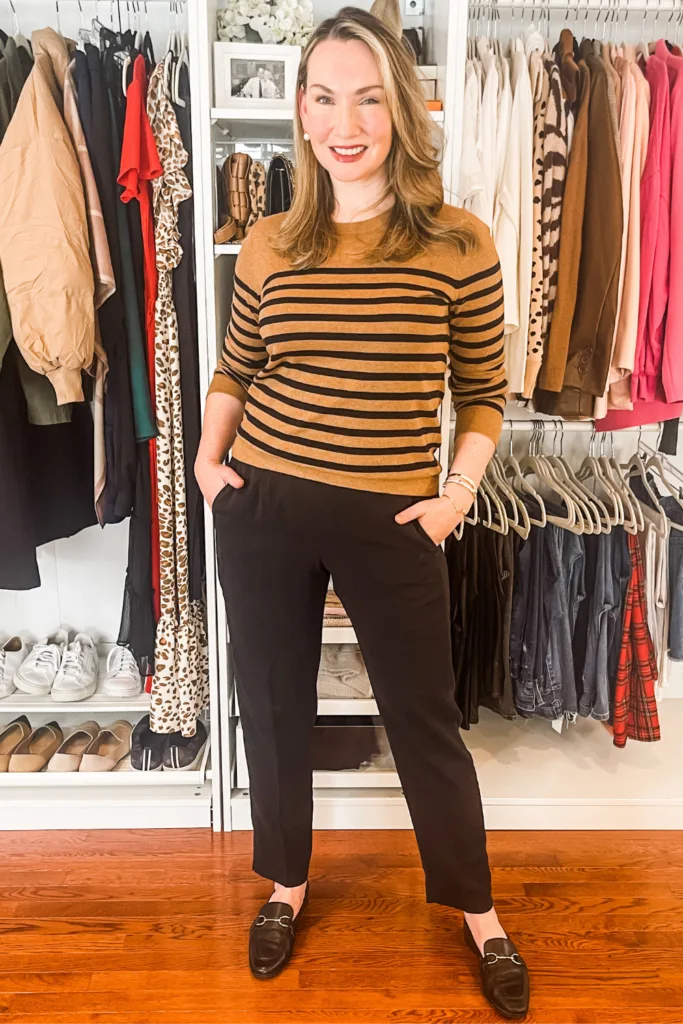 For this look, I pulled out the Sam Edelman Loraine Loafers.
These are just a good, classic, comfortable loafer that pair great with basic bottoms.
Sizes run true.
I threw on the J.Crew Factory Teddy Sweater in this sophisticated tan and black stripe.
Available in XXS – 3X, in a range of colors and patterns, sizes run a little small, so go up one if you'd like some room.
I'm wearing the large, and I like how it fits, but I'm going to lay it flat to dry so it doesn't shrink.
And the only accessory, aside from my every day rings and bracelets are these pearl drop earrings from Amazon that I am mildly obsessed with.
With Pumps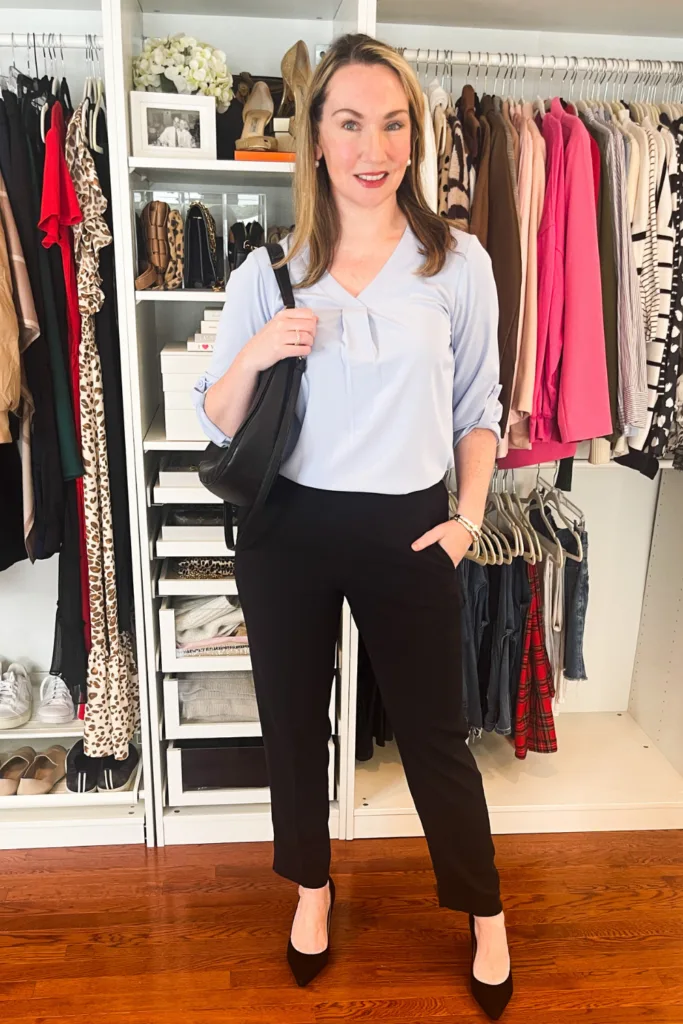 Finally, I'm wearing the Marc Fisher Block Heel pumps in black suede that I've been featuring like crazy.
I love the look, the block heel is comfortable and they are both modern and timeless and they work with pants or skirts.
Available in a range of colors, some on sale, the black suede is regular price at $160.
The blouse, I featured in yesterday's Outfit Formula.
I'm wearing the light blue, in large, available in S- XXL for $30.
Note, it's not pulling across my chest, it's just bunched under my bag. I promised photography, but nothing professional. lol.
I kept the same Amazon Pearl Drop Earrings, and grabbed my favorite new bag from Coach. The one I have is sold out but it's similar in price and style to this one.