Today's feature is exciting to me for a few reasons.
First, every look is totally wearable and you'll see them on me once the weather gets just a little bit warmer.
Second, and more important, we have featured 90% of these items already this season, which means we are WARDROBE BUILDING.
My goal is to help you build out a wardrobe you actually wear, so when you purchase something through our links, you know it has not only been vetted but will reappear throughout the season, giving you lots of inspiration for how to make it your own.
So let's talk about our key piece, the Relaxed-fit short-sleeve Baird McNutt Irish linen shirtdress from J.Crew, our best selling item in the last 30 days.
Available in classic, petite and tall sizes, in XXXS – 3X. I am 5'10 and took the medium in tall.
I went with the french blue (below) but it's also available in pink, black, navy and flax – skip flax it's see-through.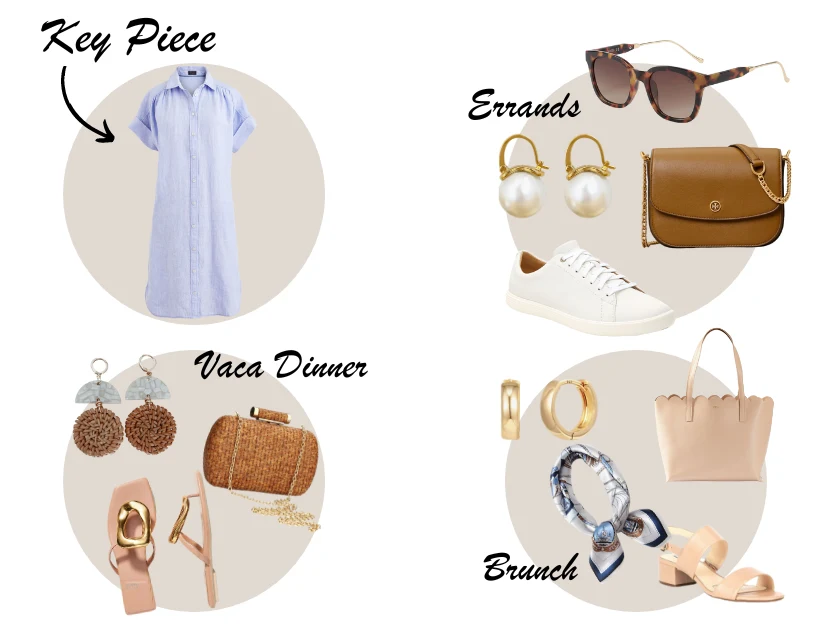 We're sharing three looks to cover any event or obligation you have coming up, from a basic, busy day when you have boring stuff do but want to look cute, to a kid free vacation dinner.
All of these look are easy to put together and pack.
And speaking of packing, I recently ordered this under $40 travel steamer that works well and doesn't take a lot of room in your bag, so don't worry about bringing your lightweight wrinkle prone fabrics on your next trip.
Errands Outfit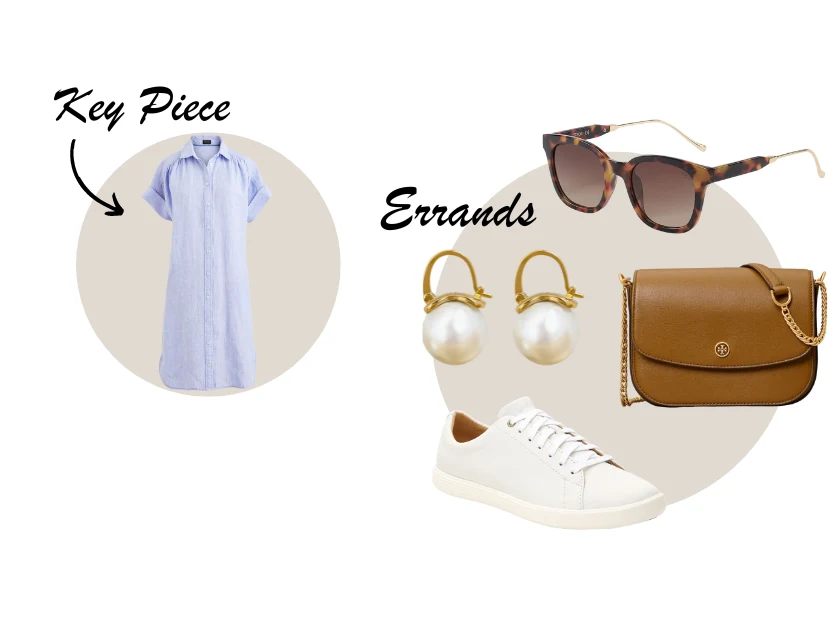 Let's start with the perfect pretty look for a day of running so errands.
The dress is more polished but just as easy to throw on as a pair of shorts and a tee shirt.
And it takes nothing to put together.
Grab your favorite low profile white sneakers, readers are loving these Cole Haan Grand Crosscourt II Sneakers, at DSW for $90.
Need socks? These are the socks I wear with all of my sneakers, including the Cole Haans.
Add a crossbody bag, like this Tory Burch Shoulder Bag, or her camera style bag, both recently featured.
Then, these inexpensive pearl earrings, and Tortoise sunglasses, both under $15 from Amazon.
Brunch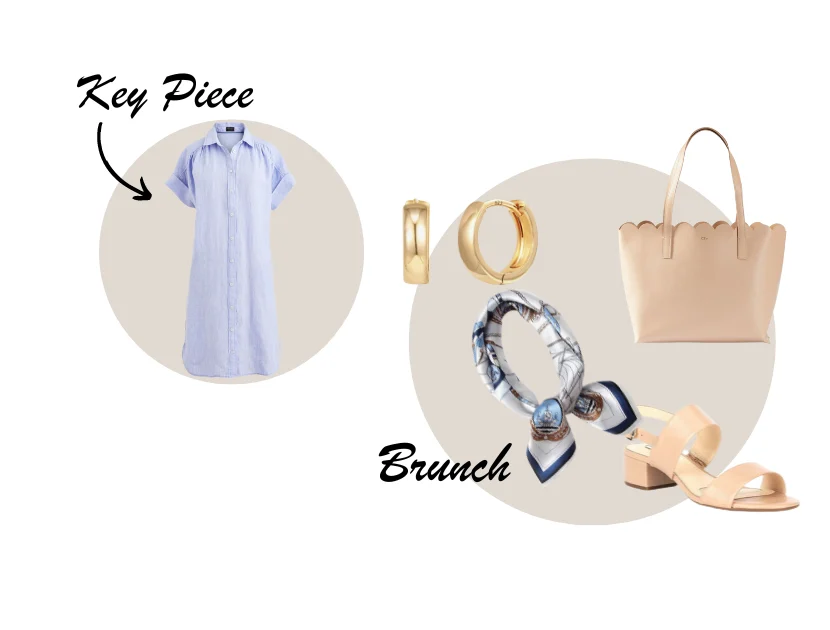 Next, maybe you're headed to brunch, or a casual spring bridal or baby shower.
Elevate the dress with a pair of low heels in a neutral to you tone.
This pair, from Dillards, was a best seller last week, is under $50 and is surprisingly comfortable.
I also just ordered these slides with a higher heel from NISOLO to try. They get great reviews fro comfort and quality. I'll keep you posted.
For some reason, I wanted a bag with a scalloped edge, and found this one from Mark and Graham (and you can personalize it!).
I like that the beige has a slight pink undertone.
And then, to wrap up the look, an inexpensive silk scarf.
This option from Amazon comes in over three dozen patterns and is easy way to play with a scarf for $20.
Look for a more sophisticated pattern. I find inspiration in Hermes and Ferragamo's and try to mimic their patterns and color combinations in less expensive alternatives.
Play with scarves until you find what is most comfortable for you. Personally, I tie them on my handbag to add some interest.
But you can loop them around your next or even tie them in your hair.
And then, a simple hoop that you probably already have, also from Amazon, the comes in yellow and white gold for under $25.
Vaca Dinner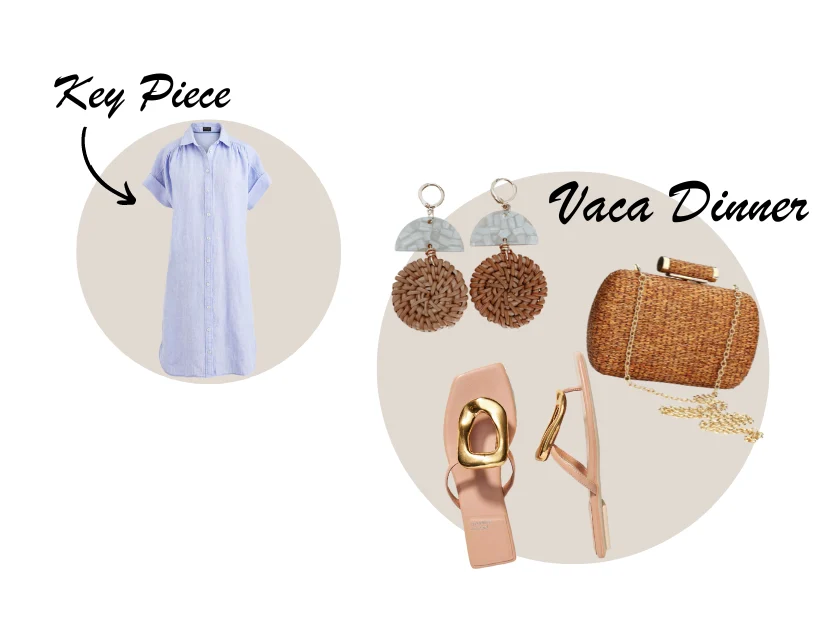 Finally, I am DREAMING of a kid-free vacation with my husband.
Even just a few nights away somewhere warm, just the two of us, with nothing but books to read, naps to take, and dinner someone else cooks.
A few flights were booked and rescheduled because of the kid's sports calendars.
So, hopefully, we can sneak away in June.
And if we do I'm throwing this in my carryon for a casual dinner, with wet hair pulled back showing off these big earrings I found on ETSY for only $22.
They remind me of the oversized earrings you'll see on Tuckernuck but handmade for a fraction of the price.
I'll bring this straw hard case clutch I found on Amazon. It's maybe my favorite bag find of the year so far.
Your choice of brown or gold, I bought the brown, and it's perfect.
It's small, but you can neatly fit a phone, a slim card/cash case, and some makeup.
Finally, these super popular flats we featured earlier this month with a sculptural gold detail that acts like an additional piece of jewelry.