There is currently a cold front blowing through much of the East Coast.
It's not warm enough to plant flowers, and the covers have barely come off our patio furniture.
I've spent the last few weekends freezing on a sideline in winter gear and a blanket.
For many of us, our mental health depends on a seasonal dose of vitamin D.
So I'm waiting not so patiently for warm weather to arrive and trying to avoid booking another flight to Florida.
While we still feel like it's winter, in the stores, it's full-on summer.
Which is hard to wrap your head around when we are shivering and shoveling in parts of the country.
But if you want to have what you need when it's finally sunny and warm, we need to shop now because sizes and styles will be painfully limited by June and July.
And today's 19th Outfit Formula is quintessential summer, The Linen Shirt.
Outfit Formula #19: The Linen Shirt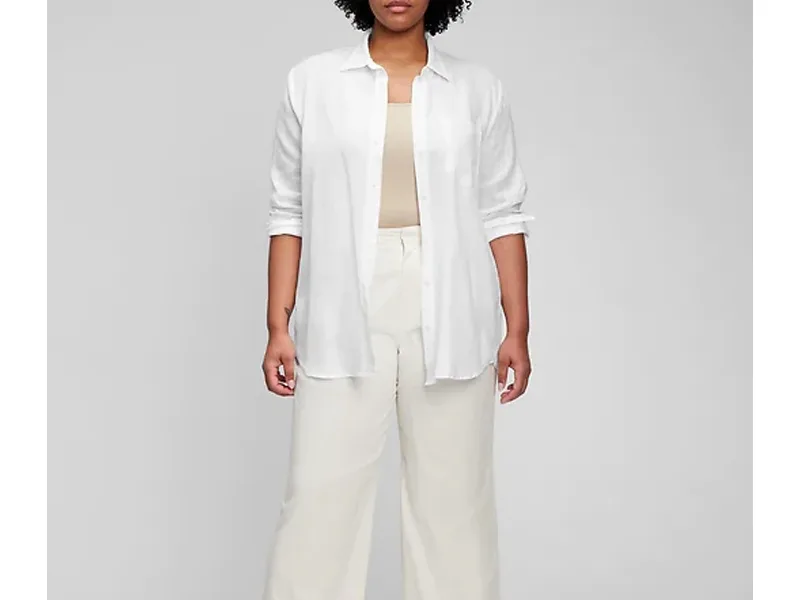 Linen Shirt, $60
There is a style trend right now called "Coastal Grandmother."
It's an aesthetic inspired by the protagonist in any Nancy Meyers film. It's laid-back California, casual, elegant and rich, like, the kind of rich that doesn't try to look rich.
Think Diane Keaton in Somethings Gotta Give.
Essentially everything I strive to be in life.
What's fun is that the style is embraced by all ages, so while it's called "grandmother" it's really timeless and ageless. Frankly, I've been dressing like this since I was 25.
And the linen shirt is an anchor piece to that wardrobe.
So let's break it down and share some options.
Linen Shirt Basics
First, a linen shirt is what it is. Don't try to make it something it's not.
Often women overcomplicate getting dressed.
We feel like an outfit needs more to be complete.
But it's often in the simplicity of a look, where we focus more on fit and fabric with some thoughtful accessories, that we start to create elegant style.
The Best Linen Shirt
I'm featuring the Linen Boyfriend Shirt from Gap for today's formulas that we have shared a few times already this week.
It's fabulous.
Available in a range of colors, I like the white, black, brown, beige, and blue. In sizes regular, tall, and petite, in XXS – XXL (20/22).
It's oversized because it is a "boyfriend" shirt, so it's supposed to be long. However, IF it is a little too long, you can easily have the hem shortened, so it's still long on you but not overwhelming.
To keep sheerness to a minimum, wear a neutral-to-you bra. It's counterintuitive, but a white bra will show through more, so pick a bra that is your nude.
For this formula, we're featuring two looks.
Below are two Basic Formula to focus on:


And here they are brought to life:
Linen Shirt Outfit Formula: All Linen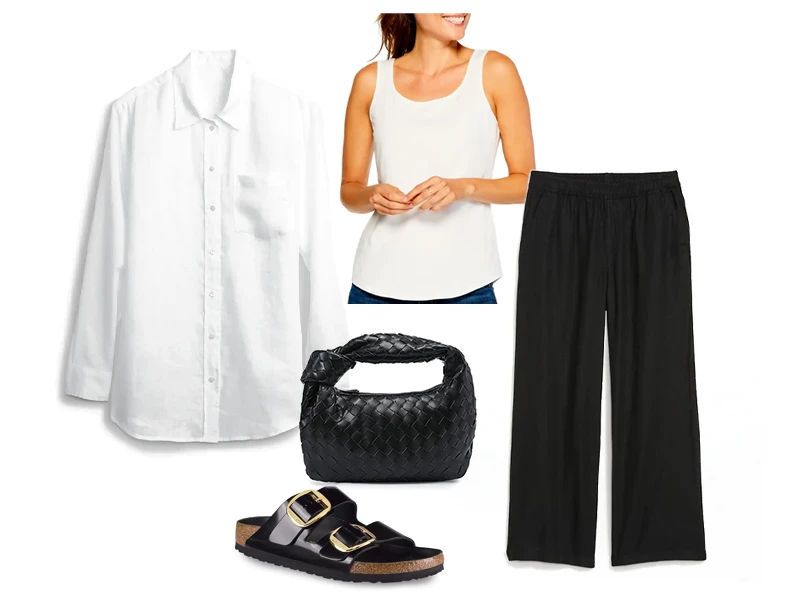 High-Waisted Wide-Leg Linen Pants, $40 | Perfect Tank, $48 | Birkenstocks, $170 | Woven Bag, $19
We're using the Old Navy Wide Leg Linen Trouser for this look, the top seller of April.
These have over 700 5-star reviews, are available in various colors, and run from XS – 4X in regular, tall, and petite.
If wide leg isn't the best shape for you, now worries.
Swap these out for a straight leg version, like these from J.Crew.
Whichever bottom you choose, you're going to layer the shirt over a simple white tank.
The Nic + Zoe Perfect White tank is, well, perfect for this. But wear whatever you have and love.
You have a few options here. Either you can button a few buttons and play around with a half or full tuck to see what works best for your proportions.
OR, wear it open as an over-shirt.
Where the hem of the shirt hits you is important, which is why you may want to have it hemmed a few inches.
Note: Please consider investing in alterations, when you tailor your garments to work for you, you get so many more options and a much more useable wardrobe.
Next are the shoes; I'm bringing back the Birkenstocks with the oversized gold buckles. A flat, chunky sandal is excellent here. You could also wear the Tory Burch Miller Cloud Sandals if you've picked them up.
To finish the look grab this inexpensive black woven option from Amazon for a bag to add some monochrome texture and interest.
Related: How to Wear Wide Leg Linen Pants Three Ways
Linen Shirt Outfit Formula: Cool and Casual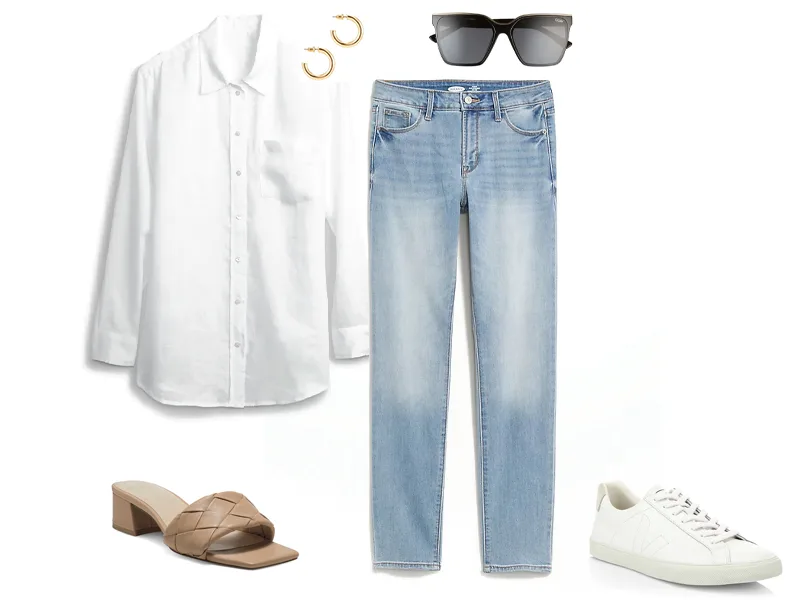 Power Slim Jeans, $40 | Slide Sandals, $98 Low Top Sneakers, $130 | Hoop Earrings, $14 | Sunglasses, $75
For this next look, we're keeping it light and effortless.
Grab your favorite light-wash jeans. I'm using the high-waisted power slim jeans from Old Navy.
We featured these all the way back in our very first outfit formula, so you might already have them.
But, again, use whichever straight or skinny style you have and love.
The idea here is to create that no-effort coolness.
Here, I would keep the shirt buttoned and tie, tuck or leave out.
Then, you have two shoe options.
For some hight, the popular Vince Camuto Woven sandal, another big hit in April, would be lovely.
Or, rock a sneaker from our round up of 8 Great White Sneakers.
Above are my favorites, the Veja's in all white. They have a low top and slim profile so they work really well with a skinny or straight jean.
Finally, I'm all about repeating favorite accessories, so I like using what I know you have.
Here, we're featuring the Amazon gold hoops, I get emails about how great these are every day, and these fun sunglasses by Quay, with a gold accent on the frame for under $100 at Nordstrom.
Related: How to Wear Bermuda Shorts Three Ways