The beauty of an outfit formula is the ease it creates for you when you get dressed. So often, we overcomplicate the process, reinventing the wheel every time we stand in front of our closets.
What's nice about outfit formulas is that you not only have a guideline to provide clarity, but you'll also start to define your style.
Over this year-long series, specific formulas will speak to you more than others. And that's the point. 🙂
Please focus on your best looks and replicate them with pieces you already have and new items you purchase through our recommendations.
That's when you'll see your personal style emerge. Start to notice the garments and outfits you turn to over and again.
Today's formula, featuring an oversized sweater, is one of my go-to looks, a formula that has very much turned into one of my uniforms.
So let's dive in.
The Oversized Sweater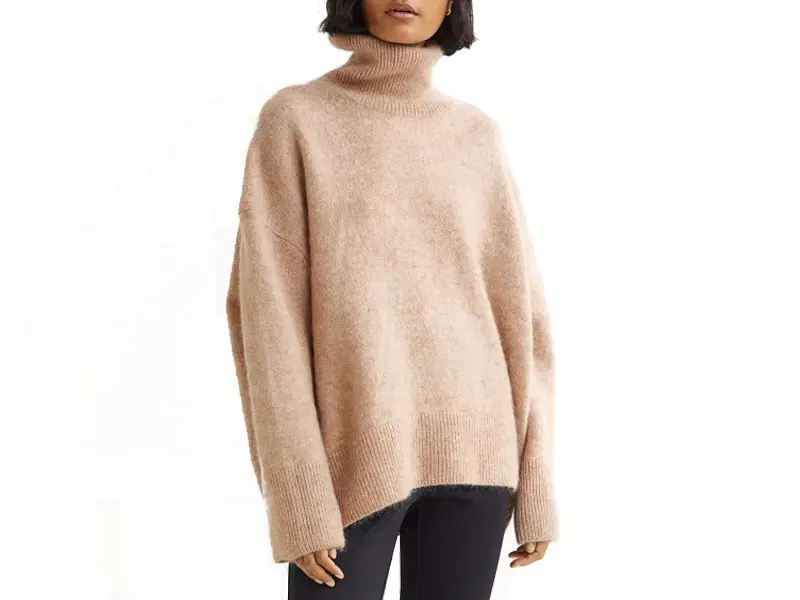 Oversized Sweater, $80
As always, let's first talk about the sweater. You've long heard me sing the praises of H&M's knits. They are some of the best around.
I research everything and have had access to so many brands. Similar sweaters run well into the $300 range, but this one is $80, and, frankly, that's on the pricey side for H&M.
I like this one specifically because it has a defined high/low hem. So, shorter in the front and longer in the back. But you can wear whatever makes you comfortable.
You can just as easily swap this style out for a shorter yet still oversized sweater – and I do all the time.
Don't love a turtleneck? No problem, although the turtleneck does add to the drama of the look. You can replace it with a more comfortable-to-you neckline, and layer in some delicate necklaces or add a scarf.
Below is a Basic Formula to focus on:
The formula itself is so easy, but look at how elegant it becomes with a mix of the right pieces.
Here it is brought to life:
Oversized Sweater Outfit Formula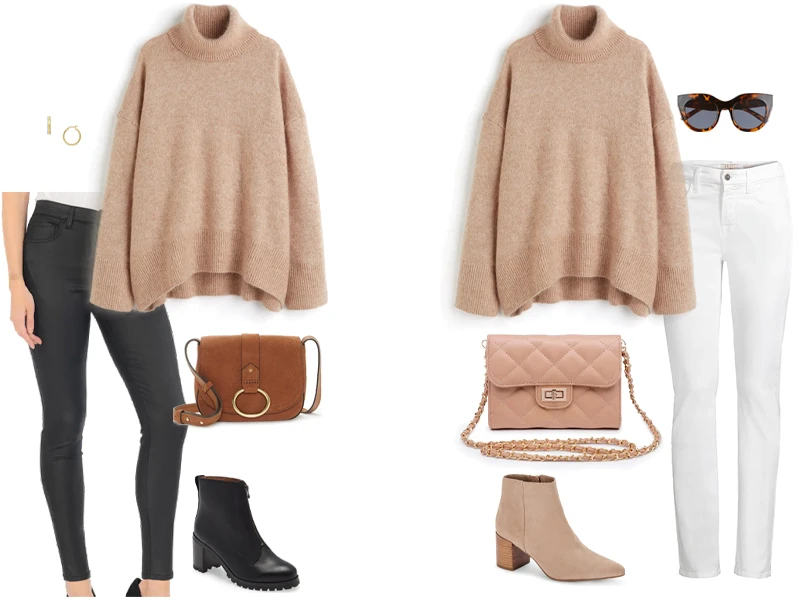 These looks are an excellent example of how mixing neutrals, textures, and fabrics can take a look to the next level.
The most important part of this formula is the slim-legged bottom.
It needs to be slim so you don't overwhelm your frame. So wear your favorite skinny bottom or look for straight-skinny, which is still narrower than traditional straight jeans. (Confusing, I know). You can also wear your better leggings or a Ponte knit pant.
With Coated Jeans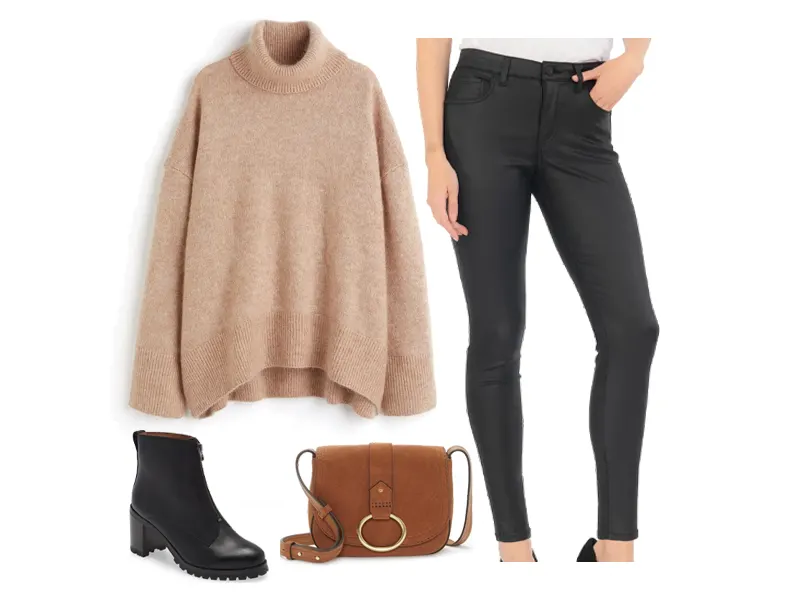 1
Coated High Waist Ankle Skinny Jeans, $89 | Lug Sole Boot, $198 | Crossbody Bag, $168 | Hoop Earrings, $68
These Coated High Waist Ankle Skinny Jeans by KUT from the Kloth are fantastic and well priced. Available in sizes 00 – 16.
We've featured a few slim-cut coated jeans over the last few months, so wear what you have.
Like these Banana Republic slim coated jeans, they are perfect too, on sale with sizes limited but still available.
You can also wear your favorite faux leather leggings.
Then, your shoes need to have some weight to balance the fullness of the sweater, so I'm using a Lug Boot with a block heel from Madewell for this look.
I like the zipper detail and sleek finish.
Prefer a flat version? The Steve Madden Leopold Chelsea Boot was a reader favorite for months. It's sold out everywhere except on Amazon. I have them in the black and tan suede.
Next, this suede crossbody bag, in tan, by Vince Camuto. I have been looking for a crossbody inspired by the Chloe Marci bag forever, and this one is the best I have found.
It's not trying to knock it off, but I appreciate its details and functionality and that it's not dripping in a logo.
See how the suede of the bag and the texture of the pants create depth? That's the secret to a simple look that feels special.
I finished the look with these modern hoop earrings by Argento Vivo for $68.
With White Jeans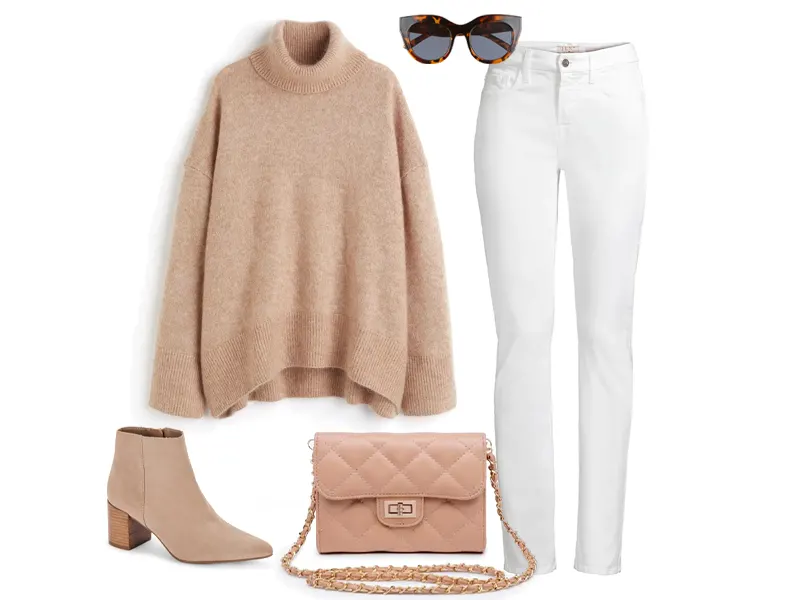 Straight Jeans, $99 | Booties, $150 (ON SALE $99) | Quilted Bag, $39 | Sunglasses, $69
I LOVE this look.
Pull out your white skinny/straight jeans because (1) you don't have to wait for the summer, and (2) they are so chic paired with winter basics as we transition from winter to spring.
I just ordered these jeans for myself from Jen7, available in sizes 0 – 18. We'll feature more white jean options in the coming months, but I like the leg line on these.
Next, these booties from Blondo are so cute, waterproof (!) and on sale for just under $100. Scoop these up if you need a fresh pair of booties for the springtime. Hint: you will see more of these in upcoming posts:)
Then, this slim quilted bag is on sale over on Tuckernuck – their sale section always has an excellent selection of handbags. It has a gold chain that acts as an accessory so you can keep the rest of your jewelry simple. Wear your favorite, better everyday pieces.
Finally, I included a cute pair of oversized sunglasses by Le Spec. I like Le Spec for novelty sunnies at better prices, so you can create a collection without breaking the bank.