Don't freak out over the term "body-con" because we're not talking about the dress you wore to Vegas as a 20 something.
Instead, we're highlighting a dress that hugs your curves in all the right places while not showing an once of skin.
I ordered this in olive green in a size large, over the holidays, and was pretty sure I wouldn't be able to get it over my hips.
I now own it in green, dark blue and black.
The Body Con Dress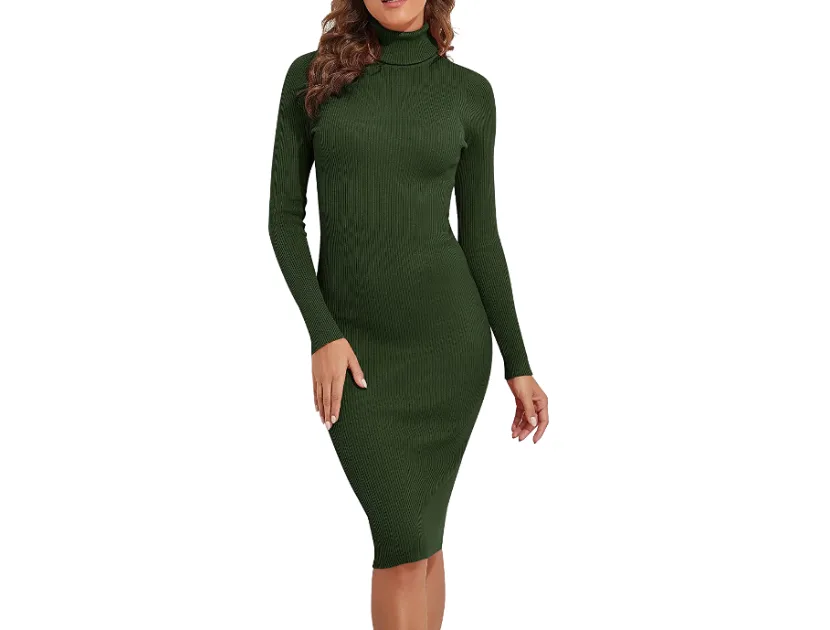 Many of you will look at this dress and think it's an immediate no. And maybe it is, but hear me out.
You've seen pictures of me so you know that no one would call me tiny.
And I'll share this look in Outfits in Real Life next week.
I am 5'10, curvy, and very much look like a 43-year-old woman that had three almost 10-pound babies surgically removed from her body.
But when I put this dress on ( I took a large) to go to dinner with friends last week, I was pretty impressed.
While way outside my own personal comfort zone, it was form-fitting and surprisingly flattering.
It actually highlighted my shape, so I decided to take my own advice, embrace my curves and go for it.
You better believe I wore a powerful pair of Spanx, but that was all it needed, a little smoothing out.
Note: Spanx do not bother me one bit, I literally ate a seven-course tasting menu that night and was completely comfortable.
Walking out the door I felt like I was honoring the strong body that's given me so much and that I've been working so hard to care for.
And listen, this style dress isn't for everybody, nothing in fashion is universal. My job is to share as many good options as possible so you can pick and choose. And also encourage you to try new things and stop hiding your body in your clothes.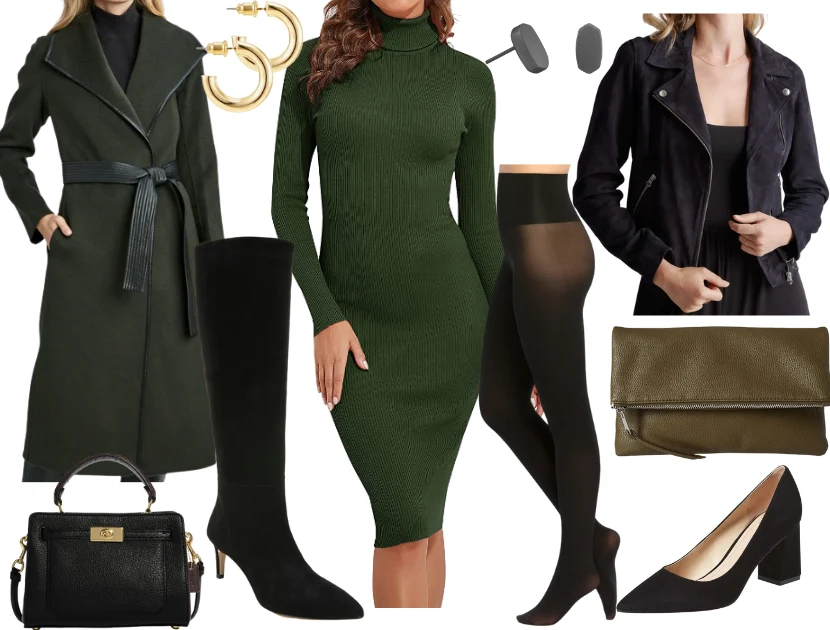 Because that's what I want to get across, stop thinking you need to be smaller to wear fun clothes.
Just do it.
Sure, you want it to look flattering so you feel confident, but maybe this year, you will try to highlight your best features instead of covering everything up.
And to help, I have two easy formulas to follow.
With a Statement Coat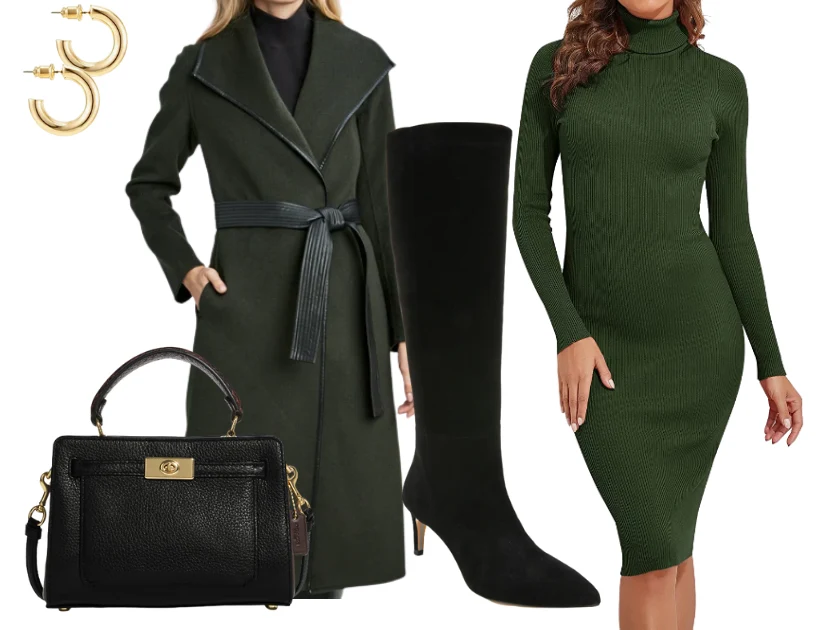 In my world, there is NOTHING better than a coat. I would pick a gorgeous coat over shoes or a handbag any day.
Something about how it feels when you slip your arm in, or that air of confidence it gives you when you walk into a room so well dressed.
Love me a coat.
And this dress demands a good coat moment.
But it doesn't have to be expensive. Stores like H&M and Zara always have incredible options. And sales this time of year are fabulous.
I adore this leather-trimmed style from Elie Tahari, originally $400, now $129. Available in four colors, it's the final sale, but there is still decent sizing.
Above, we're showing it in olive, a darker green than the olive green of the dress. This is totally fine. The variation in the depth of color gives the look interest.
Then, knee-high suede boots.
These can sit under the dress, or if you're tall like me, the hem of the dress can graze the top of the boot.
If you have these popular knee-high boots from Sam Edelman, wear them here.
And if you are still in the market for a pair, consider this option from Vince Camuto, available in a full-size range, on sale for $115 from $220.
Then, because the coat is dramatic, we're keeping the accessories simple with our favorite Amazon Hoops and a classic black top handle bag.
Don't sleep on the Coach Outlet; they have fantastic deals on timeless bags. This one is only $129 and includes a crossbody strap.
Shop this Outfit Formula: Dress, Coat, Boots, Earrings, Bag
With a Moto Jacket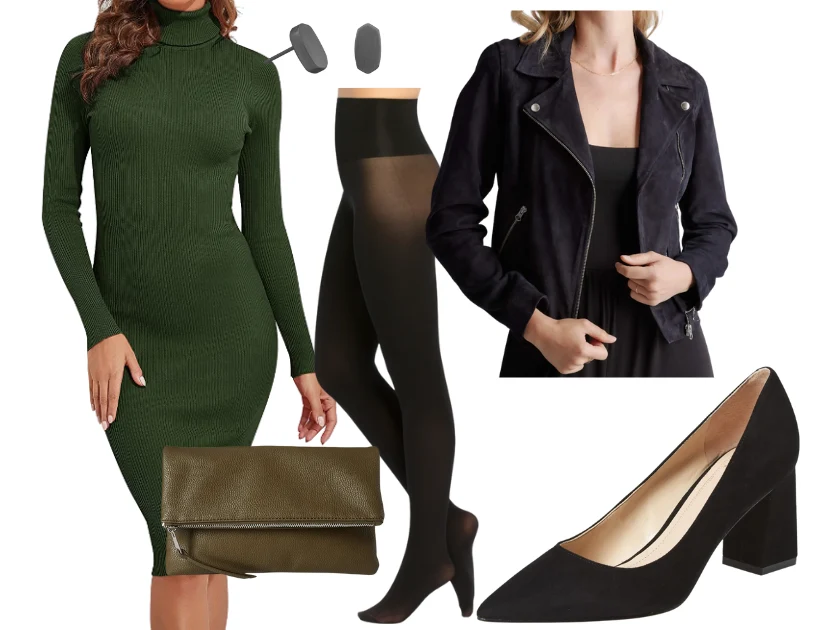 Because so many of you have moto jackets, the one you have would be great here.
The jacket featured above is from Quince. It's 100% suede and $150. Quince needs more size options, as this one only goes to an extra large, but if you are in that range, it's a lovely option.
Or you could have this popular style from Banana Republic Factory, available in regular, tall, and petite, on sale for $85.
You want this to hit your natural hip to keep the line of your leg long.
Then, grab a pair of tights.
This dress requires a heel. You can wear a knee-high or ankle boot, but it needs to be a heel.
For this formula, I'm reusing our favorite suede block heel from Marc Fisher, another Reader Favorite from last year.
Finally, let's talk about the details.
The moto jacket from Quince has stud details that read like dark silver or gunmetal. So that's your direction to use that tone in your other accessories.
Look at the clutch we're using, a great buy from Amazon's The Drop collection. The exposed zipper is also in dark silver.
Now, imagine if it was in a bright gold tone – and notice how that would stand out and clash.
So, in this case, you either want a bag with coordinating hardware or none at all.
I also found a pair of gunmetal studs from Kendra Scott that fill your ear without overwhelming the rest of the look.
Shop this Outfit Formula: Jacket, Tights, Heels, Bag, Earrings