Over the past few weeks, the most popular question in my email or DM's is about full-length pants.
Specifically, do they even make them anymore?
So today, in our latest edition of Outfit Formula's 101, let's dive into the full-length trouser.
Ankle and cropped styles are popping up everywhere because we need new lengths and silhouettes to keep fashion fresh, but there is always a place in our wardrobes for a full, cover-your-ankle length trouser.
In fairness, there aren't a ton of them available, but there isn't a ton of anything available right now.
Because there is always more than one way to wear something, this post and others in the series will evolve with time and the change of seasons.
But today, let's talk about the basics.
Key Piece: Classic Black Full Length Trouser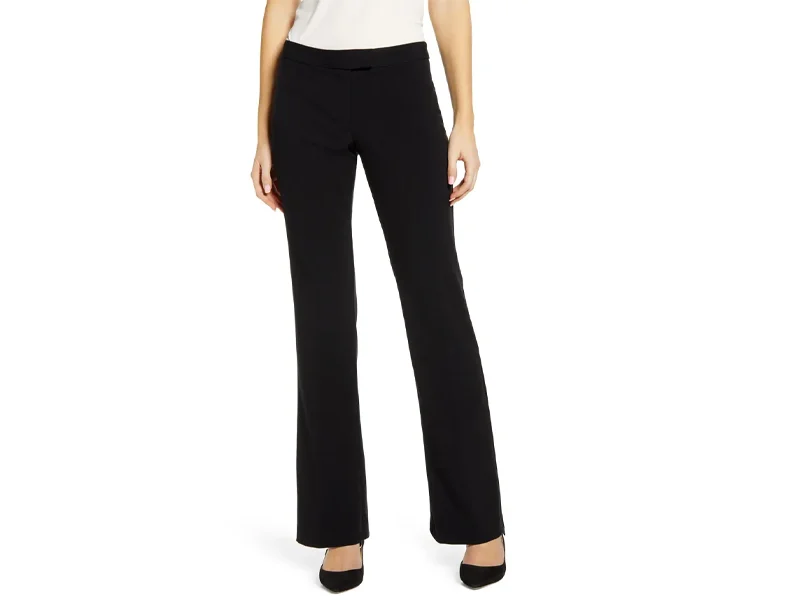 Full Length Trousers, $79
I'm featuring the Vince Camuto Nina Wide Leg Pant. I don't understand why they are described as a wide leg when they are more like a bootcut, which, generally speaking, is a more flattering.
They are selling out fast, available in size 0 – 16.
Another option are these Ann Taylor Trousers in a Seasonless Stretch, meaning you can wear them all year. I ordered a pair for myself.
The reviews are solid and the size range is good, available in regular, petite and tall, from a 00 – 18.
And Talbots has a straight pant in plus and plus petite to consider.
Below is a Basic Formula to focus on:

Remember, there are dozens of ways to wear a full-length black pant, and this will post will be regularly updated as new items become available.
Here it is brought to life:
Full-Length Black Pant Formula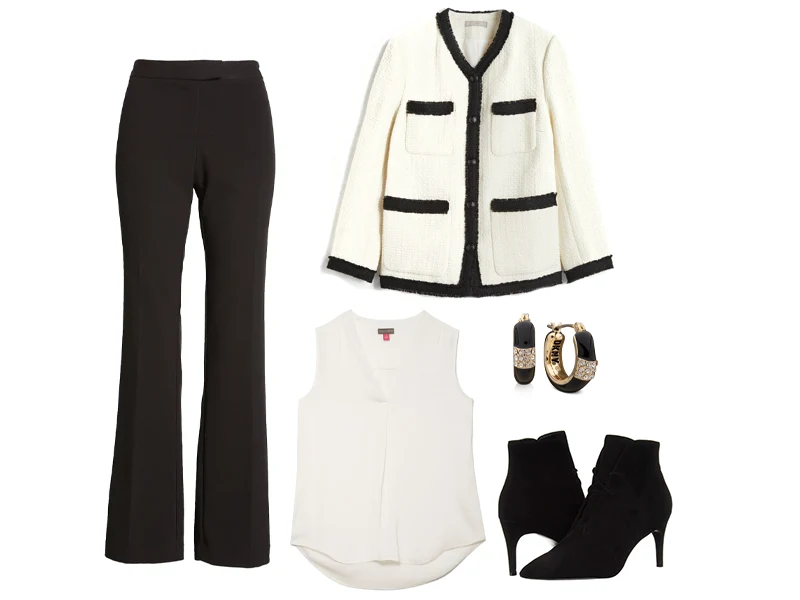 Boucle Jacket, $70 Booties, $196 | Satin Blouse, $59 | Black and Gold Hoops, $35
The integrity of any outfit with full-length pants relies on their fit.
These are not leggings or Ponte-knit pants. They should not be skin-tight, instead, they should rest against your body and drape.
But, the single most crucial fit issue is the length. If you are going to wear full-length pants, they need to fit like one. So the hem needs to sit on the top of your foot and puddle a bit.
The image of the pants above, on the model, are too short. They should be about an inch or more longer. To achieve this, you need to have them tailored to the heel height you plan on wearing.
For this formula, I'm recommending a jacket that hits at your natural waist or higher.
Why?
Because any longer and you'll likely draw a line across the center of your body which cuts you in half.
Instead, you want to think of the components of your outfits in thirds, which allows you to create a balance proportion.
The short jacket is 1/3 and your pants and heels are 2/3 of your look.
Side note, if fractions were taught to me in school like this my math grade would have been significantly better.
I'm using this adorable Boucle Jacket from H&M available in XXS – XXL. This is as long as I would go.
Note, the model on the H&M site is wearing very high waisted jeans, so the jacket looks longer than it is. However, she is still hitting the 1/3: 2/3 ratio, so it works well.
Since this is the kind of jacket you keep on, all you need is a simple sleeveless shell. Here, I'm using the popular one by Vince Camuto in white.
Next, let's get into shoes. You want to wear a heel to keep your legs looking long. If you have a simple pair of black pumps, you can wear them here, no problem.
I found these high heeled booties by Charles David on Amazon and really like them with this. They will make your legs look a mile long, and seamlessly finish the look.
Finally, I'm using the DKNY black enamel earrings from Macy's (only $35) to finish the look. Wear what you have, I would zhush the sleeves of the jacket and layer on a variety of bracelets too.