If there is one item of clothing that I wear too much this time of year it's my white jeans.
I wear them with everything because they have the magical ability to take the tops I'm bored with and freshen them up for a new season.
These bottoms always work with anything from a simple black tee to our go-to Boden Breton or a chambray shirt to a pretty floral blouse.
So for today's Outfit Formula, I didn't want to go back to what we've already done or what may seem obvious.
Trust that your white jeans go with it all.
Instead, let's talk about playing with neutrals, why it works and how simple swaps can make a dated look feel new.
As always, remember I often work with neutrals because they are foundational in a classic wardrobe and simple enough to help explain a concept so you can make adjustments for your taste.
I also happen to love layering neutrals. It's the easiest way to create an elevated and elegant look, especially if you are on a budget.
Outfit Formula #16: The White Jean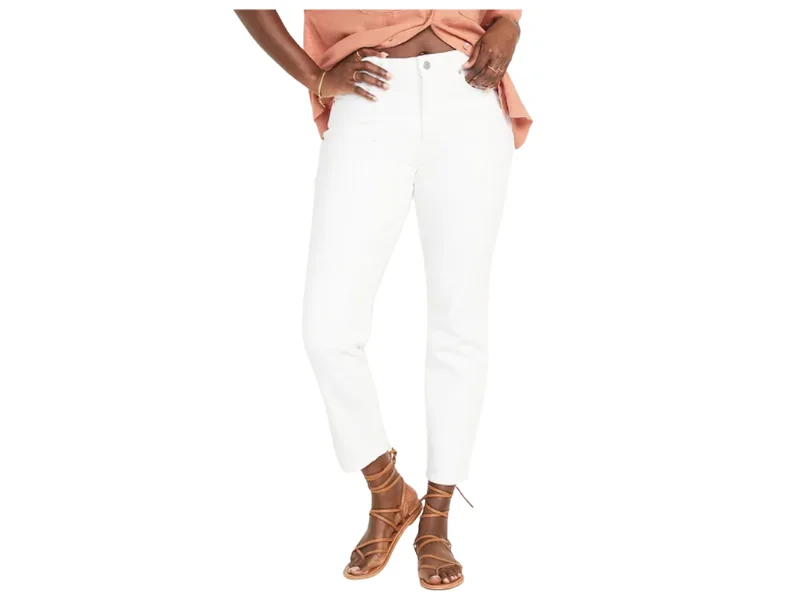 For this week's formula I'm using the Old Navy OG Hight-Waisted Straight Leg Ankle Jeans because they were crazy popular this week, and I like using items I know you have or just ordered.
Available in sizes regular and tall in 00 – 30. They retail at $40, and you'll get 35% off at checkout.
Of course, there are other options, like the NYDJ Marilyn Straight Leg Jean, in regular and plus sizes here.
I just ordered these Madewell jeans to try because they are straight and curvy with a lot of stretch. All sizes available including regular, petite, tall and plus.
Because I find white jeans so versatile (we've already used them as part of Outfit Formula #8 and #10) I'm doing another two for one post.
There's a lot to chat about so let's dive in.
Below are two Basic Formulas to focus on:
And here it is brought to life two ways:
Outfit Formula #16 & #17: The White Jean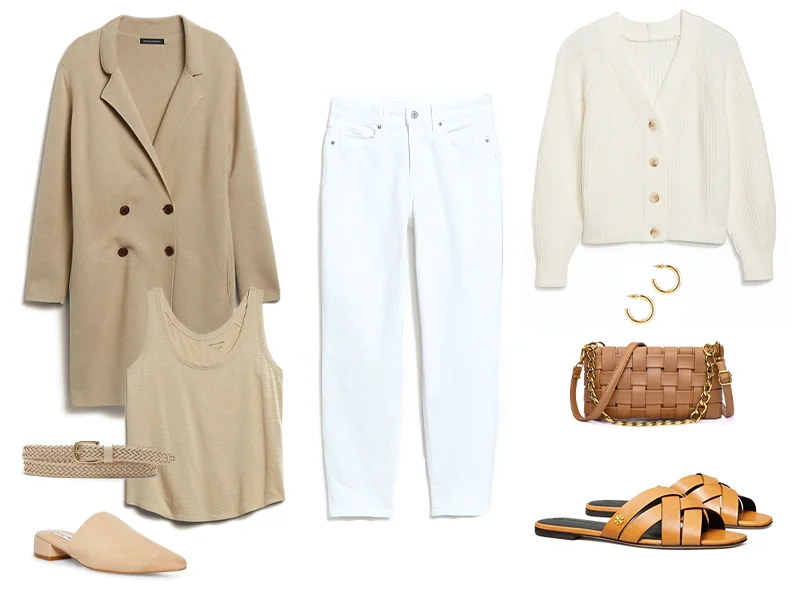 White Jeans, $40, take 35% off at checkout
Mules, $80 | Cocoon Coatigan Sweater, $150 | Tank, $25 | Leather Belt, $60 |
and Slide Sandal, $268 | Cardigan Sweater, $45 | Woven Crossbody Bag, $30 | Earrings, $14
Let's start on the left.
For years, the popular Pinterest look was skinny jeans, a tank, and a long cardigan.
And while there is nothing particularly wrong with it, it could use a fresh spin.
This look is the perfect update, with a lot of flexibility.
Start with your jeans; you can still wear skinny if that works better for you; above, I'm featuring a straight cut. You'll get a little more room with the same slim-leg effect.
Then you're going to pick your layer.
Here I'm using this stunning cocoon coat from the Banana Republic. It's like a duster and topcoat in one, and you keep it on like a blazer.
This replaces the long cardigan, making the look more tailored.
You can use other options, like a long blazer or this kind of drapey trench.
Next is the top.
You can go one of two ways here.
Either coordinate the top to the pants or the top to the layer.
For example, if you want to create a long line with a monochrome look, wear a white top, tank, or thin sweater.
Or, match the top to the layer like I did here with a dyed-to-match tank, or because I know what you are going to say, they also have a tee-shirt, so your shoulders are covered.
Shopping Tip: When buying a garment in a specific color, take a minute and look for other coordinating pieces. They call the layer Maverick Tan in this look, so I searched on the BR site for other items in the same color and found the tank and tee. This way, you know you have things that work together before checking out.
This braided belt is a beautiful detail to add some texture and help define your waist.
Note: You're wearing this belt as an accessory, not to hold your pants up. And the belt goes with the top. If you were wearing the monochrome look, I'd use a similar style in white.
Finally, I wanted light tan suede mules, similar to the Jenni Kayne we picked up at the Nordstrom Sale last summer. (If you have them, start wearing them!)
But I wanted a more affordable option. It took a minute, but I found these by Steve Madden.
They are under $100, are the right style, and finish the outfit.
Our second look is an outfit I think I'm going to wear this weekend, so stay tuned I'll post it on Instagram. Other than the sandals, all the pieces are crazy inexpensive.
I'm pairing the jeans with this sweet and casual cardigan also from Old Navy, .
Mixing the white jeans and cream sweater makes a monochrome look that plays with tone and texture.
And if you want to wear color, go for it! This sweater is available in yellow and rose – either would be pretty here too.
We're wearing the sweater as a top, so all you need underneath is a light neutral cami and keep the buttons buttoned.
I'm sharing another splurge-worthy sandal from Tory Burch for shoes. I like the woven detail and subtle logo embellishment.
The take away is if you are wearing head-to-toe ON you need a better quality element to ground the look. Any of the better sandals we've featured recently would work here.
Then for accessories, our go-to hoops from Amazon. Thank you to everyone who sent me a note about how much they like them; they are such a find!
And for a bag, this rich tan woven clutch is also from Amazon. I bought it a few months ago, and every time I carry it, I get compliments. The quality is excellent for the price point.
52 in 2022!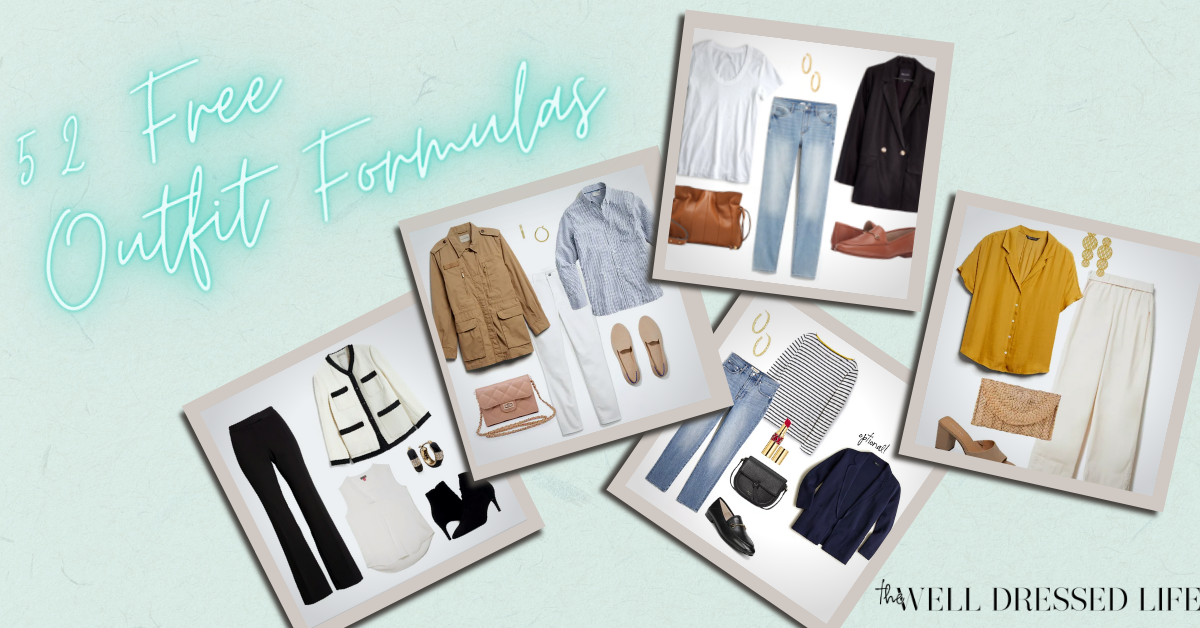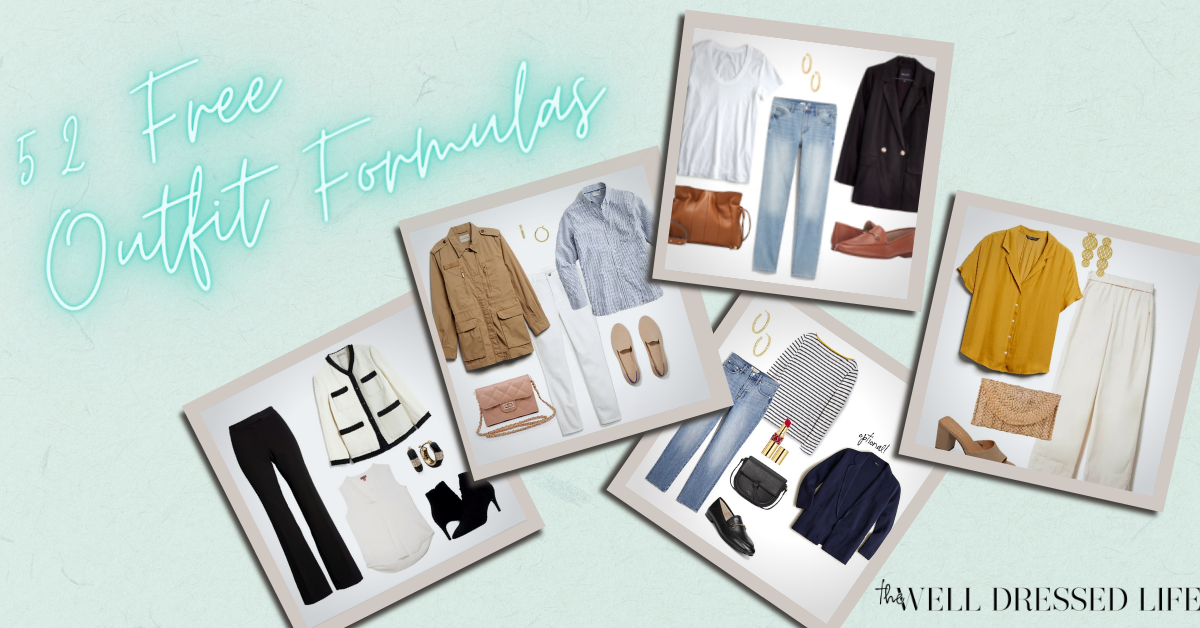 Follow Us on Instagram!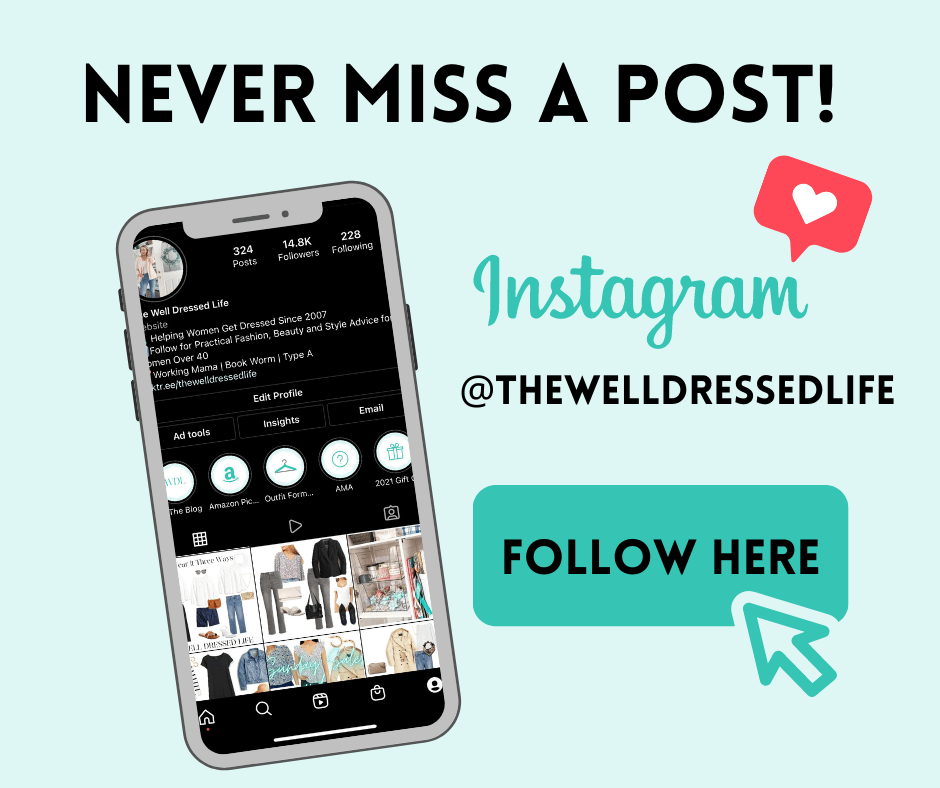 Our Style Content is Inspired by Our Readers
Our readership inspires all of our posts and is not sponsored or paid for by brands or retailers.
Recommendations are based on my experience as a personal stylist and wardrobe consultant for over a decade. I worked with busy, down-to-earth women who wanted to look chic and feel confident but were often confused by so much of retail.
Some links are affiliate links, which means if you purchase via our site, we receive a small commission.

If you enjoy our content and would like to help us grow, please follow on Instagram and join our Private Facebook Group to access more advice and exclusive in-depth conversations with other like-minded women.
Learn about our mission to help women look and feel their very best, every day, here.
Sign Up for Daily Content and Receive Our Free Classic Wardrobe Checklist