When I started The Well Dressed Life, I wanted to replicate the services I provided for my 1:1 clients to a larger audience.
Most successful blogs at the time were all about the author, sharing their every thought, and expertise in all the things, and I had zero interest in that.
After a lot of trial and error and a big learning curve, I feel like we are finally hitting our stride.
The series that fill our content calendar were created to help you build out a wardrobe within the current season.
It's why I repeat items and highlight best sellers weekly so that you can see the versatility of each piece.
And I write each post as if I'm emailing a client, sharing some recommendations and guidance for her wardrobe.
So we kick off each week with our Sunday Sales and Monday's What to Buy at, highlighting one of our favorite retailers, and I wait to see the most popular items.
Then, I take that bestseller and feature it in How to Wear, creating three different outfits, based on one of my long time tips: before you buy something, be sure you can wear it three ways.
This week's most popular item so far is the J.Crew Factory Puff Sleeve Ruffle Top, from Sunday Sales.
How to Wear it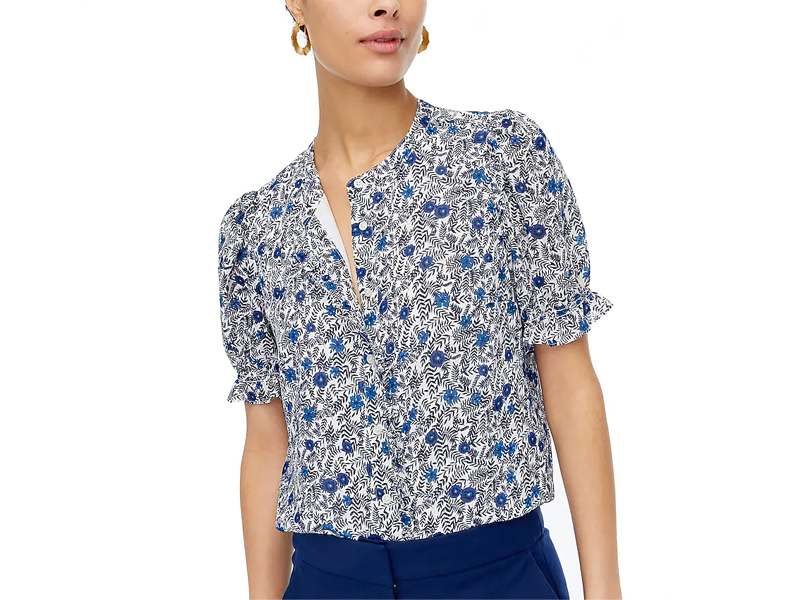 Puff Sleeve Ruffle Top, $59 plus 20% OFF
This pretty blouse is almost sold out.
It's available in blue (above) red and a solid chambray (which is what I ended up ordering).
I like Factory for affordable (never pay full price) filler pieces. This top, for example is $59 with an extra 20% off and it's just a simple, easy blouse that actually works in many outfit combinations.
Sizes are inclusive with their range starting at XXS – 3X.
How to Wear J.Crew Factory Print Blouse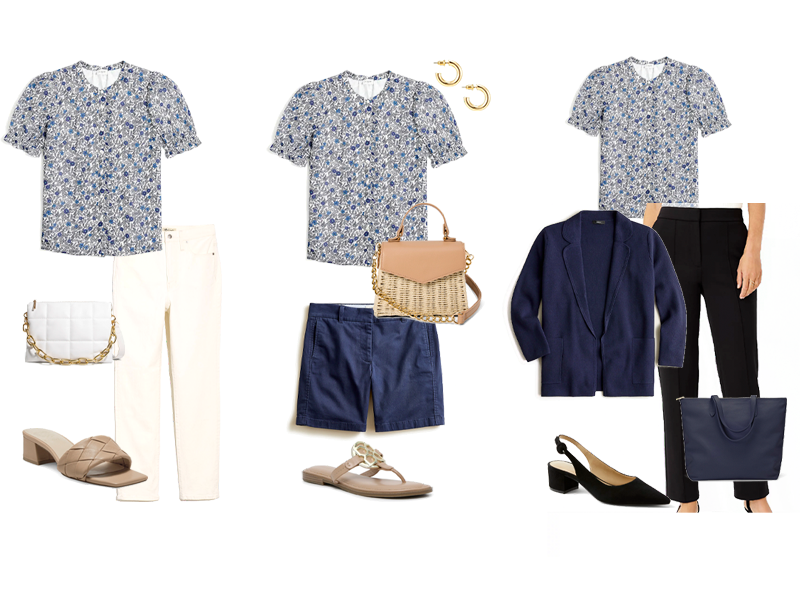 There are a lot of great wardrobe pieces here, for any occasion. All recommendations are listed below.
With White Jeans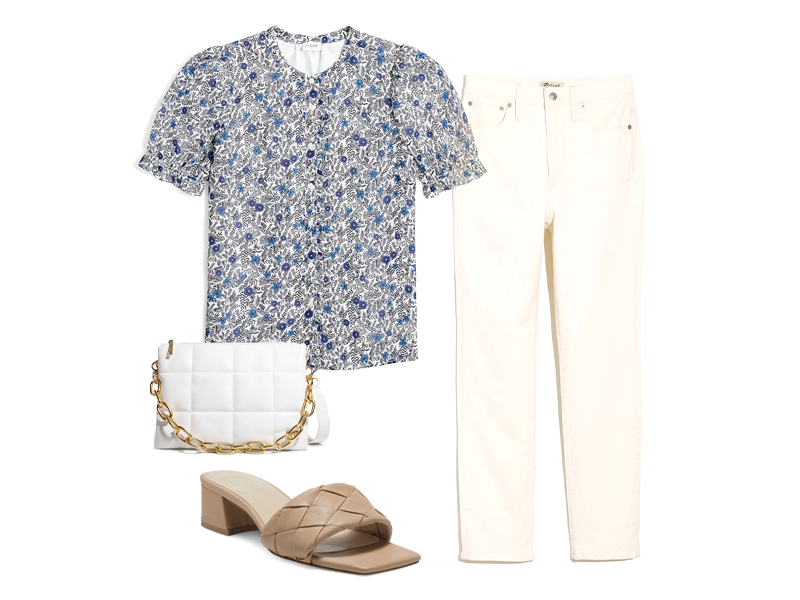 White Jeans, $128 | Block Heel Sandal, $100 | Leather Shoulder Bag, $118
I can't tell you how happy I am to start wearing white jeans again. The make everything you pair them with look crisp and fresh.
Here I'm using the Madewell High Rise Jeans, available in regular, petite and tall in sizes 23 – 33. I find, generally, that Madewell runs true to size, but always check the sizing guide.
For a neutral tone shoe, I LOVE these Block Heel Sandals by Vince Camuto. These are selling out everywhere.
They were available at Nordstrom yesterday afternoon, but they are sold out now. I was able to find them on Vince Camuto's website, but sizes are getting limited.
Then, a fun fashion bag by House of Want. This guy is actually pretty big, so you could wear it all day.
Or grab a small clutch and make this date night ready.
With Shorts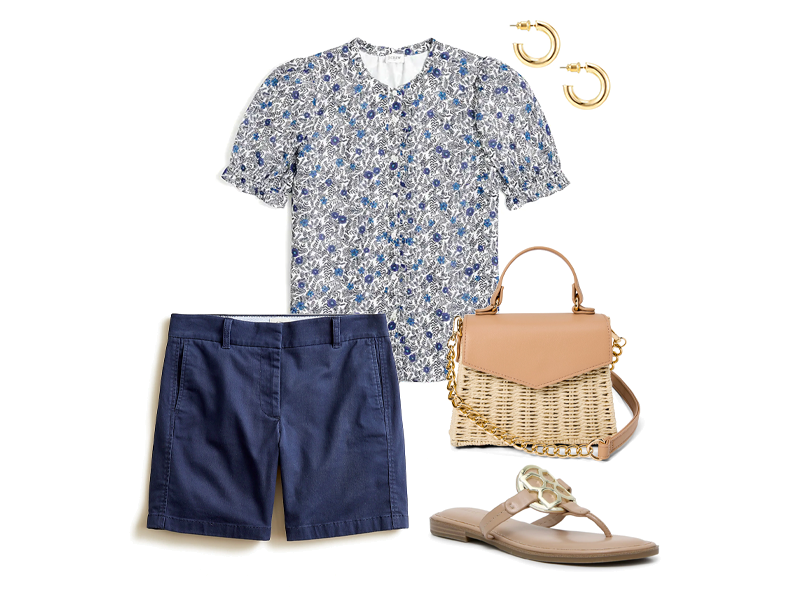 Shorts, $59.50 | Sandals, $45 | Gold Hoops, $14 | Straw Crossbody, $60.50
Listen, I get the meanest emails when I feature shorts because the internet is a terrible place.
If you don't like shorts, don't wear them. If you like shorts, wear them. But there is no age limit on shorts.
Anyway, wear the length you feel most comfortable in. I'm featuring the best selling 7″ option in J.Crew's stretch chino fabric, available in a ton of colors, in sizes 0 – 24.
As an alternative, a navy linen pant can easily replace the shorts.
Next, shoes.
If I am styling shorts casually, I always opt for a flat, and these sandals are a $45 dupe for the Tory Burch Millers, available at DSW.
Above I'm featuring them in taupe, but there are several other color options.
For accessories, I using my favorite new hoops from Amazon (I've worn these every day since they came in) and this fun straw bag for some added texture and interest.
With Black Pants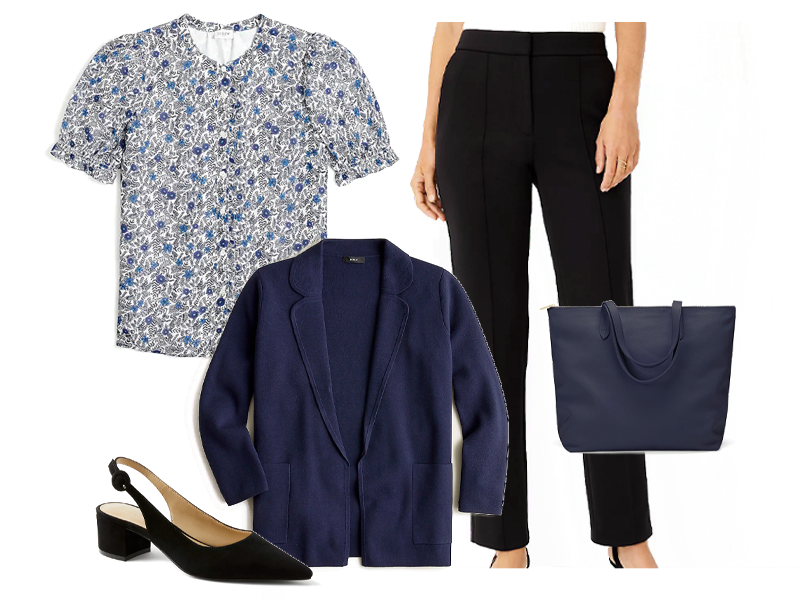 Straight Leg Pant, $119 | Sweater Blazer, $99.50 | Slingback Pumps, $138 | Leather Zipper Tote, $225
Finally, let's make an outfit for work!
These straight leg black pants from Ann Taylor are a fantastic and well priced basic, available in regular and petite from a 00 – 18.
For shoes, I'm using slingback pumps, also from Ann Taylor. They are kind of perfect, with their small block heel and suede finish for texture.
Slingbacks are coming back in a big way. You'll see them everywhere this spring and early next fall.
If you need a clean-lined tote, this one from Cuyana is lovely. It has a top zipper, sits comfortably on your shoulder and fits all your things.
Finally, if you need a layer, grab the navy sweater blazer from J.Crew, on sale today for under $100.
Worried about wearing navy and black together? Don't, it's actually consider a chic combination!
Join Me For Our First LIVE Virtual Workshop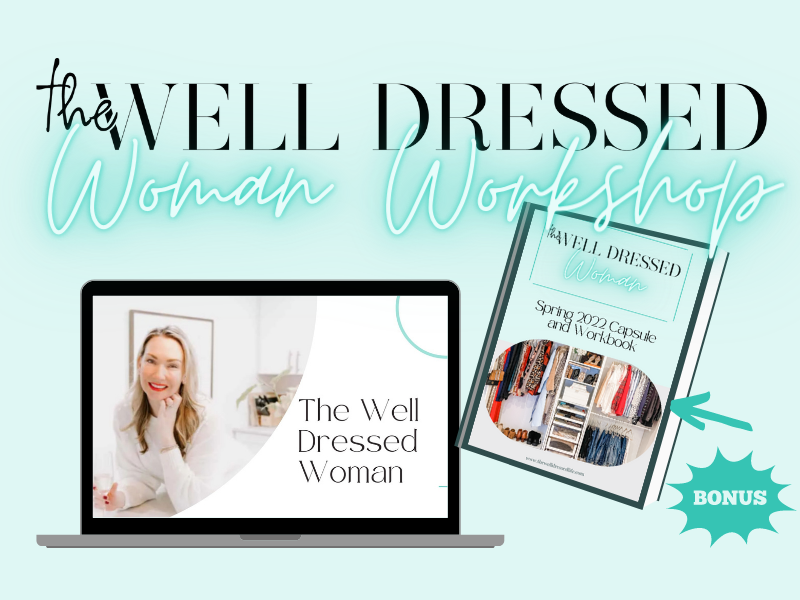 Follow Me on Instagram for Real Life Fashion and Style Advice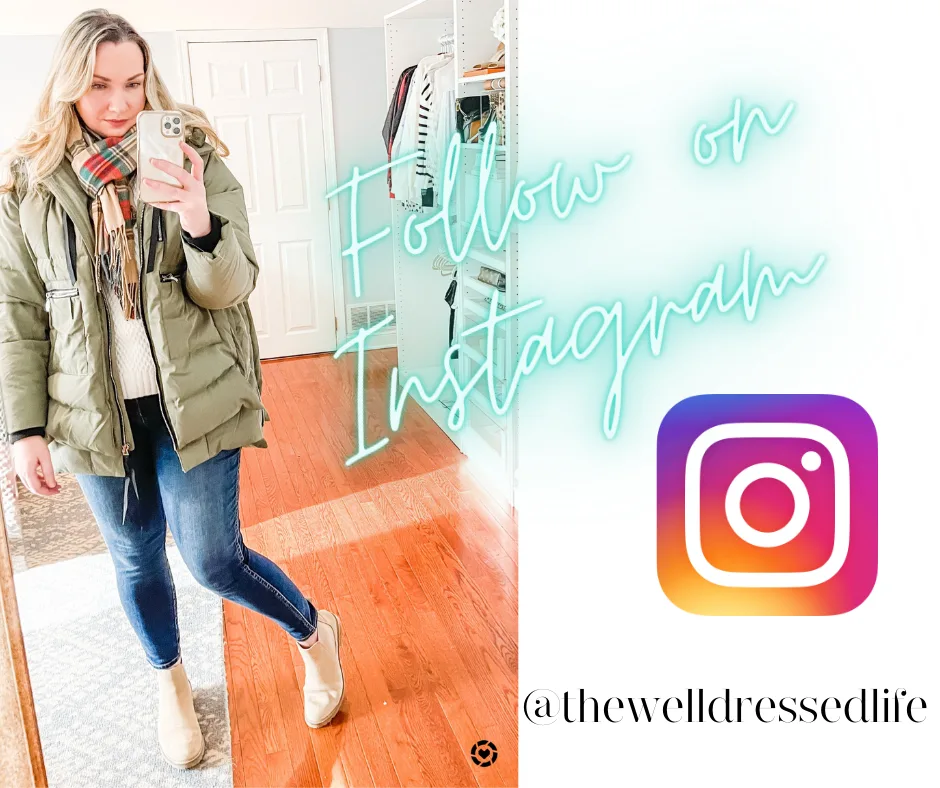 Follow The Well Dressed Life on Instagram for Realistic Style Advice, Fun Behind the Scenes, and Tons of Exclusive Tips and Content.
Our Style Content is Inspired by Our Readers
Our readership inspires all of our posts and is not sponsored or paid for by brands or retailers.
Recommendations are based on my experience as a personal stylist and wardrobe consultant for over a decade. I worked with busy, down-to-earth women who wanted to look chic and feel confident but were often confused by so much of retail.
Some links are affiliate links, which means if you purchase via our site, we receive a small commission.

If you enjoy our content and would like to help us grow, please follow on Instagram and join our Private Facebook Group to access more advice and exclusive in-depth conversations with other like-minded women.
Learn about our mission to help women look and feel their very best, every day, here.
Sign Up for Daily Content and Receive Our Free Classic Wardrobe Checklist