Tee shirt dresses are where it's at. They are the perfect throw-on piece for mild and warm weather days working from home, running errands, and traveling.
If you hate shorts – throw on a tee shirt dress.
If you need an alternative to capris (please!) – throw on a tee shirt dress.
If you want to be comfortable and not sacrifice being cute – throw on a tee shirt dress.
So today, the tee shirt dress is the center of our 13th (Lucky 13!) Outfit Formula.
The Tee Shirt Dress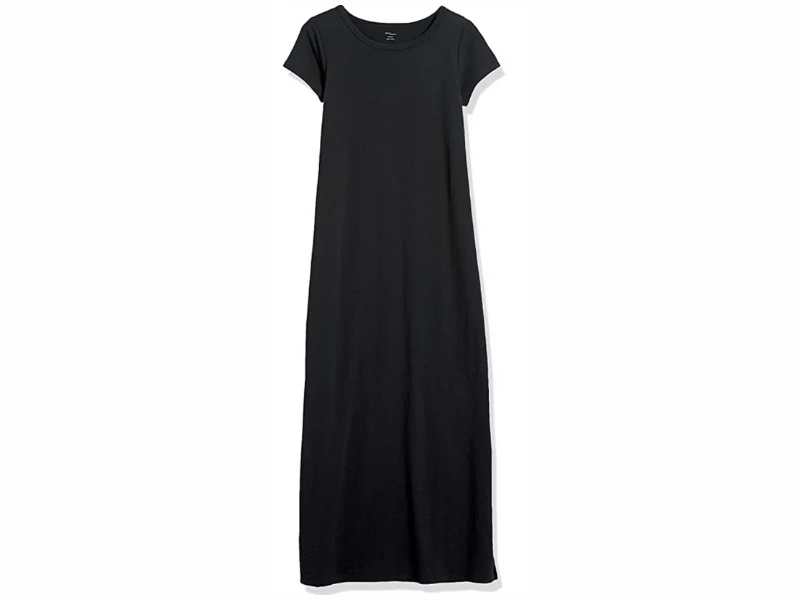 What's great about the tee shirt dress, aside from it's versatility, is that it's wildly affordable. Could you spend 100s of dollars? I guess, but why would you?
Today's featured dress is this Crewneck Maxi Dress, from Amazon's Daily Ritual brand for just under $30.
I'm featuring a long length, but you can wear a length that works for you. They have lots of other options, like this one that hits above the knee.
Another option, in all sizes is this one from Old Navy, in regular, petite, and tall in sizes XXS – 4X. It's an extra 30% off today, so the price is similar to the one featured above.
Between stores like Old Navy, H&M and Amazon you have endless options.
Below is the Basic Formula to focus on:


And here it is brought to life two ways: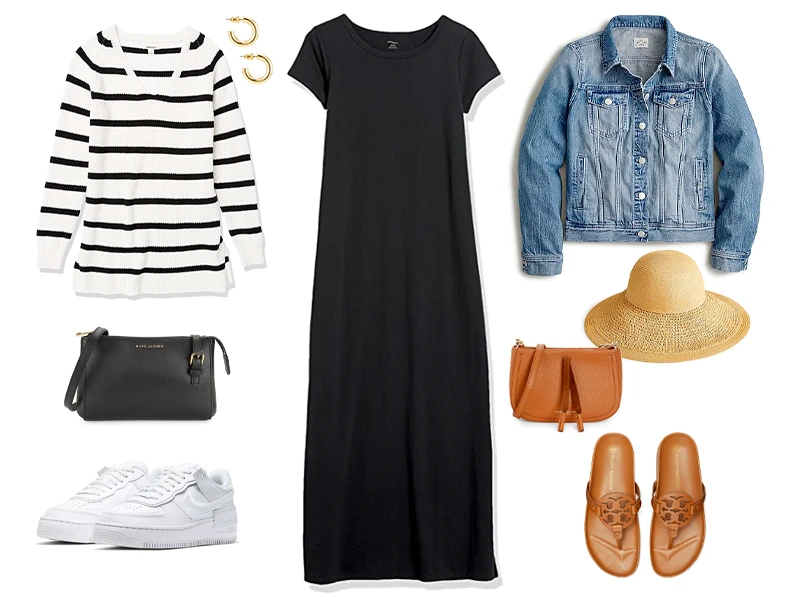 Crewneck Maxi Dress, $29 | Denim Jacket, $118 | Sweater, $40 | Sandal, $152 | Sneaker, $120 | Tan bag, $199 | Crossbody, $90 | Straw Hat, $39 | Hoops, $14
Let's start with the sweater.
We talk a lot about why layers are important, mainly because they add interest. But the challenge in warm weather is that you start to shed those outfit-finishing layers.
Good news is there's a new trend, that's reminiscent of the 80's, where you throw a sweater over your shoulder, with no real intention of wearing it.
So here, I added this black and white stripe sweater, another affordable Amazon find. All you do is fold the neckline of the sweater under, and lay it on your shoulder with the sleeves hanging in front.
Then, the white sneakers I keep going back to, the NIKE Air Force 1 Shadow Sneaker. These are really cool. I like the all white, dimensional details and extra sporty feel.
For a bag, I have the first of two deals on Marc Jacob bags, starting with this simple black cross body for $90, marked down from $225.
And, because I love them, my favorite Amazon hoops.
Moving over, grab your denim jacket.
The kids over on TikTok are trying to tell us that denim jackets are out and I would like you to ignore them.
They're not, they are a timeless wardrobe essential.
And here, it works so well.
In this look, I'm using this J.Crew Classic light wash jacket, available in XXS – 3X. It's a fantastic option if you need a new one.
For the bag, another Marc Jacobs deal, this one is a crossbody in a gorgeous tan for $200, marked down from $300.
You have a lot of shoe options here.
I'm featuring these Tory Burch Miller Sandals because they are also marked down at Nordstrom. Sizes are getting limited.
Alternatively, you can wear these dupes that we featured yesterday, available at DSW for under $50.
But any flat and comfortable sandal will look great.
And if you're like me, and love a hat, J.Crew has a pretty option for under $40.
Don't miss our other formulas, you can see us work our way to 52 here.