If shorts are on your "do not wear list," you are not alone.
I hear from readers daily asking for alternatives to shorts in the warm weather.
Personally, I don't mind wearing shorts.
They are a practical, sporty option for long, hot days between working at home and raising three kids.
But lately, as they have been getting shorter (and shorter and shorter) and I've been getting older, they are only sometimes my first choice, especially when there are so many other options.
So let's talk about What to Wear When You Don't Wear Shorts.
And because the internet is sometimes the worst, let's be clear, the advice below is for anyone who feels uncomfortable in shorts, or a little insecure about their legs, or maybe just wants a more modest alternative but still needs to deal with the heat.
What to Wear When You Don't Wear Shorts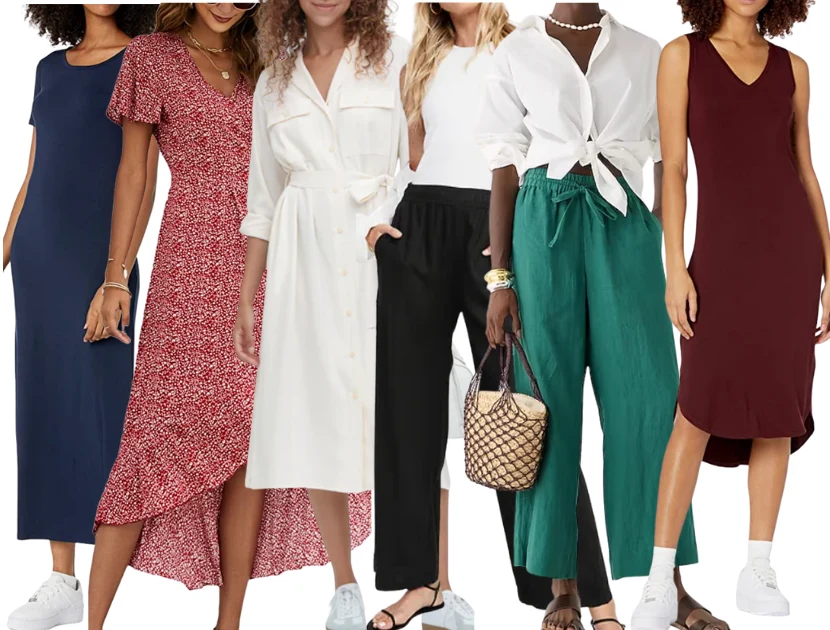 Before we dive in, a few things before the comments go crazy, lol.
Like Jen who took time out of her busy day to comment that she is 49 and "would ONLY wear these if she were a nun."
She seems like a real girls girl.
Just so we are clear: WEAR SHORTS IF YOU LIKE THEM!
I like them.
When thoughtfully styled, they can be super chic.
And if you think your "knees are ugly" and that's why you don't wear them, I would gently remind you that no one has "pretty" knees. 😉
The most important part of getting dressed is being comfortable and confident.
Don't let jackasses like Jen make you feel like there is something wrong with you because you need to make some adjustments to feel your best.
Style is personal, so if shorts just aren't your thing let's explore some different options.
Tee Shirt Dress
A maxi or mid-length tee shirt dress is fantastic if you want a light and breezy option with some coverage.
I prefer one with a slit on the side so you can easily move around.
Pair with flat sandals, or make it sporty with sneakers.
Featured below is from Amazon Essentials (formally called Daily Ritual).
Available in eight colors in XS – XXL for around $25.
Another option is the tee shirt dress from Amazon's the Drop, it has more sizes (up to a 5X) but less color choices.
I also featured it in an Outfit Formula a few weeks ago,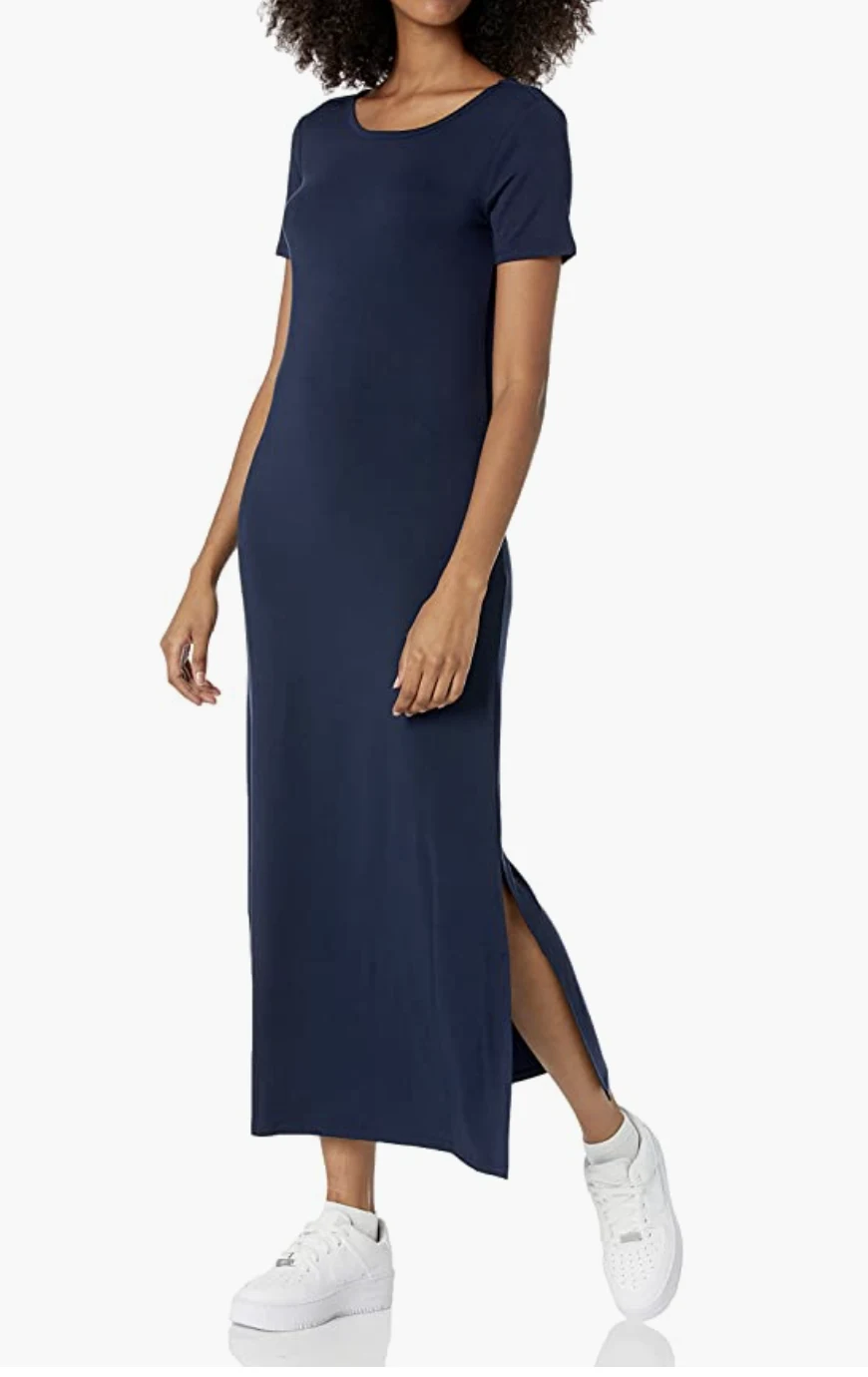 1
Short-Sleeve Crewneck Side Slit Maxi Dress
Amazon
$25.00
If you don't like the crew neck or maxi length, I really like this sleeveless v – neck style a lot, also from Amazon.
The cut of the skirt will help give your leg a long look while still covering your knees.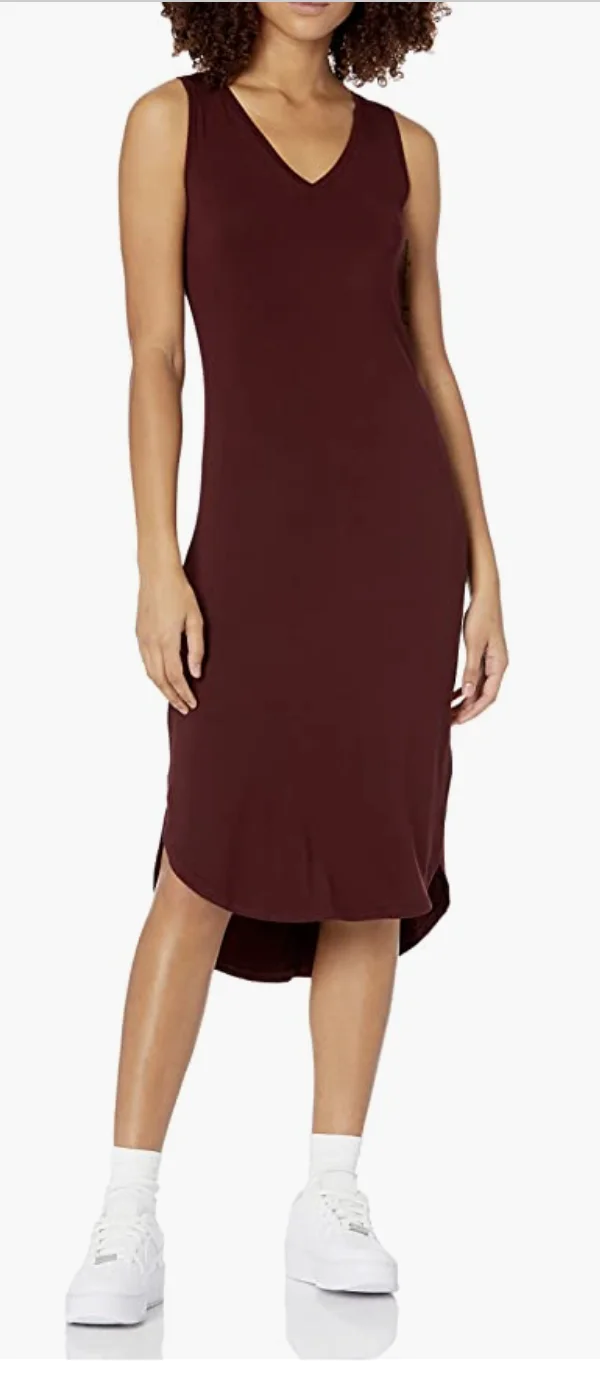 2
Women's Jersey Standard-Fit Sleeveless V-Neck Midi Dress
Amazon
$19.00
High/Low Hemmed Dress
A high/low dress is just that, the front hem is shorter than the back.
This shows some leg, which helps create a flowly look without fabric weighing you down, while covering your knee.
This one, again, is from Amazon; I have a few of them.
You can dress it up with strappy heels or wear a cute pair of white sneakers.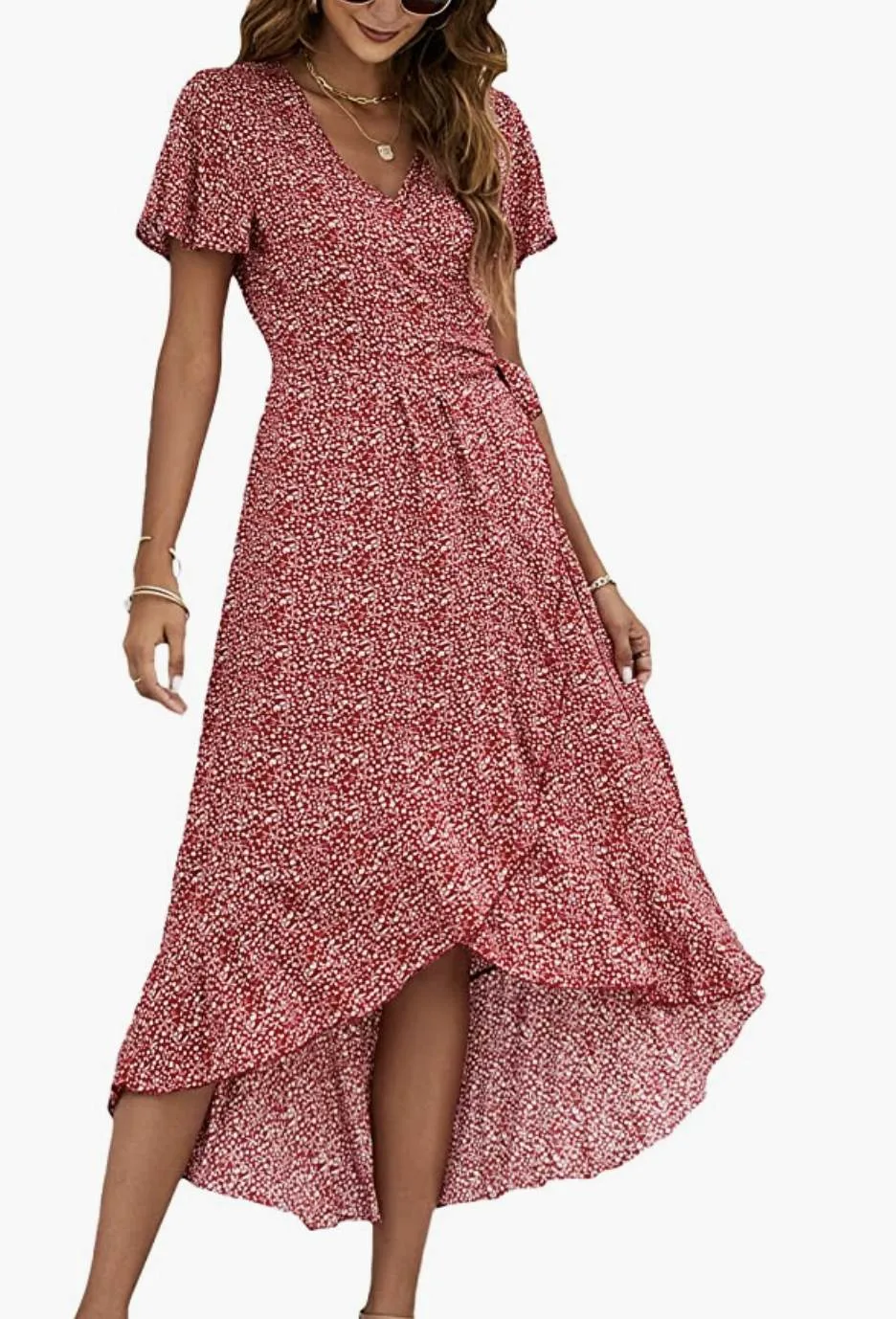 3
Floral V Neck Wrap Dress
Amazon
$35.00
Shirt Dress
A shirt dress will provide some shape and structure to your look.
It's more polished and can be dressed up or down.
Like this belted option from Uniqlo, available in XXS – XL in off white, black or tan.
I would consider having the hem hit right below your knee so you may need an alteration, but it's worth the extra effort to have it fit well.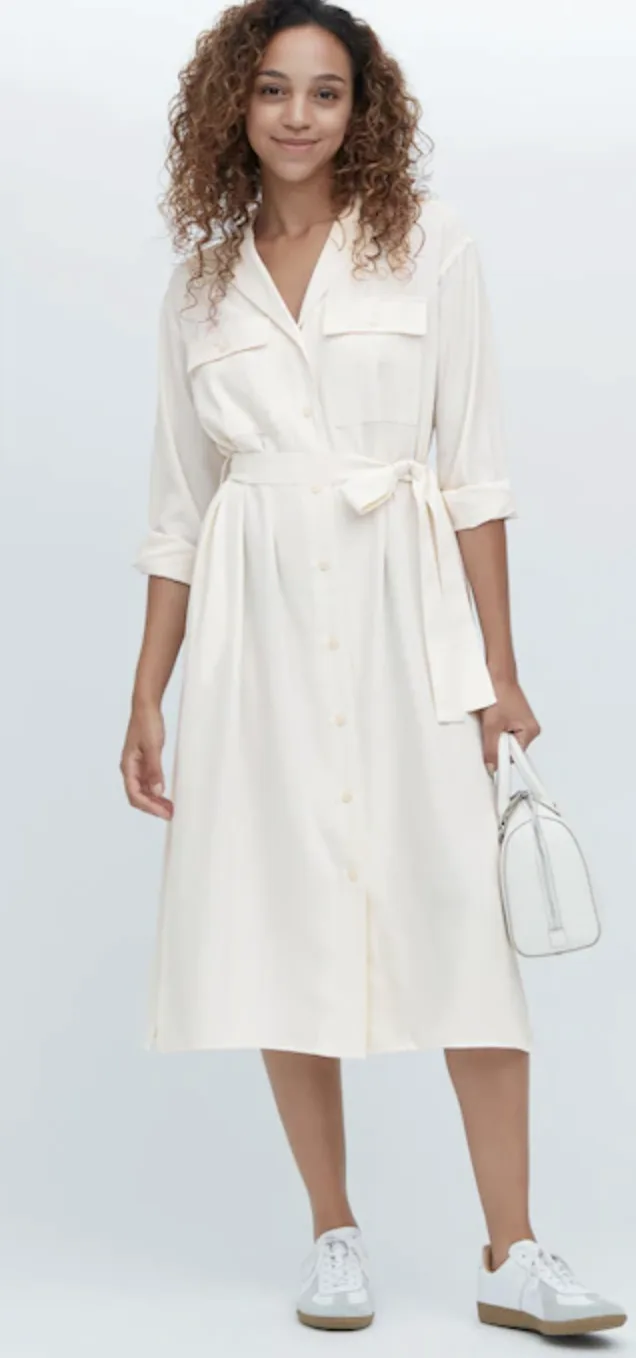 4
Long-Sleeve Shirt Dress
Uniqlo
$59.90
Wide Leg Linen Pants
If covering up your legs while staying cool is your goal, than linen pants are a fantastic alternative.
I'm so excited that these wide leg linen pants from Old Navy are back in stock.
They were the number one selling pant in spring and summer 2022.
Available in regular, petite and tall, from XS – 4X, in four colors.
Currently 30% off at checkout. These will sell out so grab them early. : )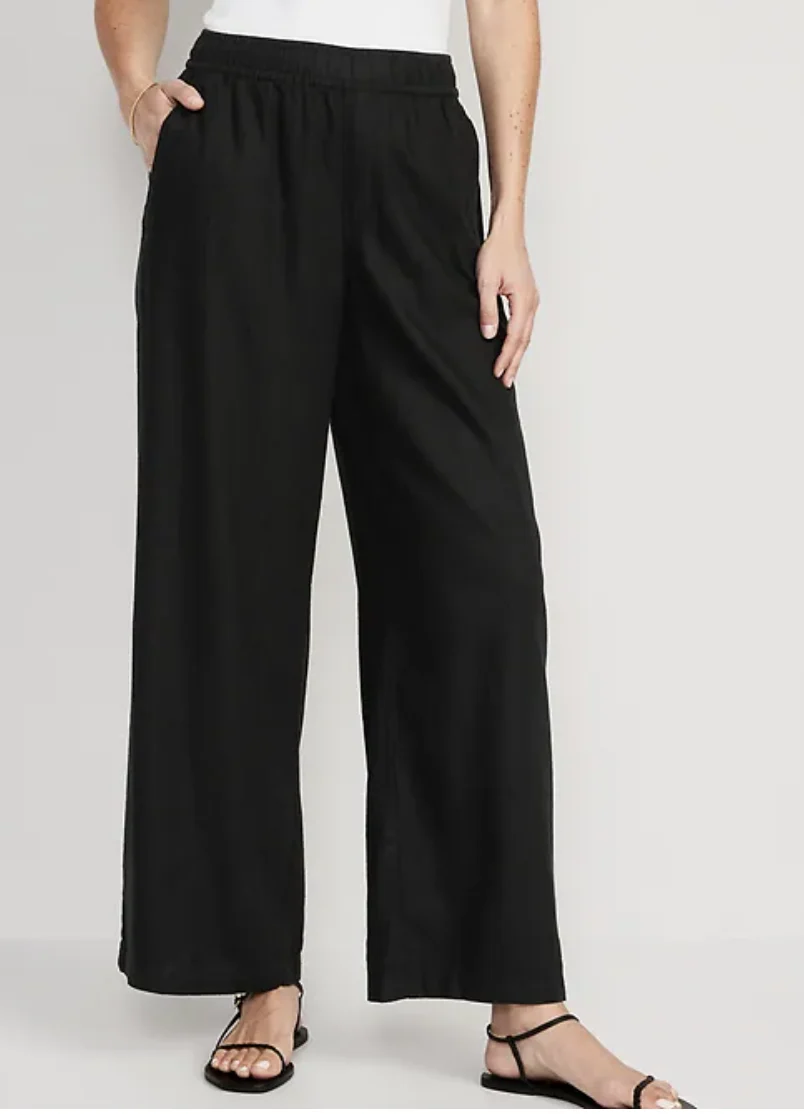 5
Wide Leg Linen Pants
Old Navy
$39.99
And if you like the "Seaside" collection from J.Crew, they have another linen bottom, also in a full size range with more colors. If you wanted to do a vibrant color, their "Rich Spruce" is stunning.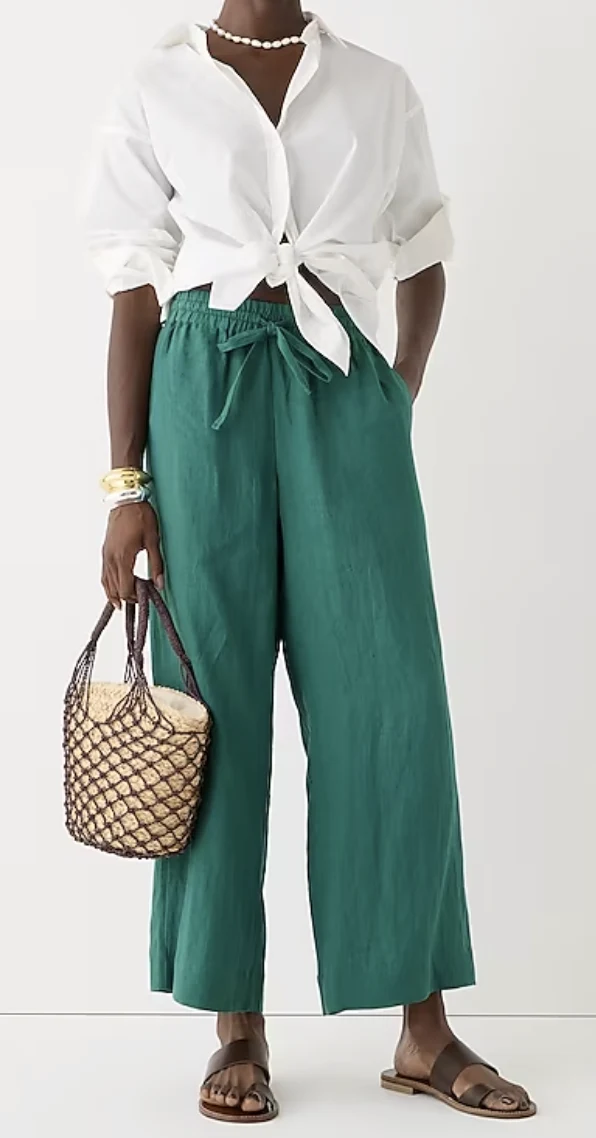 6
Wide Leg Seaside Pant
J.Crew
$98.00
What about Capris?
You likely already know my opinion on capris.
They are the only piece of clothing I truly despise.
Because of their flawed design and cheap quality, they are unflattering on just about everyone.
And they are often over-embellished and hit at the worst possible place on your leg.
I recently read somewhere that they make it look like you are standing in a ditch, and I couldn't agree more.
Any options listed above are a practical alternative to shorts and capris.