Last weekend, I spent three days watching my daughter play five softball games. On Sunday, we sat through a doubleheader that consisted of a championship game (we won!) and then an All-Star game.
The sun was blazing on us with no shade in sight. I stood on the sidelines with a dozen other moms, all different shapes and sizes, all of us wearing shorts. No one was trying to be a fashion plate, no one was judging how bad the other persons knees looked. For a day like that, they were the exact thing to wear.
I don't mind wearing shorts. Sometimes I dress them up, but most times they are super casual as I'm running after three kids, I'm hoping in and out of a car 100 times a day, lugging equipment, pushing a stroller – you get the picture. Recently I picked up these 5″ sport shorts from Calia, Carie Underwood's line of workout clothes available at Dicks Sporting Goods. They are my busy-mom-weekend-go-to's.
Related: The Best Women's Shorts 2019
But the summer becomes a tricky time of year when shorts are on your "no" list". So today we thought it would be helpful to highlight some pieces you can wear when the temperature rises, that will keep you cool and still feel polished.
What to Wear When You Don't Wear Shorts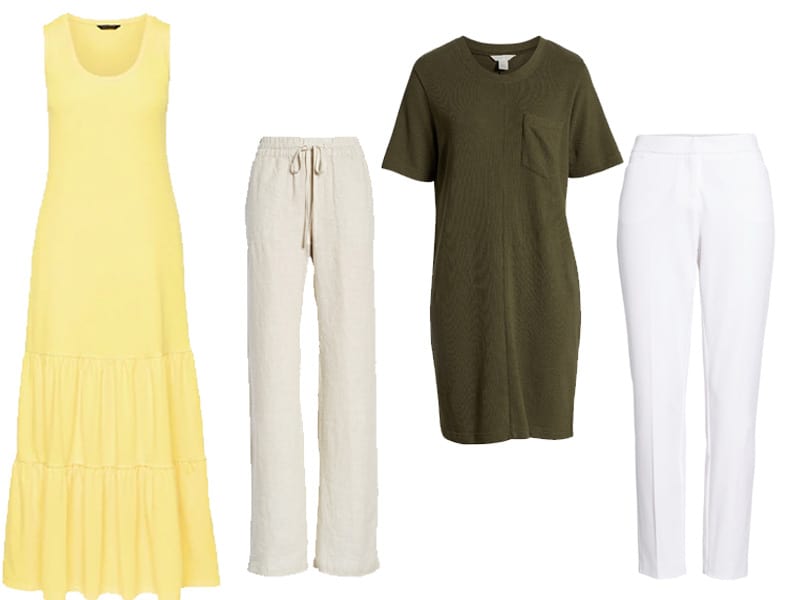 Tiered Maxi Dress, $129 | Linen Pants, $59 | T-Shirt Dress, $29 | Ankle Pants, $69
Maxi Dress
Maxi dresses come in all kinds of styles, from stretchy cotton to linen blend. They can be cut slim or full, and work on a casual day at the beach to a sun-filled outdoor wedding. What's nice about a maxi is that you have plenty of room to breath and because you are wearing a dress you look chic and pulled together.
This cheerful tiered maxi from Banana Republic takes no effort to wear but looks like an outfit. It's also available in black. Don't dismiss BR as a "young" brand. They have very much grown up over the last few years and now offer a stunning assortment of sizes.
A similar, less expensive version can be found at Old Navy in a few prints and colors, in a similar size scale.
Linen Pants
If covering up your legs is your end goal than linen pants are a fantastic alternative. Yes, they wrinkle, so if the wrinkles bother you don't wear them. These are a very casual option, pair them with a simple, slim cut cotton tee shirt and accessories with an interesting necklace and slides.
My pick are these under $60 drawstring linen pants at Nordstrom. They come in five neutral colors, and have a lovely drape. Don't over think these, they are what they are. All you need is your favorite white tee shirt and an update sandal to be dressed for a hot day in the sun.
Tee Shirt Dress
If you don't mind showing some leg, a tee shirt dress is ideal. You can wear with sneakers, sandals, or flip flops. They almost always come in cotton or a cotton blend, so they travel and wash well. Pay attention to their length because, like a tee shirt, they may shrink a little bit. It's always better to have it run long at first. Add a baseball hat and a crossbody bag for the perfect busy summer day with kids outfit or take on vacation for a casual day of sightseeing.
Above we featured a very basic dress for under $30. It looks better on then in the image. For a plus sized option, take a look at this Calvin Klein dress that comes in black and grey. This Tommy Bahama cotton stretch sheath comes in blue and black and can be dressed up or down. Finally, for something more sophisticated, this Eileen Fisher piece is fantastic and on sale.
Cotton Blend Ankle Pants
By now, we all know my opinion on capris. The problem with capris is that they have been over-designed and mangled to the point that they are unflattering. They have too many pockets, they are often over-embellished, and are the worst when they flare out at the bottom.
However, you can wear a similar yet more flattering style with a pair of ankle pants and wear them in the exact same way. Again, look for a cotton blend, pair them with a simple tee, or a pretty top, add a pair of sandals or slides. This classic pair by Halogen at Nordstrom are priced right, come in sizes petite and missy up to a size 24 and are available in 4 easy to wear colors. They'll quickly become a staple in your wardrobe.