Let's talk about the best white jeans.
In my opinion, there is nothing better than a crisp pair of white jeans in the summer.

Dress them up, dress them down, pair them with heels or sneakers – no matter your personal style, they freshen up everything in your closet.

So if you need a new pair for the season, I'm keeping it simple with a few great fitting, not see-through suggestions in various fits and sizes.
The Best White Jeans That Aren't See Through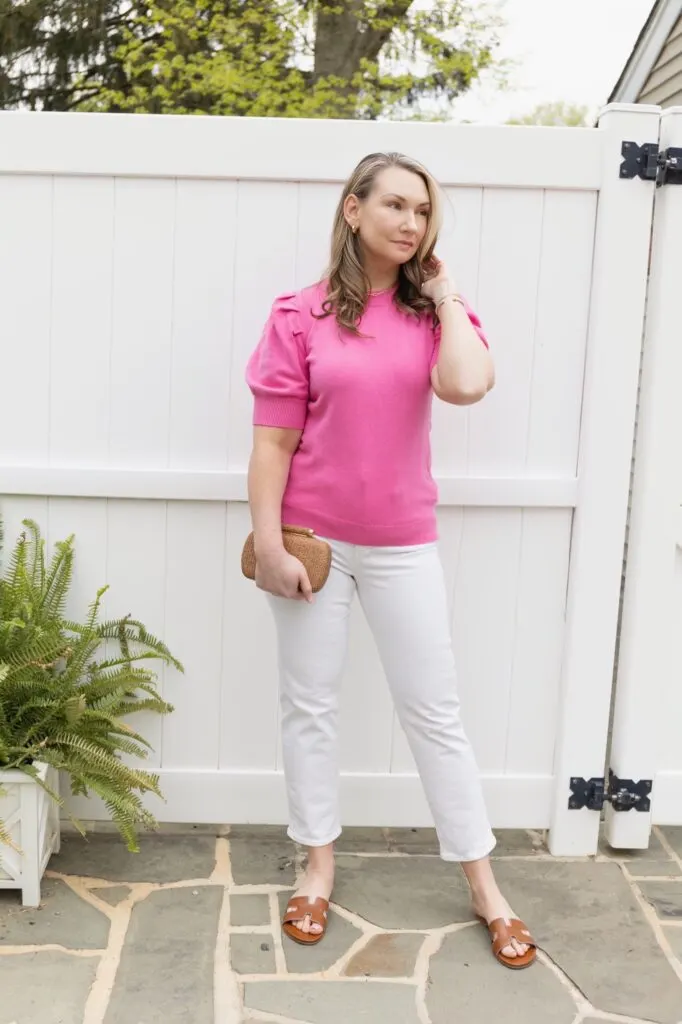 As usual, our recommendations come in a full size scale, so if you are petite, plus, or tall, there are options for you below.
Style-wise, we're featuring slim straight legs and a flare as they tend to be the most flattering fit.
And you may be surprised to see no premium denim in our roundup; that's because most designer brands stop at a size 14, maybe 16, and run very small, which makes it hard for me to recommend.
So our top picks are timeless wardrobe additions you can wear with almost anything.
The Curvy Perfect Vintage Jean
You cannot go wrong with any style of Madewell's white jeans.
They are my personal favorite.
Above I'm wearing the Curvy Perfect Vintage Jean.
They are slightly cropped, so they work with sandals or sneakers.
The color is "tile white" so it isn't a stark white.
These have great stretch, but that means they will also stretch out, so size down when you're purchasing.
Available in "standard", petite, plus and tall.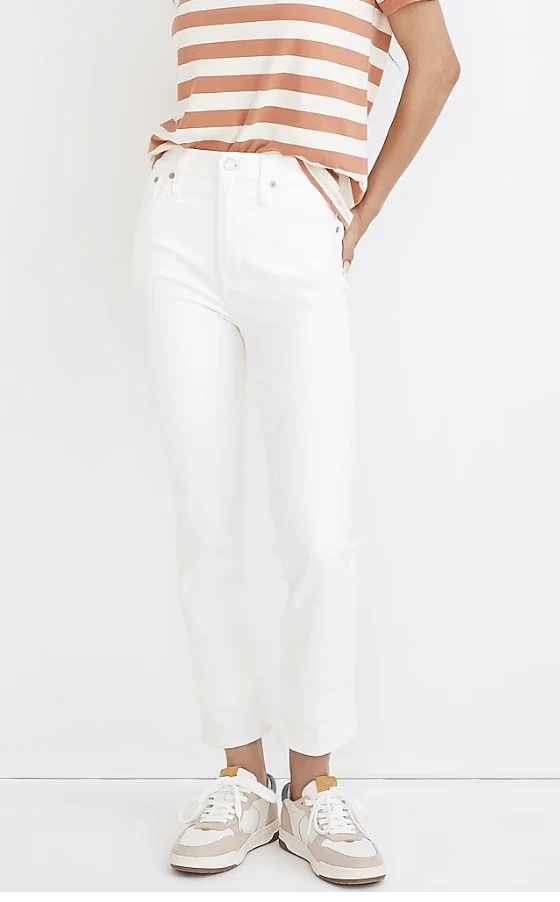 1
The Curvy Perfect Vintage Jean
Madewell
$128.00
NYDJ Marilyn Straight Jean
Another Reader Favorite is the NYDJ Marilyn Straight Jeans.
These are fantastic.
Like our previous recommendations, you get comfortable stretch and fit.
Regarding sizes, NYDJ runs like Talbots, i.e., a bit full.
So if you are a size 10 in Talbots, that would translate to NYDJ.
But if you are a size 10 in Banana Republic, you should take an 8.
The same rules apply; try on multiple sizes and size down one due to stretch.
These are a classic straight-leg style, so you want them to cover your ankle whether you are wearing a heel or a flat.
The NYDJ website has the best size range, available in regular, petite and plus, and tall.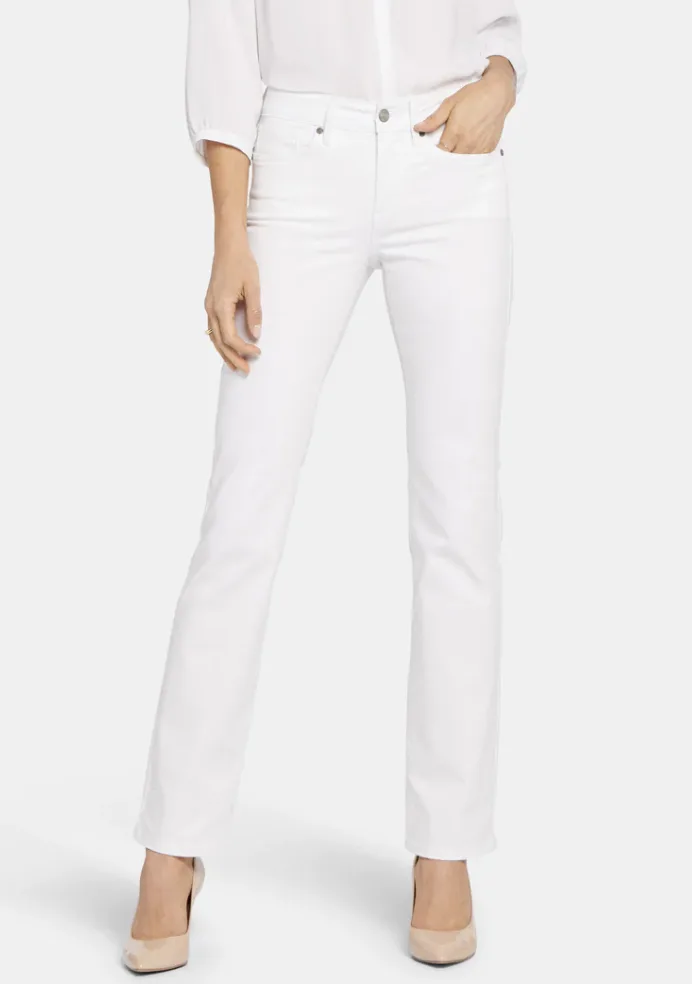 2
Marylin Straight Jeans
NYDJ
$109.00
Spanx Flare Jeans
New to our list this year are these Spanx Flare Jeans in a pull-on style.
Admittedly, the pull-on aspect freaks me out, but I like that it keeps your mid-section smooth.
When it comes to flares, the fit is critical.
They must be worn full length, so commit to a heel height.
If you wear them with a flat, go with a pointed toe, and your hem should break the tiniest bit on your foot.
How they fit on the model is perfect.
Luckily, you have a full size range, including petite and tall options.
I ordered the medium in tall.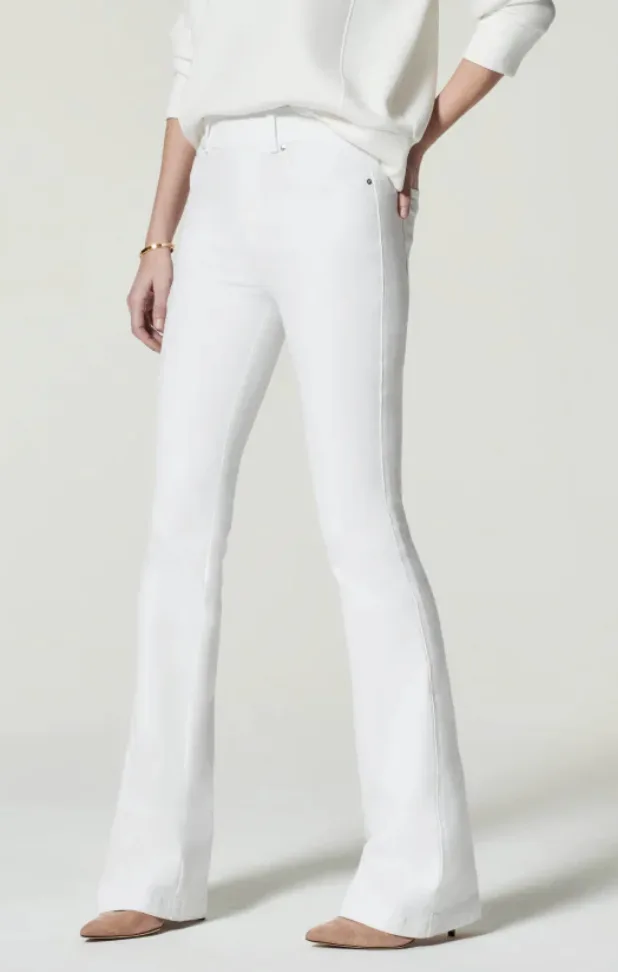 3
Flare Pull On Jean
Spanx
$148.00
Old Navy Straight Leg Jeans
If you're looking for a budget friendly pair of white jeans, Old Navy is where it's at!
Under $35, these straight leg jeans will go with everything, form flats, to sneakers to a small kitten heel.
Available in sizes 0 -30 with your choice of inseam.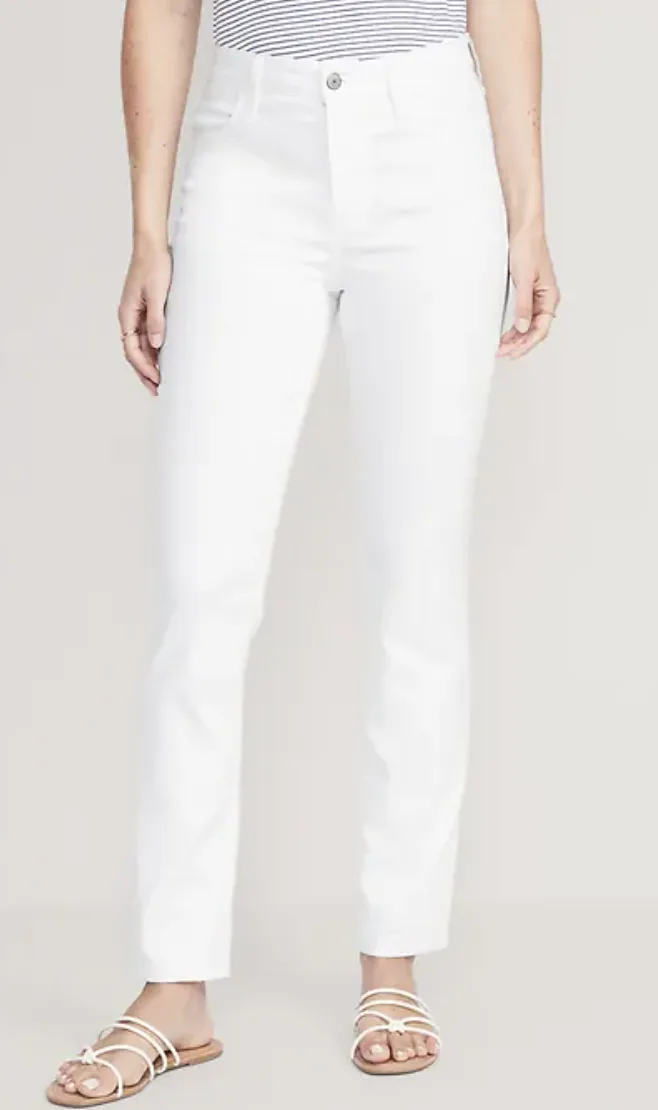 4
High Waisted Straight Leg
Old Navy
$34.99