Today, I'm featuring the Field Jacket. This roomy, lightweight jacket with military-inspired design details is ideal for early spring and fall weather.
Before we jump into the details of the jacket and specific recommendations, let's first discuss jackets and coats as a category.
It's important to consider your outerwear when putting together an outfit.
For example, a few weeks back, I featured ankle-length jeans with a white tee layered under a boyfriend blazer, and I received dozens of emails asking me what kind of coat to put over it.
My answer was, "you don't wear one." And people were not happy.;)
Here's the deal: When I wake up, and there is snow on the ground, and I need to get dressed for the day, I wouldn't wear that outfit.
Instead, I would wear something that would work under my puffer coat, like a warm sweater, jeans, and boots.
And this seems like common sense, but it occurred to me after seeing my inbox flooded with questions that perhaps, as women, we're trying to make everything work with everything.
When, more often than not, we can't.
Being well dressed is about being thoughtful about how all the elements in a look come together. So we should view our outerwear as a layer that not only is practical but also enhances the outfit.
Outerwear is more than something utilitarian we throw on as we run out the door.
Does that make sense?
It's why I spend so much time talking about and sharing all kinds of options, like denim jackets, trenches, puffers, wool overcoats and, today, the Field Jacket.
The Field Jacket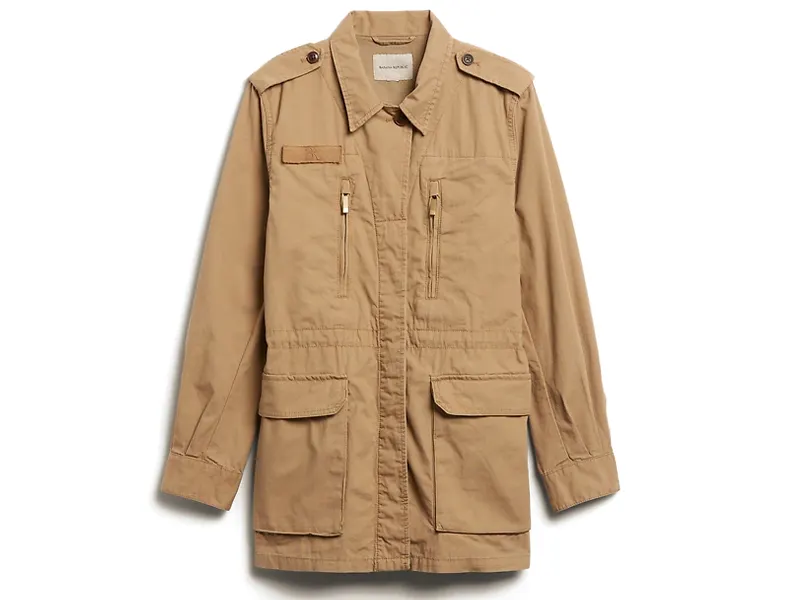 Field Jacket, $180
For this formula I'm working with the Banana Republic Utility Field Jacket, available in regular and petite in XXS – XXL.
I'm showing the beige but it's also available in a more traditional olive. I like the overall styling of this one, like the zippers, shoulder epaulets and internal drawstring to shape the waist.
For something under $100, this one from L.L. Bean has that has less detail but is $80 and available in all sizes.
Below is the Basic Formula to focus on:

And here it is brought to life: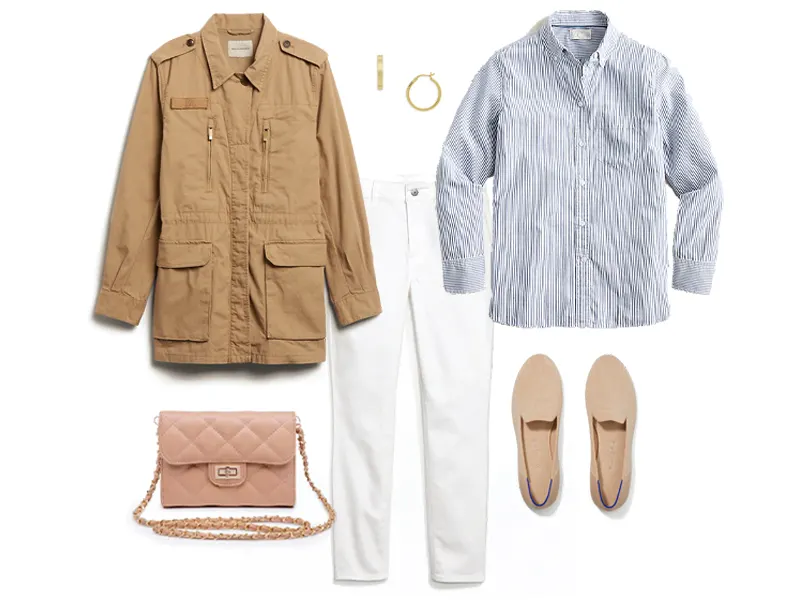 White Jeans, $30 | Cotton Poplin Shirt, $79.50 | Loafers, $165 | Hoops, $68 | Quilted Bag, $39
I love working with white jeans, they make a look feel so fresh. For this outfit, I'm using these inexpensive jeans from Old Navy, available in regular, petite and tall, from sizes 0 – 30. They are $29.99 with an additional 30% off.
A similar options, for a little more, but also better quality are these ankle jeans by Wit & Wisdom, in regular and petite for just under $70. But as always, wear what you have.
For the shirt, I used this pretty blue striped poplin shirt from J.Crew, which we featured a few times last month. The color combination of blue, white, and tan, this time of year, coming out of a dreary winter, is just so pretty to me.
You will wear the field jacket like a blazer because the coat is part of the look. So pull your shirt color out from underneath and smooth the layers together.
Next up, shoes. I just ordered these Rothy flats for myself, marking my 5th pair in total, so you can say confidently that I love them.
The light beige color is perfect for white or light bottoms. Remember you can throw them in the wash too!
Finally, a chic pair of well priced hoops you're already familiar with and this small quilted bag adds a glamorous touch.