It's March, which means spring is around the corner, so let's kick into gear with a new Outfit Formula.
This is Outfit Formula #41, focusing on The Navy Blazer.
We're starting here for spring since I've had many requests for outfit inspiration featuring one.
So I create an easy reference to show you the versatility of this wardrobe staple.
Today, we have two looks, one casual and one office-ready.
As always, there are a ton of awesome finds within this post including classic kitten heels marked down, a favorite work bag on sale and lots of tips including who to pair black and navy together.
The Navy Blazer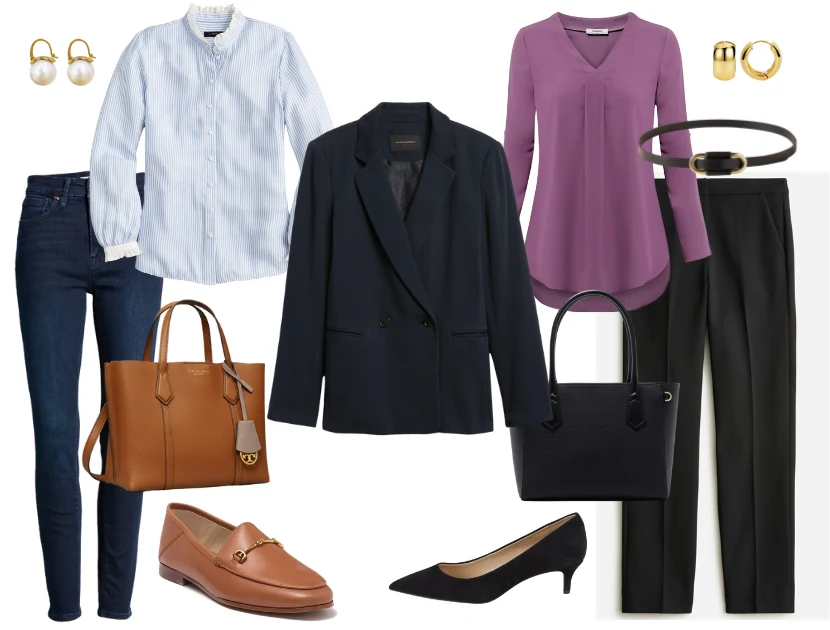 Let's start with a navy blazer.
Featured above is a lovely double-breasted option from Banana Republic Factory.
For my ladies who are looking for more natural fibers this one is a blend of cotton with a little linen, so it's wonderful for warmer parts of the country.
It's a true navy in person, the product image makes it look closer to black.
I appreciate the tonal button so there is no competing element and the fabric has texture to it that creates some depth.
They say it's machine washable, I would tell you to proceed with caution because it's lined. This is still going in my dry cleaning bag, but I'm not the best with laundry.
Available in regular and petite in sizes 0 – 20, for $112.
It's kinda perfect.
Polished Casual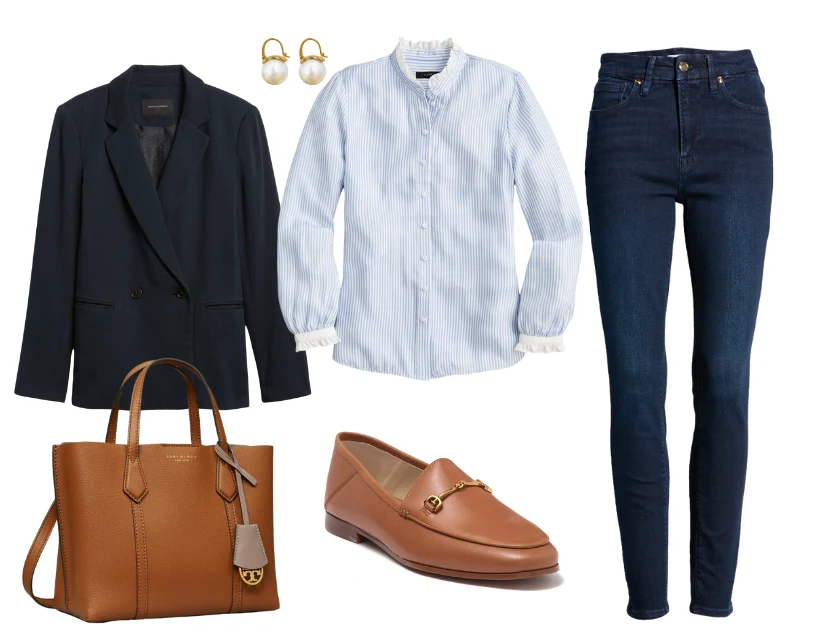 First, let's talk about what style of jean to wear.
The blazer is double-breasted, so it leans boxy.
It isn't oversized, it's not a "boyfriend" blazer, it has some shape, BUT, the nature of the cut makes is a little square.
So I wear it with slim or skinny jeans.
I have tried wearing it with straight legs and I just feel like on big, tall box.
And it makes sense that a slimmer leg would be the better choice.
Whenever we put an outfit together we want to create balance. So if a top is boxy, or oversized in any way, we want to match that with the opposite on the bottom and vice versa.
Above I'm sharing the Good American Skinny Jeans again because they are my new favorite and I know many of you recently picked them up.
They have nice stretch and the most comfortable high waistband.
I would choose either the dark or medium wash.
I also like the jeans worn by the model on their website, which, I think, are these slim bootcuts.
Under the blazer, we're using this pretty blue stripe button down with subtle ruffle trim.
Available at J. Crew in XXS – 3X. I'd like to see this go on sale before you buy it, so I'll keep it on my watch list.
If you picked up this ruffle cotton poplin top from J.Crew's last sale, you could wear it here as well. It's still on sale and in sizes 00 – 24.
With either blouse, you can't go wrong with our Reader Favorite Pearl Drop Earrings from Amazon. These are a steal at only $15.
And the loafers, above are by Sam Edelman in the color Saddle. I have these in black and wear them frequently. I find them to be very comfortable.
I like that they are slim rather than chunky, especially when paired with a slim legged bottom.
And for a bag, I have always liked this Tory Tote. It's a little splurgy, but high quality and a classic shape and color.
Mix and Match to Work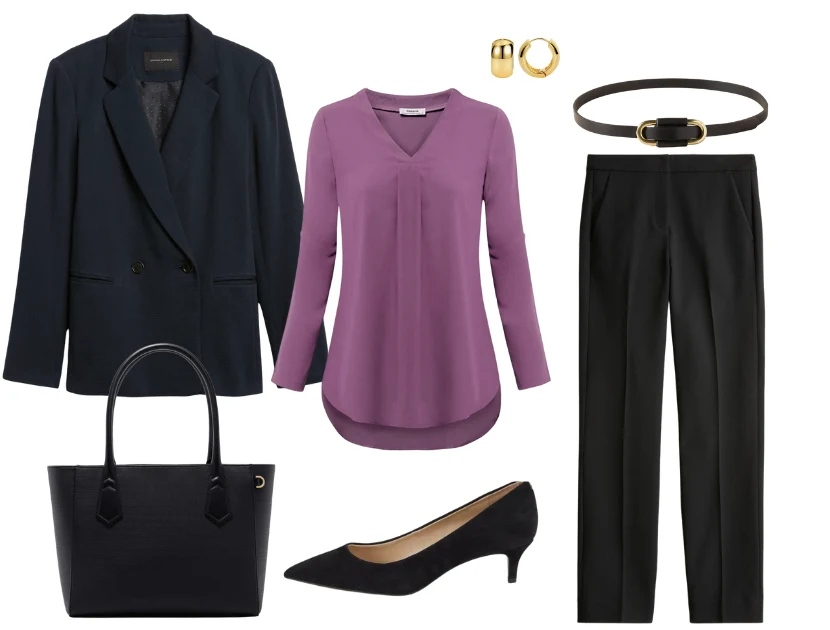 For the second look, we're pairing navy and black together.
It's a chic, MODERN combination, so go ahead and give it a try.
There are, of course, a few tricks to remember.
First, the blue needs to read blue. Don't mix black with a blue that can pass for black.
You want a level of contrast. Otherwise, you'll look like you got dressed in the dark.
Second, I like to use the blue or navy once, and then ground the look with black.
This is a great option if you'd rather wear blue against your face, rather than black.
Finally, you can do what we did above an add a third color that complements navy.
So, above, we have a navy blazer, over a dusty purple blouse with black pants, belt and accessories.
The blouse is a nice little find from Amazon. Available in a wide range of colors, in sizes S – XXL for $30.
The pants are the Kate straight leg trousers, a favorite from J.Crew. Available in classic, petite and tall sizes 00 – 24.
If these feel a bit full in the leg but fit everywhere else, consider having them altered.
You can easily have extra fabric taken out of the leg of pants to create a version of a straight leg that fits you better.
I also added a belt, since you'll want to tuck in your top.
This one from Anthropologie is so chic and only $60.
It's a nice option to thread through belt loops or wear on it's own. I think it would look great on this popular body-con dress we featured last week.
I wanted a classic kitten heel for this look and happily found a pair on sale from Sam Edelman at Off Fifth. All sizes are currently available for $90 instead of $140.
Kitten heels are back in a BIG way which is so nice if you like the look of a heel but don't want or can't manage additional height.
However, be warned, in my search I came across a dozen different shoes called "kitten heels", but are technically far from it.
For example, Sam Edelman is currently selling these as "kitten heels" when they have an almost 3″ heel height.
That's just a regular pump. lol.
It's a great shoe, but not a kitten heel.
Then you need a bag.
If you're looking for a clean, simple and functional tote to take to the office, the Dagne Dover Signature Tote is beloved and currently, on sale!
Your choice of size and color. I like the "Legend" size as it fits a 15″ laptop and is marked down to $209 from $275.
And then I reused these huggie earrings, another Amazon winner, for under $15.