It is a well-known fact that I am not a fan of prints.
I'm not opposed to to them, but it's my professional opinion that many of us equate prints in our wardrobe with having variety.
And with so many poorly executed prints in retail, that do not enhance or elevate an outfit, we end up with a closet full of items that do nothing for us, and are not reflective of our personal style.
So it's a big deal for me to not only highlight a printed blouse but also buy it for myself and pay for expedited shipping so I could receive it before I shared this post.
I am crazy about this print—more on that in a minute.
First, what I want you to get out of today's Outfit Formula, aside from inspiration, is an understanding of the role prints can have in a classic, modern wardrobe.
They are important because they add personality, visual interest, and depth when done well.
But they can also lessen the overall sophistication of a look and become a distraction.
The Print Blouse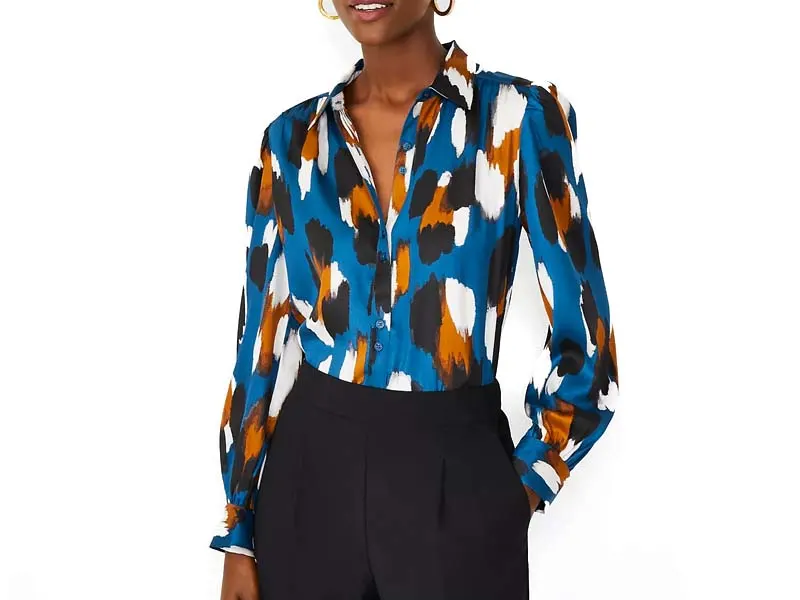 Blouse, $79.50 NOW 25% OFF! USE CODE: TOPTIER
This blouse is from Ann Taylor, in regular and petite, in XXS – XXL and it is seriously gorgeous.
It runs true to size, and the colors are better in person. It may look like orange, but it's true, rich copper and an equally saturated black.
Sizes are still in stock but starting to waitlist, so I encourage you to sign up (there is an option on their product page) to receive an email when it's restocked.
They call this "abstract animal," and it's reminiscent of Diane Von Furstenberg's iconic prints, and I've never met a DVF print I didn't love.
For a print to be executed well, all elements of good design need to go into it: color combination and saturation, plus composition, movement, and balance.
You also need to react to it. For example, I squealed out load and ordered it immediately without a second thought.
Practically, the print needs to make sense hanging in your wardrobe, and should be able to work with your other pieces.
This blouse might not be for you, but take all this into consideration when shopping in the future.
Outfit Formula: The Print Blouse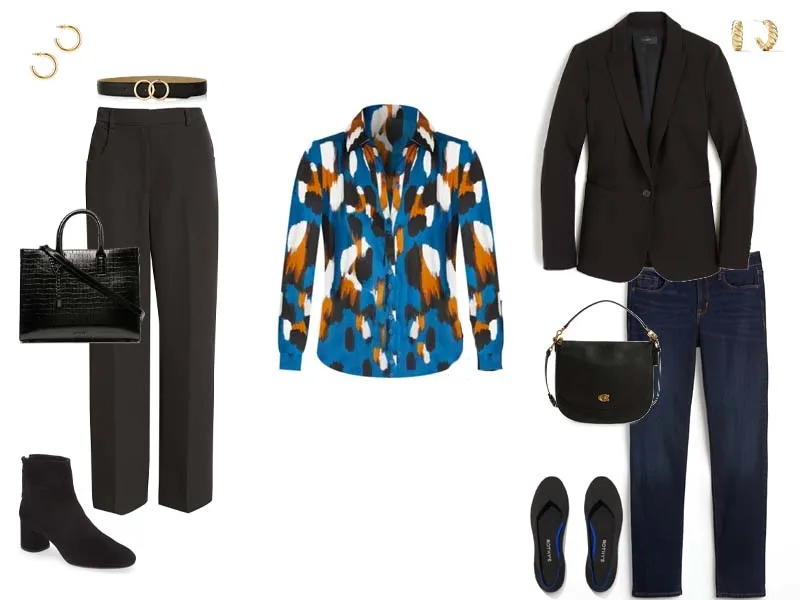 Wide Leg Trousers, $109 | Belt, $40 | Booties, $285 | Gold Hoops, $14 | Tote Bag, $77 | Blazer, $198
Slim Straight Jeans, $40 |Flats, $129 | Croissant Dôme Hoops, $78 | Shoulder Bag, $237
When building an outfit, let the print be the centerpiece and ground it with basics.
For our first look, we're pairing our blouse with these black wide-leg pants by Vince Camuto.
Here's the thing, when you are wearing wide-leg pants, they must be the right length, so you need to consider the heel height when altering them.
I like ankle boots with this leg style or a traditional pump – if you prefer flats, wear them with straight-leg pants.
Alternatively, you could try the wide-leg version of the Spanx "Perfect" Pants, in regular, petite, and tall from an XS – 3X.
Here, I'm reusing the Nicole Bootie from AGL, on sale at Nordstrom, for 40% off.
You want the hem of your pants to puddle or "break" on the top of your shoe. This allows the pant to fall correctly and elongate your leg.
To pull the look together, we featured this belt from Express yesterday, which works well here too. If your pants do not have belt loops, you can easily wear this on a flat front.
Then, there is nothing better than a gold everyday hoop, made even better when under $20, and a structured tote bag.
We're following a blazer, jeans, and flat formula for our second look.
To start, you want a clean and crisp pair of slim-straight jeans. Our featured jeans are Reader Favorites from Old Navy, always $40 or less. The dark rinse works well with the print of the blouse.
And the leg of these jeans looks great with a flat. I talk a lot about Rothy's, so I'm using this black pair called The Flat.
For the third piece, you can't go wrong with the J.Crew Parker Blazer, available in a wide range, including regular, tall, and petite sizes 00 – 24. It's an absolute wardrobe must-have.
Then, round out the look with these elegant Croissant Dôme Hoops from Mejuri.
And a classic shoulder bag above is the now sold-out Coach option, but I wanted you to see another way to wear it if you scooped it up.
And Don't Forget, This is Your Last Chance to Register!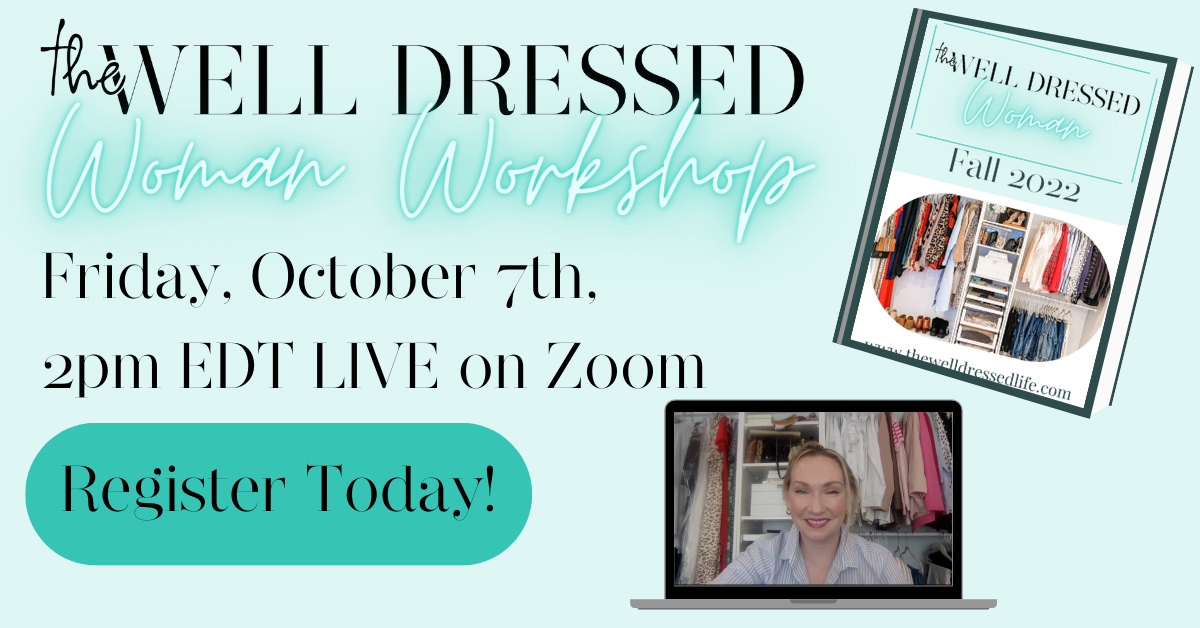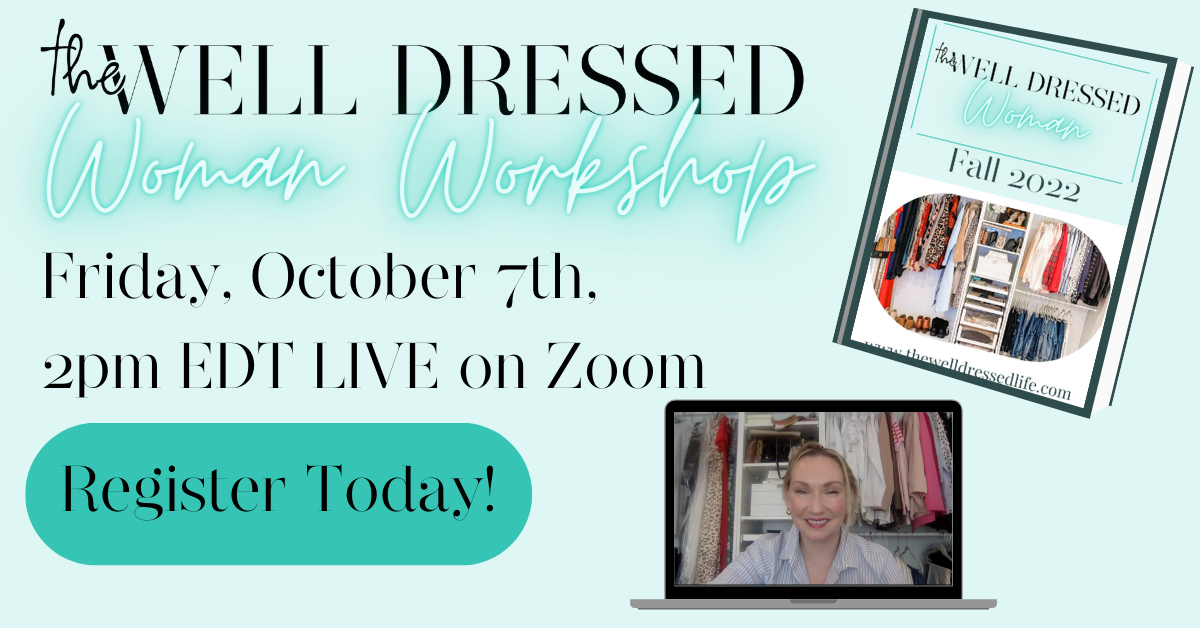 52 in 2022!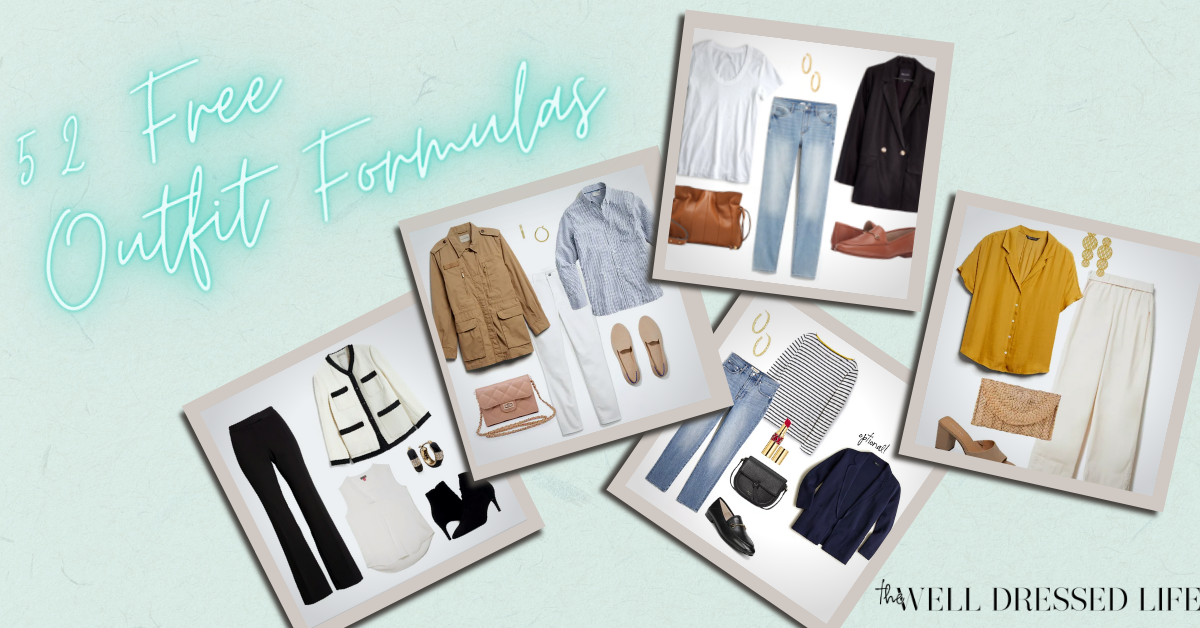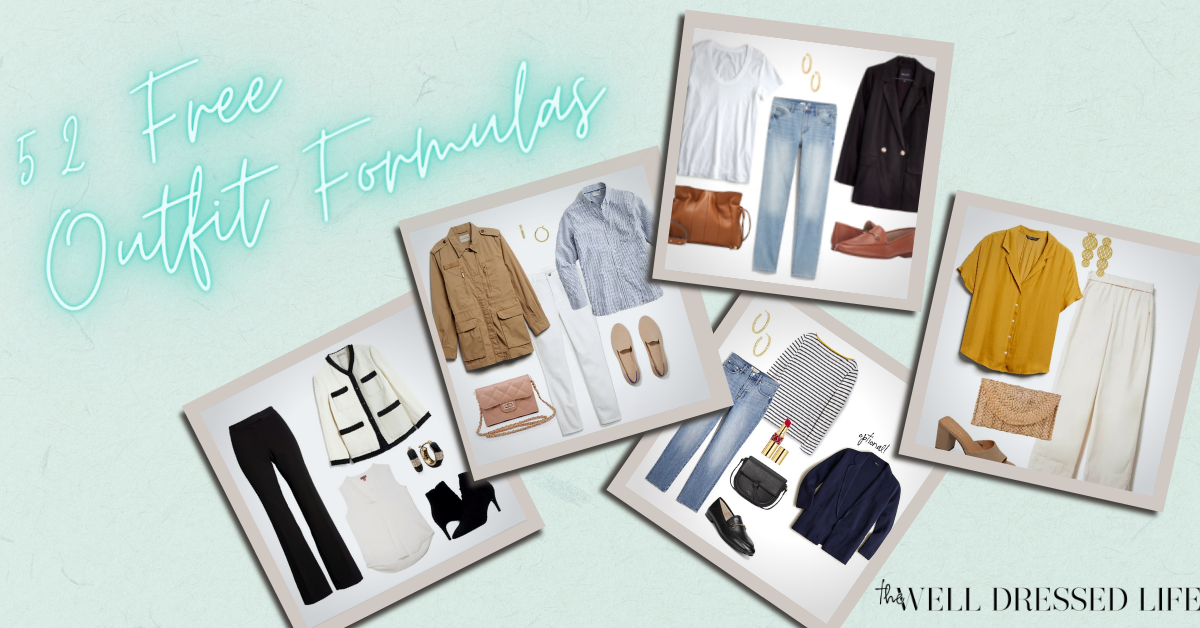 Follow Us on Instagram!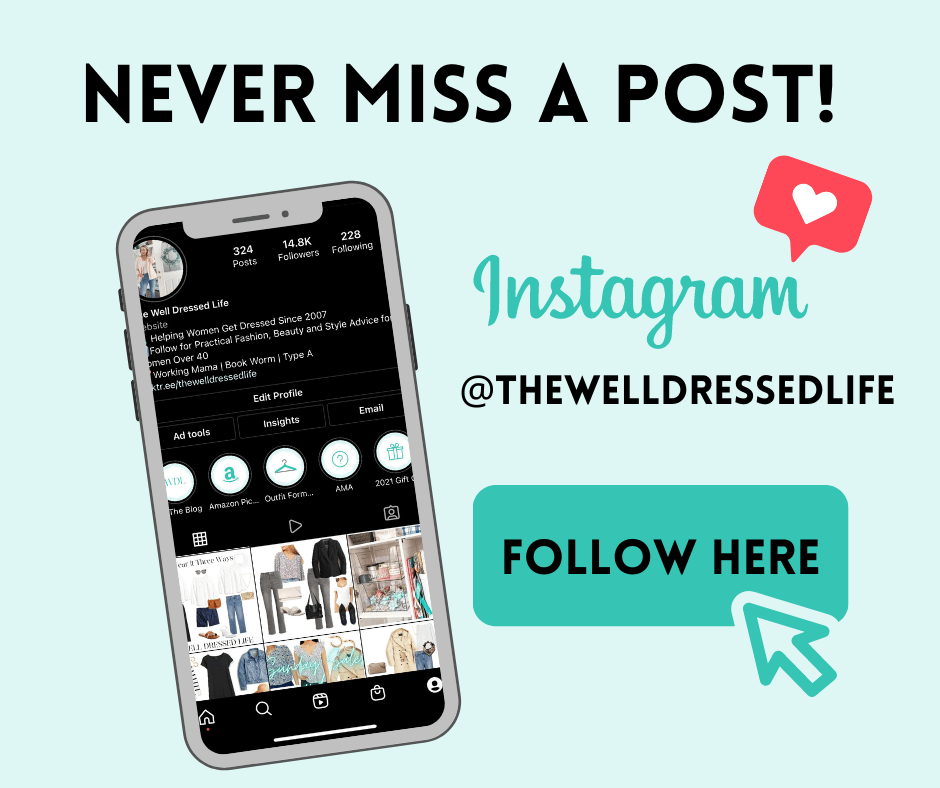 Our Style Content is Inspired by Our Readers
Our readership inspires all of our posts and is not sponsored or paid for by brands or retailers.
Recommendations are based on my experience as a personal stylist and wardrobe consultant for over a decade. I worked with busy, down-to-earth women who wanted to look chic and feel confident but were often confused by so much of retail.
Some links are affiliate links, which means if you purchase via our site, we receive a small commission.

If you enjoy our content and would like to help us grow, please follow on Instagram and join our Private Facebook Group to access more advice and exclusive in-depth conversations with other like-minded women.
Learn about our mission to help women look and feel their very best, every day, here.
Sign Up for Daily Content and Receive Our Free Classic Wardrobe Checklist