This spring, a camp shirt is on our list of wardrobe must-haves.
Interestingly, the camp shirt originated in menswear, specifically as a lightweight button-down work shirt worn by men in Cuba. Today, the elements that made it practical, like a short sleeve, loose fit, and breathable fabric, are ideal for women.
On Monday, we featured this shirt from Banana Republic. They call it a "resort shirt," which is also appropriate since we are in what used to be called "resort" season in retail.
Resort season is a short window when stores receive their first early spring deliveries targeted towards customers headed on vacation. And this shirt would be the first thing I put in my suitcase if I was heading out of town.
The Camp Shirt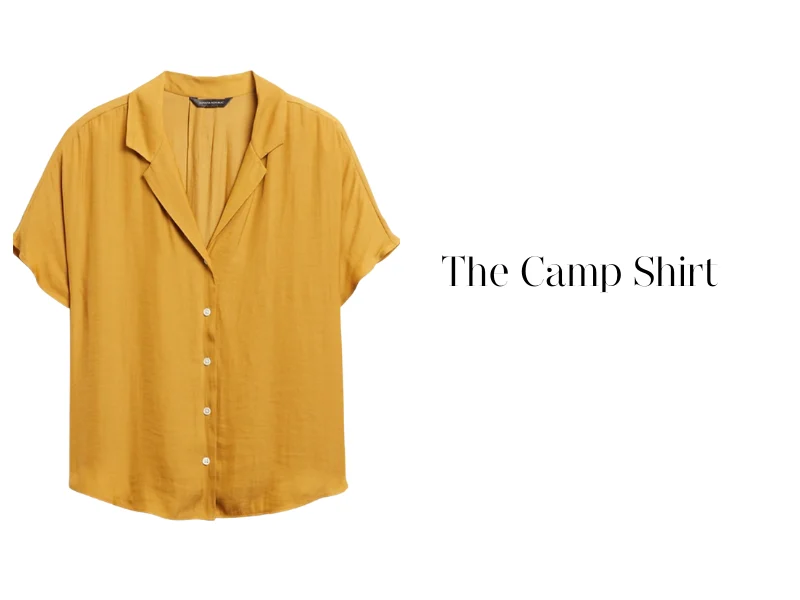 Camp Shirt,$70
Whatever we call it, it's a soft button-down with an open collar, and it's IDEAL to wear in early spring and all summer long. So if you are looking for a warm-weather shirt that looks polished without being fussy, this outfit formula might be perfect for you.
Below is the Basic Formula to focus on:

And here it is brought to life:
Camp Shirt Outfit Formula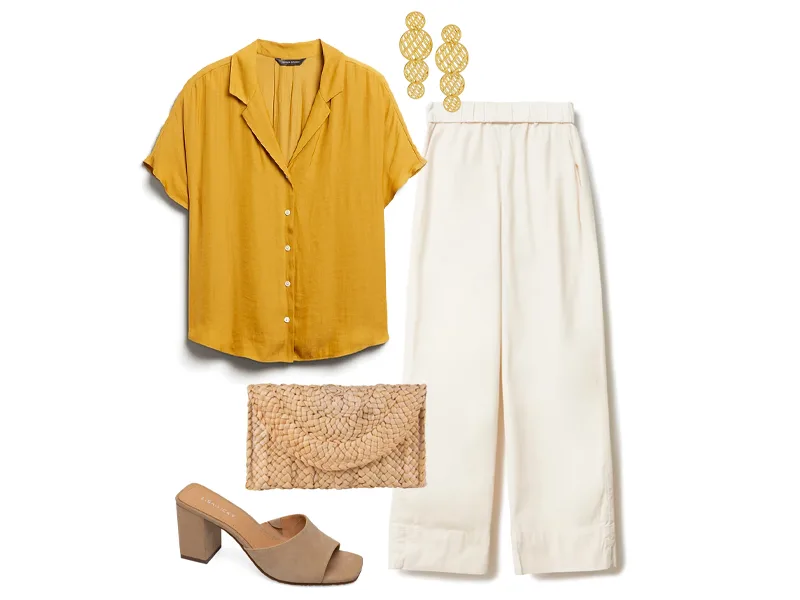 Camp Shirt,$70 | The Easy Pant, $68 | Slide Sandals, $90 | Weave Drop Earrings, $130 | Straw Clutch, $22
For this outfit, I'm using the Banana Republic "Resort Shirt" in a color they are calling Chia Tea. It's a deep gold. It's also available Passion Punch, a deep rose.
Looking for something neutral? You can get it in black or white too.
Available in sizes XXS – XXL in regular, petite and tall.
First, the pants This top needs to be worn with a high-waisted bottom. You can wear jeans, twill, linen, or trousers in a four-season fabric.
Above, I'm using The Easy Pant by Everlane. This is a different style from the pants we typically feature. It has an elastic waistband a generous straight leg and should skim the ankles.
Here's the deal, you tuck the top into your pants and let it blouse. This look is all about the drape of the blouse.
Then, another important element is to make sure you pair this with a solid shoe, something with weight.
That's why I'm using these under $100 tan suede slides with a block heel. These balance the volume of the blouse and pants.
Finally, the accessories. I'm pretending we're going someplace warm and fabulous in this. So I found these gorgeous earrings to dress the look up and this $22 woven clutch from Amazon to add some seasonal texture.
To see all our 2022 Outfit Formulas click here.