The jogger pant is one of the most versatile items to add to your wardrobe, and there are dozens of ways to style them.
If you don't love leggings, need a jean alternative, or simply want to add some variety to your closet, these are the pants to buy.
Specifically, I LOVE Spanx's new Perfect Jogger Pant.
You may remember last year; I featured the Spanx's Perfect Pant. So many of you picked them up. Done in a Ponte fabric they fit somewhere between a legging and a trouser.
This new version is cut like a jogger but done in a way that you can be easily dress up, down or in the middle.
Can you use other joggers in this formula?
Absolutely.
Just avoid the ones that look like sweatpants or a very casual bottom.
Key Piece: The Jogger Pant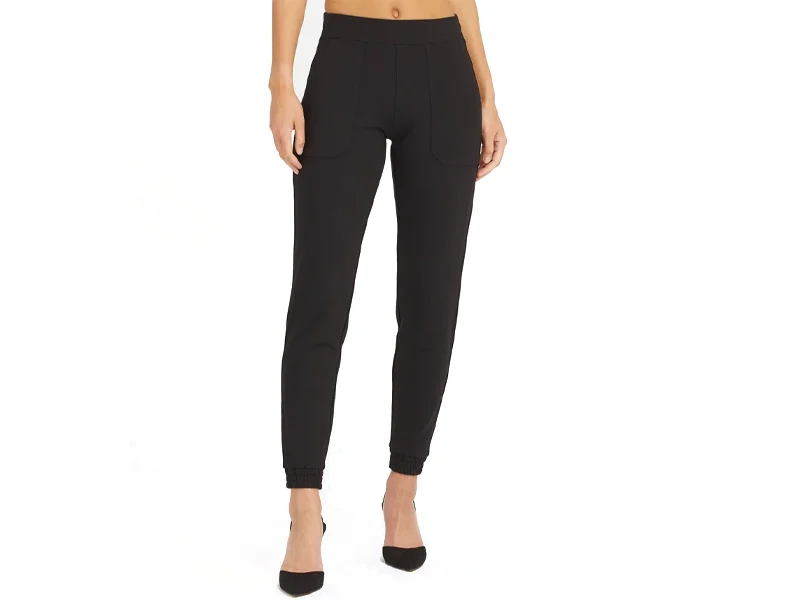 Black Joggers, $128
I ordered these joggers last week, and I already know they are going to be one of my best purchases of the year.
Available on the Spanx website, in sizes XS – 3X. They run true to size.
I like these for this time of year when we transition from winter to early spring. (Remember, I'm on the East Coast and follow the retail cycle).
For this post, I'm sharing two outfit formulas. Of course, there are dozens of ways to wear these, but these are a good place to start.
Outfit Formulas 6 & 7 The Jogger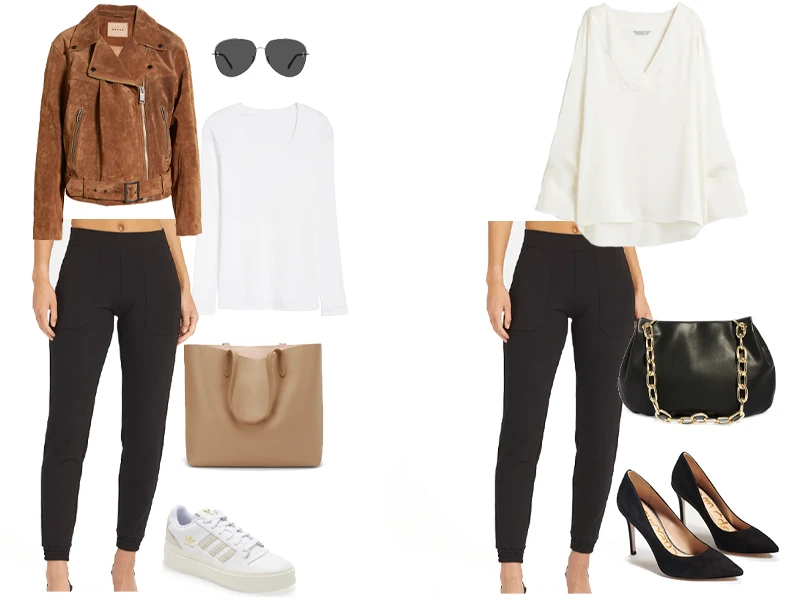 Below is a Basic Formula to focus on:

Here it is brought to life:
The Jogger Pant Outfit Formula 6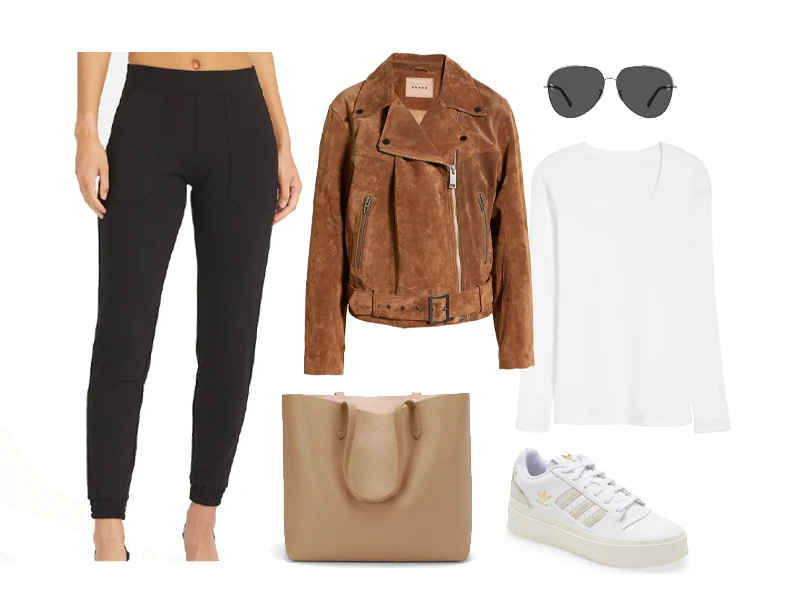 Suede Moto Jacket, $188 | Scoop Neck Cotton Tee, $25 | Platform Sneaker, $110 |Leather Tote Bag, $228 |Aviators, $95
Over in our Private Facebook Group, we have some of the most supportive and lovely women, many of whom I consider friends that I just haven't met in person yet;)
When creating this formula, I was inspired by one of our biggest supporters, Deanna, because she can rock a moto jacket like no one else.
And, as a side note, this is the aspect of my job that I love the most, building this community. When I left working with 1:1 clients to started this site, I wanted to create a resource that helped collectively dress women with a similar style to my own.
Sometimes I can't believe it worked, and on top of getting to do what I love, I'm lucky enough to get to know so many amazing women from all over the world.
So know that every day, when I sit to pull our content together, I'm thinking of our community as a whole and as individuals.
A moto jacket and a jogger are a match made in heaven. It's relaxed and casual, totally modern, and appropriate for so many occasions depending on how you style it.
I'm using this suede moto by BLANKNYC at Nordstrom. The color featured above is caramel, there is also an option with a grey undertone. Either would pair well; I happen to like the richness of the caramel paired with black.
Plus size? Levi's made a version in a range of colors up to a 3X here.
To layer under the jacket, I'm using a simple scoop neck long sleeve white tee by Caslon, also at Nordstrom.
These are always so hard to find because they are either too sheer or have something weird on them. But this guy is just right and well priced.
What's important here is that you wear an under-piece with a scoop neckline because it best complements the line of the jacket. The idea being you want to create some space or air around your neck so it can look create a long, lean line.
Then, I went with sneakers. You can undoubtedly dress this up with an ankle boot or pump, but I wanted to give a sporty, comfortable, daytime option and I am currently, fully embracing being able to wear sneakers everywhere.
Just remember, if you want to pull off this look, you need a proper "dress up" sneaker. Don't try to make it work with an old pair you kick around in.
Clean, crisp low-profile or low-top sneakers are your friend.
I have a version of these Adidas platform sneakers, and they are incredibly comfortable. This color combination is lovely since it's neutral; they are not the first thing you see in the outfit so they don't overwhelm the look.
Finally, I included a bag option for inspiration because a jacket with a lot of detail (buttons, zippers, etc.) can be hard to accessorize.
Whenever you have a piece with a lot going on, make sure you are not pairing it with something else with a lot going on. That means a clean and simple bag with no extra hardware. You don't want another piece competing with the jacket.
I'm using the popular Cuyana bag in Cappuccino/Blush.
I also included a pair of Aviator sunglasses, in a silver-tone metal so you can complete your transformation to cool girl.
Outfit Formula 7: The Jogger Pant

And here it is brought to life: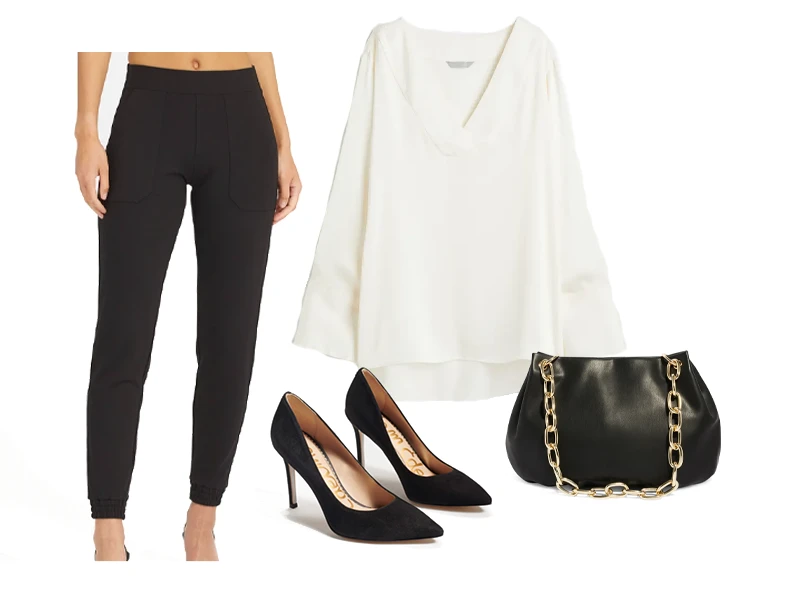 Satin V-neck Shirt, $30 | Suede Heels, $140 | Shoulder Bag, $98
The beauty of this formula is how simple it is, but the elements all work together to create something chic.
First, you need a silky, flowy blouse, like the H&M tunic we featured on Monday. It has a high-low hem and falls from the body. And it's a steal at $25.
The volume of the blouse works wonderfully with the slim line of the pants.
Play with this and see what looks best on you; either leave it out or half tuck. I tend to half tuck because it helps elongate the leg line and breaks your body into thirds instead of in half.
Then, our go-to Reader Favorite Sam Edelman Suede Pumps. The point of the shoe elegantly ends the line of the leg.
If you don't like heels, swap these for a pointed flat. If you want something warmer, wear a pointed ankle bootie.
Then, you want a statement piece. Here I'm using this fun shoulder bag with an oversized gold chain from House of Want (under $100 at Nordstrom). To be clear, this is a novelty shoulder bag; I wouldn't recommend it for everyday use.
This black woven clutch from Amazon that many of you picked from yesterday's post would also be adorable.
But you can add so many things, like a large hoop; I am obsessing over these by Julie Vos.
You could also stack gold-tone bracelets or wear a fun cocktail ring.
Personally, I would wear the Amazon clutch, a red lip, and oversized earrings.