The trench coat is possibly the cornerstone of a classic wardrobe, crossing between American and French styles.
It goes with practically everything and immediately creates a chic yet approachable vibe.
Over the last decade, the trench coat has found its place within everyday outfits. So you don't have to save it for an actual rainy day.
And, now is the time of year to pull out the one you have or pick up a new one and wear it as a layer over your other better basics.
Today's outfit formula is one of the dozens of ways you can wear a trench, but you'll have the most flexibility the way I have this laid out.
The Trench Coat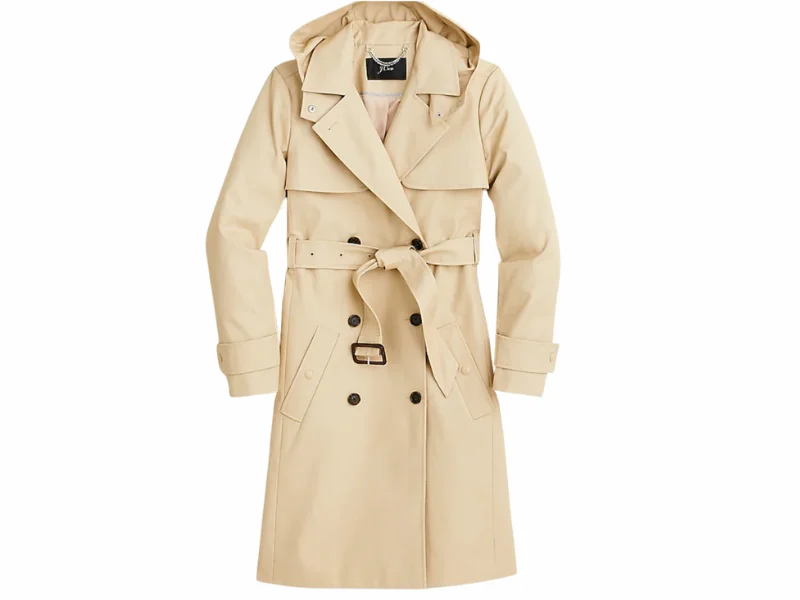 Trench Coat, $298 25% off with code SHOPSPRING
First, let's discuss this particular trench coat.
I'm featuring this one from J.Crew because, (1) it has traditional styling, (2) the color is fairly universal and (3) it's available in all sizes, including petite, from 00 – 24.
And today it's on sale for 25% off with code SHOPSPRING.
You can't beat that.
Below is the Basic Formula to focus on:

And here it is brought to life two ways: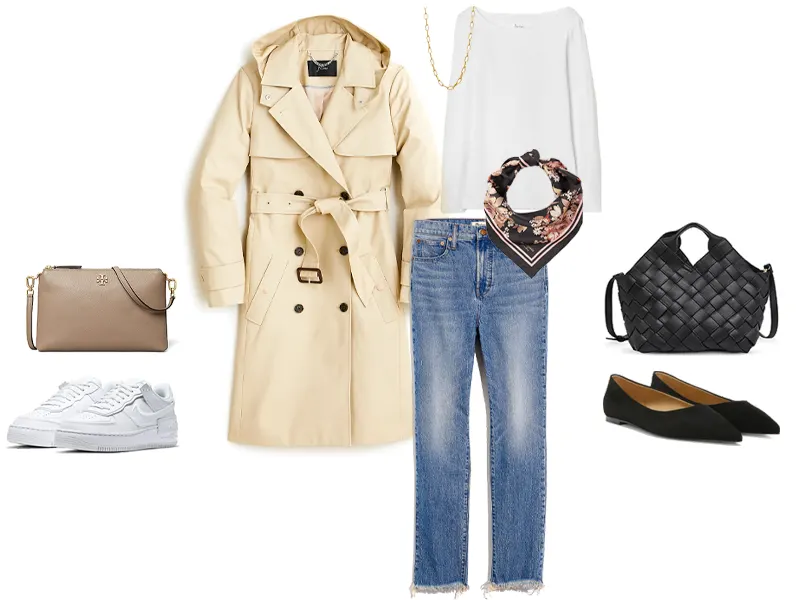 Trench Coat, $298 | Vintage Jeans, $128 | Chain Necklace, $25 | Boat Neck Top, $40 | Scarf, $88 | Sneakers, $120 | Pointed Flat, $120 | Crossbody Bag, $228 | Woven Tote, $66
You've seen many of these items over the last few weeks, and some are new. However, all are still available in stores in a range of sizes.
I'm using the Madewell Vintage Jeans (featured here), but wear any jeans you love.
You can also swap them out for any casual bottom.
For example, the Spanx Perfect Pants (in all sizes, including plus, tall and petite) or The Perfect Pant Joggers would work. Also, the Athleta Venice Joggers could work with either shoe option.
And let's say you are feeling extra casual and spending the day in sweats but have to leave the house. Throwing a trench coat over whatever you're wearing instantly makes you look cool.
It's my go-to trick when I have hot-mess days.
Off Duty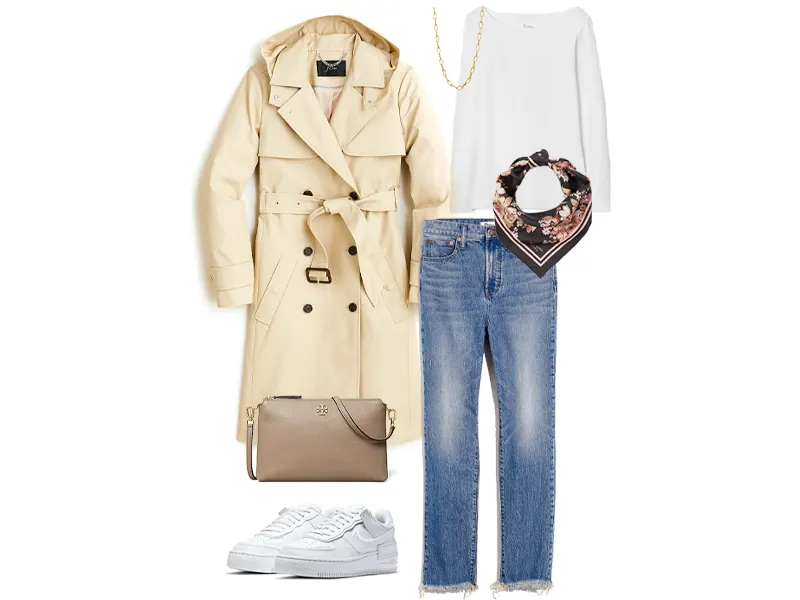 Trench Coat, $298 | Vintage Jeans, $128 | Chain Necklace, $25 | Boat Neck Top, $40 | Scarf, $88 | Sneakers, $120 | Crossbody Bag, $228
Take your favorite jeans (or comfortable bottom) and add a crisp boatneck white tee shirt.
I'm using this one from Boden because they are my favorites because they wash well and are not see-through. The neckline is elegant so the look feels more elevated than with a standard v or crew neck.
You can pick up the top for $40 in a range of neutrals, I recommend getting a few in white and black.
Because this is a casual outfit, I'm using these white Nike Air Force sneakers. The kids call these "off duty model" sneakers because we see them in a lot of street style looks.
I do not need another pair of sneakers, but surprisingly I don't have a pure white pair like this, so in the cart they go. Reviews say the run large.
Next you need a bag, preferably a crossbody to keep you hands free. The one above is from Kate Spade, another, less expensive option, this one from Banana (we featured it last week) is similar and under $70.
Then, for accessories, where your everyday jewelry. I'm using this popular Madewell chain, on sale at Nordstrom for $25.
And I added a scarf to encourage you to incorporate some personality and use what you already have.
Polished Casual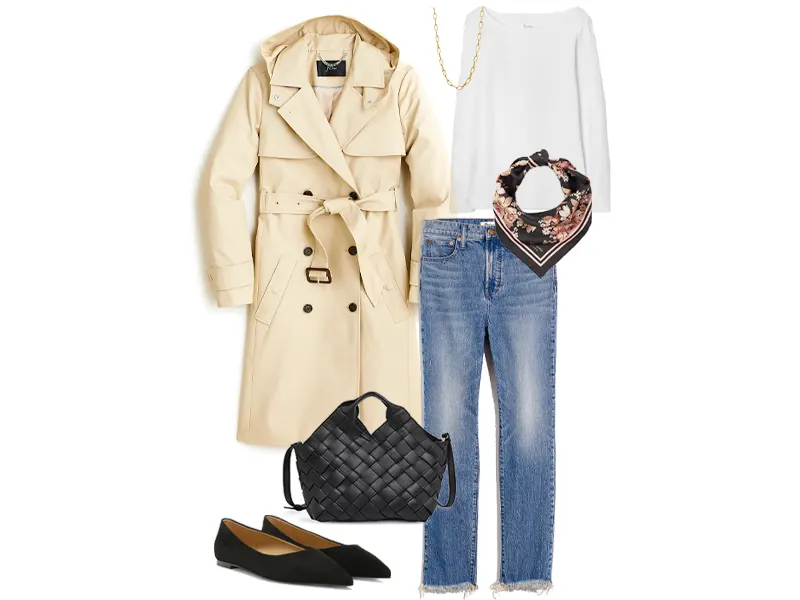 Trench Coat, $298 | Vintage Jeans, $128 | Chain Necklace, $25 | Boat Neck Top, $40 | Scarf, $88 | Pointed Flat, $120 | Woven Tote, $66
This option is an excellent example of how simply switching your bag and shoes can completely change the look and feel of an outfit.
It's why I preach the importance of having a range of better basics on hand because it makes it so simple to create new looks.
All I did here is replaced the sneakers with our favorite Sam Edelman flats (these are great if you are going back to the office) and the small crossbody with this designer-inspired woven tote from Aqua at Bloomingdales.
I would throw on some oversized black sunglass, like these from St. Laurent at Off Fifth for a fraction of their retail, and a pop of color on my lips and head right out the door.