I can't stand this trend in fashion, where women are told to buy, buy, buy, and then burn it all a year or two later.
This couldn't be more evident than in the skinny vs. straight-leg jean debate.
All the fashion girls are telling us to throw away our skinny jeans and ONLY wear straight legs.
That's ridiculous.
Skinny jeans have earned their spot as a modern classic.
So, no, you don't have to retire your skinnies. Instead, I would keep them in rotation, mixing them with new items and trying different ways to style them to keep your look fresh.
AND you can also consider picking up a straight leg option because they are also flattering and pair well with many of the trends we see for Fall.
In today's Outfit Formula, we highlight The Straight Leg Jean, sharing the best options and easy ways to wear them with many pieces you already have.
The Straight Leg Jean
Straight legs can sometimes feel shapeless, almost like you're wearing a pair of men's jeans, a challenge if you're trying to create a tailored look with a long line and balanced frame.
My recommendation is to look for straight legs in a slim cut.
These shouldn't stick to your body like a skinny. Instead, you want them to fall straight down with some stretch.
For the length, they can stop anywhere from the top to the bottom of your ankle. This will, of course, depend on the shoe you choose.
If you're wearing a low-profile sneaker or ballet flat, you can get away with any length, but if you're wearing the popular Lug or Chelsea boot, you want them to cover the shaft of the boot and graze the top of your foot.
Below are some of our favorites options in various sizes and price points.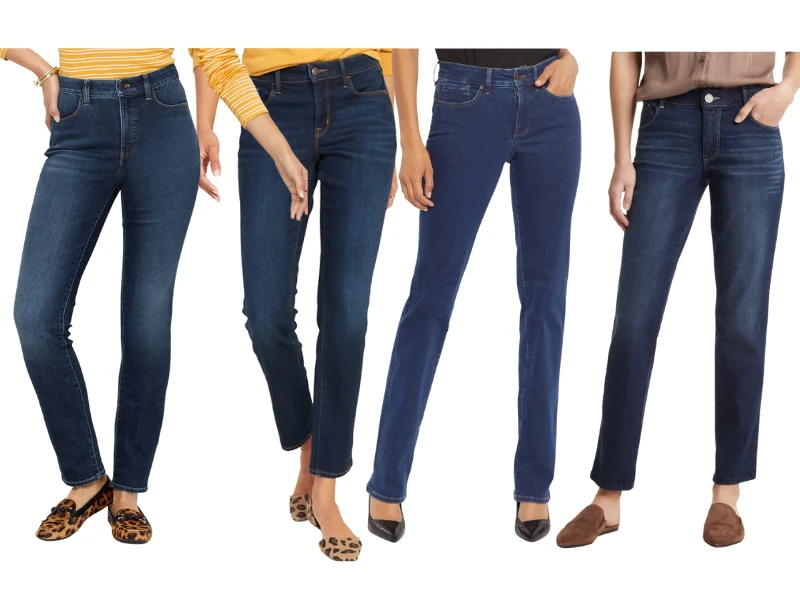 Talbots, $119, in Missy, Petite, Plus and Plus Petite | Old Navy, $39.99, in Missy, Tall and Petite in 00 – 30 | NYDJ, $99, in Missy, Tall and Petite in 00 – 18 | Wit & Wisdom, $79, in Missy and Petite in 00 – 18
If you only buy one kind of straight leg jean this season, buy them in a clean, dark wash for maximum versatility.
Outfit Formula: The Straight Leg Jean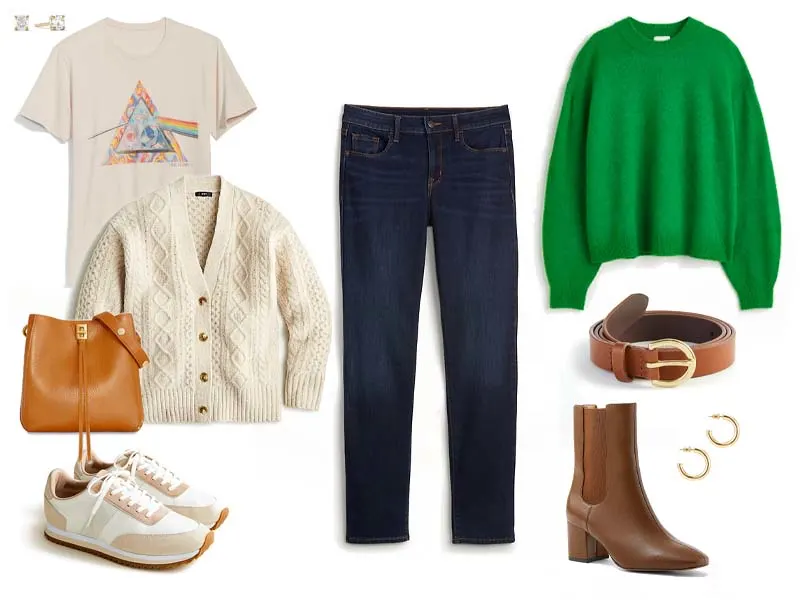 Outfit 1: Pink Floyd Tee, $20 | Cable-Knit Stretch Wool Sweater, $168 | Colorblock Trainers, $98 (On Sale $56) | Small Shoulder Bag, $200 | Topaz Studs, $58 Outfit 2: Knit Sweater, $20 | Chelsea Booties, $228 |Leather Belt, $49.50 | Gold Hoops, $14
I'm working with the Old Navy Mid-Rise Slim Straight Jeans for these formulas. They are $39.99 (with 30% off at checkout) and are a mainstay on our Best Seller List. The wash is perfect and the price is ideal if you want to try something without a commitment.
With Sneakers
Let's start with a graphic or band tee.
I kid you not, just this morning, one of my daughters was wearing an Aerosmith tee, and my husband, who loves to troll our kids, asked her, "What you're favorite Aerosmith song?"
She answered very seriously, "What's an Aerosmith?"
The kid had know idea what was on her shirt.
So feel no shame in picking a tee with interesting graphic in pretty colors. That's what I did with this one, also from Old Navy.
We're using it to add a cool and casual element. But if it's not your style, go ahead and wear your favorite white tee shirt.
On top layer a cable knit cardigan from J.Crew.
Or, for a less expensive option, try one of the cardigans from H&M.
This works for a few reasons. First, it creates some tension, with the band tee being edgy and the sweater preppy, they work against each other. Remember, we love playing with opposites.
Happily, a waist-length cardigan is in style and is so much more wearable than the long bathrobe style sweaters we saw over the last few years.
They look especially nice with a slim straight leg jean.
You could also swap the cardigan out for a blazer, like this popular one from Amazon's The Drop.
Next, the sneakers.
Here I'm using the J.Crew neutral color block sneakers we featured yesterday.
You want your sneakers to have a low profile and the jeans' hem to skim the ankle's top, middle, or bottom.
Then I found this gorgeous bag on sale at Rebecca Minkoff. I love the shape, color, and subtle tassel details.
And for earrings, these best-selling topaz studs from Mejuri add just the right amount of sparkle.
With Ankle Boots
For our second outfit, we're featuring a simple sweater and jeans look, but showing how to make it look pulled together.
We featured this H&M sweater last week in cream, and I heard from many readers who ended up ordering it the green (above).
It is gorgeous paired with the ink blue of the denim.
Next, when working with a pop of color, you want to find a way to ground the look.
We're doing that here with the belt and shoes, in the same shade of tan.
The belt, in cognac with a gold buckle adds an elegance, and I used our favorite Amazon hoops to play off the buckle. To show off the belt, give the sweater a little half-tuck.
Then the boots, by Ann Taylor, coordinate with the belt and work well with a straight leg jean.
You'll want to make sure that your jeans are long enough to skim the top of the foot of the boot so you create a long, seamless line.
52 Outfits in 2022!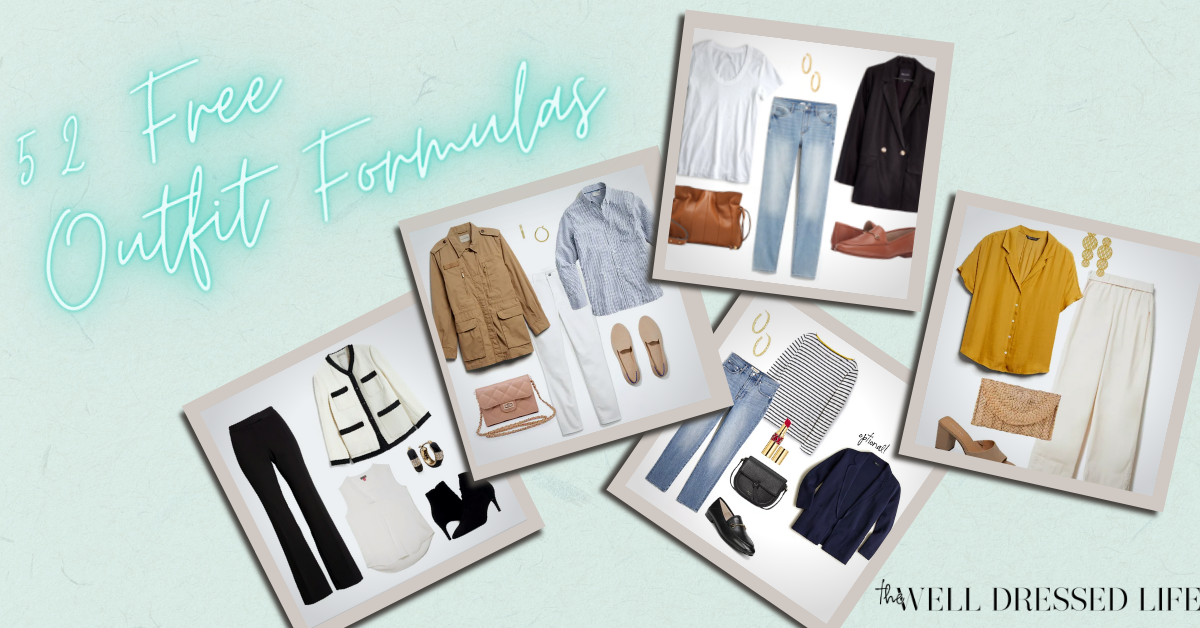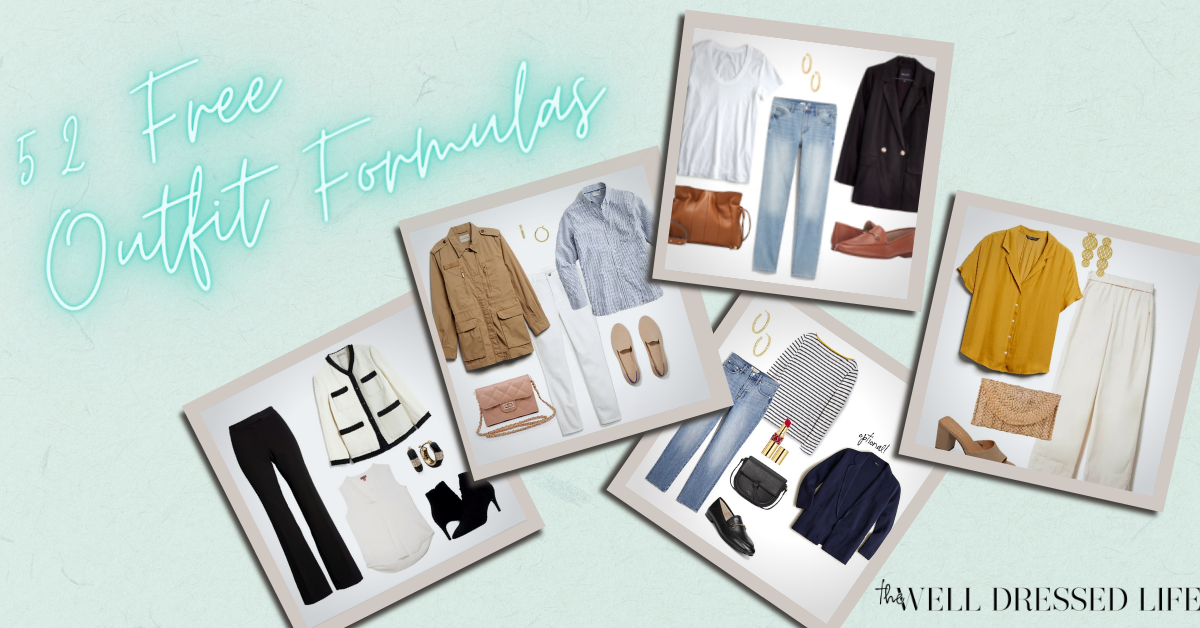 Follow Us on Instagram!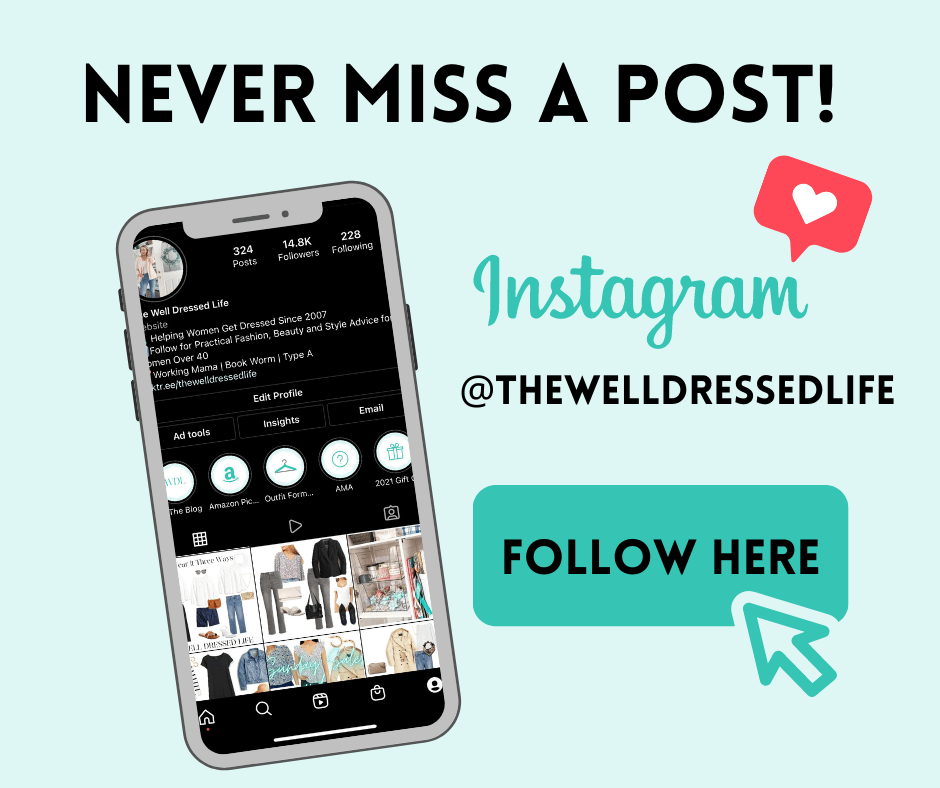 Our Style Content is Inspired by Our Readers
Our readership inspires all of our posts and is not sponsored or paid for by brands or retailers.
Recommendations are based on my experience as a personal stylist and wardrobe consultant for over a decade. I worked with busy, down-to-earth women who wanted to look chic and feel confident but were often confused by so much of retail.
Some links are affiliate links, which means if you purchase via our site, we receive a small commission.

If you enjoy our content and would like to help us grow, please follow on Instagram and join our Private Facebook Group to access more advice and exclusive in-depth conversations with other like-minded women.
Learn about our mission to help women look and feel their very best, every day, here.
Sign Up for Daily Content and Receive Our Free Classic Wardrobe Checklist