Outfit Formula: Bootcut Jeans
Last week, I met my best friend for drinks.
As I was parking, I saw her walking down the street wearing bootcut jeans and looking fantastic.
I wore a pair of straight boyfriend jeans that didn't look as fantastic and we joked about how ridiculous it is that we are not wearing skinnies, even though they are our preference.
I've gone back and forth about this whole debate a dozen times in my head, why does this war on skinny jeans bother me so much?
And I think it's because, skinny jeans are a perfectly practical, stylish option. They are flattering on many body types and necessary if you wear specific shoes.
Sure, you can update how you style it, but burning them seems extreme.
So this idea that we can eliminate an entire category of jeans that works because influencers are bored with them is dumb.
Anyway, after seeing how great my girlfriend looked in her jeans, specifically the 'Ab'Solution Itty Bitty BootcutJeans by Wit & Wisdom, I decided we needed to reintroduce them as another option that isn't talked about as much as it should be.
Because, like skinny jeans, they've been put on the back burner.
And also, like skinny jeans, they add a ton of value and options to your wardrobe.
So let's give you a few Outfit Formulas.
Outfit Formula: The Bootcut Jean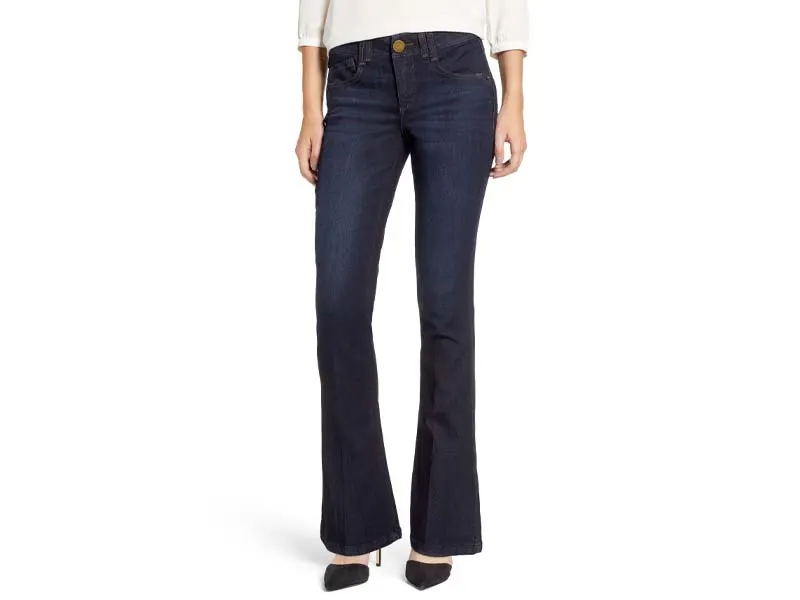 Our key piece is the same jeans my friend wore, the Itty Bitty Bootcut Jeans from Wit &Wisdom.
These are available in regular and petite sizes 00 – 16.
They run big, so go down at least one size and be prepared for them to stretch.
In this dark wash, they are elevated and will pair with so many things.
Consider this style if you like the clean, slim line of a skinny but maybe need a different option for your body.
My two best cuts are a dark skinny and a dark bootcut with a subtle flair at the foot.
Outfit Formula: Bootcut Jeans Worn Two Ways

In our first look, we are reusing this off-the-shoulder sweater from the H&M feature earlier this month in our What to Buy at H&M.
This is why having a different style of bottoms is important.
Because an off-the-shoulder style widens your shoulder, the bootcut helps balance it.
Of course, you could wear skinny jeans here, but depending on your body type, you might feel "top-heavy," and a bootcut will help minimize that.
Then, boots. These are the sock booties from Amazon's The Drop.
I own these and am pleasantly surprised by the quality.
I wore them to a party last week and my feet were in good shape considering I stood on cold concrete for seven hours.
They work because they slip under the bootcut beautifully, and the heel balances the fullness of the leg.
So any block-heel shoe, be it a boot or pump (like these popular March Fisher heels), will work well with this kind of jean.
For accessories, I added these bow-drop earrings from Talbots because they are adorable and under $30, and this inexpensive black clutch from Amazon in case you need it for the season.
In our second outfit, I wanted to highlight bootcut jeans with sneakers.
So I'm using these New Balance Sneakers, featured in our November Amazon Fashion Finds Roundup.
Earlier this week, I mentioned how much I like them and that they make my boat-size-10 feet look smaller.
Note: Your hem needs to sit on the top of the sneaker.
This is called a "break" in alterations. If your hem is too short here, you'll look ridiculous.
Then, to keep it sporty, I found this lovely piece from Quince called a Shrunken Cashmere Sweatshirt, in gray, to layer under a wool blazer.
I just ordered this for myself, so I don't have it yet, but I love anything that is elevated-sporty and have been exceptionally pleased with the pieces I've bought from Quince.
For the blazer, I wanted to feature something you might already have, and the Regent wool blazer from J.Crew has long been a reader favorite.
Available in sizes 00 – 24 in classic, petite and tall, it's a true closet workhorse.
Finally, I added our favorite everyday gold hoops from Amazon.