Once a month, I share my most recent Amazon Fashion Finds.
To make a list, the item has to meet a few requirements.
First, it has to be affordable, so everything below, except for the sneakers, is under $50.
Next, the quality has to be there. I can't tell you how many times I've ordered something and felt bamboozled.
You know, when you open the package and it's not even close to the product picture. So frustrating.
Finally, I don't want it to look like it came from Amazon, so you won't find cut-out tops, bodycon mini dresses or cheap prints here.
Instead, just pretty, practical and affordable pieces that will help build out a seasonal wardrobe.
Today's list has many options for the upcoming holidays, chilly casual days, and some updated accessories.
10 Amazon Fashion Finds in November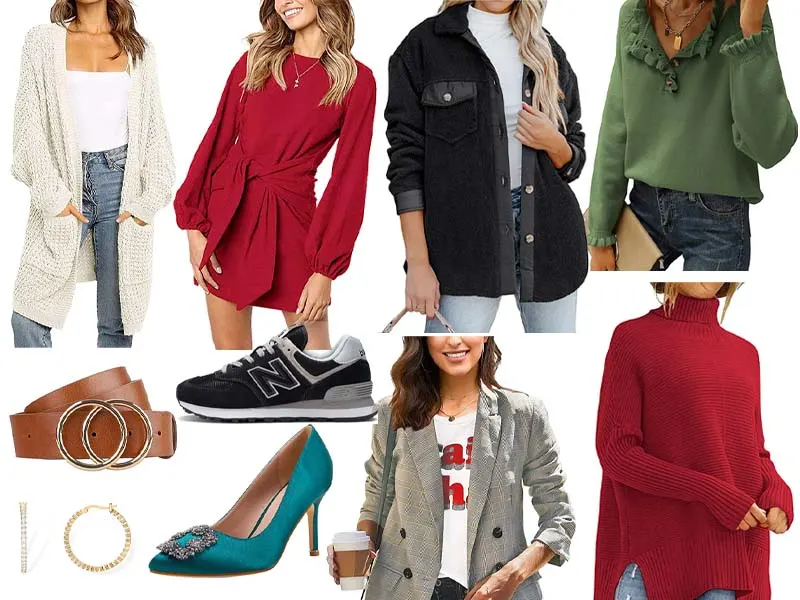 Frequently, I'm asked if I order all these things, and the answer is, yes, absolutely.
I order quite a bit more, but most of it goes back.
I find ideas from other content creators I follow on social – but they are a lot younger and slimmer than me, so sometimes the stuff they recommend doesn't to translate for my over-40 year old body and lifestyle.
So most of the winners I discover are from hours of online searching and trial and error.
You'll see these pop up this month in Outfits in Real Life, and over on my Instagram.
Ok, let's go shopping …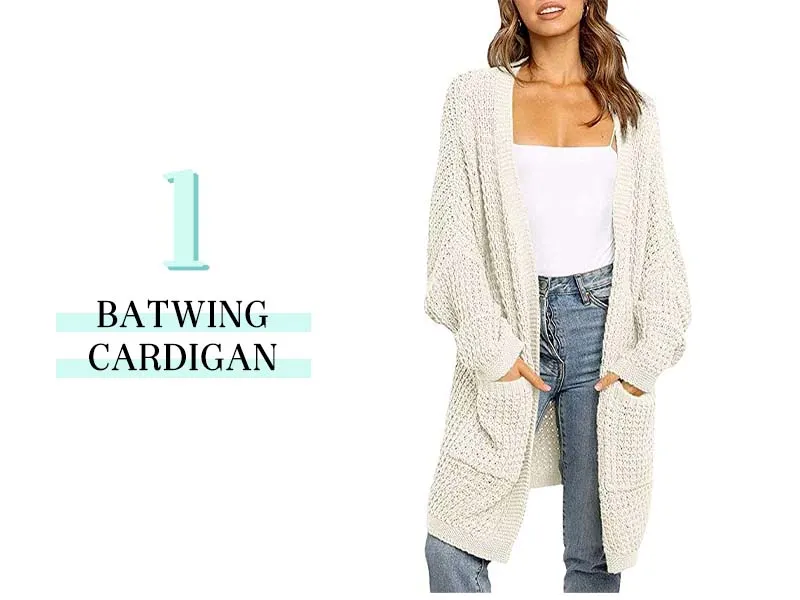 Batwing Cardigan, $39
My loungewear/work from home outfits have been rough lately.
You know, I joke about looking like a Bridge Troll, but I'm taking that to a whole new level and it's gotten worse as we wrap up the year and are swamped with deadlines.
So I ordered a few things that are comfortable but not my bathrobe, or, worse, my husbands old sweatshirt.
And this cardigan is a winner.
It's a little long, so skip if you are on the short side.
I love that I can throw this over a tee or tank and jeans or leggings and feel a little more like a person but still very comfy.
Available in S – XXL, in a range of solid colors and a color block option – but skip that, it's a bit dated.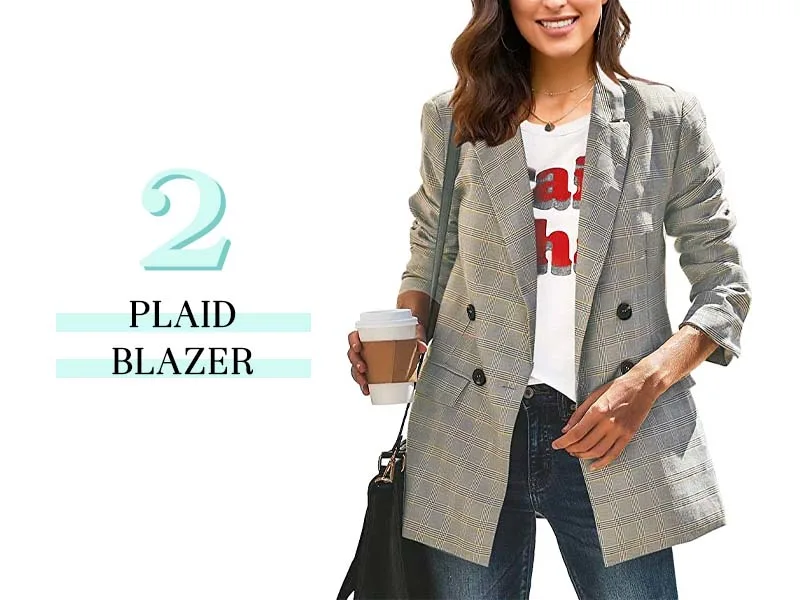 Plaid Blazer, $46.50
Let me start by saying, this is not a power blazer. So you're not pairing this with your better black trousers and a quality heel.
Instead, it's a layer in a casual look.
It adds a menswear inspired element, and is fun with jeans and a tee shirt. It's also not heavy, so you can possibly wear it if you are in a warmer climate.
I like how the styled the picture above, so you can throw it over a graphic tee of your choice.
You can also put it over a hoodie, and wear with jeans and sneakers.
Available in a range of colors and plaids, with some options up to a 20/22.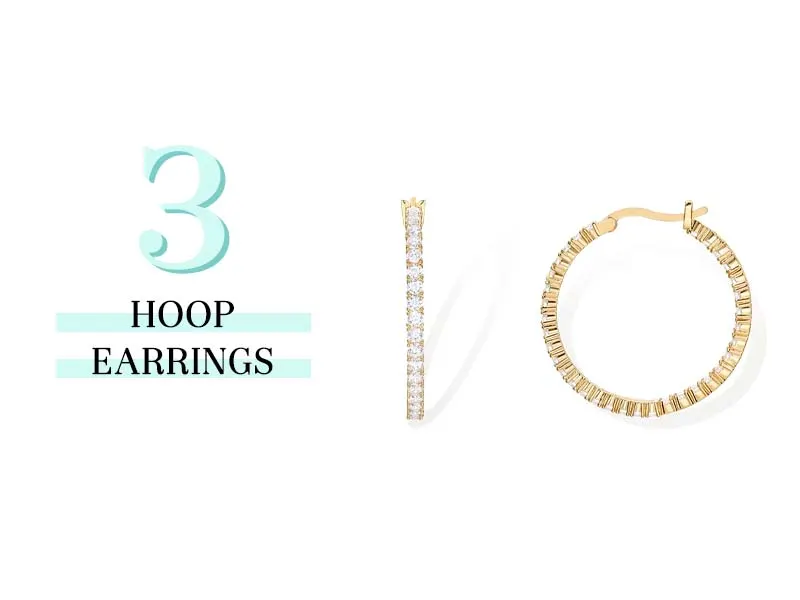 Hoop Earrings, $14
For the last few months I have raved about my favorite, everyday hoop.
Well I recently ordered the CZ version of them, is a larger size, for the holidays, and I am equally thrilled.
They are also under $20, are lightweight, but not cheap-feeling, and super comfortable.
Highlight recommend, available in white, yellow or rose gold in 20 or 30 millimeters.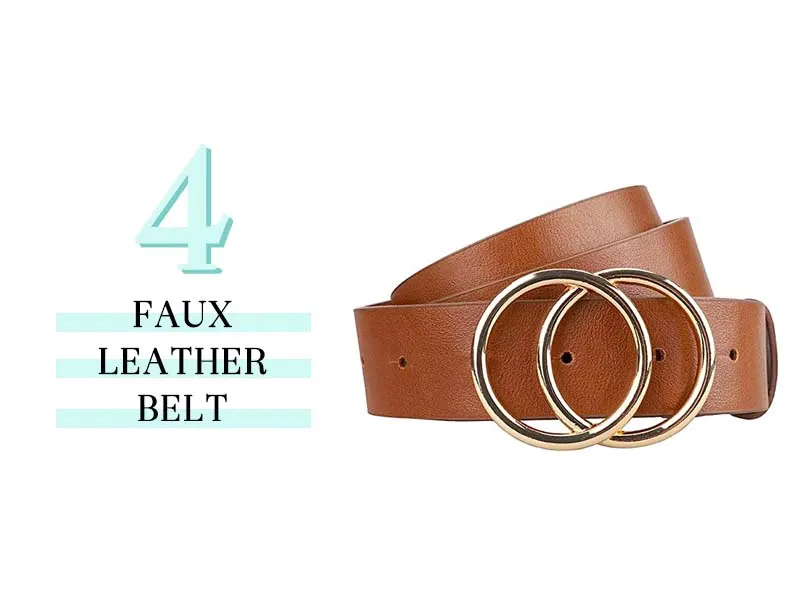 Faux Leather Belt, $15
A few weekends ago we featured a similar belt from Express in our Sunday Sales and it sold out before lunchtime.
So I've been looking for another suggestion and am very happy with this one.
Available in a several neutral tones, in sizes XS – XL, please not the waist size at checkout, for only $15.
You can wear this through your belt loops or over a sweater dress.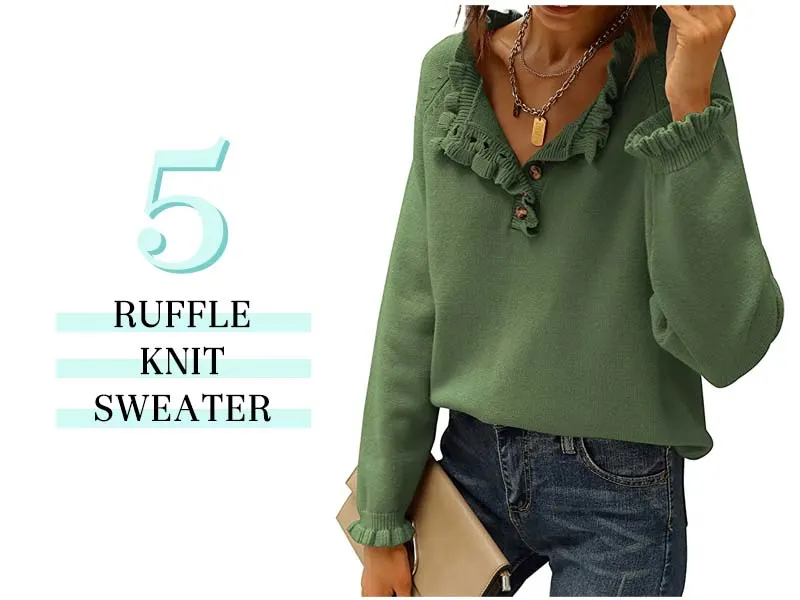 Ruffle Knit Sweater, $42
I scooped this pretty sweater up in the green above.
I love the ruffle trim detail and the tortoise buttons. I will wear it with dark jeans and dark tan ankle boots.
Just an easy, throw-on outfit that feels finished with no effort.
Available in several colors in sizes S – XL.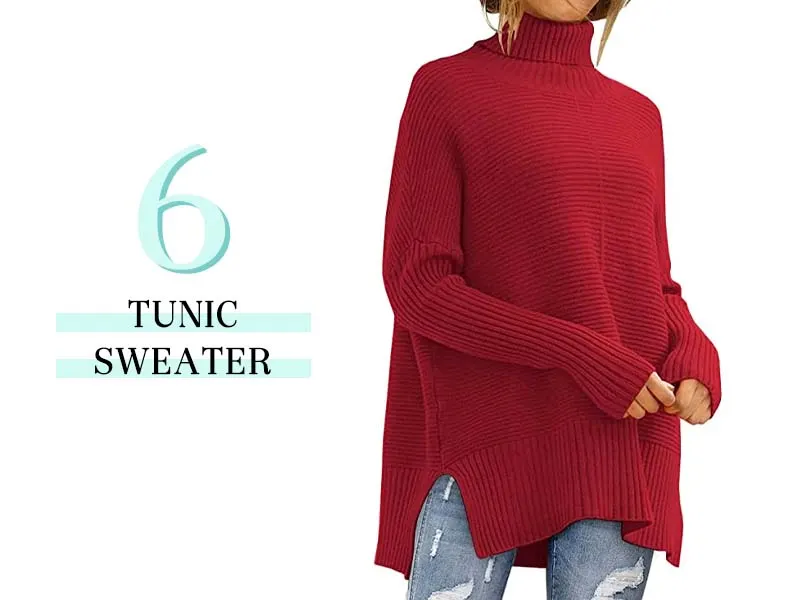 Tunic Sweater, $41
If you prefer a longer, tunic-style sweater, try this one.
I went with red for the holidays and will pair it with faux leather leggings and a block heel bootie.
Note – you need to wear a slim or skinny bottom with this. Otherwise, you'll look like you are drowning in your clothes.
Available in S – XL, it runs full, so size down. Lots of color options available.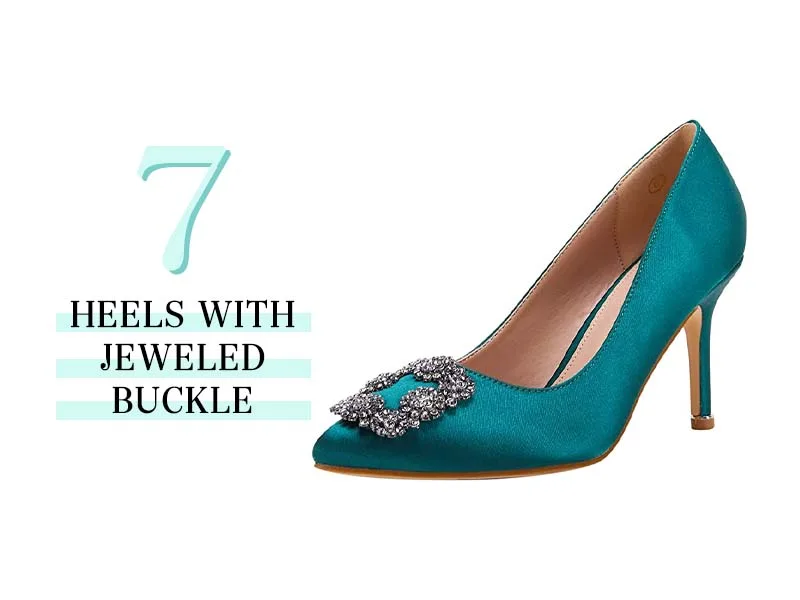 Heels with Jeweled Buckle, $50
Need party shoes?
I ordered these in green for no reason other than I want them in my closet.
They are surprisingly comfortable. You can't run a marathon in them, but I can stand for a few hours without wanting to saw off my feet, and the heel isn't sky-high, which I like.
I will wear them with my coated jeans and an off-the-shoulder sweater for dinner on New Year's Eve.
Lots of colors available, in sizes 5 – 11.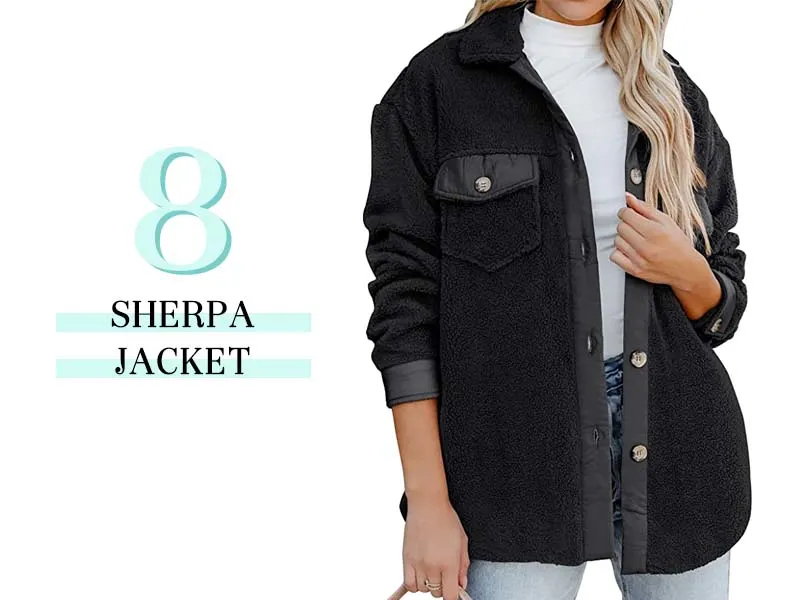 Sherpa Jacket, $43
I try to find options for readers in various climates.
So if you live in a region of the country where the winter is mild, you might like this. You can layer this over a long sleeve tee or bulk it up with a thicker turtleneck.
Pair with jeans and sneakers or boots.
Lots of color options; I ordered black and beige, because I'm boring, in sizes S – XL.
Tie Waist Dress, $38 https://amzn.to/3EuPVFZ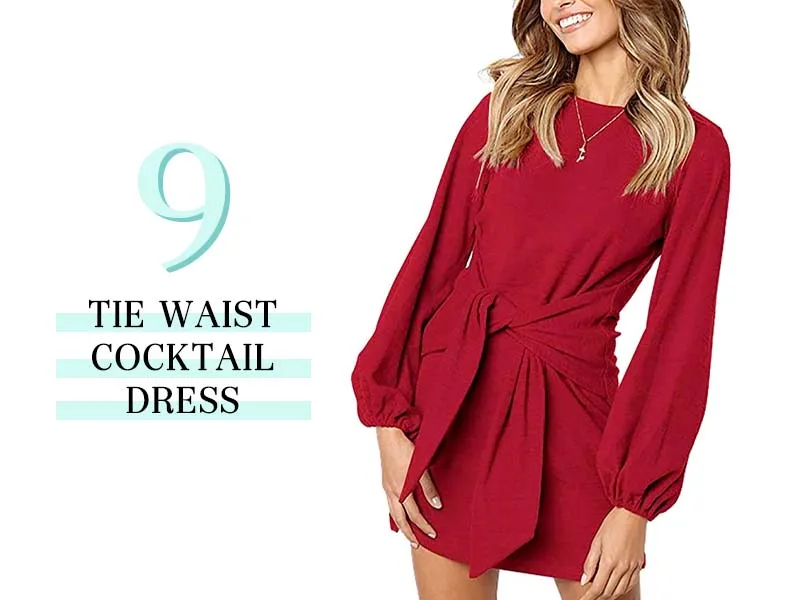 Tie Waist Dress, $38
You need to steam or press this dress when it comes out of the package because it was too wrinkled to see what I was dealing with.
But I'm surprised at how much I like it.
– If you are petite, it might be great for you.
– Super tall, it'll be hit or miss.
-Skip entirely if you are full-busted.
I'm 5'10, but my legs aren't extra long (tall-length pants are often way too long for me), so I can pull this off with tights and boots.
It's an option if you need an affordable, seasonal dress, ideal for family photos, etc.
Available in several colors in sizes S – XL.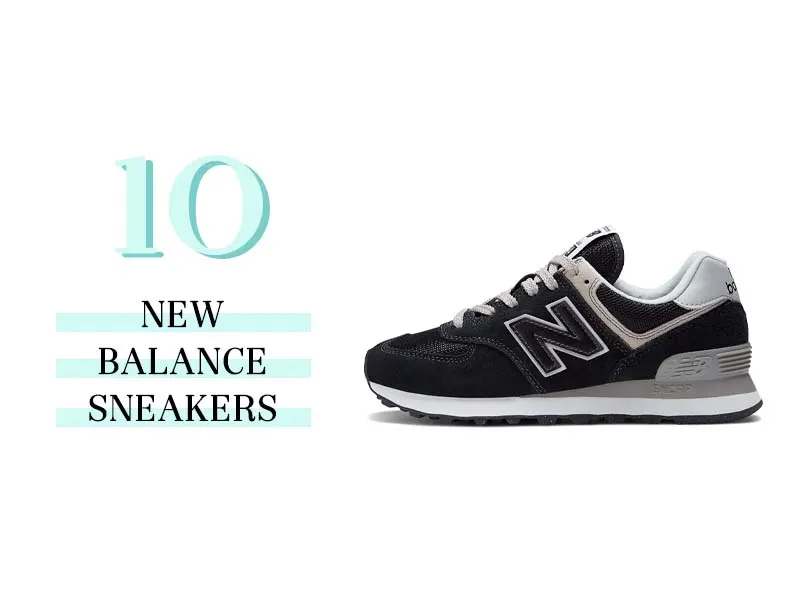 New Balance Sneakers, $85
Finally, we know I love sneakers, and this pair from New Balance is my latest love.
I like the color combination; even though they are black, they feel light with the grey detail.
And somehow, they make my giant size 10 feet look smaller.
I'll wear these with the black sherpa jacket, fleece leggings, and a baseball hat.
Available in 5 colors, sizes vary.