For years, H&M has been my not-so-secret resource for trend-right pieces and wardrobe fillers.
You can always depend on them to have a few things to create chic, modern outfits every season without breaking the bank.
And this time of year, when we transition from the holidays to the dark and boring winter, they have several pieces that will perk up your look.
In every What to Buy at, I review each store's new arrivals; in this case, almost 700 items.
Of all the retailers we feature, H&M is the one that leaves me cross-eyed.
I was recently ask how long it takes to put together each of our daily post. It varies greatly, but for something like today, where I'm just sourcing one retailer it takes about five hours total, three hours to shop and two hours to build and write the post.
The challenge with H&M is the sheer volume is of merchandise. There's a lot of chic, fun, and easy-to-incorporate pieces that anyone can wear and prices you can't beat, but there's also a sea of bizarre items and oddly styled looks.
But, if you haven't considered H&M in the past, take a peek at today's curated round-up.
And PLEASE do not think you are somehow "too old" to shop here. You can shop wherever you want.
What to Buy at H&M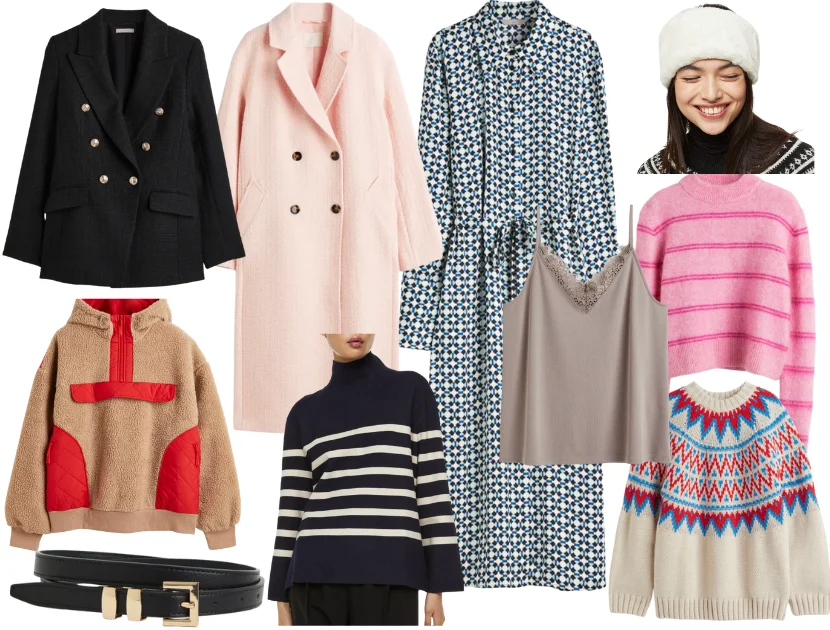 Regarding sizes, H&M is getting better.
Currently, most of their "standard" sizes include a XXL, which translates to a 22/24 and I find they run true to size.
High-Collar Jumper
Our Wardrobe Challenge started on Friday, so we are in week one, where we start to define your personal style.
And this year I'm seeing SO MANY participants share that they love effortless Parisian style.
In my book nothing is more French-girl than a striped top in any form. Like this high collar style in navy and white, or in a classic ivory and black in XS – XXL for under $50.
Pair with slim bottoms and ballet flats for the perfect everyday outfit.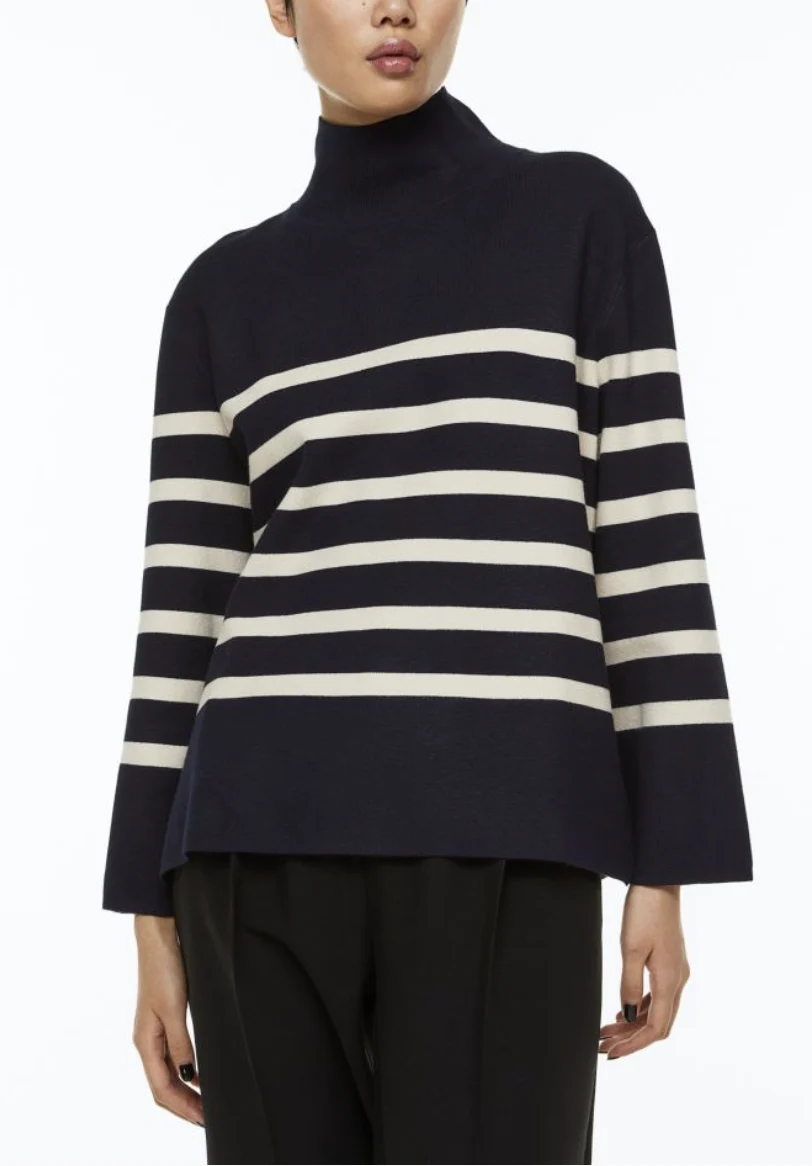 1
High-Collar Stripe Jumper
H&M
$44.99
Straight jumper in a soft knit with a high, ribbed collar, long, gently flared sleeves and slits in the sides.
In XS -XXL
Bouclé Jacket
Speaking of French style, a boucle jacket, like this black one, paired with anything from straight leg jeans, to coated pants adds a gorgeous touch of depth.
And if you'd like something other than black, this blue and white houndstooth is stunning.
Tip: Don't let the buttons on jackets and blazers stop you from purchasing if you like everything else. Swapping them out is an easy alteration. You can find metal or tonal ones at your local fabric store or Amazon. Or search Etsy for vintage sets.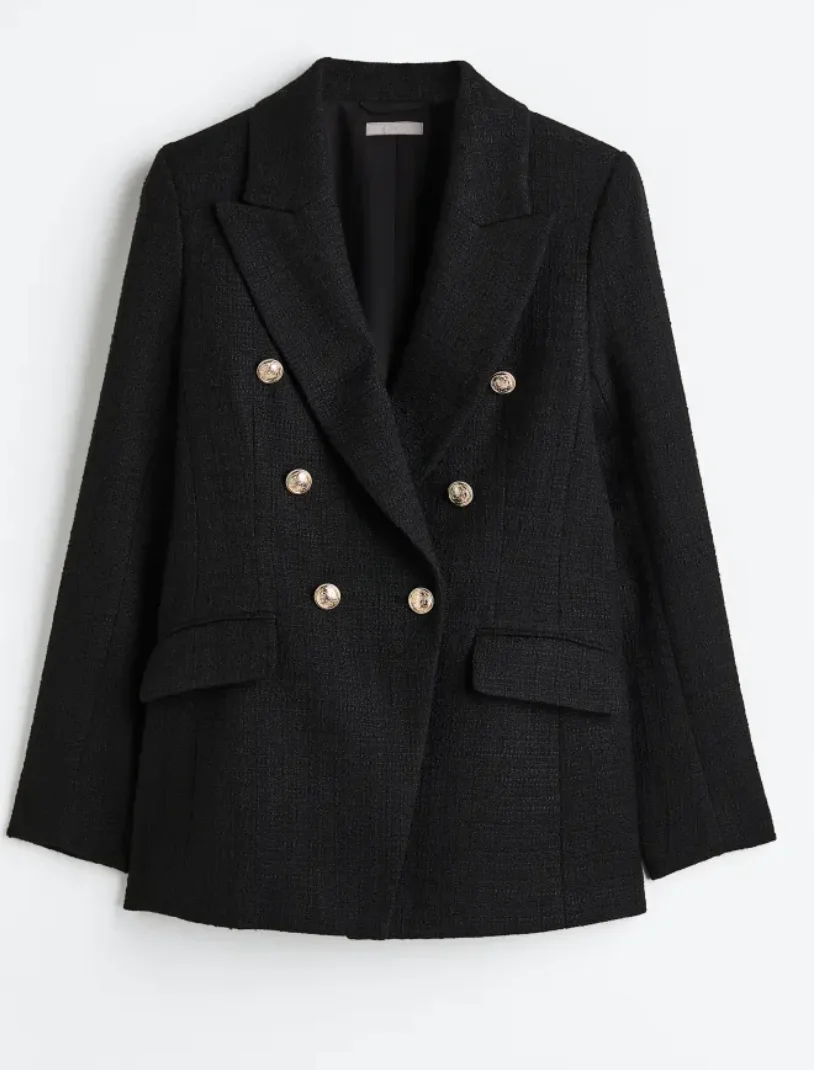 2
Bouclé Jacket
H&M
$74.99
Double-breasted jacket in woven, textured bouclé with wool content. Collar, pointed lapels, decorative metal buttons at front, and mock front pockets with flap. Vent at back. Satin lining.
Available in XS – XL
Mohair-Blend Sweater
A sweet sweater, perfect for Valentine's Day.
The length is short (it's NOT cropped) and the sleeves are long. Pair with any high waisted bottom.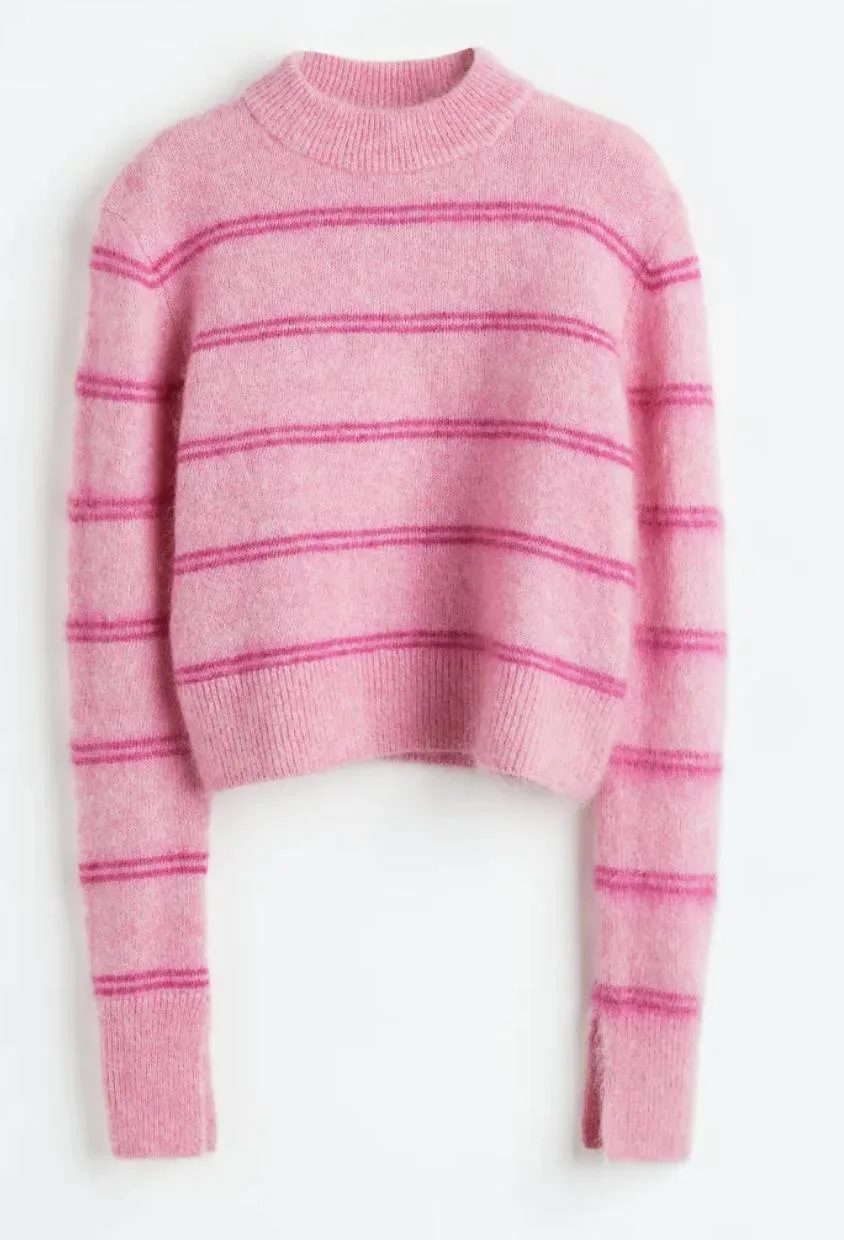 3
Mohair-Blend Sweater
H&M
$64.99
Short sweater in a soft knit made from a mohair and wool blend. Round neckline, dropped shoulders, and long sleeves with slit at cuffs. Ribbing at neckline, cuffs, and hem.
Tie-Belt Shirt Dress
I've always loved a shirt dress. Their just and easy, one-piece outfit.
This one has a sophisticated pattern, grounded in black, making it easy to pair with a shoe/boot/bag. Available in XS – XXL.
I like a midi length dress with a boot, when the top of the hem of the skirt skims the top of the boot.
Since I'm tall (5'10) I don't usually need an hem, but please consider a simple alteration if this feels too long. You have a lot of power over your clothes and can make a relatively inexpensive piece feel custom for just a small charge.
You can also swap out the matching tie belt with a black one to upgrade even more.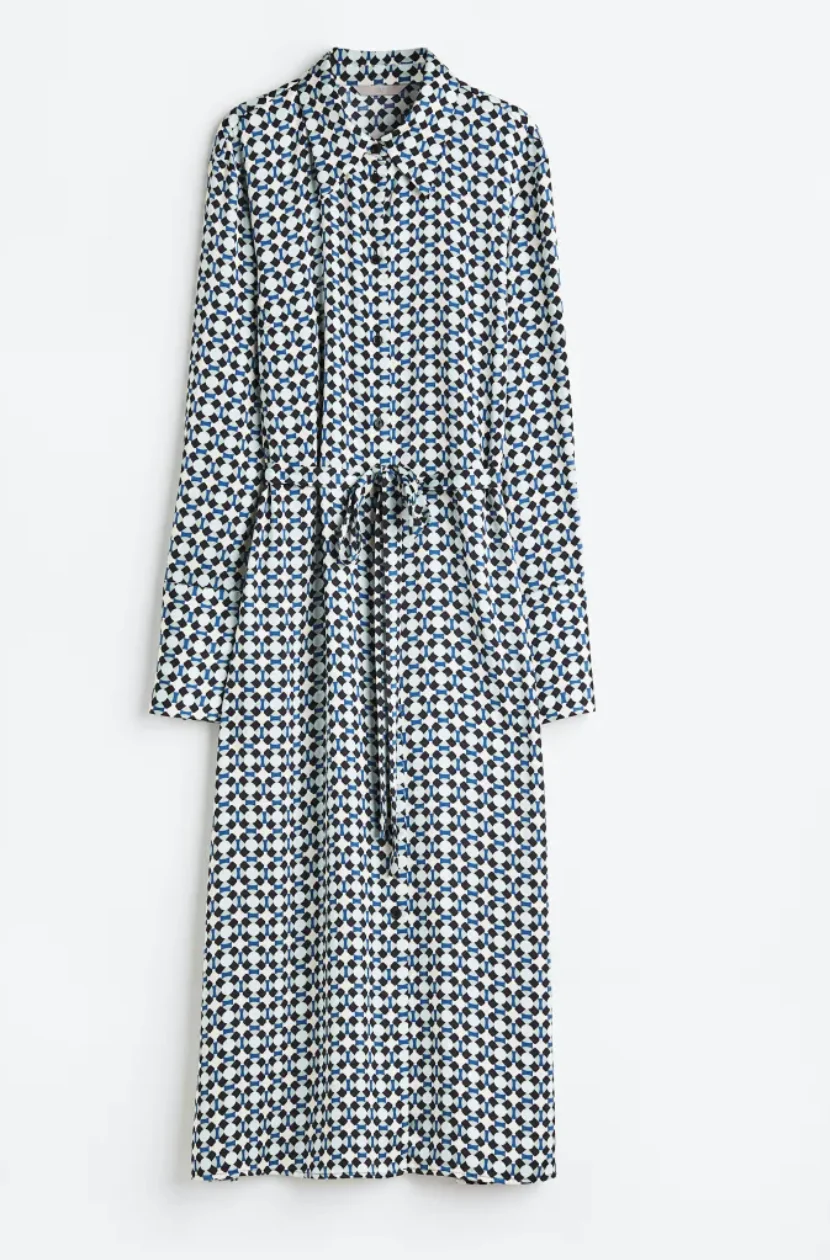 4
Tie-Belt Dress
H&M
$39.99
Calf-length dress in woven fabric with a collar, buttons down the front and a detachable tie belt at the waist. Long sleeves and wide cuffs with a slit and button. Unlined.
Narrow Belt
Like this thin belt, with gold hardware.
Available in black or brown, for just $13.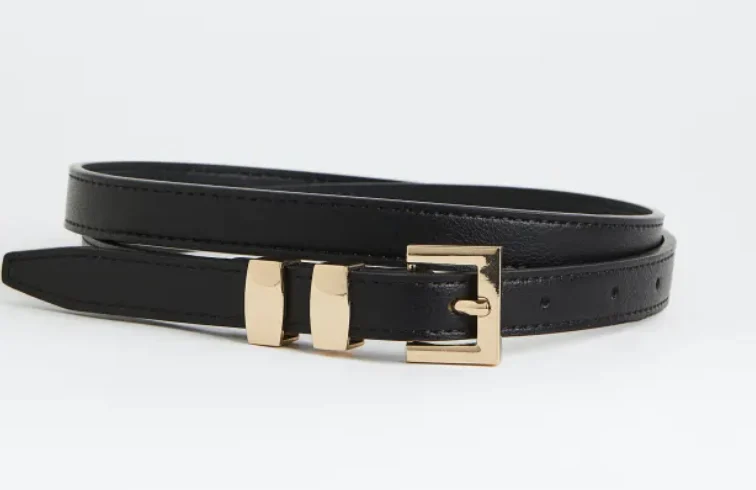 5
Narrow Belt
H&M
$13.00
Narrow belt with a metal buckle. Width 1/2 in.
Sports Anorak
One thing about me is that I will always buy the fleece.
This one is available in a striking red and tan or all white in XS -XXL. It's just the thing to wear working from home, in your leggings and UGG slippers.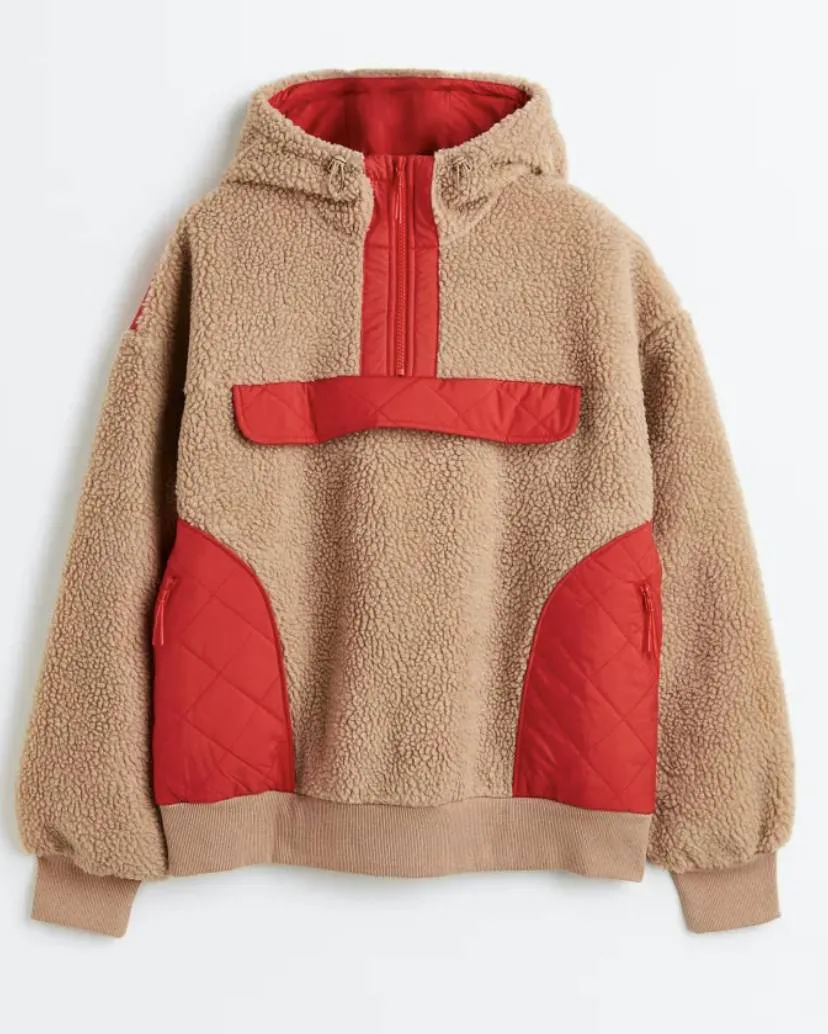 6
Sports Anorak
H&M
$64.99
Regular-fit sports anorak in soft, warm teddy fleece with sections in quilted, woven fabric. Lined hood with drawstring and cord stoppers at front. Half-zip, heavily dropped shoulders, and long sleeves. Large front pocket with flap and concealed zipper, side pockets with zipper, and ribbing at cuffs and hem.
Jacquard-Knit Sweater
While I can ski, I don't enjoy it. Like, not even a little bit.
But I LOVE everything around skiing: dinner, drinks, fireplaces, and outfits. I love that you can wear outfits you might not necessarily wear at home.
Like this borderline ridiculous but totally fabulous patterned sweater. Available in XS – XL.
So while my family throws themselves down black diamonds, I'm happily reading a book by a fire, in my cute sweater.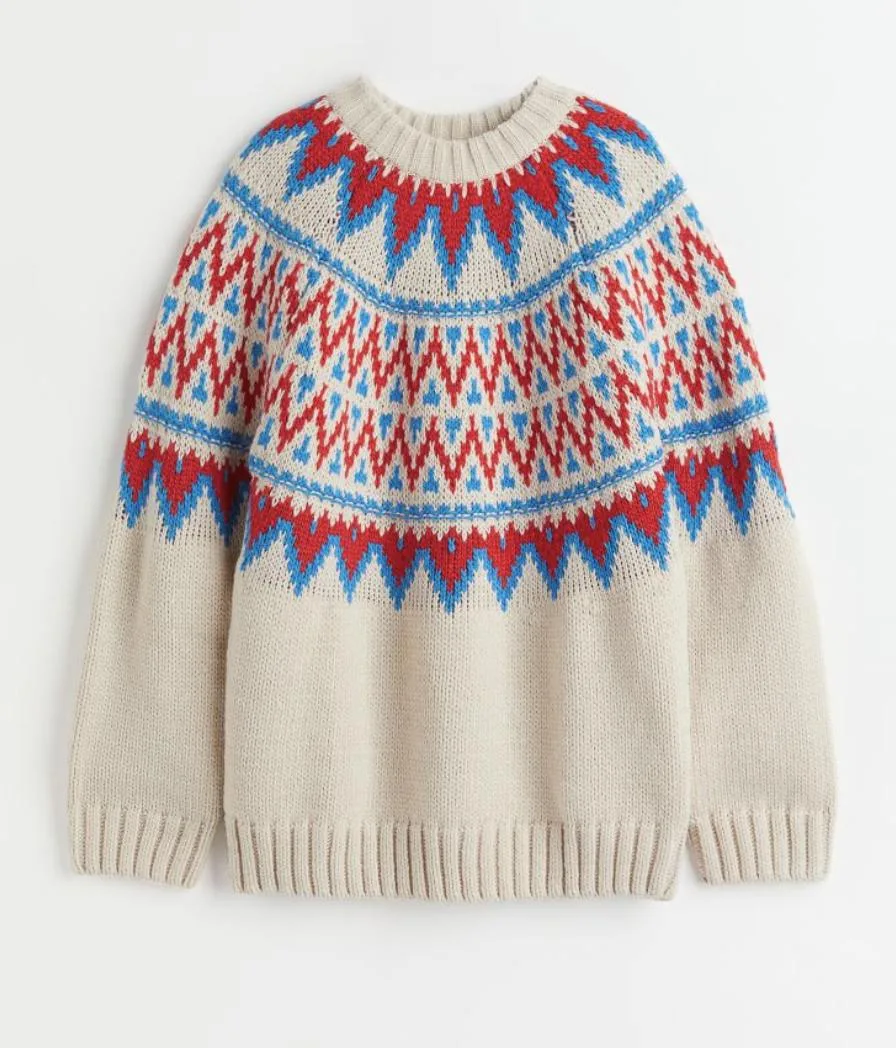 7
Jacquard-Knit Sweater
H&M
$49.99
Soft, jacquard-knit sweater with wool content. Round neckline, long sleeves, and ribbing at neckline, cuffs, and hem.
Fluffy Headband
And speaking of ridiculous, I immediately ordered this to go with the sweater.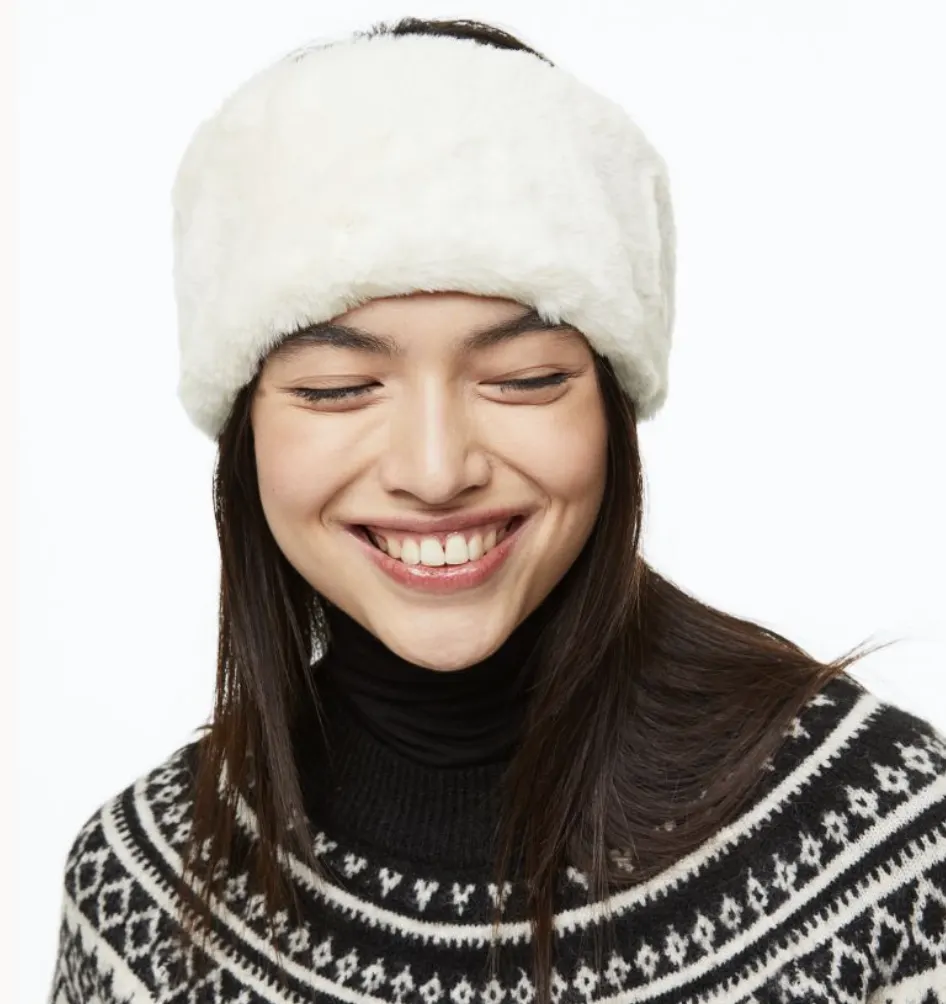 8
Fluffy Headband
H&M
$12.00
Headband in soft, fluffy fabric with covered elastic at back. Lined.
Double-Breasted Coat
I have long loved the coats at H&M. They are stylish and affordable, making them an ideal "outfit" coat.
Every season I buy at least one.
And I adore this pretty pink top coat that can take us right into a chilly spring paired with light tone neutrals.
Available in XS – XXL, also available in blue.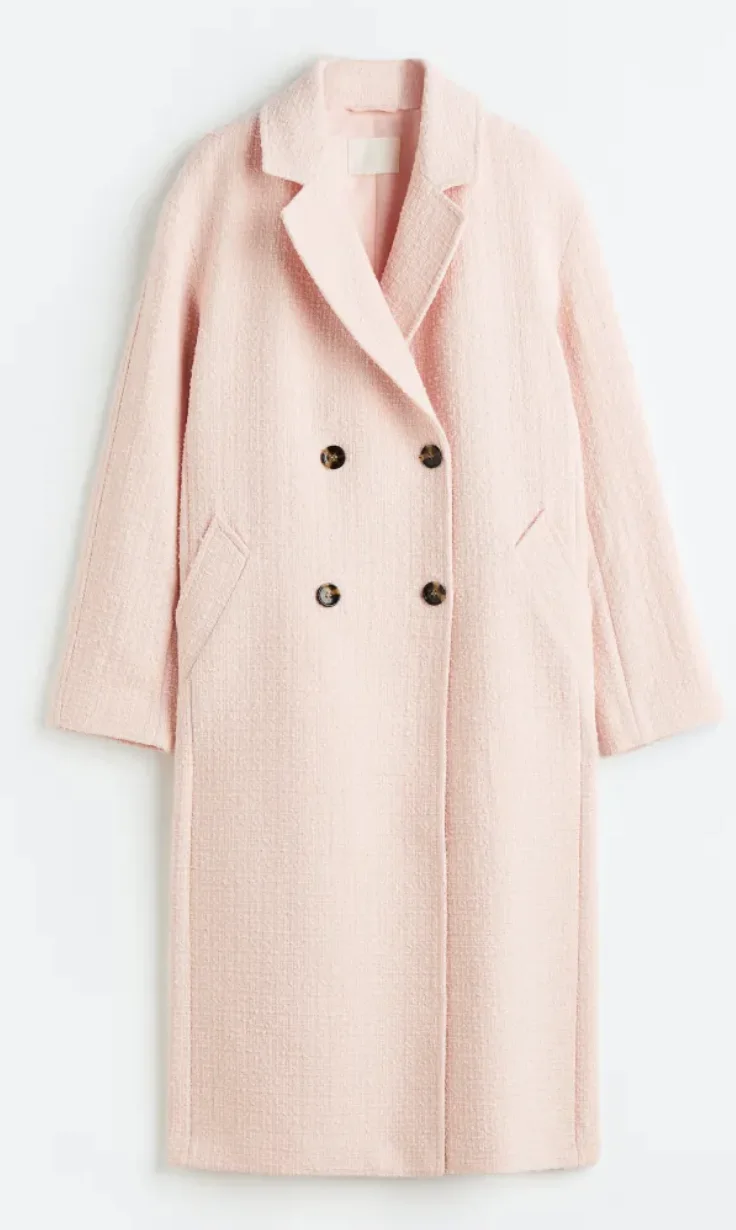 9
Double-Breasted Coat
H&M
$84.99
Ankle-length coat in woven, textured fabric made from a cotton blend. Notched lapels, buttons at front, and diagonal welt front pockets. Dropped shoulders and long sleeves. Vent at back. Lined.
Lace Trim Cami
I was getting dressed for dinner the other night, and put on a cardigan that I could have worn as just a sweater if I had a simple lace trimmed cami.
It was just a little too low to wear alone, and when pair with my standard, neutral-to-me tank, looked unfinished.
So ordered several of these, them come in seven colors, and I scooped up all the neutrals, available in XS – XXL.
10
Lace Trim Cami
H&M
$24.99
Camisole top in jersey. Extra-narrow shoulder straps and low-cut, lace-trimmed V-neck at front and back.