H&M has been my not-so-secret resource for trend-right pieces and wardrobe fillers for years. I can always depend on them to have a few things to create chic, modern outfits every season without breaking the bank.
And this time of year, when we transition from summer to fall, they have so many gorgeous things.
In every What to Buy at post, I review each stores new arrivals; in this case, almost 700 items.
That's the challenge with H&M; the sheer volume is overwhelming.
But in the sea of bizarre items and some oddly styled looks, you're left with many chic, fun, and easy to incorporate pieces that anyone can wear.
If you haven't considered H&M before, take a look at our curated line-up of top picks.
And PLEASE do not think that you are somehow too old to shop here. You can shop wherever you want.
What to Buy at H&M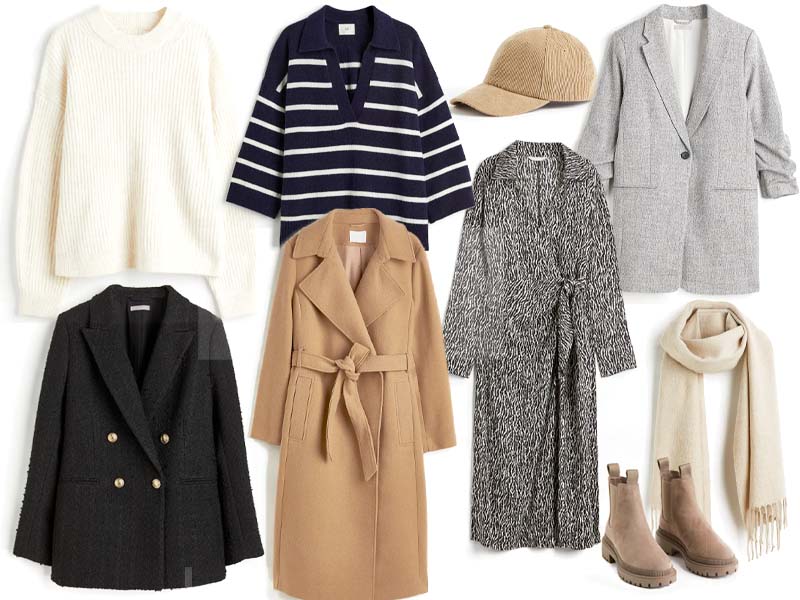 A few things to remember before we get started.
1. Be sure to look at the image of just the item, not the outfit. Otherwise, it is almost impossible to break down their styled looks to see if something is wearable in your real life.
Also, please read the reviews; they can help you decide on the correct size.
2. Where I think they do an excellent job is knits, blouses, jackets, coats, novelty pieces, and accessories.
3. Their quality and fit is impressive. I have several pieces in my closet from the past few seasons and am always impressed with how they wear.
4. In terms of sizing, they run true, but if you are in between, go up one.
I don't love how they handle plus and petite sizes.
They DO offer inclusive sizes, but it's a little confusing. Most items are available in XS – XXL which is about an 18 – 20. Then some pieces go to 4X, but they are a different item number.
There is a plus size category and petite options too.
Let's go shopping.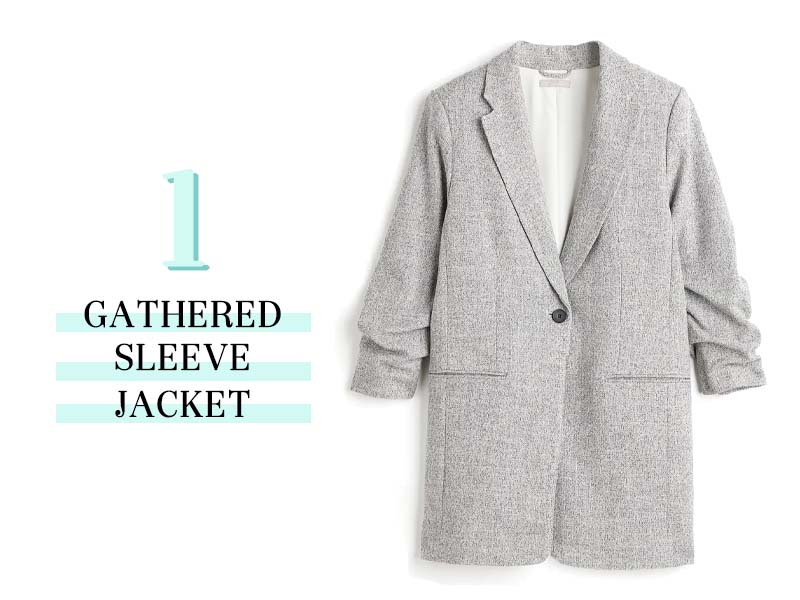 H&M has offered a version of this jacket for a few years now, and every season it sells out. This updated style feels slightly oversized (but not extreme) has one button and gathered sleeves. Available in black, tan and grey.
I like this with a pair of slim lined jeans or black cigarette pants and pointed flats.
Great for the office or any business casual event.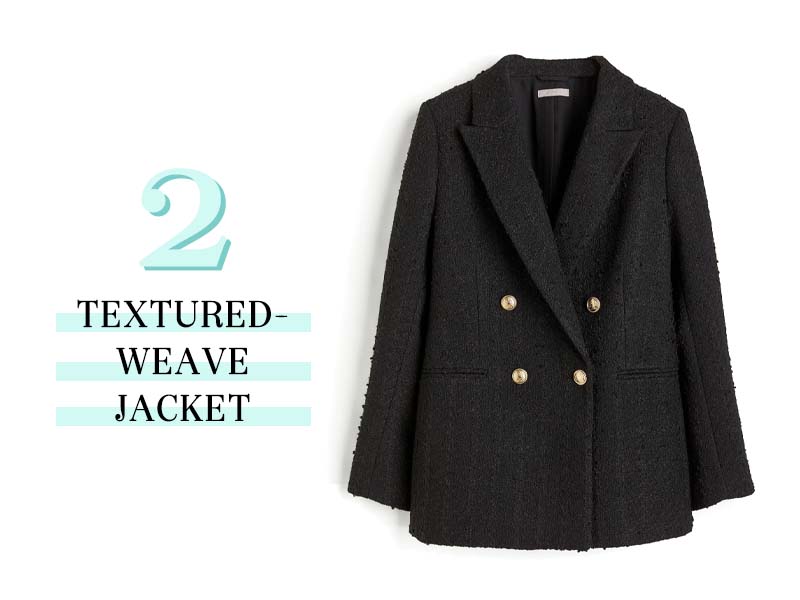 One category H&M kills it is their novelty blazers. Anything with texture and buttons is a winner. And as someone who LOVES a good blazer but doesn't have nearly enough occasions to spend on one, H&Ms price points are hard to beat.
This option is one of the best I've seen. Available in black and cream, in sizes XS – XXL.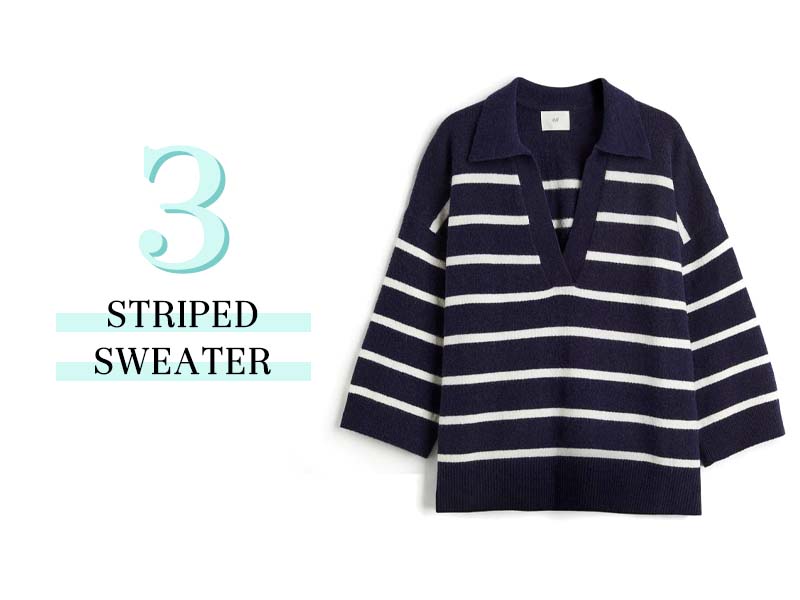 Striped Sweater, $25
I've been dressing like a "Coastal Grandmother" since I was 19, so I have some experience taking this style from Summer to Fall.
Take this blue and white stripped knit sweater and pair it with a wide leg jean and loafers.
Or use it as a layer and hang it over your shoulders.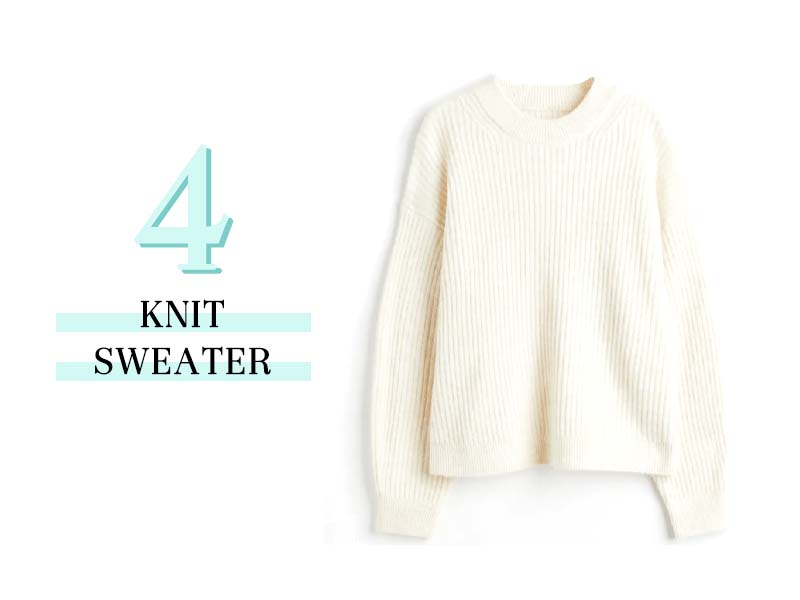 Knit Sweater, $20
H&M makes great knit, and this simple crewneck option is no exception.
This is especially nice if you plan on wearing a version of the very popular Lug-Style Boots, like these featured below. You'll want something on top that matches the weight of the boots to balance out your outfit.
Also available in green in sizes XS – XXL.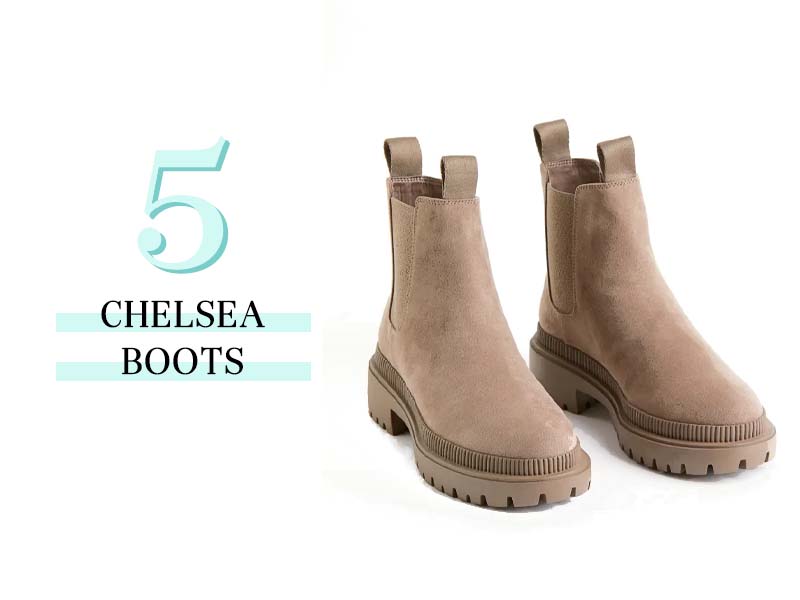 Chelsea Boots, $40
Early in every season I try to provide as many options of popular styles in a range of price points.
For me, I have a few colors of this kind of boot, so I spend less for more variety.
I also find that a lighter neutral works with more in better my wardrobe.
This pair is $40 and available in suede beige and matte black.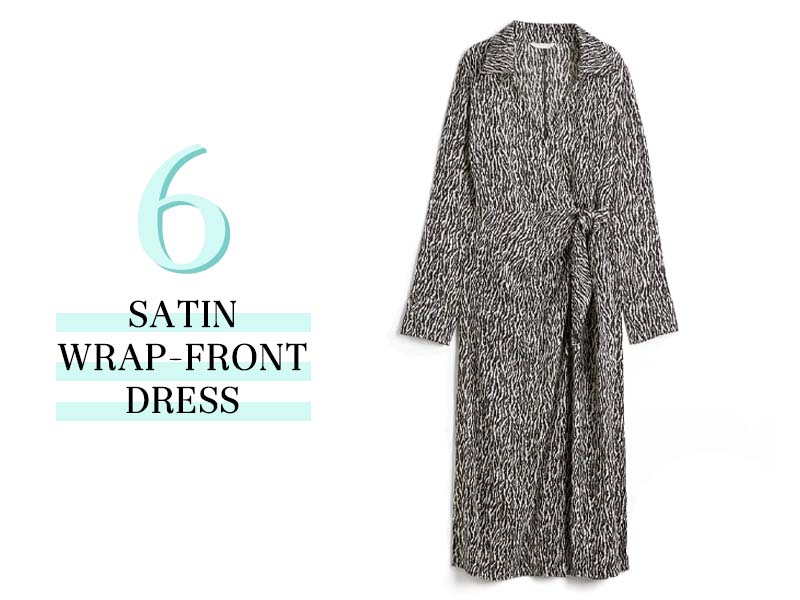 Two things you need to know about this dress.
One, it looks WAY more expensive than it's $40 price tag.
And, two, unless you are 5'11 you'll probably want to have it hemmed. But I'm really trying to normalize alterations. Once you get in the habit of taking your clothing to a tailor, you'll have so many more options.
It's a really powerful resource to make clothes fit exactly how they should and it elevates these less expensive pieces.
Also, this isn't a dress for the office, it's a statement dress for an occasion or date night.
Pair with heels, clutch and your favorite jewelry.
Available in sizes XS -XXL also in green.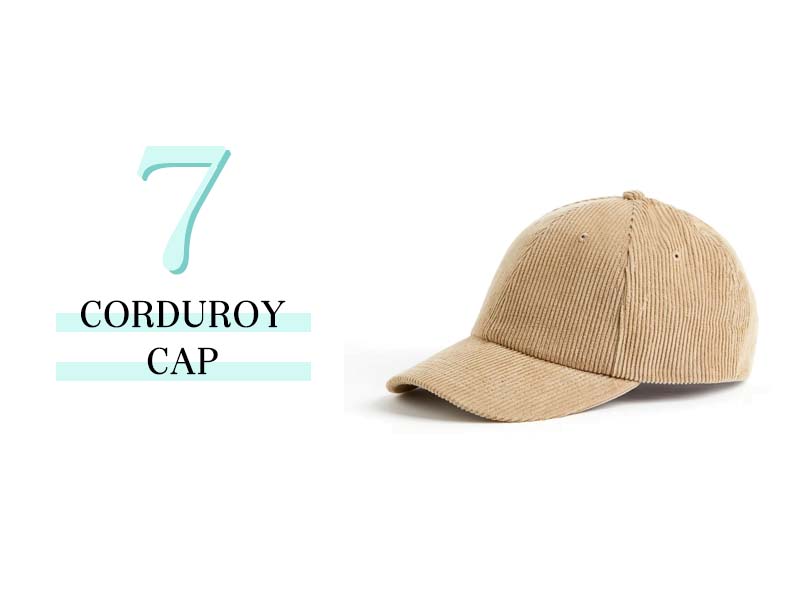 Corduroy Cap, $15
The easiest way to cover up dirty hair at morning drop off is a baseball cap. I LIVE in mine this summer
So I picked this one up in beige for the fall, also available in black and cream.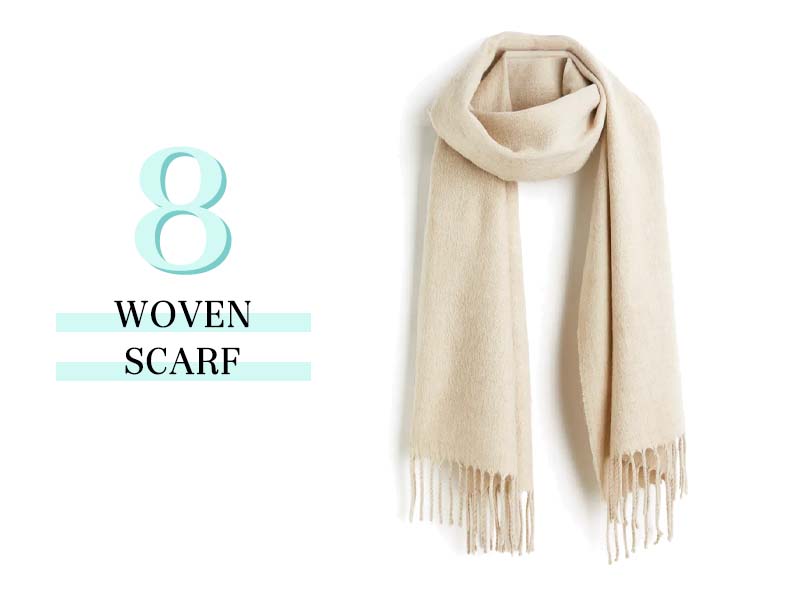 Woven Scarf, $13
I also ordered this $13 scarf to pair with my trench coat for a monochromatic look.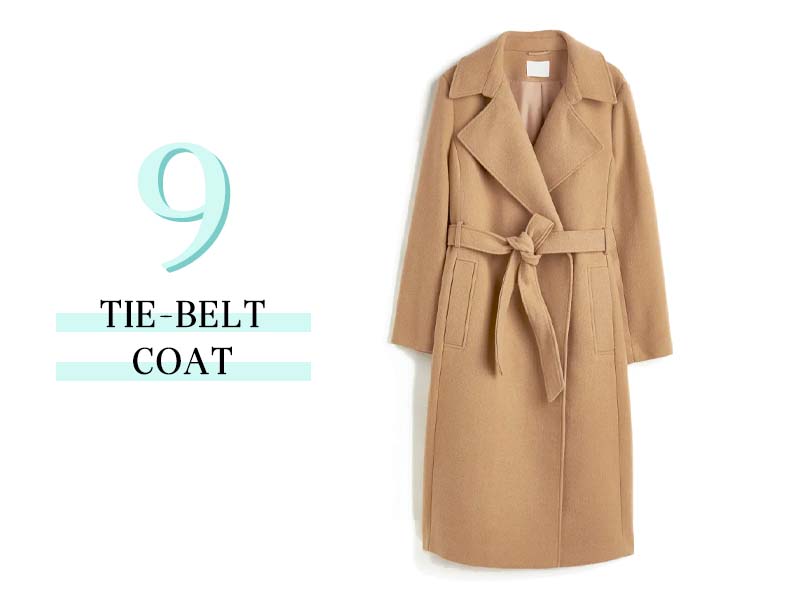 Tie Belt Coat, $75
H&M makes a really nice coat, often in classic cuts. I'm sure they will have a ton of options as we move into the season, but sizes tend to sell out fast.
So if you are between a Large and 4X, you might consider this timeless wrap coat in camel. Priced incredibly well at only $75.
52 Outfits in 2022!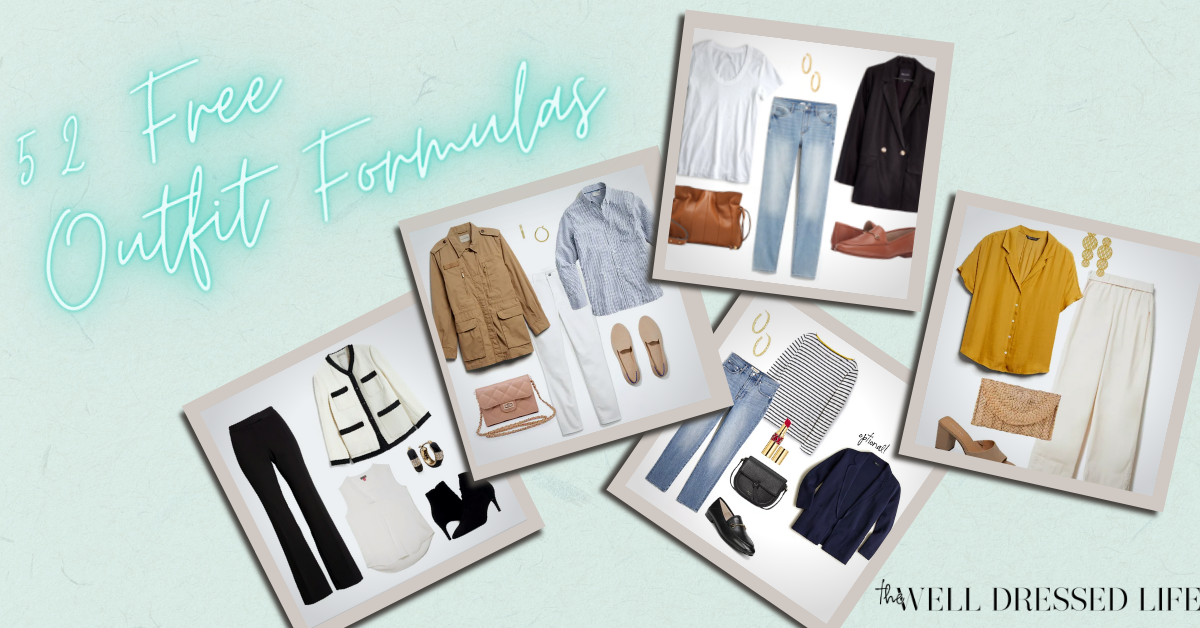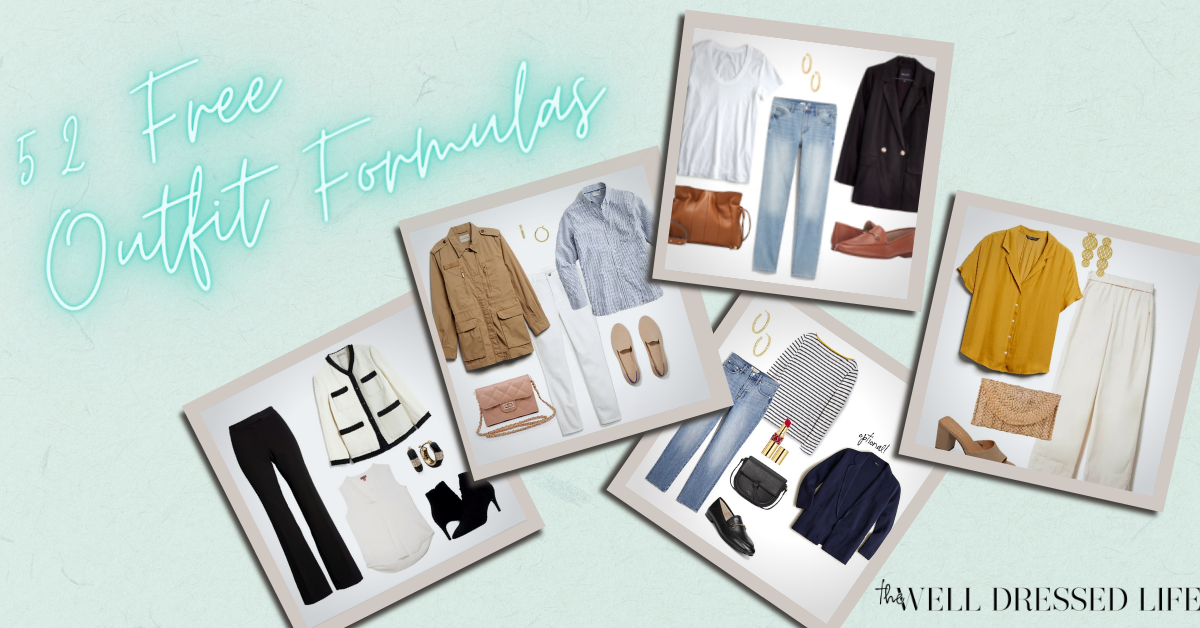 Follow Us on Instagram!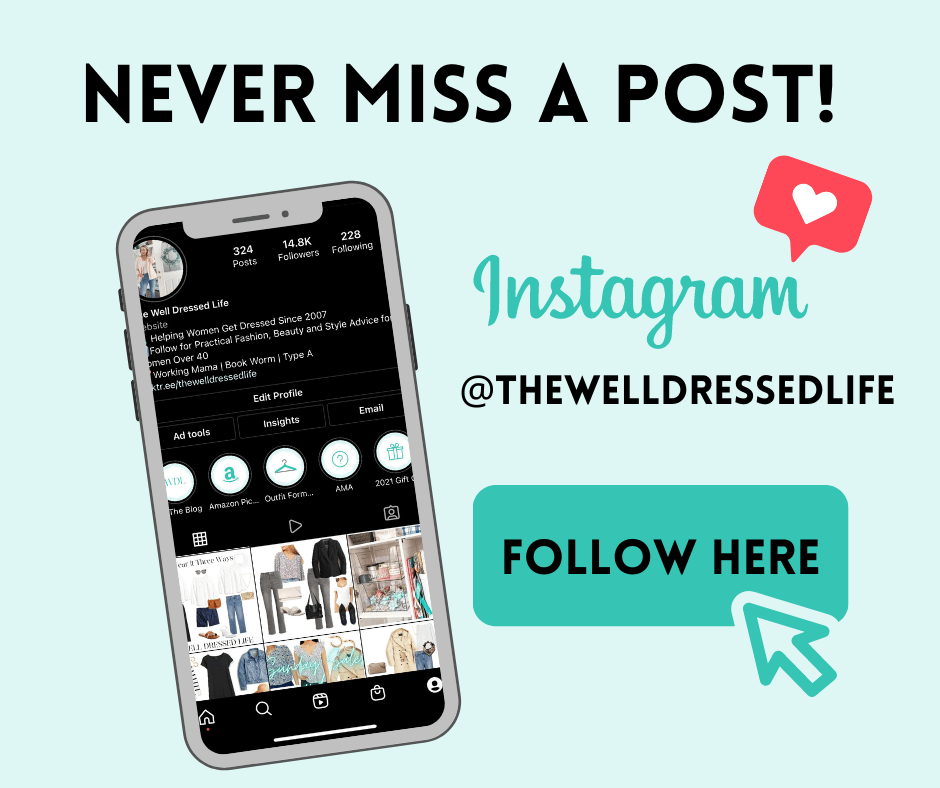 Our Style Content is Inspired by Our Readers
Our readership inspires all of our posts and is not sponsored or paid for by brands or retailers.
Recommendations are based on my experience as a personal stylist and wardrobe consultant for over a decade. I worked with busy, down-to-earth women who wanted to look chic and feel confident but were often confused by so much of retail.
Some links are affiliate links, which means if you purchase via our site, we receive a small commission.
If you enjoy our content and would like to help us grow, please follow on Instagram and join our Private Facebook Group to access more advice and exclusive in-depth conversations with other like-minded women.
Learn about our mission to help women look and feel their very best, every day, here.
Sign Up for Daily Content and Receive Our Free Classic Wardrobe Checklist