The number one question in my DMs and our Private Facebook group is: are skinny jeans out of style?
As if the past 18 months weren't enough, being told that skinny jeans are out of style or, as the kids to call them cheugy, is just mean.
So, I'm here to tell you, as an actual expert in these things, that skinny jeans are not only 100% acceptable but still very much in style.
Sure, you can add some variety to your jeans assortment. So go ahead and pick up boyfriend jeans or these updated flares, but by no means should you feel compelled to rid your closet of this staple.
Because that's the thing, the skinny jean, specifically the dark skinny, has earned a place on the classics list.
Are Skinny Jeans Out of Style?
That said, styles evolve.
We talk about this a lot. However, if your goal is to keep your look updated and modern, attention to subtle, nuanced details is essential.
A dark wash will extend the life out of your jeans, and a length that hits at or just below the ankles will allow you to wear the most variety of shoes.
What I would avoid are jeggings. You don't want these to feel like leggings, but a snug fit will show off your shape, extend the length of your leg, and balance out oversized sweaters and cardigans.
Over the next few weeks we'll talk about outfit formulas for all different jean styles. Today, I'm highlighting three classic skinny jean options, at three price points, in a range of sizes, in case you need to a fresh pair.
Low: Old Navy Power Slim Straight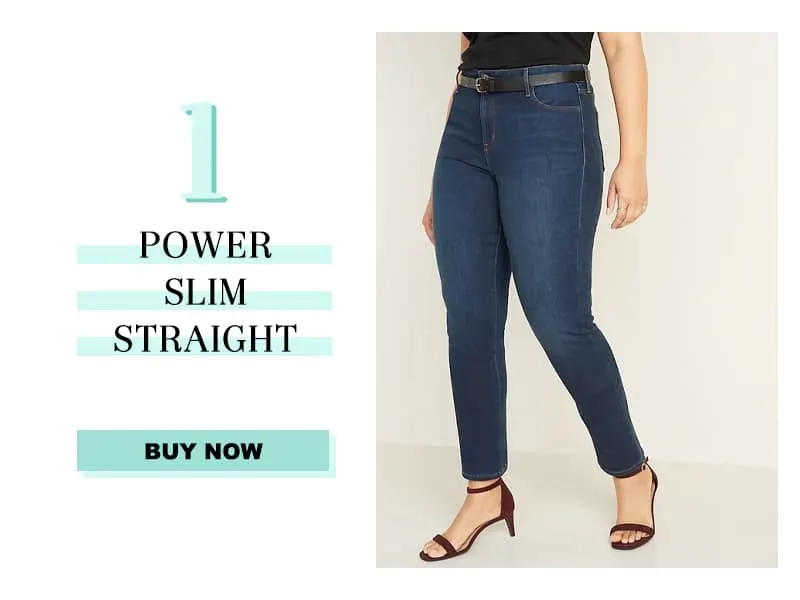 Power Slim Straight, $35 Take 30% Off with Code HURRY
If you're like me and working hard to get back into pre-Covid shape, you might need a pair of jeans that look great but don't bust your budget. That's why I am a huge fan of Old Navy jeans. They fit well, cover all sizes, and the price is insane.
They call these "slim straight," which tells you that they won't be skintight but still body shaping.
Right now, you can grab these for $25 after the discount code. Available in regular, petite, and plus size.
Mid: Wit & Wisdom Ab-solution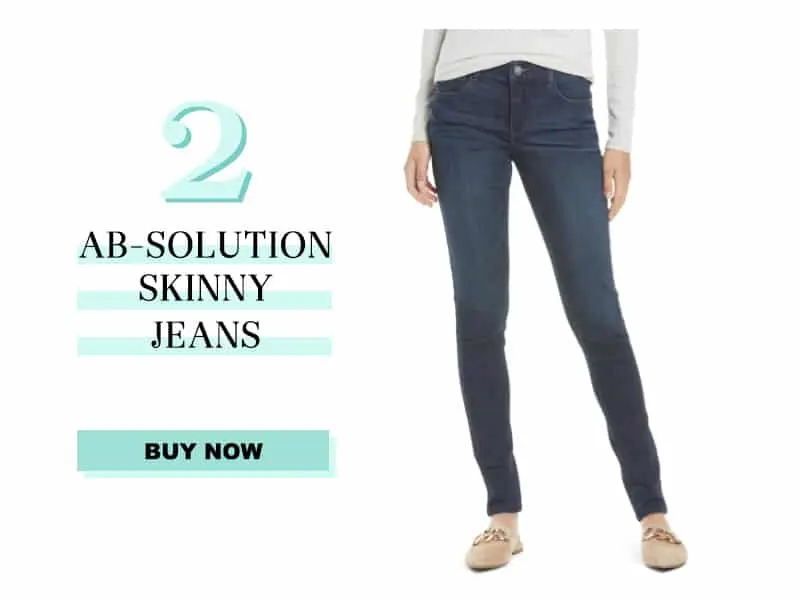 Another favorite in my rotation is the Wit & Wisdom Ab-solution Skinny Jeans. These are available in regular and petite sizes up to 18. I love the fit of the waist, designed to "mold and hold". I discovered them after Vivi was born. They held in my post-c-section belly so well, with such comfort, that I've bought them every season since.
High: Hudson Super Skinny Jeans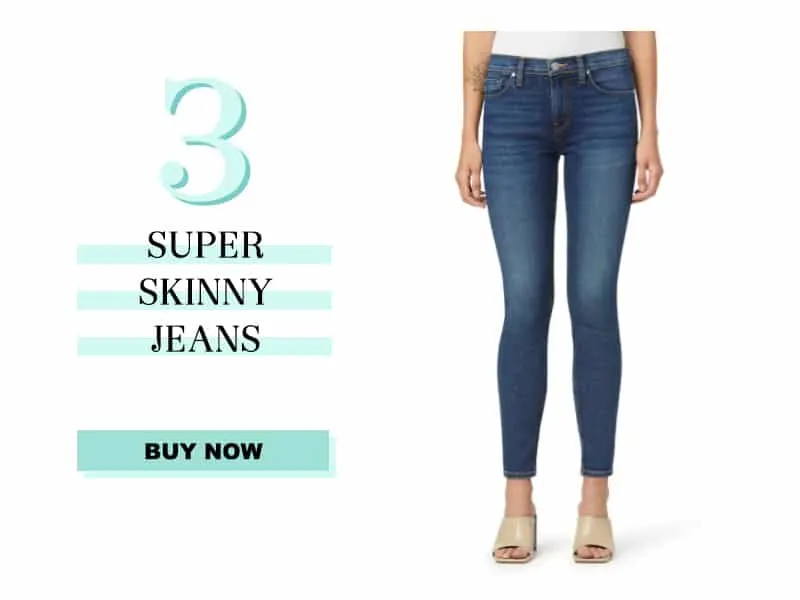 Super Skinny Jeans, $195
I totally believe in investing in your jeans, especially if they are a big part of your wardrobe. If you want to invest in a higher end jean, you have many options. These Hudson jeans are great if you like a mid rise in a lovey classic wash. Sizes run small.
I prefer a high rise because I look like a woman who had three babies. My hands down favorite, that never disappoint are from DL 1961. Their Florence Instasculpt Skinny Jeans have tons of stretch, but always retain their shape. I'm wearing them in the picture above.
For more of a straight-skinny, their Coco Curvy Jeans are just as incredible and worth the splurge.
Our Style Content is Inspired by Our Readers
Our readership inspires all of our posts and is not sponsored or paid for by brands or retailers.
Recommendations are based on my experience as a personal stylist and wardrobe consultant for over a decade. I worked with busy, down-to-earth women who wanted to look chic and feel confident but were often confused by so much of retail.
Some links are affiliate links, which means if you purchase via our site, we receive a small commission.

If you enjoy our content and would like to help us grow, please follow on Instagram and join our Private Facebook Group to access more advice and exclusive in-depth conversations with other like-minded women.
Learn about our mission to help women look and feel their very best, every day, here.
Sign Up for Daily Content and Receive Our Free Classic Wardrobe Checklist