Today, we're breaking down how to wear boyfriend jeans, specifically for the grown up crowd.
If you're looking for a jean that is chic, casual and comfortable, look no further than a boyfriend jean. Admittedly, we feature a lot of skinny jeans, especially in the winter because they pair so easily with boots. But, maybe skinny jeans are not your favorite, or you are just ready for some variety.
Boyfriend Jeans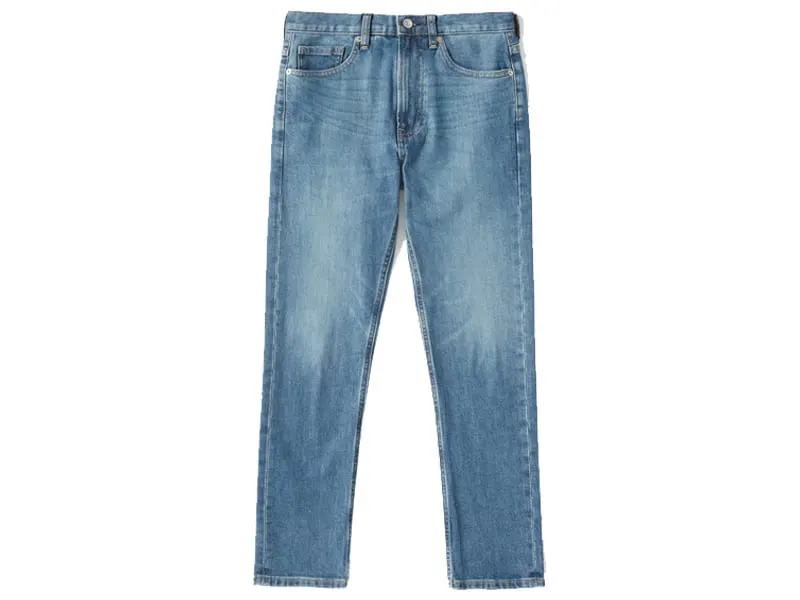 Modern Boyfriend Jeans, Everlane: $68
There are many options when it comes to boyfriend jeans. Generally, they will be loose fitting, and the hem will stop around your ankles. The most flattering fits will have classic 5-pocket styling, and a relaxed yet slim leg.
Some variations will have distressing around the knee and hem. I happen to like that look, but I know many readers aren't into it.
For the purpose of today's post, I picked these Modern Boyfriend Jeans by Everlane. I like the quality, color of the denim and price. These are a more traditional denim, meaning there is not much stretch so keep that in mind.
This darker wash by Madewell are easy to wear and look great with everything. Plus size? I like these by KUT. Petite? Take a look at these from NYDJ.
Shop these other options in all sizes:
You can make boyfriend jeans super casual or date night ready. They are a comfy alternative to leggings, especially if you work from home but want to feel a bit more pulled together.
I created three different looks with a variety of items you may already have in your closet.
Three Ways to Wear Boyfriend Jeans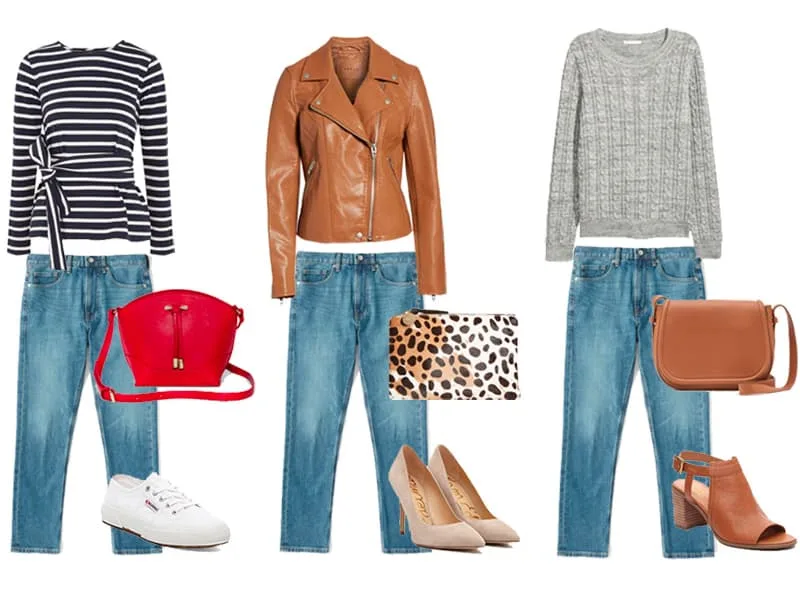 Let's break down each outfit.
Outfit One
Top, $50 | Sneaker, $65 | Bag, $22
Boyfriend jeans are ideal for casual looks. Here, we paired them with this updated striped top from J.Crew. The tie at the waist puts a fun twist on an otherwise classic top.
If you wear the tie, skip a necklace. To keep the look modern, roll the hem of the jean and wear a pair of fresh white sneakers. Superga is a popular and affordable option. They have a low profile, so they complement where the hem will hit you on your calf and the width of the jean leg.
I found this red bag at Target. It's a sweet little pick me up for the warmer weather, also available in black and soft blush.
Outfit Two
Jacket, $98 | Clutch, $149 | Heel, $96
For nights out a moto jacket is where it's at and the boyfriend jean pairs perfectly. There is a wonderful contrast between the sleekness of the jacket with the slouch of the jean, yet they "go" together because they are both still casual.
I'm of the opinion that when you wear a moto jacket, the jacket is the outfit and you don't take it off. Keep the under piece simple, like your favorite white tee shirt, or a tank and leave the jacket unzipped to create longer line of the body.
Here's where it gets fun. Pair your jeans with a ladylike pump. This helps elongate your leg, gives you some height and feels dressed up. These beige Sam Edelman pumps are divine and under $100. Because you're going out, I added this small Clare V. pouch.
Outfit Three
Sweater, $13 | Heel, $70 | Bag, $140
In our last outfit we kept the whole look cozy. First of all, this sweater by H&M is $13, and as I write this, most of the sizes are still available. We featured the gray, but I was close to using the navy – hard choices.
The heels are by Franco Sarto. From my experience, they are crazy comfortable. Once the weather warms up, even the tiniest bit, I would pull these out. The shoe is still substantial, even though it has an open toe and the block heel works well with the shape of the jean.
Finally, we found a wear-with-everything crossbody, in a remarkably similar color to the shoe. Not that it has to match, but when you're going for easy and casual, it helps.
Tips on How to Wear Boyfriend Jeans
You can wear any shoe from strapy stilettos to flip flops. Take your height into consideration. If you're tall, a pointed toe flat will look lovely if you roll the hem of the jean. If you're short, a wedge will help elongate your leg.
To dress up the jeans, think in terms of contrast. Add a fitted blazer, a blouse with lace detail or a pump with some embellishment. Pieces with some kind of luxe detailing elevates the look instantly.
Avoid capri style boyfriend jeans. You want these to hit at or close to your ankle. Mid calf is the least flattering place for a pant to hit on your leg. (See my unfiltered thoughts on capris here.)