Of all the articles I've ever written, this one about my contempt for capri pants, written on a whim several years ago, is my most popular.
Today, it's been read by over one million women.
And it gets people fired up.
Which was never my intention.
If you've been part of our community for any amount of time, you know I really don't care what you wear.
Instead, I like to give suggestions and advice that help you find what works best for you.
And I really loathe this influencer culture of promoting an item one season only to talk about how it's "dated" the next.
But the capri pant is the exception.
It is the most unflattering, frumpy-dumpy, ugliest piece of clothing designed for women in modern history.
Here's the deal.
Retail doesn't care about you.
Especially if you're a woman over 40.
No one is sitting in an office, deciding on the next season's inventory assortment, asking themselves:
Is this the best option for our customers?
Is it flattering?
Will it work with what they already have?
Will she feel confident in it?"
They are not trying to advocate for us.
But I am.
The basis of my entire business is to sort through the mess you see in stores and online and highlight the best options each season while providing inspiration and practical tips.
And capris are a mess.
I get a lot of questions from readers in the spring and summer, like, "why do capris feel so awkward on?" and "why are they so unflattering on me?"
So, today, let's talk why capris are the worst and offer better alternatives.
We Deserve Better Than Capris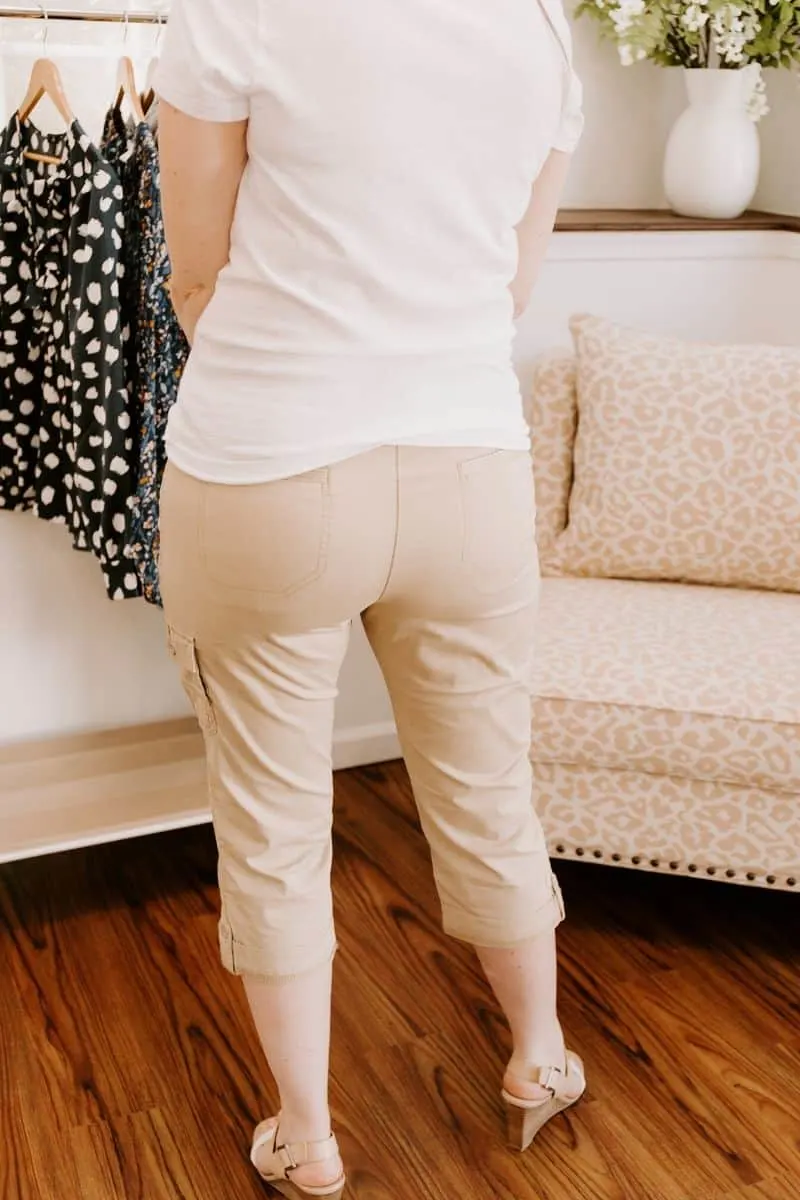 Why I Know What I'm Talking About
I spent the first half of my career before becoming a personal stylist and founding The Well Dressed Life in corporate retail as a buyer.
My first buying job out of college was at Charming Shoppes, the parent company of stores like Catherine's and the now-closed Fashion Bug.
I worked as an assistant-to-the-assistant buyer in the bottoms department.
Then I became a buyer for a small high-end boutique and eventually landed at QVC before starting my company.
But it was at Charming that, despite it being my least glamorous gig, I learned about garment construction.
Our department focused on casual fabrics, including denim and twill.
We sourced merchandise from manufacturers and also produced items in-house.
Before approving final runs, we had to check the production samples' fit to ensure they met quality standards.
I was responsible for keeping all the samples organized and worked with the fit model and design teams to ensure the fit was correct.
Granted, Fashion Bug wasn't exactly known for its high-quality standards.
If it didn't fall apart in the wash and met size standards, you could get something passed.
And we sold a ton of capris.
But our head of QA was well-trained and often frustrated that items were ordered despite looking awful.
Because of that experience and subsequent relationships with tailors and clothing makers over the years, I learned the nuances between good and bad design and why an item is sometimes inherently unflattering from a construction standpoint.
Related: What to Wear When You Don't Wear Shorts
Why I Hate Capris
Today, to help prove my point, I purchased two pairs of capris.
One in denim and one in khaki, both sold as "capris" for about $40 each from a mainstream retailer.
There are a lot of angry comments below about how these are not capris.
Let me assure you, they are.
It says so on the label.
These were being marketed and sold as CAPRIS.
For context, I am 5'10, and I wear a solid size 8.
I paired them with a simple white tee, a long necklace, and wedge sandals to make them look as neutral and presentable as possible.
And for the comments telling me sneaker would make all the difference: false. Nothing would look worse.
They both look so terrible on me; I can't believe I'm putting these up for all the internet to see.
Why Capris Are Ill-Fitting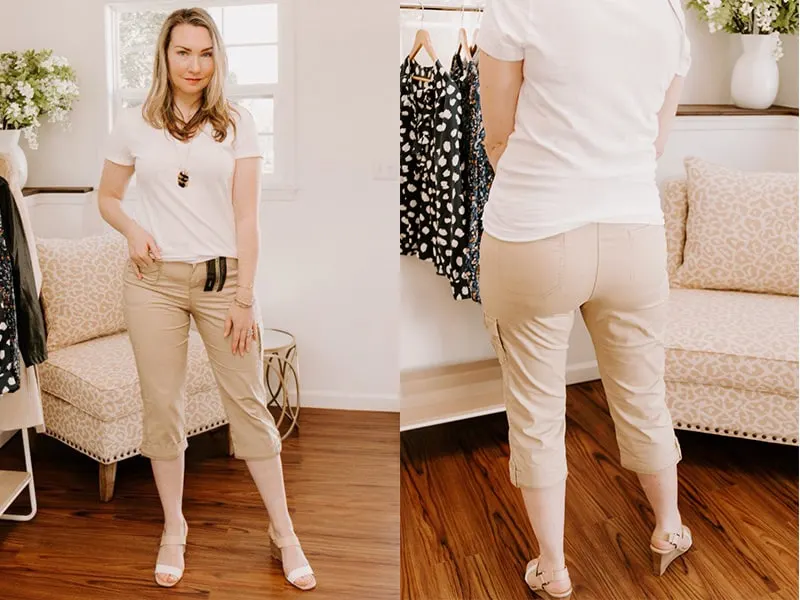 Capris were a notoriously challenging style to get through the QA approval process because their design is inherently imperfect.
Technically speaking, most capris are made with a leg opening that becomes too narrow too quickly, almost like there is not enough runway, as it moves down the leg, making them bunch at the knee and hug the thighs (see above).
The narrowness of the leg doesn't allow the material to fall correctly, so the back of the pants "collapses."
"Collapse" is the technical term used to explain what happens when a pant is constructed in a way that makes the back of the pant bunch and lay on the back of your legs.
Why Capris Are Not Flattering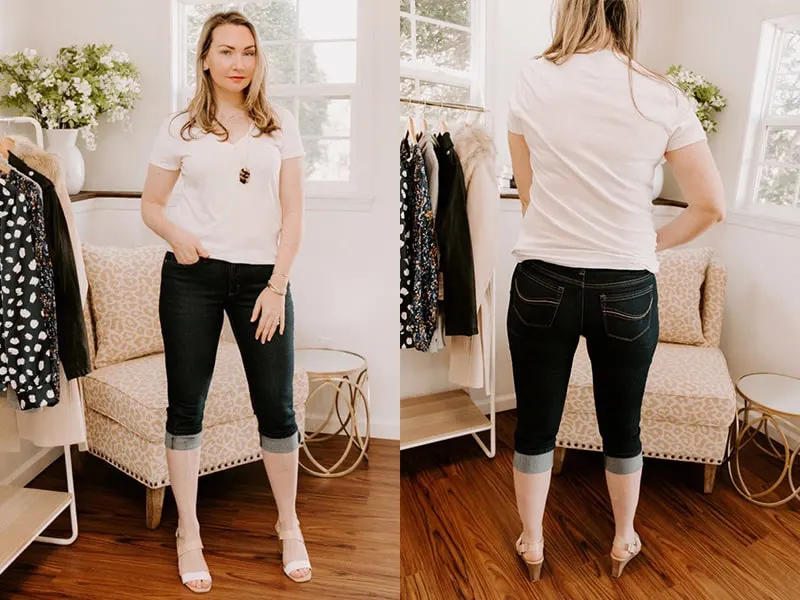 They do the body, regardless of shape or size, no favors from a proportion standpoint.
In all of our style-related posts, I try to teach readers how to create the most flattering, proportional look, regardless of your personal style, body type, budget, etc.
The capri makes this impossible because of where the hem cuts at the leg, usually right through the top to the middle of the calf, making the legs look stumpy and cutting the line of the body at its most awkward point.
I read somewhere that they make you look like you are standing in a ditch and I couldn't agree more.
To make matters worse, designers often add ridiculous embellishments that only cheapen the item further, like oversized pockets, cargo straps, zippers, grommets, and cuffs (above).
Aside from doing nothing to enhance your look, the length visually chops off your height, instantly making you look frumpy.
It's hard to make me look short.
In heels, I'm 6′ tall. Yet, these pants diminish my height significantly.
For my petite ladies, it's even worse.
If you are trying to dress well, you want to make choices strategically.
Every piece of clothing you wear should either support, enhance or improve the overall outfit.
Capris don't do any of that.
We can do better.
Why do Retailers Still Make Capris?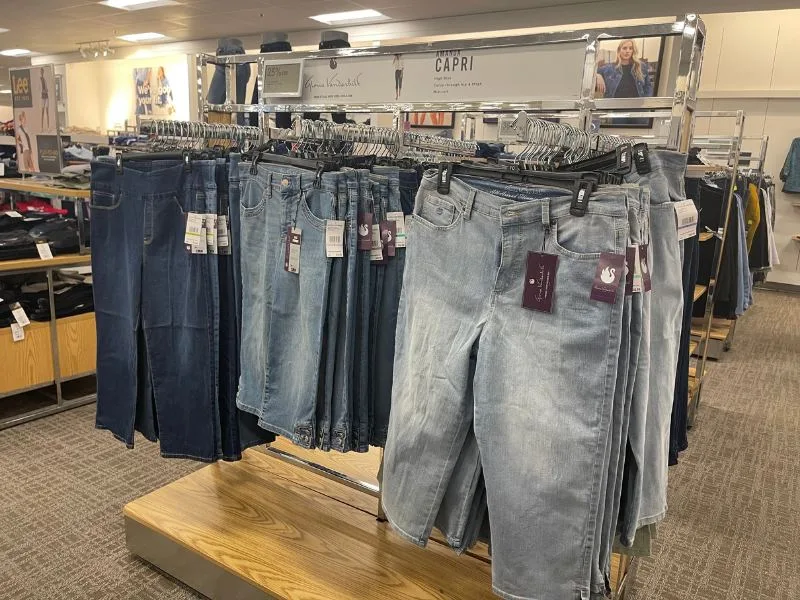 The ugly truth is that capris are cheap pants to make with high margins.
And because they cost little to make, there's little quality.
Yet women keep buying them because they think they are the only warm weather alternative to shorts.
But there are SO MANY other options that provide the same coverage with infinitely better design.
Related: Follow Along Over On Instagram for Daily Real Life Style and Fashion Tips for Women 40 and Up!
What to Wear Instead of Capris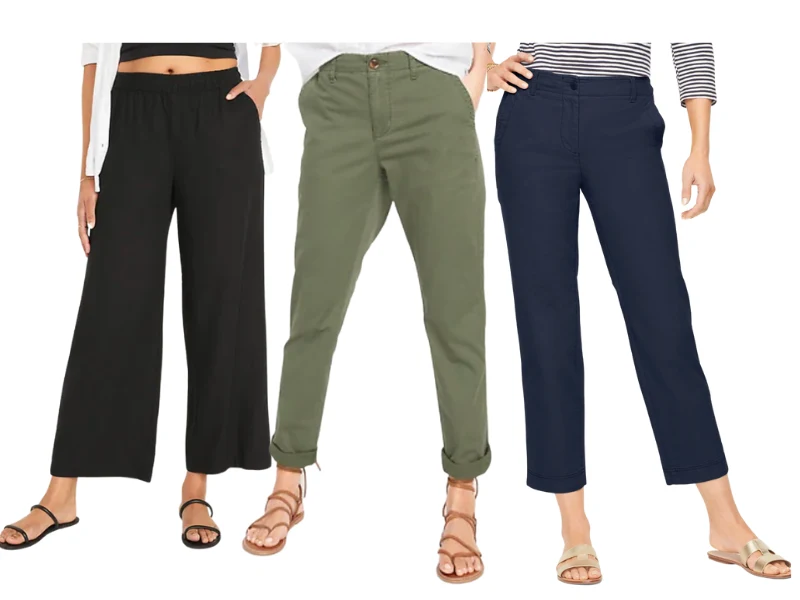 If you are wearing capris because you are not a fan of shorts, you have many other options that more flattering, modern and easier to style.
First of all, if you like shorts by all means, wear them!
And also skirts and dresses are all wonderful options.
But let's focus on pant options.
Starting on the left with these FIVE stare wide-leg linen-blend pants that will hit at our around your ankles.
The pair above is from Old Navy and one of the most popular pants we've featured.
They come in various colors and all sizes.
You can see three ways to style them here.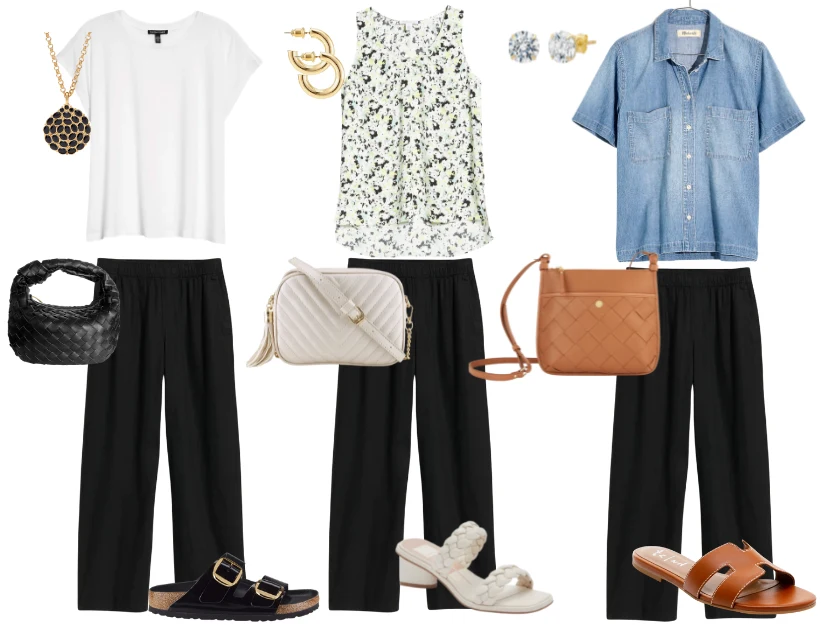 The next option, also from Old Navy, is a simple, lightweight chino with the same casual vibe as a Capri, but they fit 1000 times better.
Available in all sizes and several fantastic colors.
The Difference Between Capri, Cropped and Ankle Pants
The difference is as simple as the inseam.
Typically capris have an inseam of 23″ – 25″, a cropped pant is about 26″ and should hit two – four fingers above your ankle.
And ankle pants have a 28″ inseam and should hit at your ankle.
As you can see, there is a small difference between the three options that make a big difference in fit.
Some of the push back I get when I say to avoid capris is that they "keep you cool."
To which I say, wear a cropped pant instead.
It's a difference of about an inch or two and looks a thousand times better.
Of course, retail calls things whatever they want, but these are the standard inseams for each style of pant.
The Bottom Line on Capris
I get a decent amount of negative comments on this post because they think I'm trying to "tell women what to wear."
Again, I don't care what you wear.
It's not that deep.
Certainly not worth getting offended over.
But if you appreciate things like fashion and personal style, we can do so much better than capris.
And if you want to look modern, chic and classic consider some of these alternatives to capris.