This is a repost from last June because it's that time of year!
The Capri pant is the ugliest piece of clothing designed for women (and men too but I can't even get into that) in modern history. They are the most unflattering, frumpy-dumpy pant a woman can wear. I have a strong opinion, shocking I know, but I have my reasons and better alternatives for you, so hear me out.
My first buying job out of college was at Charming Shoppes in their Fashion Bug division buying plus-sized bottoms. I primarily focused on casual fabrics, including denim and twill. We sourced merchandise from manufacturers and also produced items in-house. Before final runs could be approved, we had to check the fit of production samples to make sure they met quality standards. I was responsible for keeping all the samples organized, and, this was my favorite part of an otherwise miserable job, worked with the fit model and design teams to make sure the fit was correct. I learned so much, like the nuances between good and great design, and why, from a construction standpoint, things sometimes look terrible when you put them on.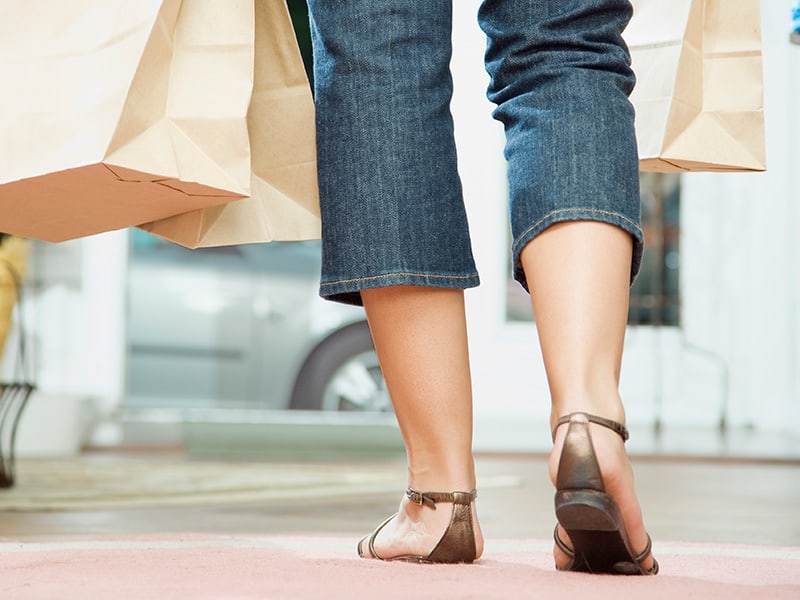 Capris are a notoriously challenging style to get through the approval process because their design is inherently imperfect. Technically speaking most capris are made with a leg opening that become too narrow as it moves down the leg, so they bunch at the knee and huge the calfs. The narrowness of the leg doesn't allow for the material to fall correctly, so what happens is the back of the pants "collapse." "Collapse" is the technical term to explain why you get too much fabric and folds between your back pockets and the back of your knee. The back of a Capri especially should fall away from the body, off your bottom,  but because their design is flawed, it was hard to pass a pair without them looking like a big mess in the back.  (You can see in the photo above how the back of the pant is collapsing onto the back of the leg.)
From a proportional standpoint, they do the body no favors. The number one point I try to make in most of our style posts is how to create the most flattering, proportional look, regardless of your personal style. The Capri makes this impossible because of where it cuts at the leg, usually, right through the top to middle of the calf, making legs look stumpy and cutting the line of the body at its most awkward point.
If you are trying to dress well, it's important to make choices strategically. Every piece of clothing you wear should either support, enhance or improve the overall outfit. The Capri doesn't do that because the fit is usually off and the proportion is incorrect.
To make matters worse, designers add ridiculous embellishments that only cheapen the item further. They add things like chop pockets – the least flattering style pocket known to man. (A chop pocket is a term used to describe the oversized pockets, usually with topstitch, that kind of look like a pork chop that sits on your thighs.) They put cargo straps and zippers or grommets all over them. Which, aside from doing nothing to enhance your look, competes with whatever else you are wearing. And worst of all, the play with the leg, making them flair out right below the knee giving an unnatural shape to the leg.
I have no idea why these things are produced. But now you know why my disdain runs so deep.  So what are you suppose to wear instead?
The cropped pant, which is a similar but better option because of it's construction. The cropped pant stops right below your calf instead of midway through. These slim cropped pants by NYDJ are a great example.   You can see how the pants cover the calf, highlighting the curve between the calf and the ankle – much more flattering.  That extra length allows for better construction, less "collapsing" and a more proportional look.
Sometimes cropped pants are called ankle pants.  Retail does a terrible job with consistency. Technically speaking a cropped pant will be a little bit shorter than an ankle and an ankle hits right at the ankle.  Either style, in a lightweight fabric, will be comfortable and appropriate for hot days. These days cropped/ankle pants come with all kinds of leg cuts, from wide, to slim to tapered in all sorts of fabrics.
Depending on your leg, there might not be a huge difference between a cropped and ankle pant, and that's cool.  You might have long legs and more length between your calf and ankle.  Or, your calf might go right into your ankle.  Whatever the case, just make sure that the pant hits somewhere between the bottom of your calf and the top of your ankle.  These pants by Nic + Zoe are a good in-the-middle pair.
Like shorts? Go for it. The best rule of thumb for shorts is to keep them at or above your knee. By the way, everyone has ugly knees, so there is no need to try to hide yours.  I like these casual shorts by Patagonia , Sejour (Nordstrom's private label) does a nice option for sizes 14 – 24 and Old Navy's mid rise "everyday" short is fantastic for the price and color options.