Ladies, the heavens have opened, the angels are singing, and it's a new day. Bootcut jeans are not only back in style but readily available for the fall season.
I know so many of you are ready for an alternative to the "skinny" silhouette, and for years, wide leg jeans were almost impossible to find with any variety.
Bootcut jeans are flattering for all body types. The leg shape balances out your hips and shoulders, creating a curvy, hourglass shape. Remember, every time a style comes back there are subtle changes that make a big difference in executing a look.
This means the bootcut jeans you held onto sitting on a shelf in your closet might not translate.
The updated cut is much slimmer. It will narrow around your thigh and softly open to the hem. The leg opening has a mild flare, rather than an exaggerated one.
For today's post we worked with a classic 5-pocket cut from Wit & Wisdom. These fit so well, have great stretch. They do run big, so size down at least one, and if you're ordering online, bring in one and two sizes down. (Sizes include petite, 00 – 18.)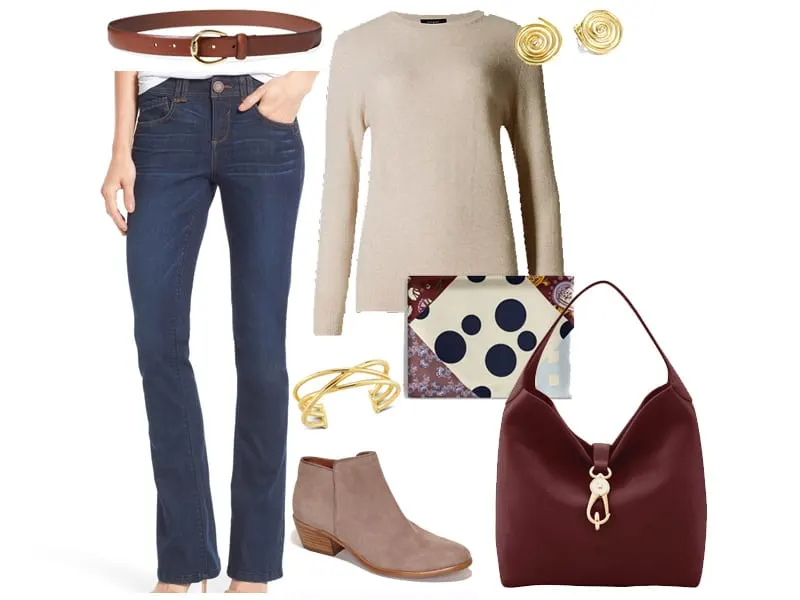 Jeans, $68 | Sweater, $119 | Bootie, $130 | Belt, $42 | Bracelet, $70 | Earrings, $87 | Bag, $298 | Scarf, $19
I seriously love this look. It's a great example of simple pieces, in rich neutral colors, combined in a sophisticated way. There is nothing fussy about it, but it's elegant. We mentioned these ankle boots on Monday's Ten List, and already so many of you ordered them. I own these in putty (color above) and wear them all the time. They are also available in "saddal".
The sweater, featured in oatmeal, is divine and comes in 14 equally gorgeous colors. It's just a chic and comfortable piece to throw on with your jeans and be out the door looking polished in minutes. I added the belt to create a layer and some interest. When you wear a belt with a sweater, make sure the sweater is lightweight and slightly tuck it into the front side of your jeans to show off the belt.
Accessories are essential when you are dealing with basic pieces. You don't want to over do it, or be too sparse. When done well you can elevate a basic sweater and jeans combo to something extra.
I geek out when I discover the perfect accessory that makes a look cohesive. I found this scarf and based the rest of the accessories around it. The scarf is $20 and has all the colors of fall. If you like scarves, pick it up before it sells out.
To pull out the color in the scarf and general feel of the outfit, I used a hobo by Dooney and Bourke in a rich burgundy. Don't overlook burgundy as a neutral, it's a modern, go with everything color that never fails. Want a different color? The same bag is available in over a dozen colors.
Lastly, a gold button earring with a metal swirl detail and an open gold-tone cuff bracelet complements the hardware on the hobo and is just enough to finish the look.
Fall is right around the corner, and I can't wait! We are finalizing our editorial calendar for the season. Be sure to ask any questions or make any requests in the comments of each post, and we'll continue to use them as inspiration for upcoming content.
Enjoy the long weekend!