We're back with another Thursday Outfit Formula featuring an updated version of The Cargo Pant.
Our featured pants from Banana Republic are incredible.
Available in five colors, including black, brown, and navy, in sizes regular, tall, and petite in sizes 2 -20.
If you are tall, you need the tall option.
I am 5'10 but only sometimes need the extra length, but here I do. You want these to hit your ankle.
They are priced at $120.
I flagged them to check back for sales, but Banana Republic is very stingy about their promotions.

If you like them and have the budget, I would grab them while there are still sizes.

You can wear these in a million different ways.

Today I'm sharing two formulas you can manipulate however you like, using pieces we've previously featured and introducing some new finds at approachable prices.
Register TODAY for Our Virtual Spring 2023 Well Dressed Woman Workshop on March 31st!
How to Make Cargo Pants Sophisticated for Spring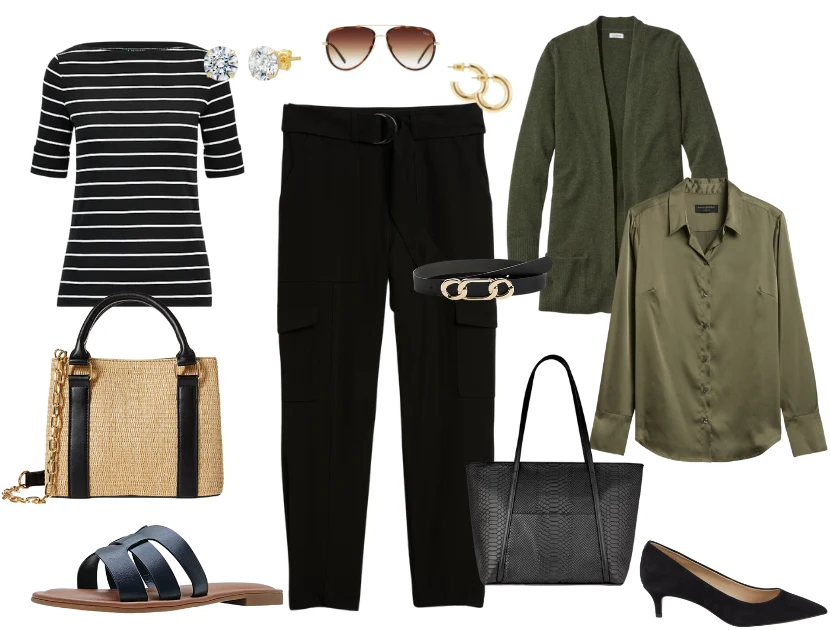 These are not cargo pants in the traditional sense.
Yes, they have a utility look and feel but they are more streamlined.
So we are going to style them as if they were a simple pair of black trousers, allowing the cargo details to add contrast.
Casual Weekend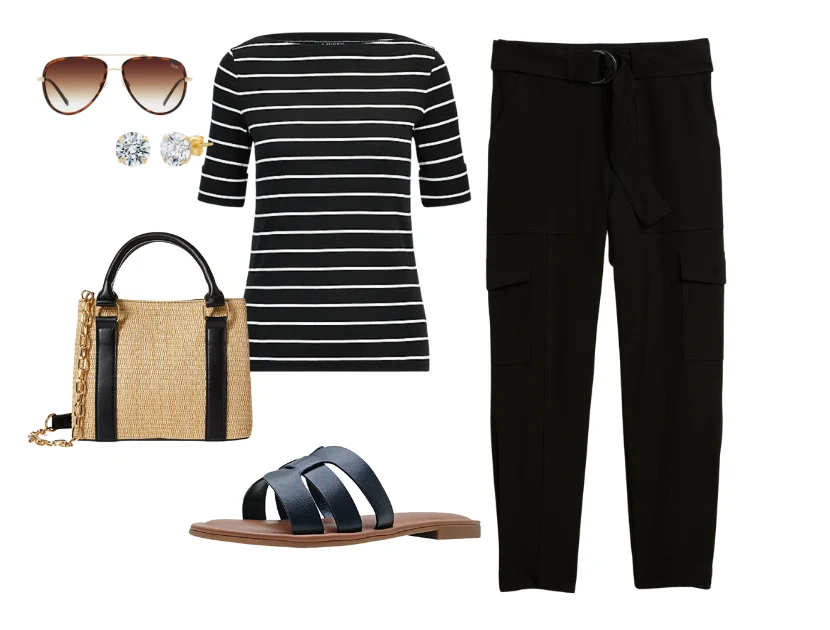 Starting with a pulled together look that uses only a few pieces, making it ideal if you are packing for a long weekend away.
The pants come with a belt, that I'm fine with. But if it's not for you, feel free to take it off. Not everyone is comfortable with a belt and honestly, in this look it doesn't matter either way, it's just personal preference.
You do want these to hit at your ankle. Often, we see these in a cropped or (gasp) a capri length, and they are either not flattering or limited in how you can wear them.
But a slightly longer length that hits around the ankle make these wonderfully versatile.
We paired them with this fitted Ralph Lauren Stripe boatneck in a black and white stripe.
I love that the sleeves are elbow length, a detail I'm getting many requests for from readers.
If stripes aren't your thing, it's also available in solid white.
It's the accessories that make this casual and chic.
Both the sandals and the adorable straw bag are from Amazon's the Drop Collection.
This is a go-to brand for us as it offers a range of classic and modern pieces at great prices and sizes.
The sandals come in 20 different colors and are $35.
And the bag adds the right amount of spring and summer detail, while still being practical.
Wear it like a crossbody and let the gold-chain detail act as an accessory.
Finally, we grabbed a pair of Quay sunglasses. This is another fantastic, well priced brand offering under $100 stylish sunglasses.
To the Office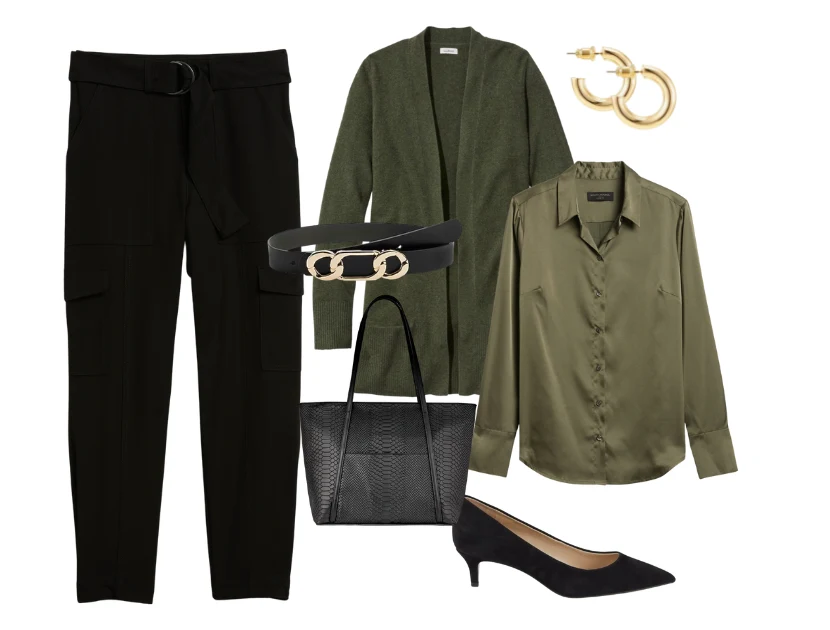 This next look is dressed up, ideal if you go into the office, or have an in person meeting.
Again, we're wearing these pants like a traditional trouser to add an element of fun and contrast.
Here, I really wanted to pair them with a blouse that had some softness and drape.
And I found a lovely, well-priced option from Banana Republic Factory.
We're featuring it in green, but I ordered the snow-day (an off white) because I'm boring and predicable.
I do, however like the combination of olive and black.
To style this I would tuck in all the way around and then I added a soft, open cardigan in a similar tone.
Featured above is a cashmere option from LL Bean. It's a little pricey at $189, but the quality is on point.
For a much lower price, I also really like this style from Target for only $40 that goes up to a 4X.
Tip: Avoid a button front cardigan here because the buttons will fight with the details on the pants.
Then, a sleek and sophisticated kitten heel.
This is a popular choice from Sam Edelman.
These are on sale at Off Fifth for $90 and are the best option for kitten heels I have found so far for spring at a practical price.

All sizes are still available.
Finally to zhuzh it up, some polished accessories.
The bag is from Gigi New York, featured in last week's Best Tote Bags for Work Round up.
But you have many other lower priced, practical options here.
I also swapped out the belt for this one from Express. Many of you picked it up after we featured it in this weekend's Sunday Sales.
Sizes are limited but it's on sale for $33.
And then, to wrap it up, our favorite under $15 gold hoops from Amazon to pull the gold detail in from the belt and make it feel cohesive.