Looking for a new bag to take to and from the office?
We carry our lives (figuratively and literally) on our shoulders, so our bags need to be just right.
They must be a manageable size. You may like a lot of compartments or none at all.
So to help with your search, we rounded up six of the best tote bags for work that will take you to the office or anywhere you need to go, looking chic and organized with many options for all your needs, starting at $40.
The 6 Best Tote Bags for Work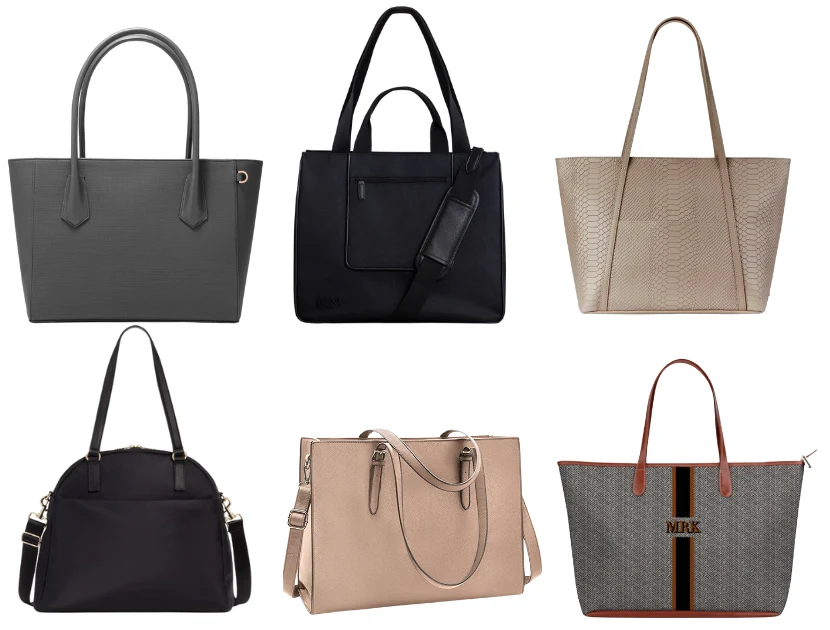 Top to Bottom: Dagne Dover Signature Tote, $209 (on sale) | BEIS East West Tote, $108 | Gigi New York Jessica Zipper Tote, $450 | Lo & Sons O.G.2, $378| Waterproof Laptop Bag, $38 | Barrington Gifts, $220
These are traditional tote bags made for daily life, commuting to and from work and travel days.
All will fit a laptop, but double check measurements against the size of your laptop to be sure.
Dagne Dover Signature Tote
Dangne Dover has been a reader favorite for years, and for good reason.
It's an ideal work bag. I like that it doesn't over-compartmentalize so you can use it however you see fit.
The quality is outstanding, the price is fair, especially when it's on sale, and the design is timeless.
Available in three colors, including black, graphite (below) and a soft tan they call "bleeker blush."
Fits most 15″ laptops.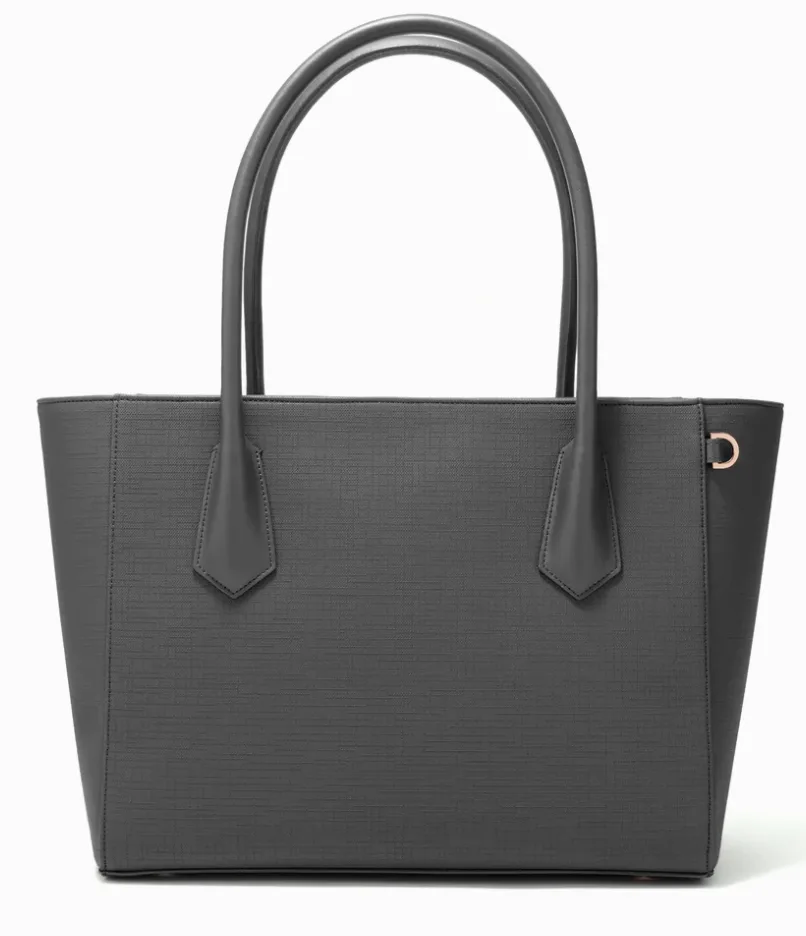 1
Signature Tote
Dagne Dover
$209.00
BEIS East West Tote
We're fans of the entire BEIS travel and luggage collections.
They are simple, stylish and well priced for the quality.
And their East West Tote is made of all lightweight recycled materials, with zipper compartments galore and a removable strap.
Available in black or beige for $108.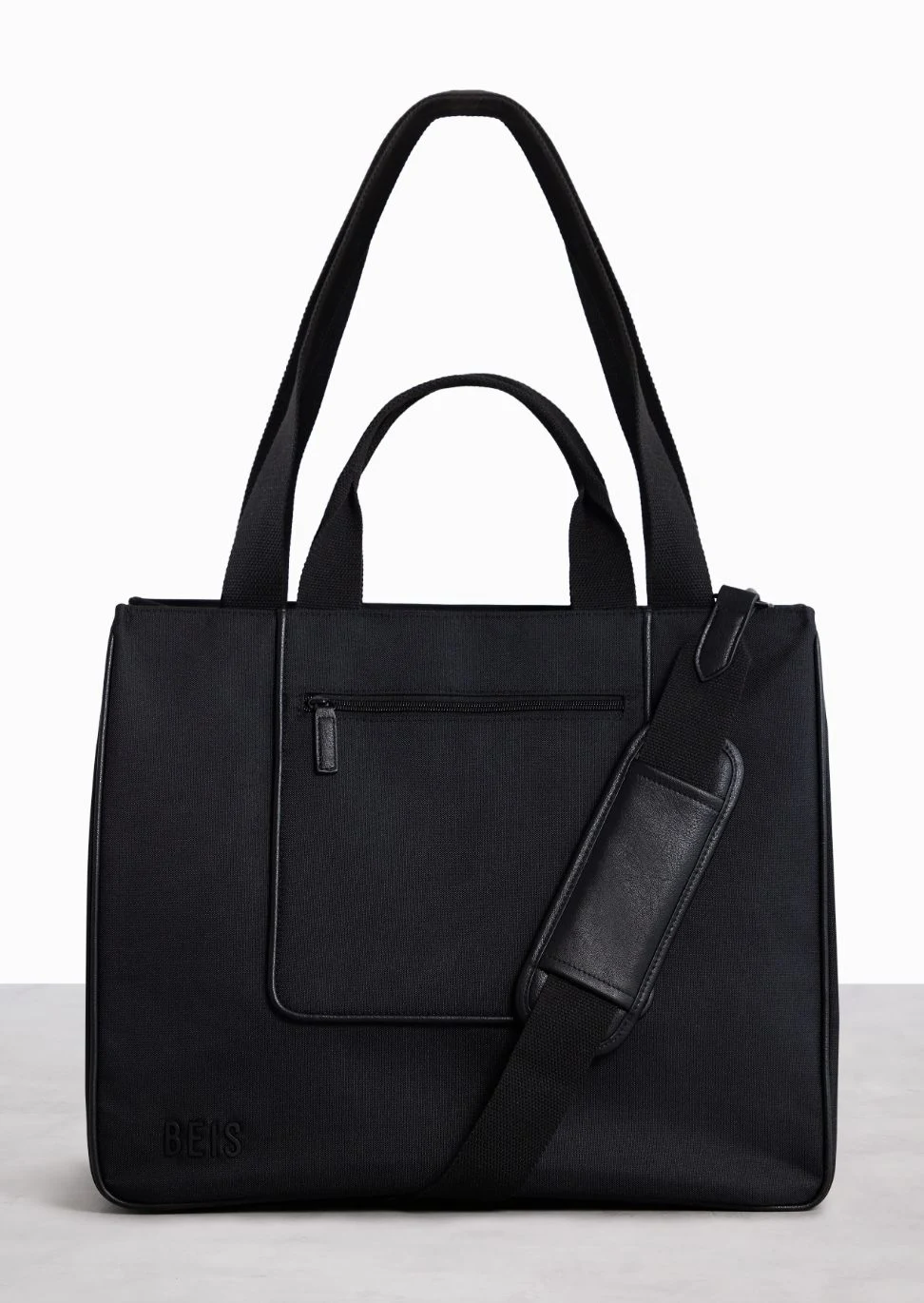 2
East West Tote
BEIS
$108.00
Gigi New York
If you're looking for some glamour without the $1000 price tag, consider the Jessica Zip Top Tote from Gigi New York in embossed python leather.
This is a straightforward tote, with minimal compartments that has enough structure to help it keep it's shape.
It's strikes a nice balance of casual and professional.
Still a considered purchase at $450, but the craftsmanship is beautiful, and, you can have it monogrammed – always a plus in my book.
Available in stone (below) or black.
And if you want some more organization inside, add this felt organizer from Amazon.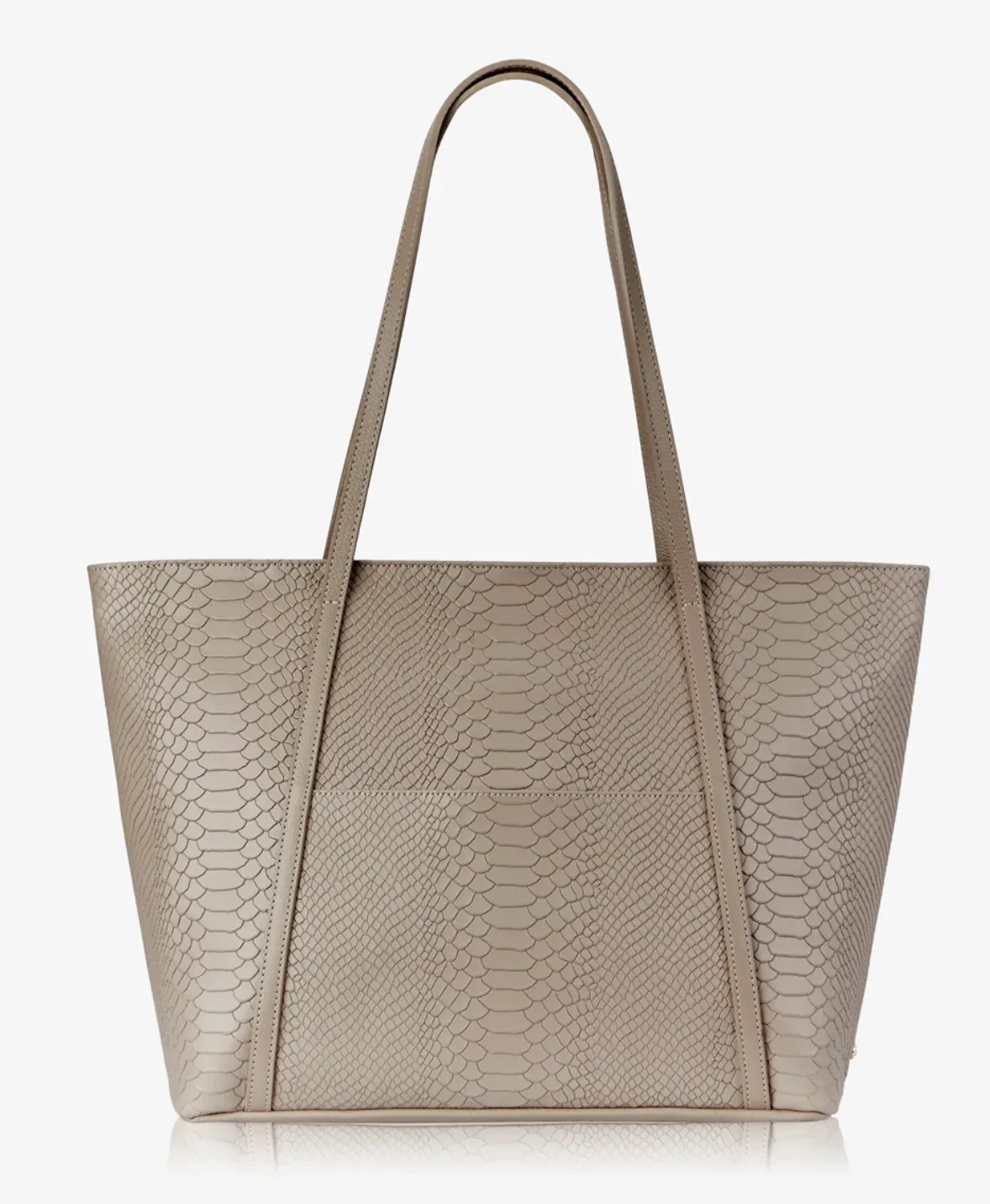 3
Jessica Zip Top Tote
Gigi New York
$450.00
Lo & Sons O.G. 2
10/10 – highly recommend.
If you need an indestructible work bag for travel, look no further than the Lo & Sons O. G. bag.
An airplane could run this over and it would still look and function like new.
I used my for years and years, and only retired it because I stopped flying weekly when the pandemic started.
It has everything you need for work and travel.
Your choice of medium and large, with options to customize lining and hardware.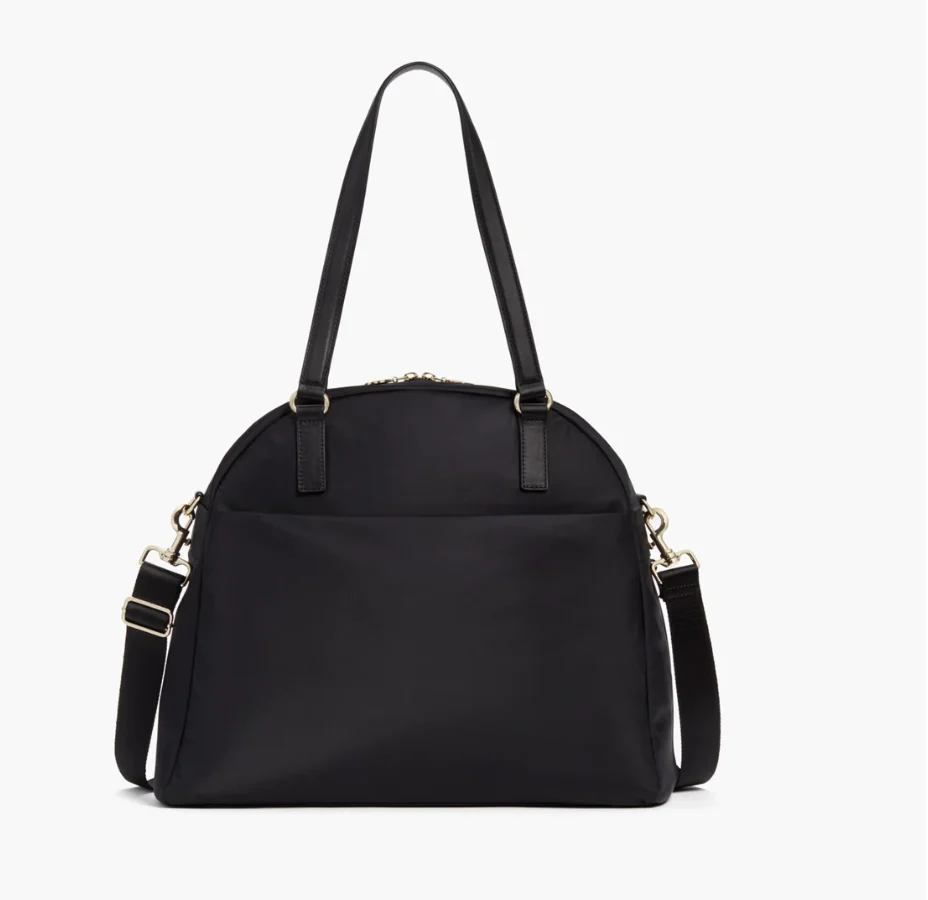 4
O.G.2
Lo & Sons
$378.00
Waterproof Laptop Bag
If you're looking for an inexpensive, functional bag, with clean lines, you'll like this waterproof, zip top, laptop bag on Amazon for under $40.
Available in a range of colors, it has almost 10,000 five star reviews.
I ordered this last year to check out the quality, and can say it's compact, so you can't shove a bunch of stuff in it, but better than I expected:).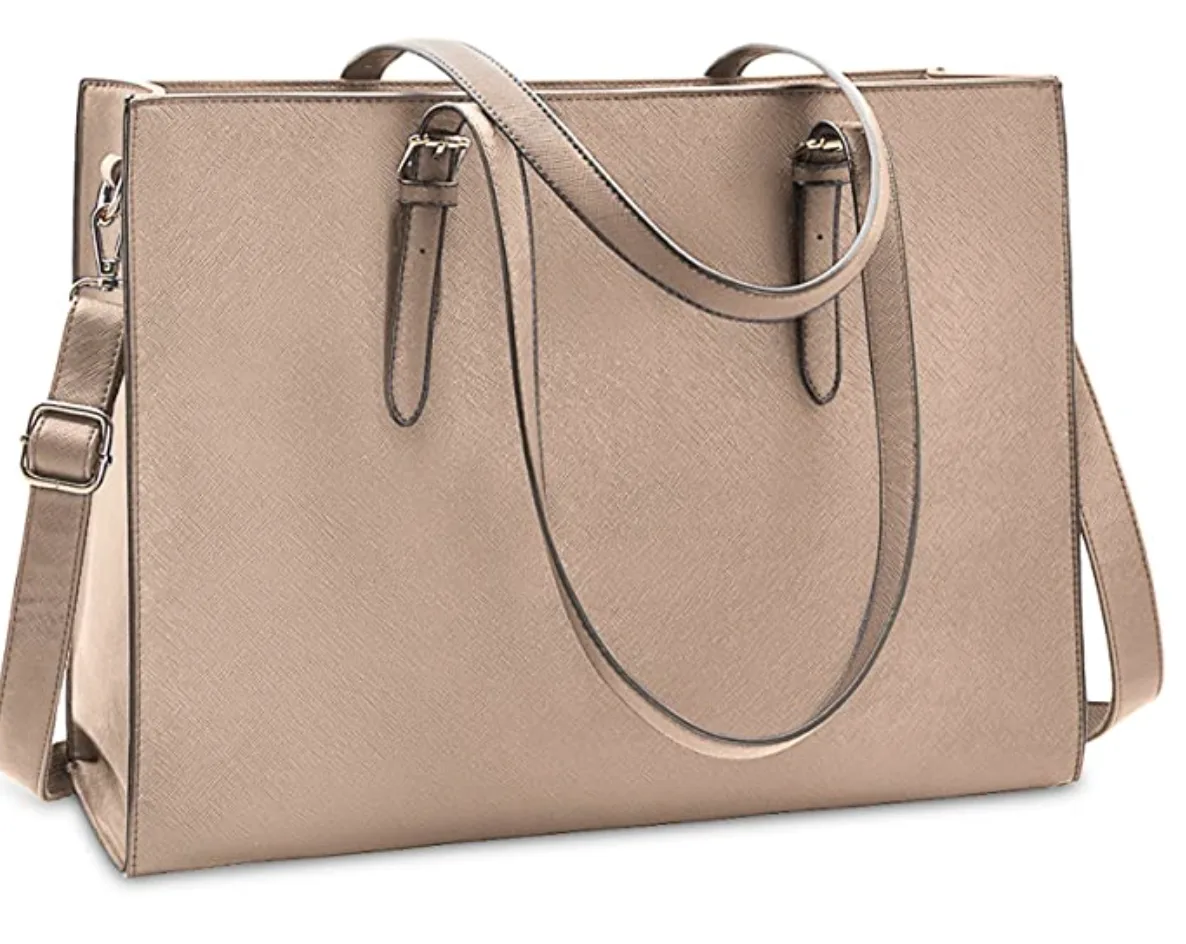 5
Laptop Bag
Amazon
$38.00
St. Anne Zipper Tote
Finally, if you want something on the preppy side, I love the totes at Barrington Gifts.
They are completely customizable. I went with the St. Anne Tote.
I've used it almost every day, for the last three years and let me tell you, I abuse this bag and it still looks great.
I stuff it with everything I own and fling it in the back of my car.
It's lightweight, and slim, but fits a surprising amount of stuff.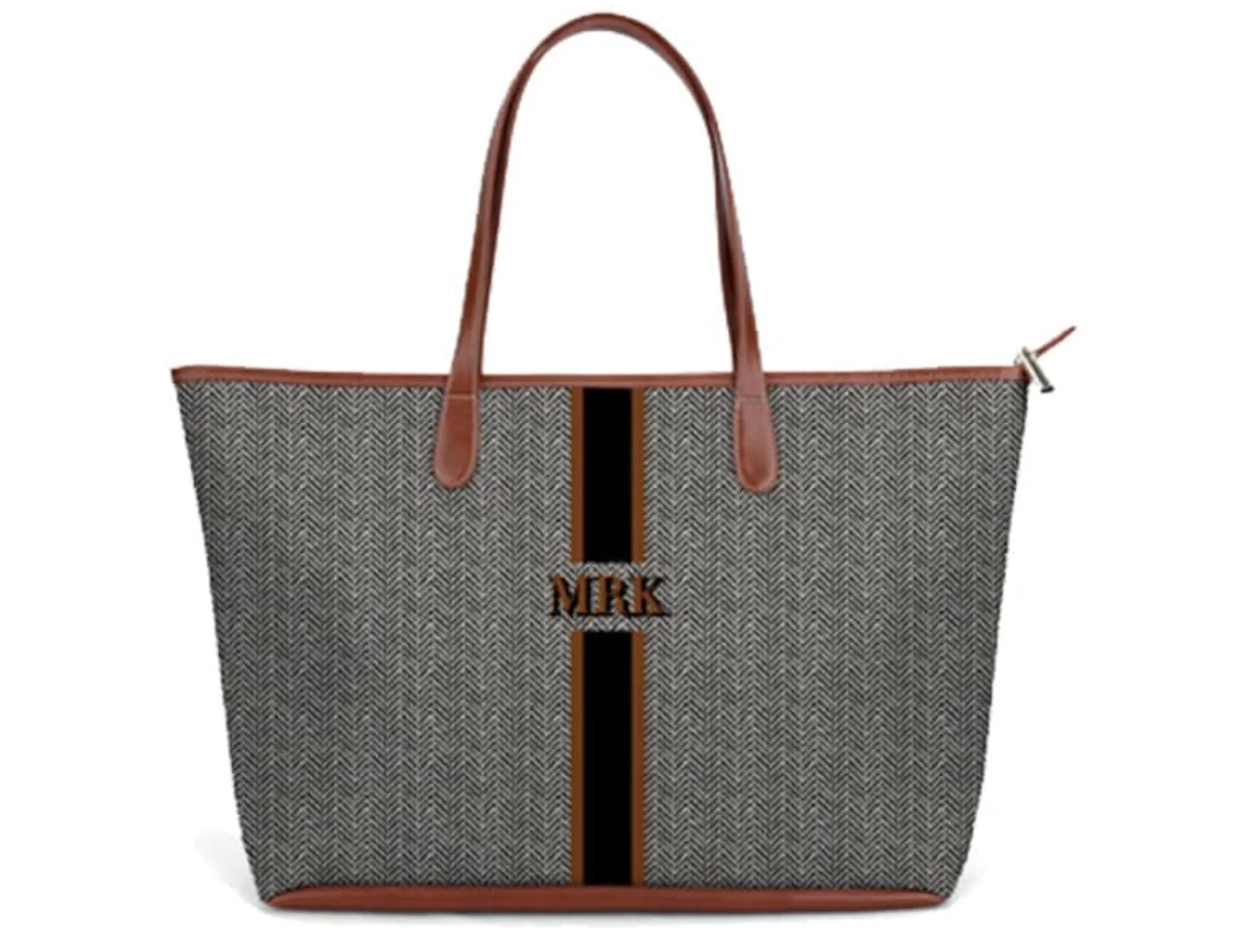 6
St. Anne Zipper Tote
Barrington Gifts
$220.00