I keep our gift guides as practical and affordable as possible while still trying to find things that feel unique and worthy of being a gift. I asked over in our private Facebook group what you wanted to see, and the overwhelming response was under $50 and $25 gifts for co-workers, and random gift exchanges.
So that's what we're doing today, a round-up of the best gifts you can give out at the office, or for any "Secret Santa" type event you may have coming up.
Gift Guide 2019: Gift Ideas for the Office Under $50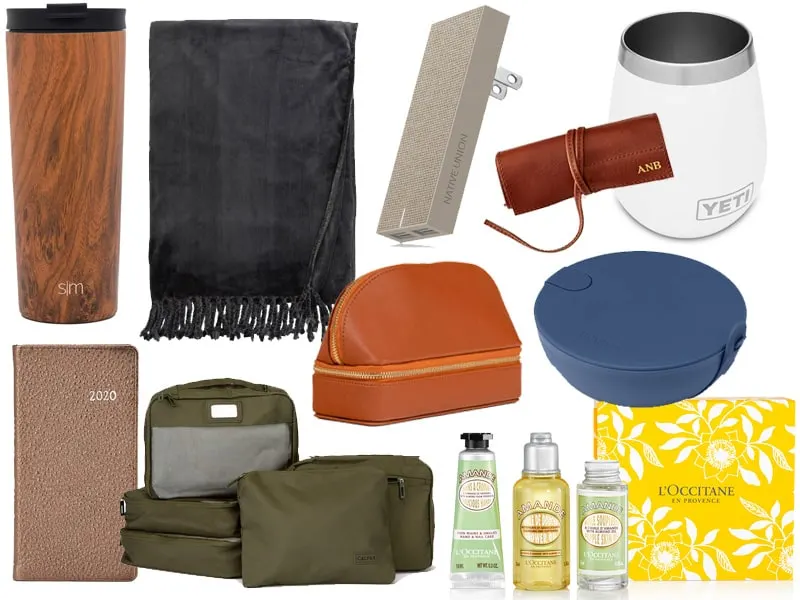 Tumbler, $18 | Travel Organizer, $48 | Plush Throw, $40 | Smart Charger, $30 | Yeti Tumbler, $25 | L'Occitane Gift Set, $18 | Rechargeable Hand Warmer, $35 | Packing Cube Set, $30 | Lunch Container, $40 | Leather Charger Roll Up, $50 | Leather Datebook, $40
Tumbler
I have this tumbler by Simple Modern and love it. It comes in an array of lovely colors and patterns. It's great to have on your desk filled with water to help you hit your daily intake for the day. It keeps your beverage ice cold for hours and includes a straw which for whatever reason, makes me more prone to use it.
Shop: Assorted Colors and Patterns
Travel Organizer
This travel organizer is just the thing for your on-the-go co worker. She can keep make up and brushes in the top, and a few jewelry pieces in the bottom. Perfect for transitioning from day to night, and it's small enough to keep in a work tote.
Shop: Assorted Colors but my favorites are brown (above), pearl and red.
Throw
A throw may seem basic, but how lovely is it to curly up under a cozy blanket, on the sofa and watch a movie? I keep a pile of them in a basket in our family room, because if they are out, everyone will use them. This one from Nordstrom is extra soft.
If you order from them online opt for the gift box kit, it's a $3 up charge but so worth it.
This is great to give to your always-cold co-worker or someone you don't know very well. It's available in an array of colors, but pick a neutral that will work in any kind of decor.
Shop: Assorted Colors
Smart Charger
If you need something simple, straightforward, unisex and under $30, pick up this smart charger. This sleek and chic wall charger allows you to charge two devices at once and fits perfectly in the pocket of a bag or briefcase. Easy-peasy.
Shop: Assorted Colors
Yeti Tumbler
I love all things Yeti, but this wine tumbler is by far my favorite. I can't believe how often I use it. Give it to your wine loving work wife, and if you're feeling extra generous, add a bottle of her favorite blend to get her started.
Shop: Assorted Colors
L'Occitane Gift Set
Get some of L'Occitane's best products for under $20. This set includes their almond body wash, body oil and hand cream. They leave your skin smelling and feeling amazing. Bonus points for coming in a sturdy and pretty gift box ready to be wrapped.
Shop: Gift Set in Box
Rechargeable Hand Warmer
I was excited to stumble on these rechargeable hand warmers. They are great for a tailgate loving co-worker or the parent in the office that is always headed off to their kids outside (and very cold) games, especially great for hockey parents who sit in a freezing cold rink for hours and hours at a time.
Shop: Available in 3 hour charge ($15) or 9 hour charge ($35).
Packing Cubes
I've been using these for years and they are seriously a game changer. You can fit a ton of items in your carry on (no checked bags here!) and they don't come out all wrinkled when you get to your destination. There are a few colors and patterns on sale right now at Nordstrom Rack, or you can check out their regular priced options here. Either way these are a fantastic gift for a travel enthusiast.
Shop: Sale options $30, regular priced $48.
Lunch Bowl
Perfect for packing salads, pasta, or a grain bowl full of leftovers, this travel container is an elegant and eco-friendly way to bring lunch to work.
Shop: Available in plastic ($25) or ceramic ($40)
Leather Charger Roll Up
Mark & Graham should be a go-to for your gift-giving needs. They offer high quality, practical, yet beautiful gifts for all occasions all year long. I love this tech roll-up, where you can keep your chargers, wires, earbuds, all in one neat little pouch. It's currently on sale for $35 – so go ahead and add a monogram to make it extra special.
Shop: Assorted colors and textures, with monogram option.
Leather Date Book
So many people still prefer physically writing down dates but don't want to lug around an oversized agenda. This pocket diary is sophisticated straightforward, and on sale for $40 at Barney's.
Shop: Limited Inventory
Be sure to check out my favorite hostess gifts ( you don't have to save them for a host), and last years office gift guide for even more inspiration and ideas.