When we come up with themes for our Gift Guides, we try to think about the categories that are challenging, rather than creating some trendy/goofy/unhelpful roundup of Pinterest worthy, overpriced gifts. This year, while thinking about where we really get stumped, office-appropriate gifts were the top of our list.
Anytime I start to think of gifts, I start with a price range. For this list, we capped it at $50, with many of these recommendations floating around the $25 – $30 price range. The next thing to consider is practicality. Frankly, there are a lot of stupid gift ideas out there. I can't stand the thought of spending money on clutter. The only exception I would make is if you find a hilarious gag gift, that goes along with an inside joke, but in that case, give it to the recipient privately instead of a formal office gift exchange.
Finally, I consider usefulness and packaging. Receiving something that is beautifully packaged makes it all the more special, especially when it's a relatively low priced item.
Today, we found 12 great gift ideas for your office family, that will be appreciated and appropriate.
Gift Guide: 12 Gifts for Co-Workers Under $50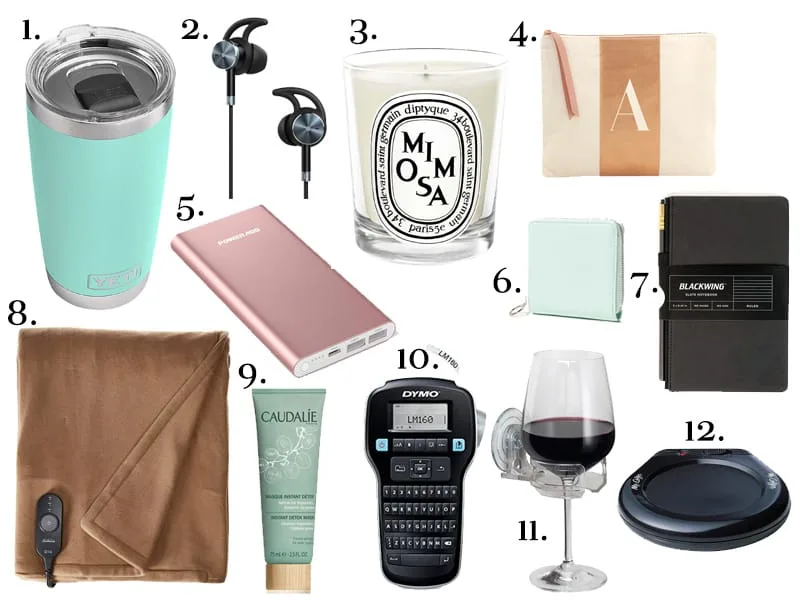 1. Tumbler, $30 | 2. Headphones, $25 | 3. Candle, $35 | 4. Makeup Bag, $5 | 5. External Battery, $25 | 6. Wallet, $18 | 7. Notebook, $25 | 8. Heated Throw, $43 | 9. Mask, $39 | 10. Label Maker, $21 | 11. Wine Holder, $14 | 12. Coffee Mug Warmer, $10
1. Tumbler, $30: These Yeti Tumblers are go-to gifts for me. I gave them as an end of year teacher gift with a handwritten note and gift card to Starbucks, and my girls' teachers LOVED them.
2. Headphones, $25: Back in my cubicle days I stat with headphones on while I worked just so people wouldn't speak to me. Open concept offices are great, but not when you need to focus. These headphones are noise canceling and only $25. They're especially great for the gentleman in the office that you don't really know but want to include on your list.
3. Candle, $35: Any candle by diptyque smells as gorgeous as it looks. For the fancy lady in your office, these small size of this candle is only $35, comes in chic packaging, and smells like heaven.
4. Makeup Bag, $5: I had to include this $5 initial makeup bag from Target. It's just the thing to pick up to corral smaller gifts. You can use it to create a little thank you gift for your receptionist or intern. Fill it with luxurious hand cream, gel pens, mints, chocolates or a gift card.
5. External Battery, $25: As someone who travels all the time, I can't tell you how much I depend on my external battery when I'm on the road. Long flights and long delays drain your phone battery. Having one of these in your bag gives you peace of mind that you can always make a call, order or Uber, and stay connected.
6. Wallet, $18: Another way to gift a gift card without blowing your budget is to give it in an inexpensive wallet. This one from Urban Outfitters comes in four colors and is under $20.
7. Notebook, $25: This popular, high quality notebook is an easy, gender neutral gift anyone would love to receive.
8. Heated Throw, $43: For your office mate who is always freezing, what could be better than a cozy, heated blanket?
9. Mask, $39: Treat your work wife to a fantastic at home facial treatment. This detox mask from Caudalie is one of my personal favorites.
10. Label Maker, $21: Anyone who gives me a label maker would be my new best friend. You need to know your audience for this one, but for the overly Type A person in your office, I guarantee you a label maker specifically for their office would be the gift that keeps on giving.
11. Wine Holder, $14: For your favorite happy hour work buddy, let them indulge in a glass of wine in the bath with this suction cup wine glass holder. Take the gift to another level with a shatter proof glass, her favorite bottle of wine and some bath salts.
12. Coffee Mug Warmer, $10: When I first saw this coffee cup warmer I thought it was such a cleaver idea, then I saw it was $10 … sold. Instead of giving someone another coffee mug, give them this, or include a new mug and their favorite coffee.