Gift Guides this time of year can be laughable. They either boast insanely expensive ideas or junk that no one really wants. I thought, instead of doing one specific for Thanksgiving, we would create one perfect for any event you might have this season. Whether it's a formal holiday dinner or a casual night your friend is hosting, these are my tried and true, go-to hostess gifts that never fail to please.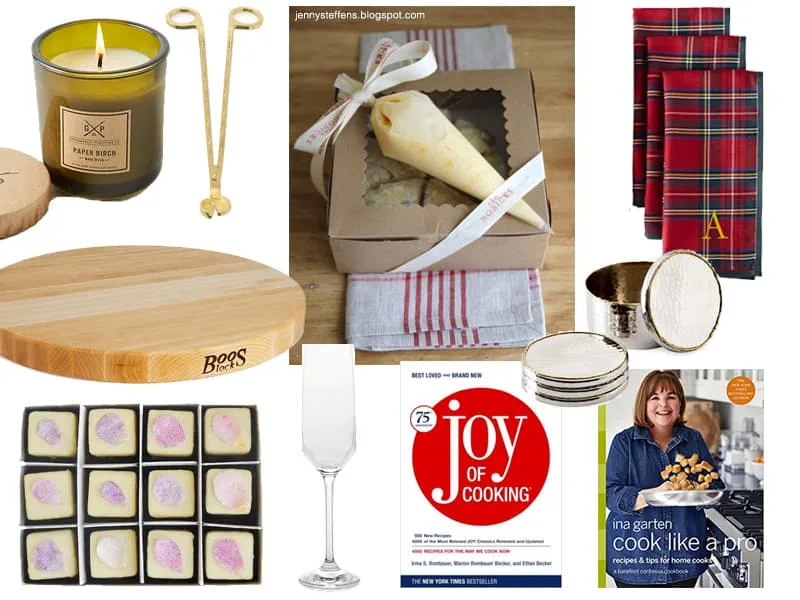 Candle, $25 with Wick Trimmer, $25 | Scones | Napkins, $60 | Coasters, $68 | Cook Like a Pro, $21 and Joy of Cooking, $23 | Set of 8 Champagne Glasses, $28 | Rose Petal Petits Fours, $50 | Boos Block, On Sale, $75
Candle, $25 with Wick Trimmer, $25: Who doesn't love a candle, especially one that smells like the holidays. For a simple $25 gift, pick up a gorgeous candle from Anthropologie. Their packaging alone is worth the price tag, but the quality matches. Want to kick it up a notch? Include a wick trimmer and snuffer for some added elegance. I like this set from Williams Sonoma. You can not only use it, but it looks pretty sitting on a coffee table.
Scones : This is my go-to gift anytime someone is creating a big meal, and it couldn't be easier. I love Jenny Steffens blog, Everyday Occasions. She has lovely entertaining and decor ideas. Her scone recipe never fails and is divine. I wipe this up in about 15 minutes, shape it into wedges and, here's the trick, leave it raw so your hostess can warm them up in the morning. You can buy kraft gift boxes right from her website, include the glaze in a piping bag, and wrap in a grosgrain ribbon. It's a thoughtful, practical, affordable and impressive gift.
Napkins, $60: If you have enough lead time, there is nothing better in my book than monogrammed napkins. Go the festive route or keep it simple with a classic white dinner napkin.
Coasters, $68: If you're bringing a bottle of wine, consider adding a gorgeous set of coasters too. It's an easy way to add to your gift and leave behind something your hostess will use well after the party.
Cook Like a Pro, $21 and Joy of Cooking, $23: Visiting someone who loves to cook and entertain? Then they would love a new cookbook. Go for a classic, like Joy of Cooking or a new release like Cook Like a Pro from my idol, Ina Garten.
Set of 8 Champagne Glasses, $28: I can't tell you how many times I've shown up with a set of Champagne glasses and a bottle of bubbly and our hostesses opens everything up immediately. I know I break wine and champagne glasses all the time and rarely am sitting on a full set, so bringing a few more along is thoughtful and appreciated.
Rose Petal Petits Fours, $50: These little bites are as delicious as they are beautiful. You have to order them ahead of time, but you'll love having a few in your fridge to bring to last-minute get-togethers. The only challenge is not eating them yourself. You can also have them sent directly to friends, family, and clients across the country. I guarantee you people will go crazy for them.
Boos Block, On Sale, $75 Finally, take cheese board duty to the next level by including a classic cutting board to leave behind. I like this Boos Block specifically because it of it's shaped and you can use it after the party to sit out on your island and corral different everyday kitchen essentials.