Last week I put the finishing touches on a DIY Gift Closet project, and I already know this will save me so much time and money.
I love gift-giving, evidenced by our very popular Gift Guides.
Giving thoughtful, beautifully wrapped gifts and sending personalized thank you notes spark a lot of joy in me. It's like a love language.
Today, I will share how I put our gift closet together, with items I already had around the house, the 6 Steps I followed to keep it simple, and how small projects like this help with my anxiety.
Why a Gift Closet is Helpful
We have a dark, messy, and unfinished storage room, which makes me crazy. It's that space every house seems to have that all the things land that don't have a home.
But because space is so limited in our home, we need it to function better. So we started the overwhelming process of going through everything and finding better storage solutions.
One of the many things I realized once we got in was that all the gift wrap and cards we use all year long were all over the place. I mean, everywhere. Christmas gift wrap was in the storage room; gift bags were under my bed, stationary was on my desk, tissue paper in a random drawer.
I might seem silly, but we have many lovely items, but they were acting like clutter.
AND, while none of these things are individually expensive, they add up.
So I came up with a solution by creating a stand-alone gift closet to house everything in one neat and pretty space.
I needed to add a piece of (inexpensive) furniture, but you can take these ideas and put them to use in a closet or drawer, even in a box, as long as you keep everything together and it functions for you.
Organization and Anxiety
I talk pretty openly about my anxiety. And I do a lot of things in my daily life to keep it in check, but the number one factor, for me, is my environment.
I cannot function in a messy and disorganized space. I don't mean that to sound dramatic, but clutter and chaos are a genuine receipt for disaster for my brain.
But I learned something new in this process that I thought I would share.
While I feel so much better when things are neat, the process of organizing is also very beneficial.
For many of us, work is all-consuming.
I work seven days a week. As a result, my mind is always thinking about the business at least a little bit.
And that's okay, it's where I am in life, and I love what I do. So I very much picked this over corporate life.
My challenge is that the nature of what I do is never-ending. When you create content, every week is reset. So in many ways, whatever I wrote and produced the week before doesn't matter.
The constant need to develop something creative and relevant is stressful.
I discovered that the feeling of starting and finishing a project gives me an energizing sense of accomplishment, like a little shot of dopamine. And the finality that comes with it, the fact that the project is over, is very calming.
It's as if the process of putting things in place helps me put my thoughts in place.
So creating a place for everything is wildly beneficial for your household and your mental health.
Anyhoo, I digress.
6 Steps to Creating a Gift Closet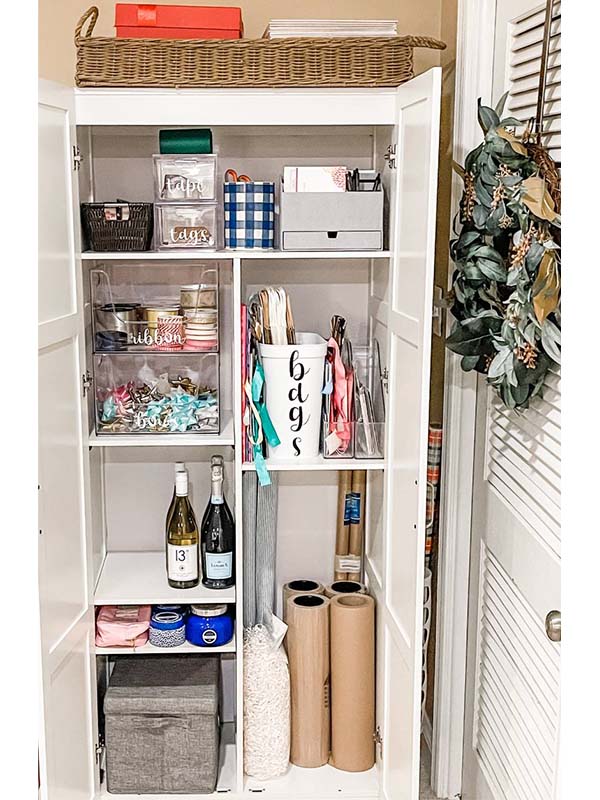 Here she is. Isn't she pretty?
Everything fits perfectly, and the door with the wreath leads to the dark and messy storage room.
Designate a Space
I spent a couple of days looking around the house and using Pinterest as inspiration to decide the best space to utilize.
People have a lot of room to spare online! But I didn't have many options. Every closet and corner of our home is being used for something else.
It turns out that I had about 3 feet of wall space next to my desk down in our bonus room.
We use this room for many things, but you saw it featured in our recent post, How to Create a Guest Room When You Don't Have One.
So I pushed my desk over a bit and purchased this small white pantry closet on Amazon.
The closet is the only thing I had to buy.
Gather
Then I ran around and gathered everything we had: gift wrap, tissue paper, stationery, bags, ribbon, from all over the house.
Like editing your wardrobe, you want to have everything in one spot before editing down. I found things I forgot I had, like the ELF Gift Wrap Cutter I ordered at Christmas, but it arrived after I finished wrapping.
When it was all in a pile, I realized how much money was there. Like I said, individually not expensive, but together it adds up.
Plus, think of all the time I'll save. I can't tell you how often I've run into Target on our way to a birthday party, wasting time and spending much more than necessary.
Edit
Editing down was easy. You can trash and recycle all the ripped slivers of paper and ribbon.
I was holding on to a good amount of junk I was never going to use. Getting rid of it feels so great.
Organize With Purpose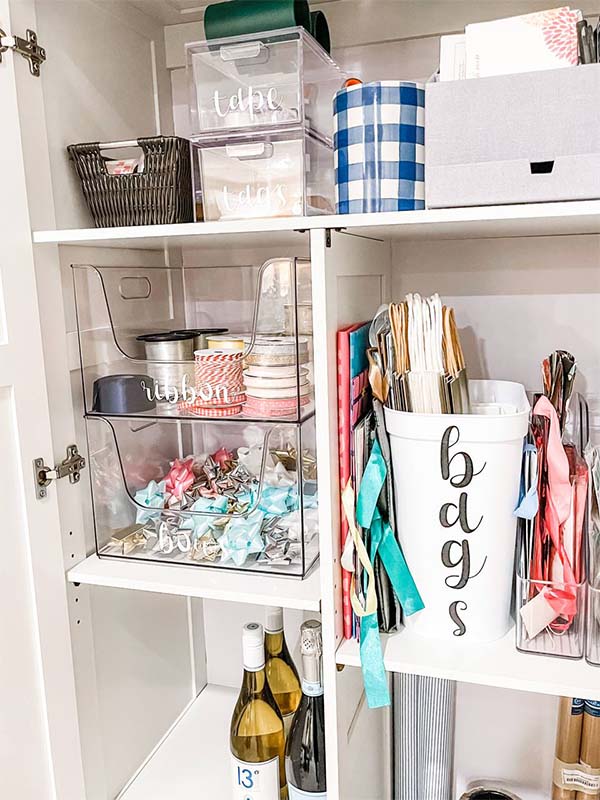 Now for the fun part.
I thought about the space and how I wanted it to function.
What's nice is there is a large table in the middle of the room, so I have a surface to work on.
With that in mind, I put everything into categories. And I saved money by using baskets and containers I had lying around. ALWAYS use what you have first!
The basket on top of the cabinet (from Pottery Barn years ago) holds tissue paper and gift boxes.
I have these acrylic drawers all over my house. I use them for many things, like school supplies,I put them in bathrooms, and my girls' bedrooms for all their makeup and little things.
Here I put gift wrap tape and gift tags.
The green things on top are the ELF gift wrap cutters; they're pretty cool.
Thank you notes, custom stationery, pens, and stamps are in a desk organizer I bought but never used.
Tip: You can order affordable personalized note cards from ETSY. I had some made for myself and the girls so we can get thank you notes out quickly. They also make lovely gifts!
For ribbons and bows, I had ordered these bins at Target for my pantry, and they were too big, but they work fabulously here!
Probably my favorite part of the space. They are from their Brightroom line and only $12 each. We dressed them up with labels made on a Cricut.
Then a shelf for gift bags because I'm the crazy lady who saves all the ones that come into the house.
I repurposed this acrylic file holder for small-sized bags and this $3 trash can from Target for wine gift bags I bought in bulk at Michaels.
Tip: Look at Target before you step foot in The Container Store. The prices are so much better, and the quality is fantastic.
Another discovery was that I have an abundance of greeting cards. Like, so many cards.
For example, I have not one, not two, but three anniversary cards for my husband that I never gave him. Sorry!
You'll see a grey box at the bottom of the cabinet where I keep all those cards and other stationery.
And my final wrapping tip, keep just a few neutral rolls of wrap on hand.
I like to use craft paper and dress it up with a ribbon.
I also adore the wrap at JHS Home Essentials, a small, woman-owned business; it's a bit more expensive, but the prints are all custom designed by the owner Jenny Steffens Hobick, who is a lovely home and lifestyle expert.
To store rolls of gift wrap, I toyed with putting them on the side of the cabinet, but I've learned that if anything is in eyesight, my kids will use it for something ridiculous.
So I just removed one of the shelves so everything could stay inside.
Stock It!
After all the categories had a place, I added anything I thought I would need: scissors, packing tape, pens, markers, stamps, etc.
And then, I added all the little gifts I had stored around the house, mainly in my closet.
The Capri Blue Volcano Candle is one of my favorite scents that everyone loves. I had ordered some at Christmas that I didn't use. They make a fabulous thank you or small hostess gift.
And we always bring a bottle of wine if we go to someone's house, so I put a few in the closet so I could grab one and a gift bag. Again, anything to not have run out and get something.
Leave Room to Grow
I'm so thrilled I have everything in one place. Completing one part of a more significant project helps me keep momentum.
And with the space complete, there is plenty of room to add and grow.
I can pick up a hostess or teacher's gift or some fun wrapping on a trip to Home Goods and have a place to put it.
And by early Fall, I can start to get it stocked for the holidays.
Join Me For Our First LIVE Virtual Workshop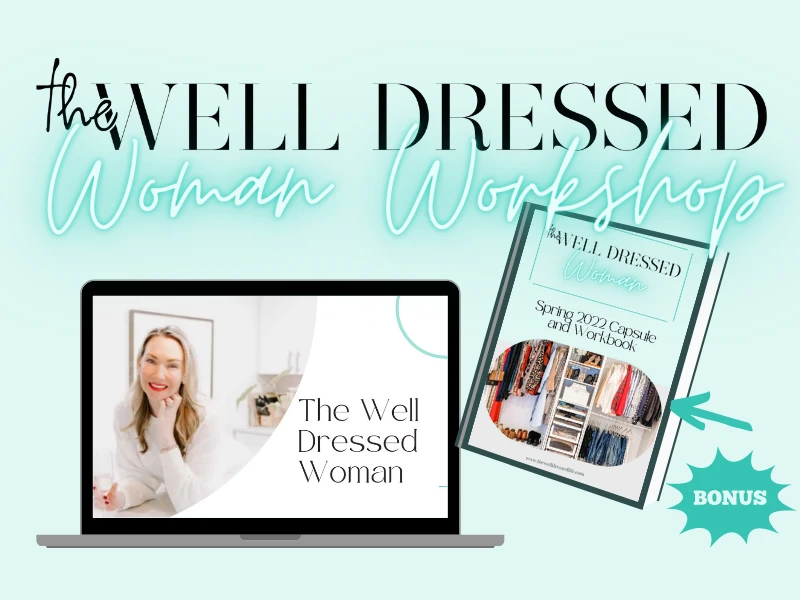 Follow Me on Instagram for Real Life Fashion and Style Advice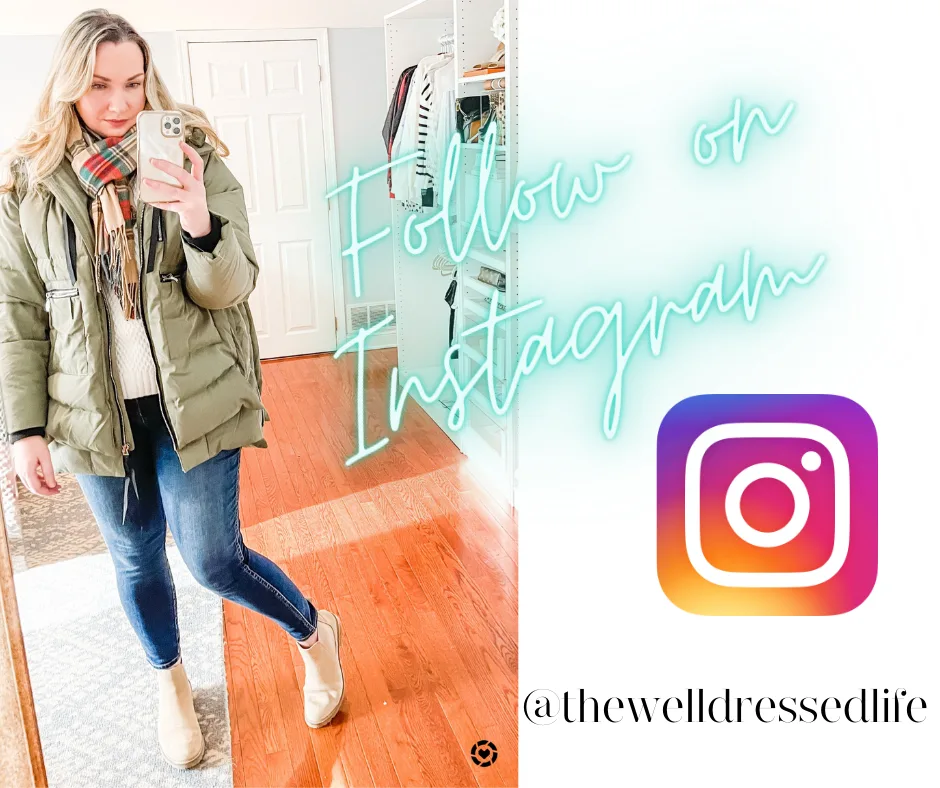 Follow The Well Dressed Life on Instagram for Realistic Style Advice, Fun Behind the Scenes, and Tons of Exclusive Tips and Content.
Our Style Content is Inspired by Our Readers
Our readership inspires all of our posts and is not sponsored or paid for by brands or retailers.
Recommendations are based on my experience as a personal stylist and wardrobe consultant for over a decade. I worked with busy, down-to-earth women who wanted to look chic and feel confident but were often confused by so much of retail.
Some links are affiliate links, which means if you purchase via our site, we receive a small commission.

If you enjoy our content and would like to help us grow, please follow on Instagram and join our Private Facebook Group to access more advice and exclusive in-depth conversations with other like-minded women.
Learn about our mission to help women look and feel their very best, every day, here.
Sign Up for Daily Content and Receive Our Free Classic Wardrobe Checklist