Basics are essential to creating versatility in your wardrobe.
It sounds counterintuitive, but you need boring pieces to make an interesting outfit.
And in the fall and winter, there is nothing more basic and wildly wearable than a turtleneck.
Now, it's a well-known fact that I am a turtleneck girl.
Once the weather chills, I replace my white tee shirt with a turtleneck and wear it with jeans.
Add a hoop and a pair of boots, and you're dressed for the day.
It's a standalone outfit or a foundation for layering a vest, tweed blazer, or oversized cape.
And as you'll see below, it is a staple piece that disappears in the background, allowing interesting elements to do their thing.
Outfit Formula: The Basic Turtleneck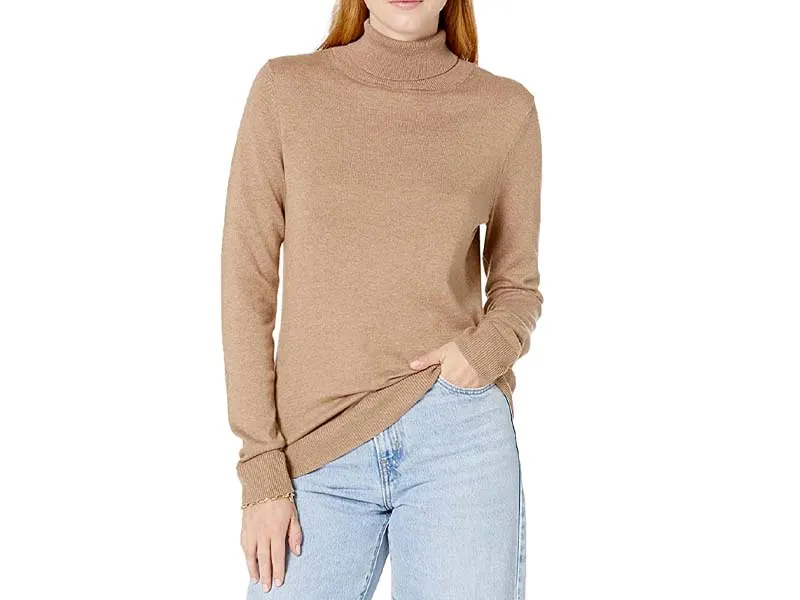 Turtleneck, $27
First, let's, of course, talk about the turtleneck.
I usually tell you to spend a little more on a basic that you're going to wear frequently, but in this case, this under $30 turtleneck is my favorite.
I can order four or five of these for what I would spend on a better brand.
I like everything about it, from the color options to the close-yet-comfortable fit. I ordered the black, ivory, and camel (above) in a large.
I can't stand when a thin knit is too tight, showing off lumps and bumps you didn't even know you had.
With this style, it's shapely but not skin-tight. So you can wear it alone or use it as a layer.
I always size up in Amazon, the large tends to fit my shoulders better.
Outfit Formula: The Basic Turtleneck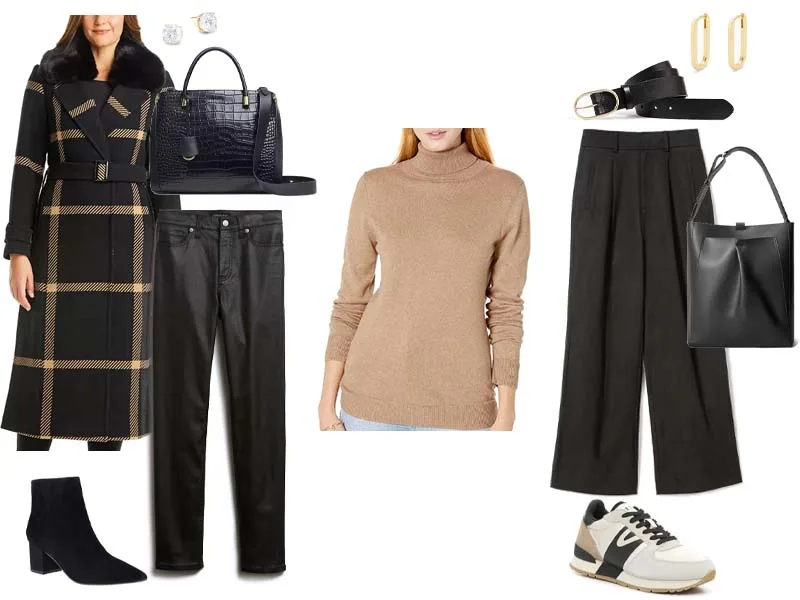 Slim Coated Jeans, $48 | Block Heeled Booties, $139 | Plaid Coat, on sale $200 | Faux Croc Tote, $179 | Stud Earrings, $75 | Outfit Two: Drape Pants, $118 | Sneakers, $70 | Leather Belt, $24.50 | Huggies, $50 | Leather Bag, $225
For our first formula, we're using the turtleneck as the bridge piece, because everything else is fabulous.
Grab your coated jeans, we've featured several over the last few months, most recently this pair from our Banana Republic Factory round up.
You have a nice size range here, in a 00 – 20, in regular, petite and tall. If you are between regular and tall, go for the tall. These can skim your ankles, but you don't want them higher than that.
I don't always need tall sizes but wanted a longer leg to wear with boots.
Speaking of boots, this block heel pair, in black suede, from Marc Fisher is wonderful. These will sit under your hem and give a nice long line to your leg.
Plus the suede paired with the coated jeans adds interest without having to add a lot of layers.
But more is more sometimes so I added a layer with this STUNNING, plaid coat from Vince Camuto, on sale for $200 (from $450).
I love a coat, wear it properly or rest it on your shoulders. Either way, this coat just makes you look like you have your life together.
And what's nice is that, because we're playing with textures, your look is finished even when you take off the coat.
To finish the outfit, carry a structured power bag, something in with a croco finish and some shine. I was happy to find this under $200 bag on sale at Macy's. But carry what you have.
Finally, a sparkly oversized stud, because why not. I'm giving this pair from Saks a try, they are under $100 and have a wow factor.
For our second formula, we're going a little trendy and casuals.
I get a ton of questions about the rising popularity of pleat front trousers.
And all I can say is, you have to try them on to see if you like them or not because every style fits differently.
I've tried a dozen pairs, and, so far, I only like this pair from Everlane. But keep in mind, I'm 5'10, so my natural height comes in handy here.
Look for a pair that is wide leg but not oversized. These shouldn't look like palazzo pants, they should be more tailored.
For a similar look, with a flat front, try The Perfect Pant in a wide leg from Spanx, available in XS – 3X in regular, petite and tall.
Then, I paired them with neutral color block sneakers. I found these Tretorns at DSW for $70 and they are so chic.
Don't like the sneaker look? Swap them for a pair of menswear-inspired loafers.
The look needed a belt to pull it together, so I added this fantastic, inexpensive belt from J.Crew Factory.
And then we used some unique accessoreis, like these cool modern hoops for $50 and this stunning leather bag, also from Everlane, with a front detail that mimics the pleating of the trouser.
You asked and we answered!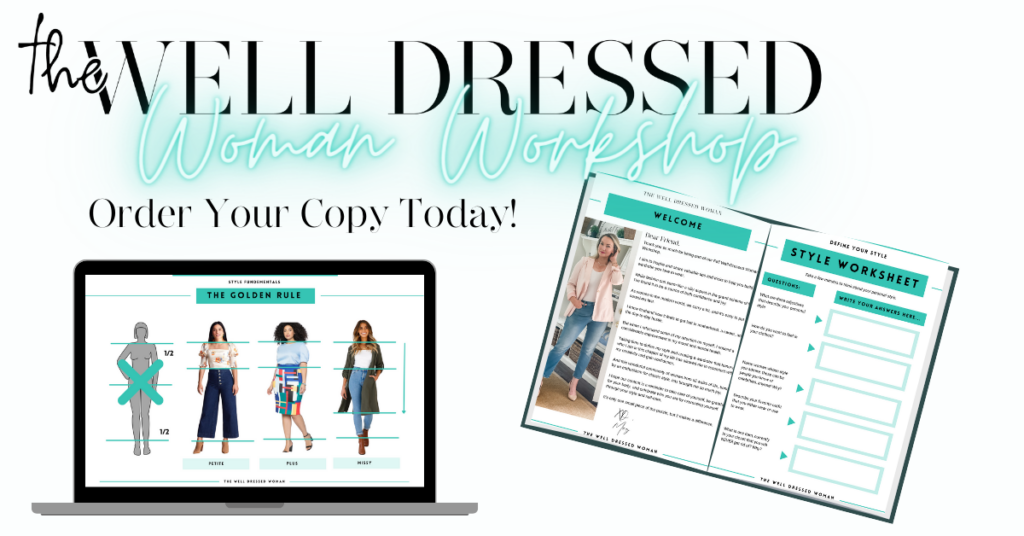 If you missed our LIVE Well Dressed Woman Workshop for Fall 2022, you can now purchase the recording and eWorkbook!
\
52 Outfits in 2022!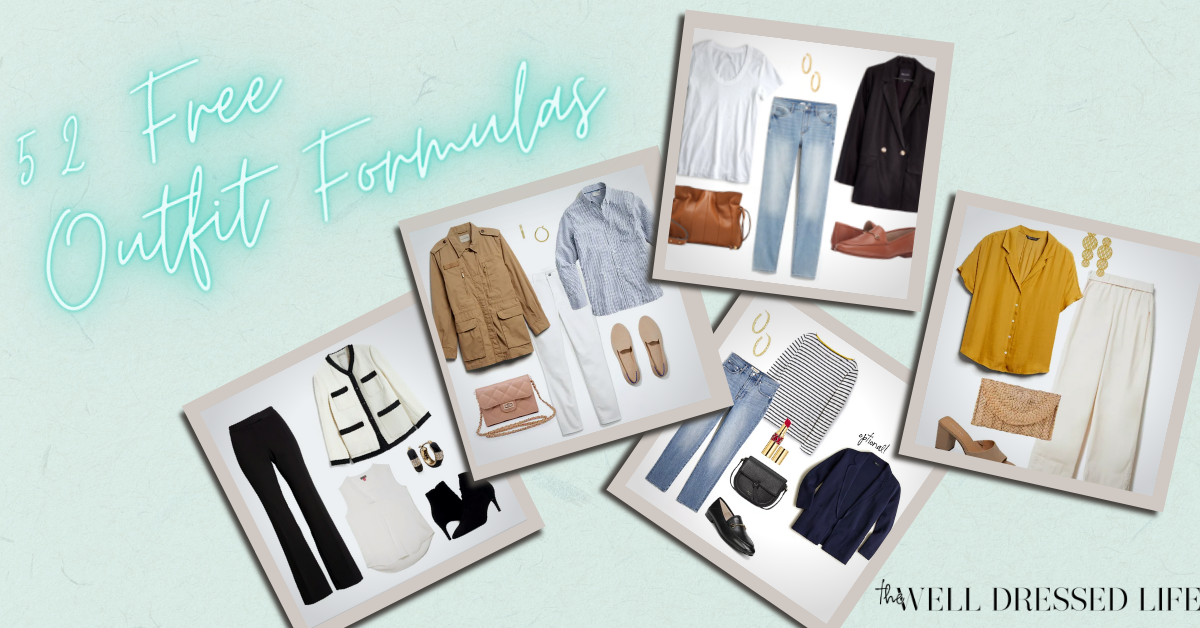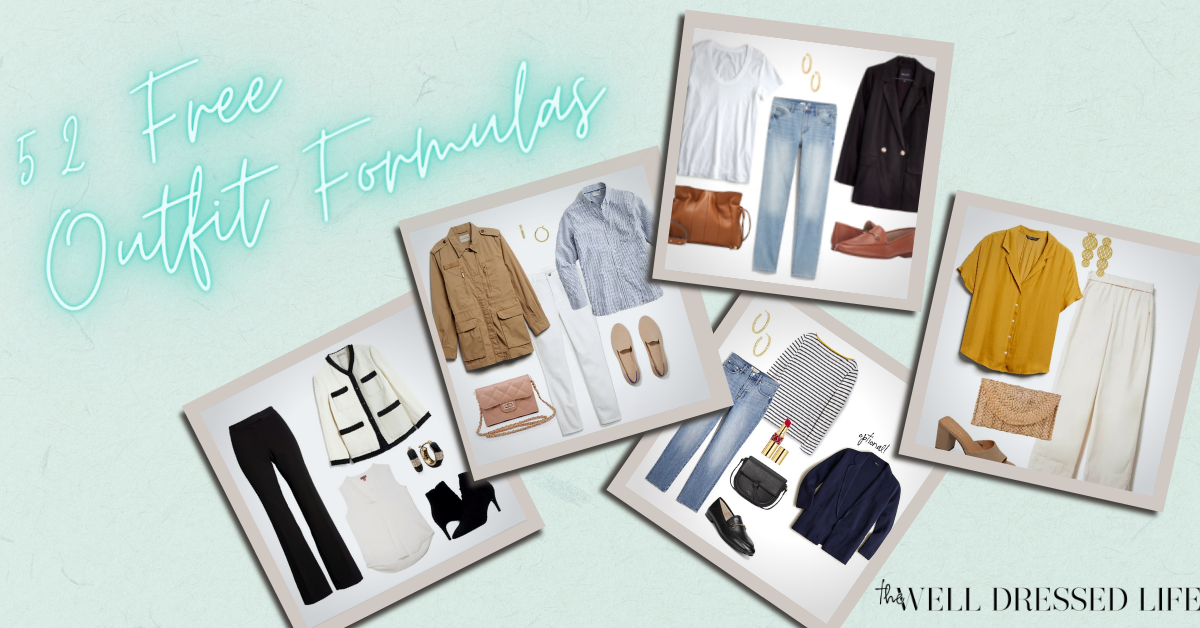 Follow Us on Instagram!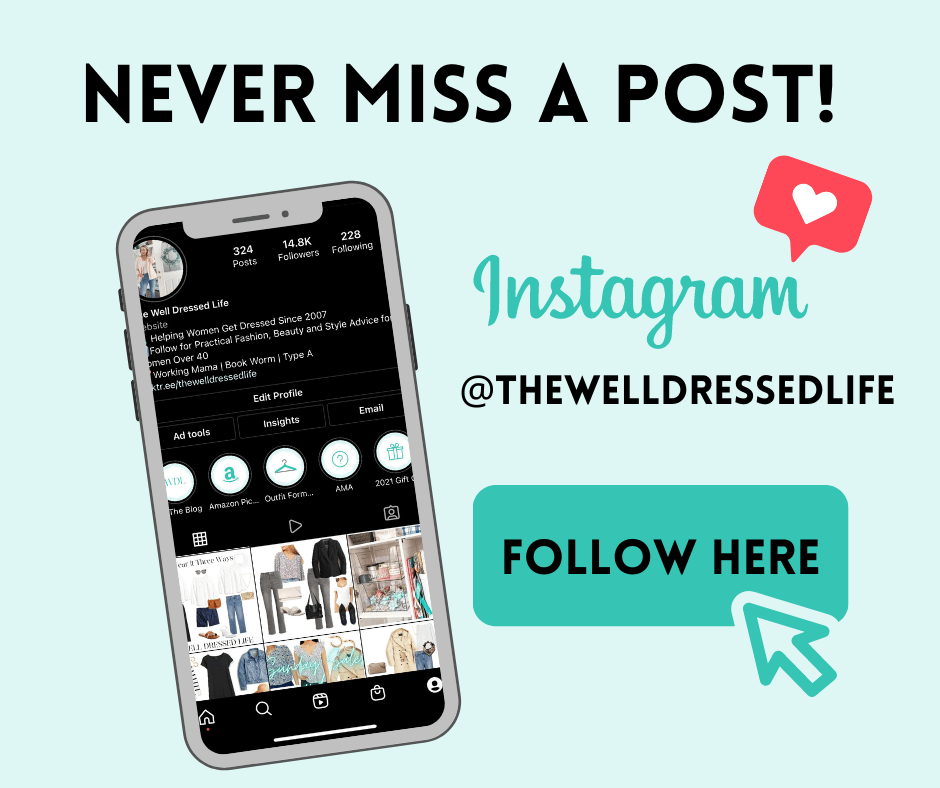 Our Style Content is Inspired by Our Readers
Our readership inspires all of our posts and is not sponsored or paid for by brands or retailers.
Recommendations are based on my experience as a personal stylist and wardrobe consultant for over a decade. I worked with busy, down-to-earth women who wanted to look chic and feel confident but were often confused by so much of retail.
Some links are affiliate links, which means if you purchase via our site, we receive a small commission.

If you enjoy our content and would like to help us grow, please follow on Instagram and join our Private Facebook Group to access more advice and exclusive in-depth conversations with other like-minded women.
Learn about our mission to help women look and feel their very best, every day, here.
Sign Up for Daily Content and Receive Our Free Classic Wardrobe Checklist