It's Thursday, so that means another outfit formula!
In these posts I highlight a key wardrobe piece, and then show you the "formula" to wear it.
You can take these formulas literally and buy direct from the post, or, use them as inspiration and plug in your own pieces.
Today's Key Piece is an ivory (or cream or white) turtleneck sweater.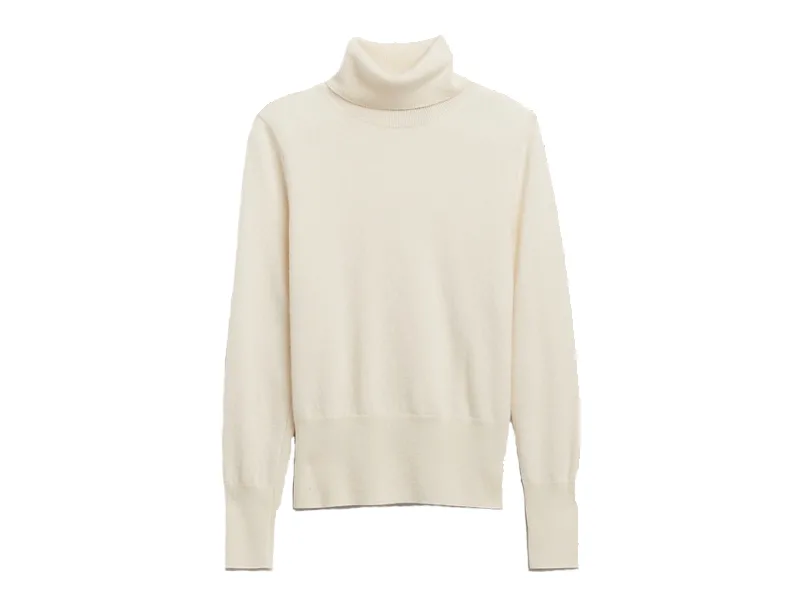 Ivory Cashmere Sweater, $140
I'm working with this Ivory Cashmere Sweater from Banana Republic for this post. I am a HUGE fan of BR, especially for better basics.
Available sizes XXS – XXL. It's fitted to the body but not skin tight, and the detail at the neck, sleeve, and hem provides some subtle texture.
I spent entirely too much time looking for other options to offer.
This is the best one, with the best size range. However, we'll update these posts over time. Even places like Talbots, which usually have these kind of basics in petite and plus sizes are super limited (see here).
When looking for this particular piece, you don't want it to be too heavy or chunky, and you don't want it see-through, obviously.
The BR option is a 9/10; I'm taking a point away for not having specific petite and plus sizes, but other than that it's a real winner.
Below is the Basic Formula to focus on:
And here it is brought to life:
Ivory Turtleneck Outfit Formula: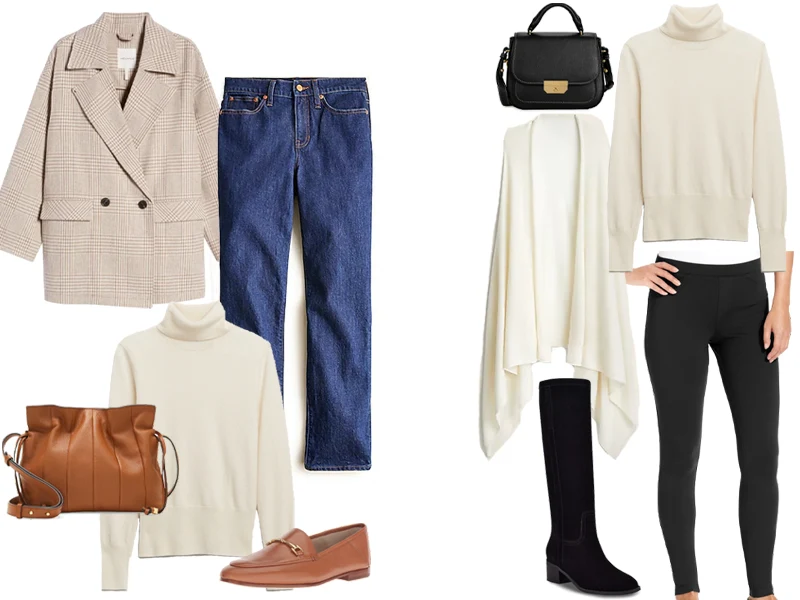 Before we dive in, a couple of things to note.
First, you'll notice I repeat items from previous posts. That is very much intentional.
I want you to use what you have, so know that if you buy something featured on this site, you'll see it appear in other outfit combinations.
The best feedback I hear from readers is when they tell me their wardrobes are becoming more intentional after following our advice. That is the BEST!
That's how you get value out of your purchase.
Second, I searched high and low for a skirt option for this look but could not find anything worth sharing. If you have a skirt you love, you can use it as a bottom. For example, a slightly fitted turtleneck paired with a pencil or bias cut skirt is lovely.
Stay tuned for that in a future formula.
Finally, I did two inspiration outfits to highlight the turtleneck's versatility and the different shaped layers you can incorporate.
Boxy Jacket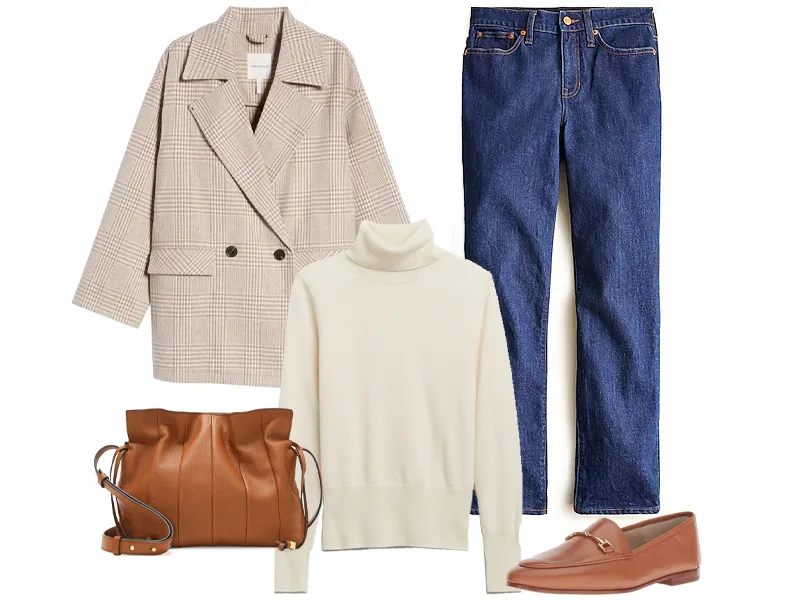 High Rise Classic '90s Classic Straight Jean, $138 |Double Breasted Swing Coat, $149 | Leather Crossbody Bag, $178 Loafers, $120
Our first look is with slim jeans. These are the High Rise Classic '90s Classic Straight Jean from J.Crew. Available in regular, petite, and tall in sizes 23 – 32. Plus-size? Opt for the Marylin Straight Leg by NYDJ.
If you want to wear one of your skinny jeans, that's fine too.
You just want the bottoms to be slim because you add volume with the top layer.
And for the top layer, I'm using this Double Breasted Swing Coat. It's one of those pieces that can be the jacket in your outfit or outerwear.
So if you live in a mild climate, you'll likely get a lot of use out of this. I'm picking it up for early spring when here on the east coast and you still need a jacket but don't need to be bundled up.
This would also be super chic just draped over your shoulder.
If you picked up the boyfriend blazer in last week's formula, you can also wear it here.
Also from last week's formula are the shoes and bag.
I'm crazy about the color of the bag, and the gold stud detail on the straps. Same for the loafers. They are fantastic if the clunky soled shoes you see everywhere aren't your style. They work really well with the plaid in the swing coat.
Finally, I would wear a gold earring, like these modern drops on sale for $40. (not shown).
Monochromatic Wrap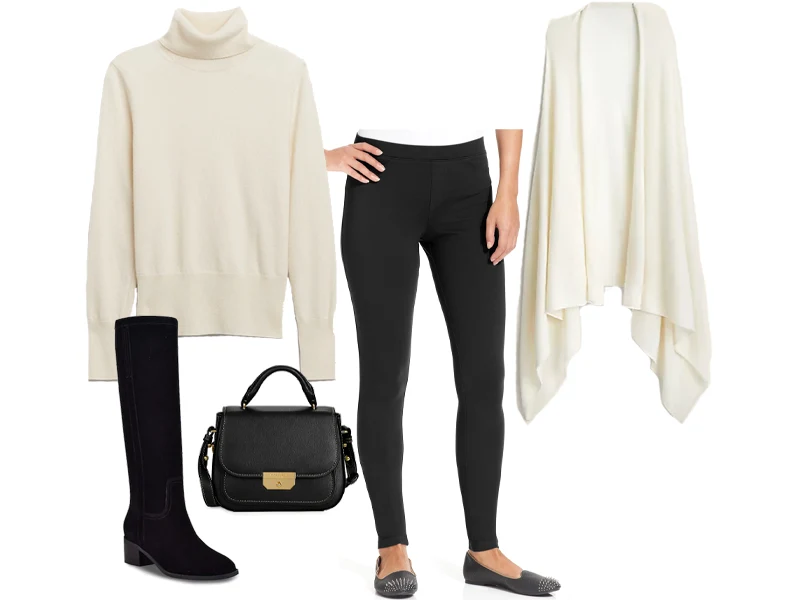 Cashmere Wrap, $198 | Ponte Leggings, $44 | Knee-High Boots, Top Handle Bag, $230
Another way to interpret the formula is with a softer layer, like this cashmere poncho/wrap. Finding one in a similar color and tone creates an exquisite look.
I paired it here with Ponte leggings. These are from HUE (in XS-XL), or maybe you have the pair from Old Navy we frequently featured last year that sold out.
Go with Ponte fabric because it's made of a double knit and is thicker than a basic black legging.
Or, for a little more edge, wear your faux leather leggings.
Then, these knee-high suede boots with a block heel will elongate your leg and add texture. Of course, you could also wear a flat knee-high boot.
I found this top handle bag Marc Jacobs bag on sale at OFF Fifth for 40% off. I love the slim profile and long crossbody strap.
Finally, the Penelope Stud buy Julie Vos ($75) would be gorgeous in this look!