One of my most favorite, always-in-rotation tops, is my Breton. I wear it so often, I have multiples, so when one is in the wash, I still have an option.
You can wear these a million ways, (I featured it here with light chinos) but today, I'm going to share one no fail outfit formula that always works.
Key Piece: The Breton Top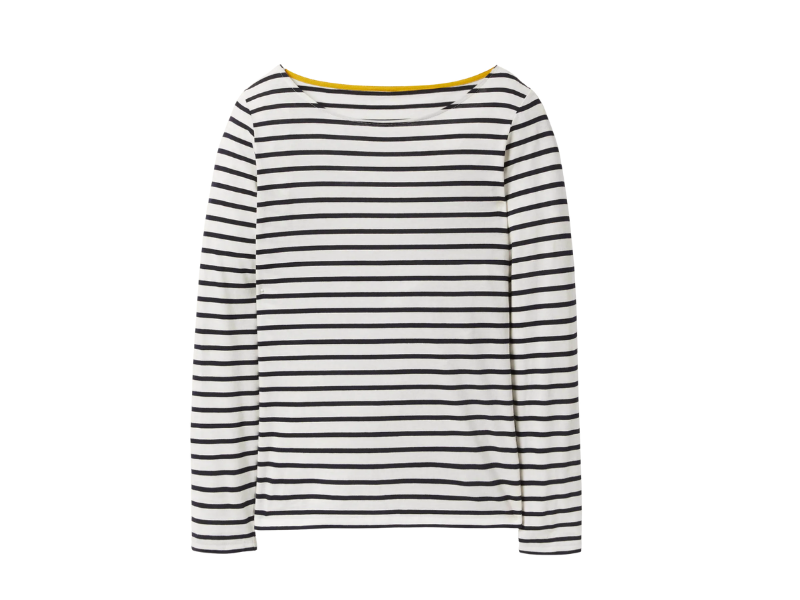 Breton Top, $40
First, let's talk about the top itself.
A traditional Breton has a boat-style neckline, and features horizontal stripes. You can pick these up in different color combinations, but I recommend an ivory/navy or ivory/black – or both 😉
Boden makes the best. It's only $40 (some run well into the $100's – don't spend that on this) and is available in sizes 2 -22.
And please keep in mind, not every piece we feature in our outfit formulas is going to work for every body type. I'm giving options for everyone. If you have a very full bust, you might not feel comfortable a boat-neck and stripe. So skip this as an option.
Below is a Basic Formula to focus on:

An outfit formula is designed for you to "plug and play." The components of each formula are broad enough so you have flexibility using the pieces you already have.
Again, this is one of several easy ways to wear a Breton, it just happens to be my favorite.
Here it is brought to life:
Breton Top Outfit Formula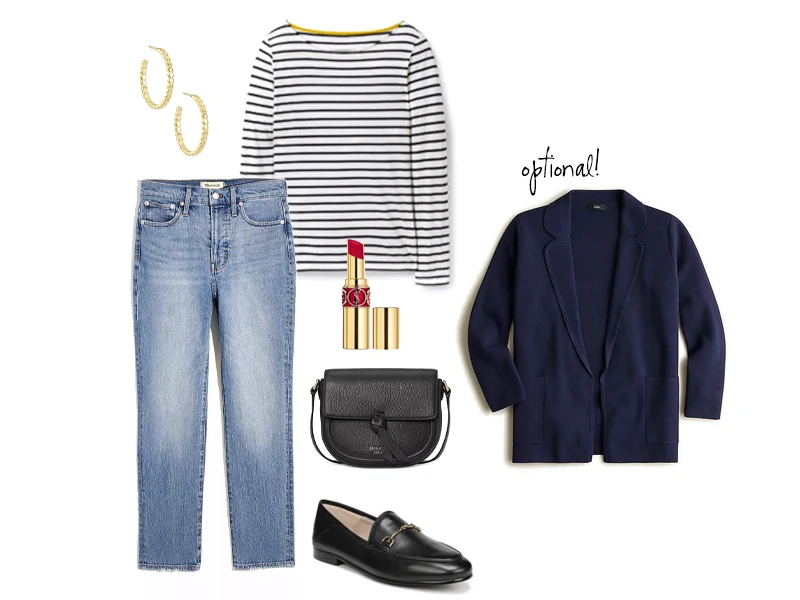 Top, $40 | Jeans, $138 | Loafers, $130 | Bag, $278 | Sweater Blazer, $158 | Earrings, $140 | Lipstick, $39
This formula mixes American and Parisian style.
We're pairing the Breton with a classic 5- pocket, high waisted jean. I'm using a true straight leg to give it a modern look. Madewell makes great jeans, especially ones with more of a relaxed, casual style.
You can pick them up in regular, plus, petite and tall.
For the shoes, I'm using black menswear-inspired loafers. I wanted something that looked like a traditional Gucci loafer, without the price. I like these by Sam Edelman at Macy's. I don't love the look of a chunky, heavy shoe, so these are a great find since it has a slim profile.
I also wanted an elegant, fashion-focused crossbody. Think less sporty, more designer, like a Chloe.
And this black Kate Spade Saddle bag is beautiful, with knot detail and pebbled leather. I appreciate the subtle logo instead of something in your face.
Next, accessories are essential in this to elevate the outfit. I'm using glistening gold hoops by Kendra Scott (also, I love that they don't look like Kendra Scott.) And a red lip which I consider an accessory. Adding a glamorous accent to a casual outfit is what makes it interesting.
Finally, add your outfit finisher or a layer depending on the weather.
This navy sweater blazer has been a reader favorite for a long time. It's casual yet polished and is incredibly versatile in your wardrobe.