A basic tan chino, also known as a khaki, can be one of the most underwhelming items in a wardrobe. For the longest time, they did nothing for me, so I never considered recommending them.
But I realized, when styled well, these pants that can lean utilitarian, can actually be an alternative to jeans.
So for today's How to Wear it, I pulled the High-Waisted Chino Pants I featured on Monday, and created three outfit ideas you can recreate, that are polished, not frumpy.
And before we go any further, the image below is from Old Navy's website and I hate everything about it. The shoes, with the cuff hem of the pants is a disaster and the floral blouse looks dull and tired.
But the pants as a stand alone have potential.
Consider this a how not to wear it, lol.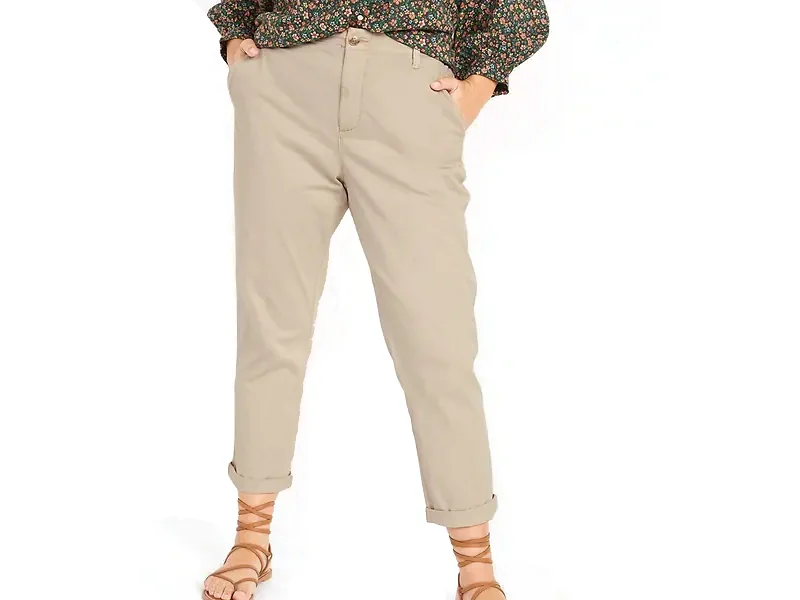 I mean, seriously, what is with the sandals?
So, let's style some outfits. As always, pieces will look familiar, and I'll work with items you have that are still available, so you have dozens of ways to wear your purchases.
How to Wear Tan Chinos and Not Look Frumpy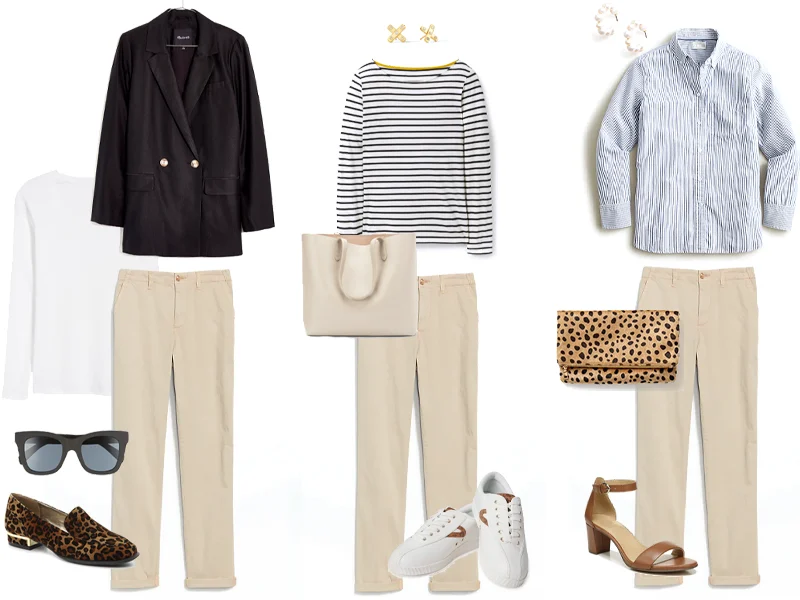 Already, you can see the difference.
First, take these boring and basic bottoms and make sure they fit well.
Often, they look frumpy and pull down your entire look because they are baggy. You want your waistband and seat to fit comfortably and the leg to be tailored.
For length, since these are what I would consider transition pants, meaning you'll wear them into the spring, summer and early fall, have them hit at your or around your ankle.
Classic Black Blazer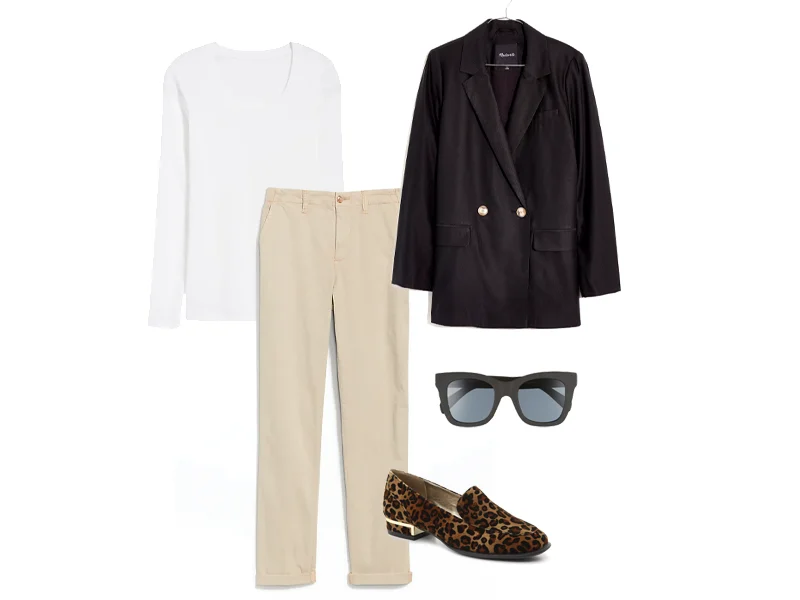 Double-Breasted Blazer, $158 |Leopard Loafer, $50 | Scoop Neck Tee, $25 | Sunglasses, $55
Let's start with a boyfriend blazer. I'm using the Madewell Double-Breasted Blazer, a key item in our Outfit Formula Series.
Related: 52 Outfit Formulas for a Timeless Classic Wardrobe
You'll throw this over a simple white, long sleeve tee. I like this scoop neck option from Nordstrom; the neckline is a lovely compliment for the cut of the blazer.
Available in XXS – XXL.
Inspired by pictures of Princess Diana in the '90s, I used our Reader Favorite Leopard Loafer to play off the menswear lines while keeping the overall vibe feminine.
And over the course, if we're embracing royal 90's style, a pair of oversized sunglasses. Quay is an Australian brand that makes affordable and on-trend sunnies.
Casual Breton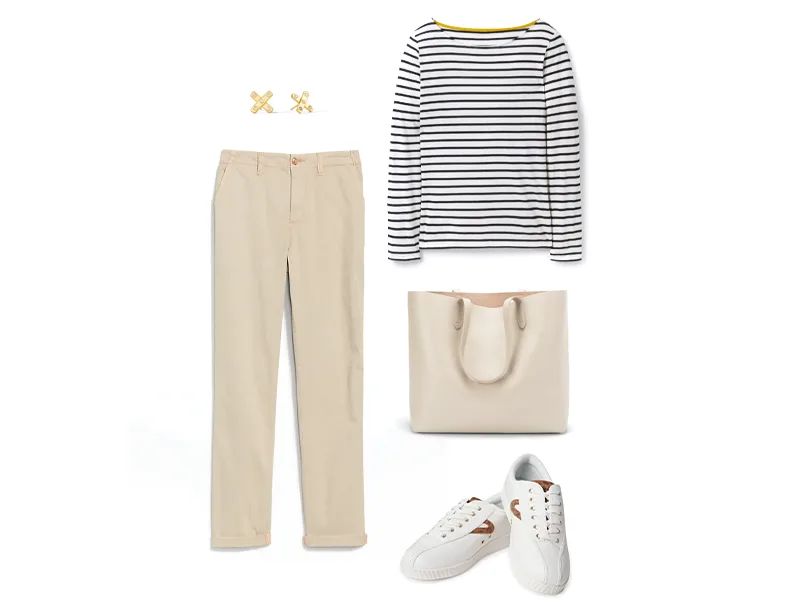 Breton Top, $40 | Sneakers, $85 | Leather Tote, $225 | X Stud, $85
For an adorable casual look, take your Boden Breton Top, and a pair of low-top white sneakers.
We feature so many sneaker options over the course of a month, so certainly wear what you already have.
I wish I didn't land on these $85 sneakers with a subtle leopard accent, (from Tuckernuck) because now I want them and I do not need another pair of sneakers.
For errand running, I added a gorgeous, light leather tote by Cuyana and one of my favorite pairs of earrings by Julie Vos.
Polished and Preppy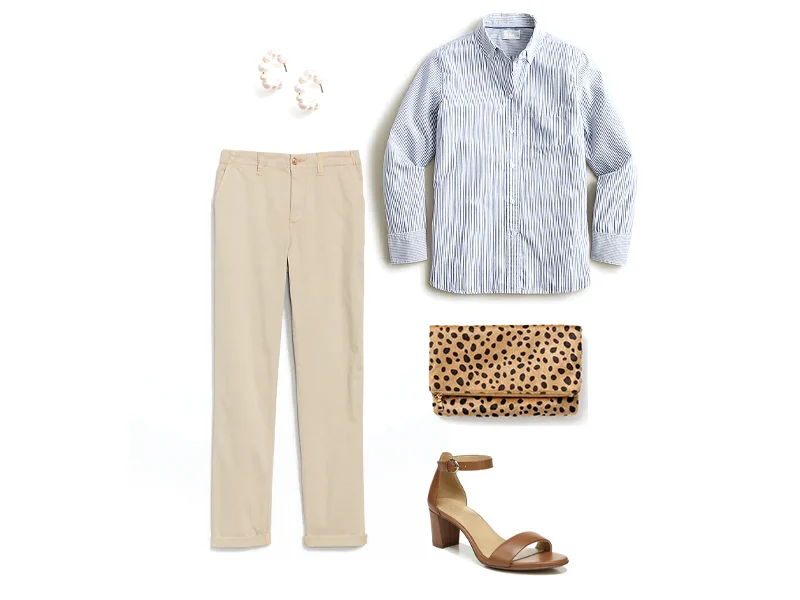 Pinstripe Shirt, $70.50 | Leopard Clutch, $48 | Ankle Strap Sandal, $109 |Mini Pearl Hoop Earrings, $48
Finally, grab the J.Crew blue strip button-down or any slim-cut collar shirt. Just nothing oversized, and give yourself a half-tuck.
Here, I paired it with more feminine accessories to create contrast like this popular leopard clutch from Tuckernuck, these adorable mini pearl earrings, and a comfortable ankle strap sandal with a manageable block heel.
There you have it! Three easy, simple, cute, and no frump.:)