For today's Outfit Formula, we're going back to basics with a classic, tailored camel-colored blazer.
Before you ask, if camel isn't your color, don't wear it.
Opt instead for navy, or black and recreate the look below.
But today I'm talking specifically about camel and how, as a color, it works as a gorgeous neutral.
Key Piece: The J.Crew Regent Blazer in Wool Flannel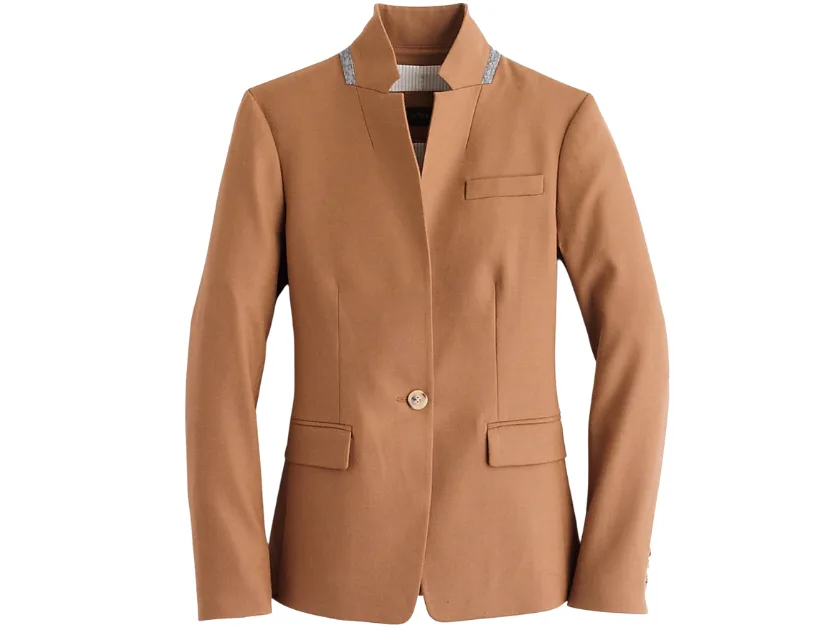 The J.Crew Regent Blazer in Wool Flannel favorite wardrobe staple blazer.
And when I say "our," I'm speaking of our community. This is a best-selling, reader favorite, must-have if blazers are a key piece in your wardrobe.
Available at J.Crew in regular, petite, and tall in 00 – 24.
It has one button, clean lines, and a traditional lapel.
This specific shade of camel is rich and saturated, so it pairs beautifully with so many other neutral colors. Of course, it's elegant with black, but it also works with white, khaki, navy, dark grey, and shade of blue denim.
As a color, if you can't wear camel against your face, consider it in other areas. I love a camel shoe, bag, and belt combination.
How to Wear it Two Ways
For this piece, we're sharing two formulas, one for the office, and one that's a little more dressed down. Both you can manipulate to make your own.
Let's dive in …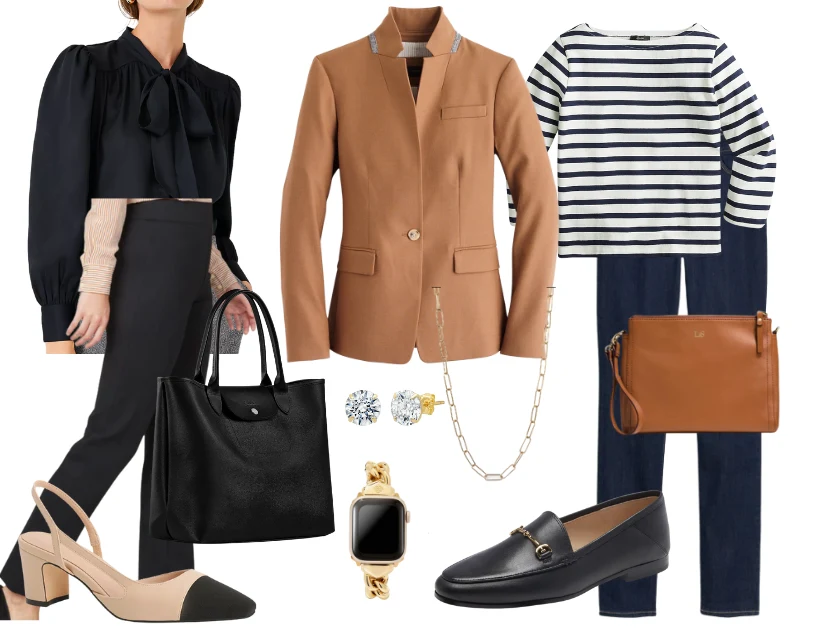 Key Piece: J.Crew Blazer, $248
Let's start on the left, with a work-appropriate look that is so easy to pull together.
Start with your favorite pair of black pants. Above are The Perfect Slim pants from Spanx.
Our friend Karen in our Facebook Group recently mentioned how much she loves them, so I thought I would share them again here.
Available in regular, petite and tall up to a 3X.
Then, we're creating a column of color but pairing the bottoms with a black top. You can use any kind of top, like a tank, a tee or a thin sweater.
Here, I'm using this bow top blouse from Ann Taylor, that's on sale for 50% off, making it $30. In XS – XL with a petite option.
For shoes, I JUST received these two tone slingback from Amazon, they are a nice shoe, especially for the price.
To get your things to and from the office, this beautiful tote from Longchamp.
I'm going to show my age here, but I can't even explain the absolute chokehold this brand had on me as a teenager. I really thought if you carried this bag, you were the epitome of chic.
So it's fun to see them come back around and gain a whole new following.
To make it casual, it's really simple.
Start with a cotton tee. Above we're using the popular stripe boatneck, also by J.Crew, in a navy stripe.
I'm using this here for two reasons.
First, it's on our best sellers list, and I want you to have as many was to wear it as possible.
Second, I'm hoping this is a helpful visual to show you how the blazer can complement the stripes. So if you are broad or busty and you don't love how a stripe looks on your body, you can add a layer, like a blazer, to cut that horizontal line.
Then, grab a pair of dark wash jeans in your favorite cut.
We're using the popular slim straight pair from Old Navy.
Mark the date and time, I'm telling you, skinny jeans are not out, in fact, you're going to start hearing influencers and style forecasters change their tune about them. They are as classic a straight or bootleg. Just remember, I've never told you to give up your skinnies 😉
With your jeans, you can absolutely wear sneakers, any low profile in white, white with navy or neutral, like this pair from J.Crew we featured earlier this week, currently on sale for $65.
But here, I'm using these Sam Edelman Loafers. I wear these regularly, and I think I should reshare them every time I put them on.
Because they give you that menswear-inspired vibe, but they are slim and sleek, not at all bulky, so I like how they work with a slim lined leg.
For a bag, we're working with the Lo&Sons Pearl Crossbody again.
I have this in tan (above) and black; either works well here; I just wanted to show that your shoe and bag don't have to match.
What will tie both looks together is the hardware. For example, if your loafers have a gold tone detail, work that into the other accessories.
Here, I have a few great options that make a capsule you can use in daily looks.
I am starting with the Mejuri chain necklace that is under $200.
I also recently discovered these oversized studs on Amazon. They are substantial and not inexpensive (at least for Amazon jewelry) but they are a lovely stand in until I can one day, after I pay three rounds of college tuition, can maybe afford the real thing.
And then, I've had a lot of requests for an Apple watch bands that look like jewelry. I found this awesome option from Kendra Scott, available in gold, silver or rose-tone