We are seeing pull on knit skirts gain popularity this season.
If you are looking to add some variety in your wardrobe, perhaps feeling like you are always in jeans, or need alternative to shorts, this style might be for you.
So let's dive into our 43! Outfit Formula and break down two outfits you can recreate or use as inspiration with lots of tips and recommendations mixed in.
Outfit Formula #43: The Pull On Skirt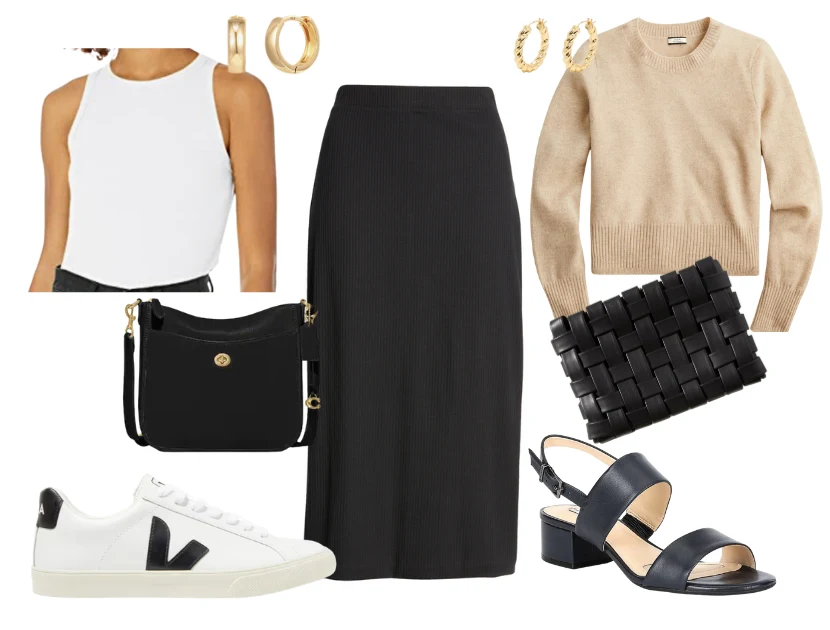 Our key piece is the ribbed knit skirt from Treasure and Bond available at Nordstrom.
Available in XXS – XL for $49. This is selling out quickly.
But I have you covered.
Another option is this one from Amazon's The Drop collection, with a side slit in sizes up to 5X for under $40. This will be a bit more form fitting.
A more expensive option is this one by Rails, for $148 in sizes XXS- XL.
And finally if you want to a lighter fabric, this crepe option from Eileen Fisher is lovely, with petite and plus options, in a fabric you can easily hem.
Now let's make two easy outfits, both perfect examples of how you can make a super casual look chic and elegant.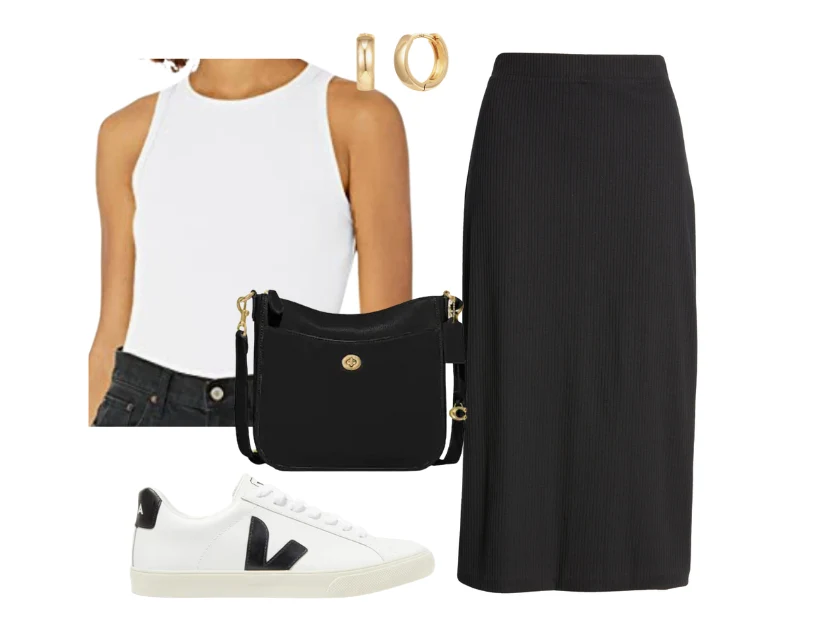 First, grab your Racerback Rib Knit Tank Top from The Drop.
We all have this top, it's fantastic and super flattering on.
Available in a range of colors, also in sizes XXS – 5X.
I would keep this simple, but you could add a denim or twill casual jacket, or throw on a chambray or gauzy shirt and tie it at the bottom for a lightweight third layer.
Then I used the black and white Veja sneakers, which have been selling out everywhere.
The best inventory right now is at Neiman Marcus and I do check on these regularly since they are on many of your wish lists.
And then, super simple, yet chic accessories including one of our favorite pair of hoops from Amazon for under $25 and this classic everyday black bag from Coach.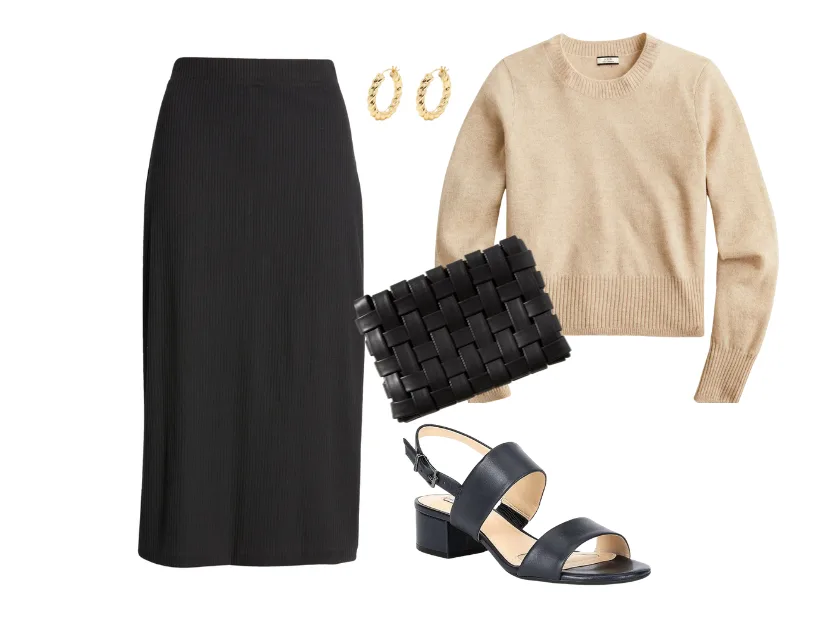 For the second look, I using this cropped cashmere crewneck from J.Crew.
Here's the deal, don't scroll past something that says "cropped" anymore because it doesn't always mean teeny tiny.
Rather, it usually hits at your natural waist and is ideal if you'd like your tops to hit a bit shorter and aren't interested in tucking.
In this look the skirt will still sit under the sweater, but the length of the sweater is perfect, creating a lovely proportion, be sure to scrunch up your sleeves.
We went with the neutral tan, but use any color you like, available in XXS – 3X.
For shoes, we're going dressier than a sneaker but still casual with a block heel sandal.
I'm featuring this option from Dillards because (1) gets rave reviews for fit and comfort, (2) it has a full size range, (3) it's priced under $50 and (4) it has a much requested ankle strap instead of a block heel slide on sandal.
Then, elevated gold hoops with a twist detail from Gorjana (priced at $50) and this chic woven clutch that converts to a crossbody from Anthropologie – featured in our Anthro piece here.