We're highlighting the midi skirt for today's outfit formula as our key piece.
But before we get into this week's inspiration, let's answer a common question I get, which is: Why are midi-skirts okay, but Capris are not?
It's a great question.
Why a Midi Skirt is Better Than Capris
First, it should go without saying that, obviously, you can wear whatever you like.
I'm not trying to be the fashion police. Readers come to this site for fashion advice, so I'm simply answering questions and providing solutions.
I breakdown why I'm not too fond of capris here, but the gist is that capris are constructed in an unflattering way.
Technically speaking, capris cut your leg off at the worst possible spot. I once read someone describe capris as making you "look like you are standing in a ditch."
By cutting the leg line at this spot, you visually stunt your height, which is why they tend to look frumpy.
But that's not the only factor.
It's also how they fit in the rear and the way the fabric hugs and bunches on the leg.
With a midi-length skirt or dress, you benefit from its silhouette. The skirt falls away from the body, providing movement and a lovely drape. Two elements that contribute to a chic outfit.
The other benefit is that the length varies. So whenever I talk about midi length, I recommend hemming it your best length.
That could be just below your knee, which is nice if you don't love your knees but still want a shorter skirt.
Like the alternatives we offer for capris, such as ankle or cropped pants, all we want to do is avoid that one spot on our leg that shortens us and gives a clean, graceful finish to the pants.
So a midi-length skirt or dress is a fabulous alternative to a capri, or shorts, and adds nice variety to your warm weather wardrobe.
Now let's break down our formula.
Outfit Formula #21: The Midi Skirt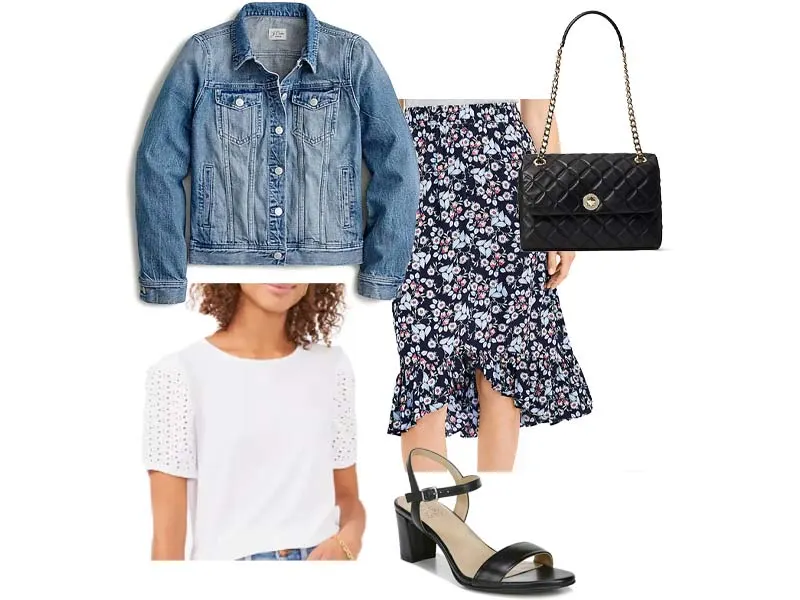 Midi Skirt, $40 | Eyelet Top, $59 | Heeled Sandal, $70 | Denim Jacket, $118 | Shoulder Bag, $149
First, the skirt.
I'm using this one from LOFT for a few reasons.
First, it has a high/low hem, which I think is the BEST option for a midi length. It gives a wink to your knee so it helps keep your leg long.
Second, it's available in missy and petite. If you wear petite, this is the kind of skirt I would make sure you buy in a specifically petite size. You still may want to hem it, but the overall fit will feel better.
Today the skirt is marked down to $39 and you can take an ADDITIONAL 60% off with the code SUMMER. That makes the skirt about $16.
Next, we've talked a lot recently about what I call "better than a tee shirt tee shirt." If you have this gauze top from J.Crew, you could wear it here.
Fort this look, I'm using the Vince Camuto eyelet sleeve tee. This is a nice alternative if you don't like to wear sleeveless but want to stay cool. (More on this in tomorrow's post).
Then, if you need a layer, throw on your denim jacket.
This next tip is important, especially if you are petite. For this look the layer you wear should hit at your hip bone. Otherwise it will overwhelm you and make the skirt feel longer than it is.
Finally, a great bag and shoe.
This look is better with a heel. If you are tall, or if the skirt is hemmed right below the knee, you can pull off a sneaker.
But, generally, a little lift is nice.
I'm using a black pair of block heel sandals.
The sandals above are from comfort-brand Naturalizer, for just under $70 at DSW.
For the bag, this black quilted handbag from Kate Spade on a HUGE mark down from $479 to $149.
And remember, these formulas are designed to provide weekly inspiration. We recommend items based on what we know our readership is looking for, so you can scoop them up if you have a void in your wardrobe.
But if you already have a similar item, use that!
See all of our outfit formulas here.
52 Outfits in 2022!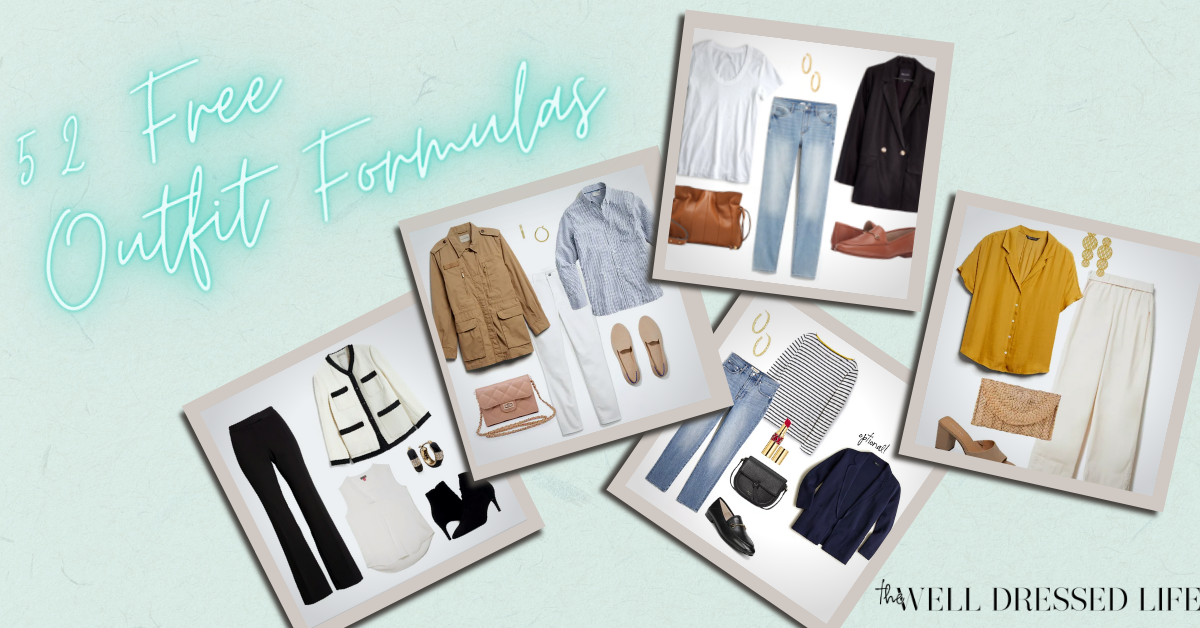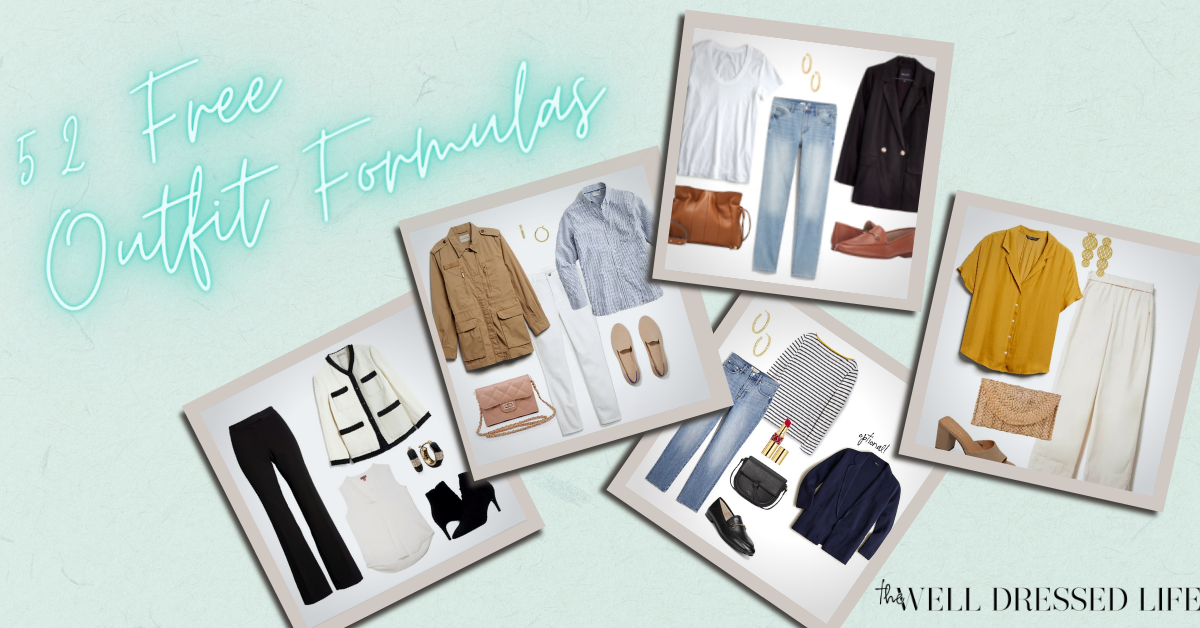 Follow Us on Instagram!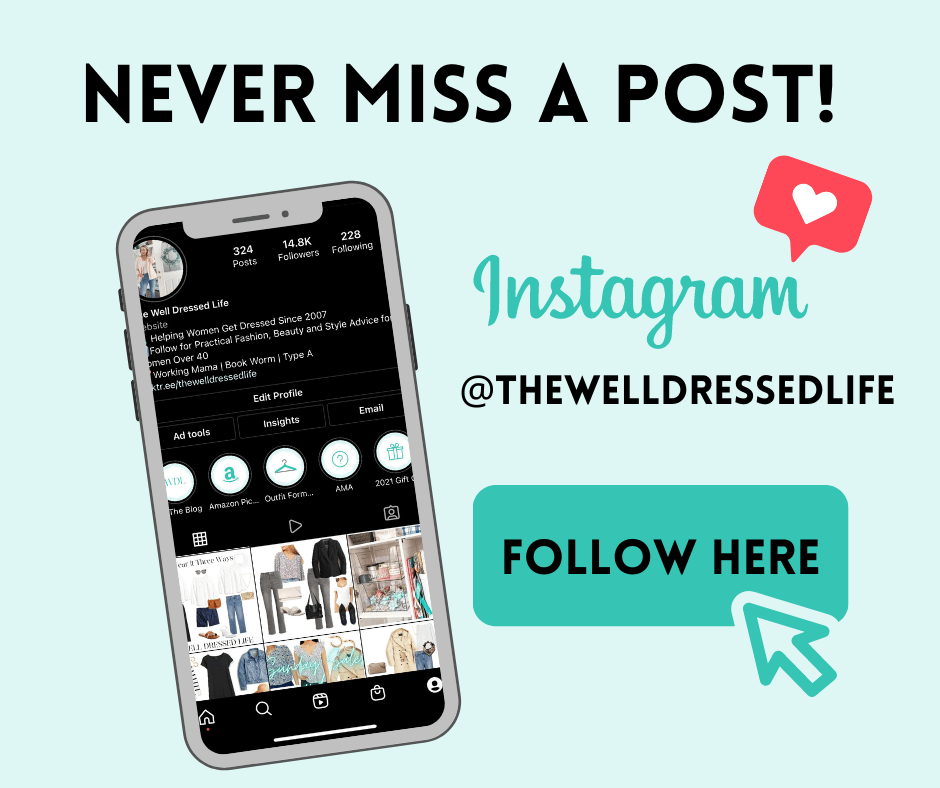 Our Style Content is Inspired by Our Readers
Our readership inspires all of our posts and is not sponsored or paid for by brands or retailers.
Recommendations are based on my experience as a personal stylist and wardrobe consultant for over a decade. I worked with busy, down-to-earth women who wanted to look chic and feel confident but were often confused by so much of retail.
Some links are affiliate links, which means if you purchase via our site, we receive a small commission.

If you enjoy our content and would like to help us grow, please follow on Instagram and join our Private Facebook Group to access more advice and exclusive in-depth conversations with other like-minded women.
Learn about our mission to help women look and feel their very best, every day, here.
Sign Up for Daily Content and Receive Our Free Classic Wardrobe Checklist