Finding an affordable, high-quality pencil skirt isn't easy. Often they are too short and tight-fitting. Or they are a perfect fit but over-priced.
But a Ponte skirt, like our featured skirt from Boden, in a comfortable stretch-knit, can be dressed up or down, and it is under $100 in all sizes.
Like some of our other Outfit Formula posts, I'll expand on as the seasons change. Because it's a classic basic, there are so many ways to wear it.
My inner-nerd is delighted by this formula because it shows how you can start to think about all the ways you can style something to get true versatility. Which, to me, is when you can create completely different looks with a few pieces.
Remember, a good rule of thumb is to be able to wear your better basics three different ways.
As we build out our 52 Outfit Formulas, you'll notice that pieces repeat themselves – because that's the point! You don't want a closet full of one-off purchases.
So, for example, a shoe you pick up one week will float throughout many of these outfits to give you ways to wear that as well.
Key Piece: Classic Pencil Skirt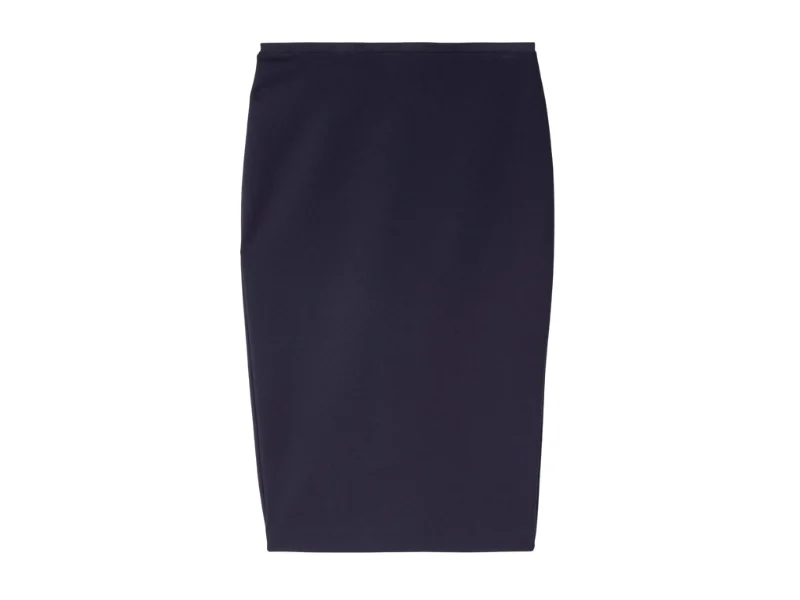 Ponte Pencil Skirt, $85
The kind of skirt you wear is important.
As much as I recommend breaking up "sets," in this case, if you have a few skirts that were part of a suit, don't wear them. You'll end up looking like you're wearing a skirt from an old suit.
I like this one from Boden, available in navy and black, in sizes 2 – 20/22 also in petite sizes.
I'm happy to see skirts come back into our everyday wardrobes. When the pandemic started in 2020, skirts were the first category I saw fall off our shopping radar.
Then, styles changed, and all of those terrible Little House on the Praire skirts and dresses hit the racks, along with mini skirts I wouldn't be able to bend over in.
They're still out there, they are still terrible, but a least we also see the return of the slim, knee-length skirt.
Below is a Basic Formula to focus on:

As I mentioned, there are dozens of ways to wear a pencil skirt.
This formula works off a "column" of color, and then gives two looks with a simple change of accessories.
Here it is brought to life:
Pencil Skirt Formula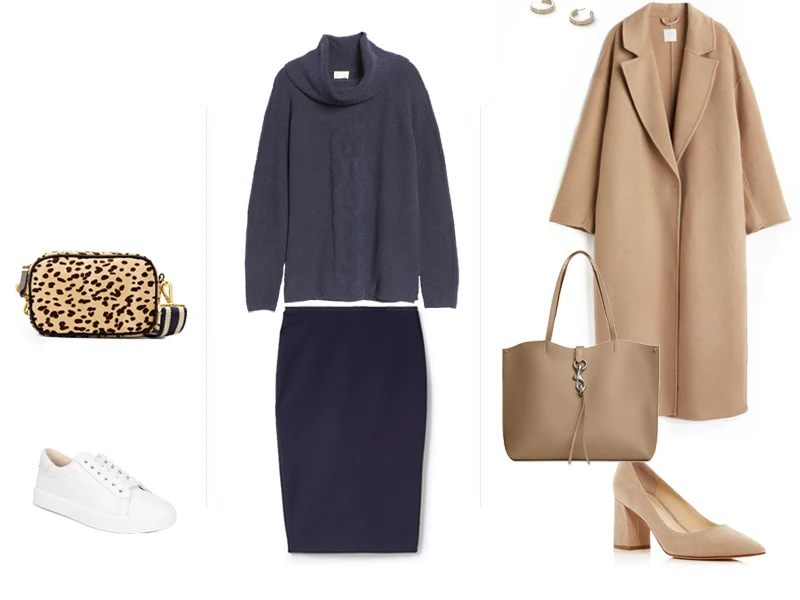 Skirt, $85| Sweater, $69 | Sneaker, $99 | Crossbody Bag, $75 | Wool Coat, $250 | Block Heel Pump, $160 | Tote, $198
The base of this look is a slouchy monochromatic sweater. I'm using a cotton-blend sweater, from Caslon at Nordstrom. Available in XXS – XXL.
Since the skirt is fitted, we're playing with proportion and using a slightly oversized knit that we'll half tuck into the waistband.
So cute.
You'll get two completely different looks by changing out the shoe and bag and adding a coat.
Weekend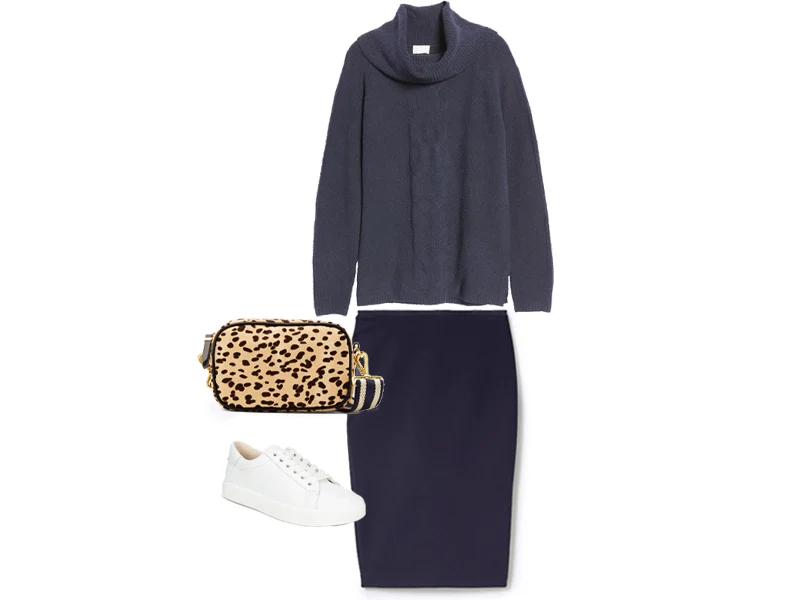 Skirt, $85| Sweater, $69 | Sneaker, $99 | Crossbody Bag, $75
This outfit is so simple yet on-trend and modern.
Grab a crisp white sneaker – and of course, the kind of sneaker matters.
Because of the length of the skirt, you need to wear a low-top sneaker. This will help elongate your leg. And it needs to be an "outfit" sneaker, not a gym sneaker. 😉
I'm using this pair from Sam Edelman just under $100. I like the shape and ease of them.
Then all you'll want is a sporty bag. Many of you grabbed this crossbody from Boden earlier this week. It's leopard print with a navy stripe strap, so it works perfectly here.
That's it! Add your everyday jewelry and your set. So easy!
Work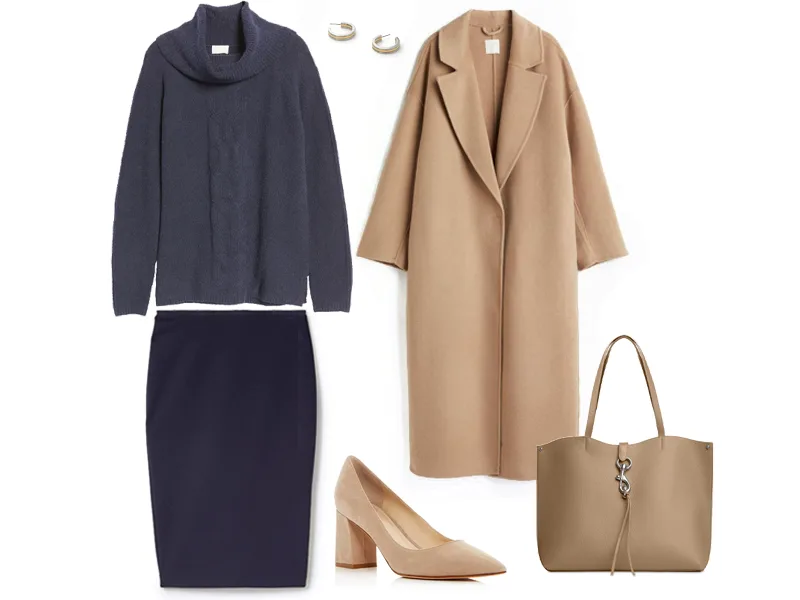 Wool Coat, $250 | Block Heel Pump, $160 | Tote, $198 Skirt, $85| Sweater, $69 | Earrings, $45
I haven't worked in or visited an office in over two years, and I have no intention of returning.
But, now and then, I do miss dressing up for work and pretending to be Miranda Priestly. You can't deny how amazing it is to feel powerful in your clothes.
Yoga pants just don't give the same vibe.
So, if I was heading to an office, this is a look I would love to wear.
We're using the same column, same half-tuck, and throwing on a neutral tan overcoat. I would celebrate it and drape it over my shoulders just to be extra.
I'm using a tan wool-blend coat from H&M, also available in this gorgeous rusted orange. I'm have several H&M coats and am a big fan. Their quality is impressive and they fit true to size.
These suede Marc Fisher block heels have popped up in our Formula's before. They have a pointed toe that elongates your legs in a skirt, with a block heel that gives some extra balance and comfort.
Then, I used this sleek tote by Rebecca Minkoff, that is just under $200.
And finally, these small mixed metal hoops from Ann Taylor.