Maybe it's because I'm in Florida this week, but when this sleeveless chambray shift dress showed up in my feed, I knew I needed to feature it in our weekly outfit formula.
So let's do that!
A lightweight dress, in this case, a shift dress with a collar, is a beautiful warm weather option, especially if shorts aren't your thing.
You can dress it down or up a little, and it can float around in your wardrobe, waiting for a warm day.
If you are lucky enough to already live in the warm weather, or if you are anxiously awaiting the first hot day of the summer, having this in your closet ready to go, is a no-brainer.
The Chambray Shift Dress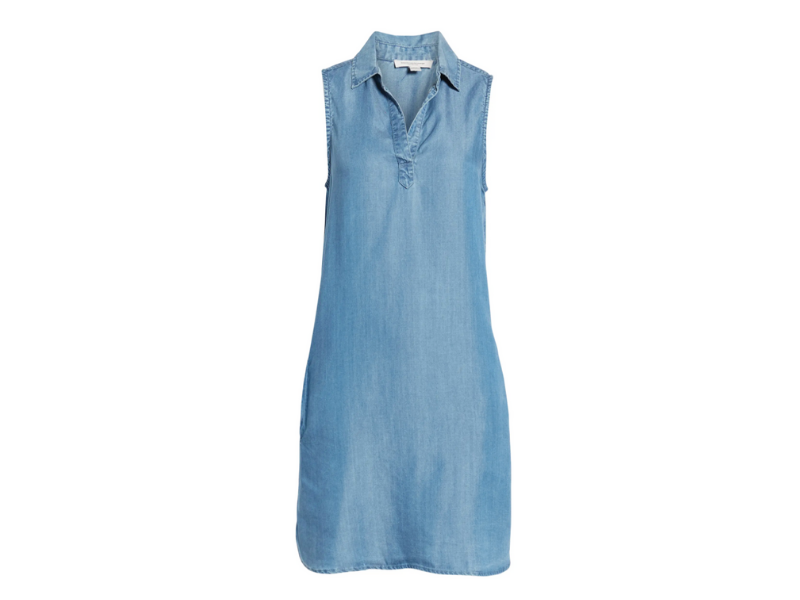 Chambray Shift Dress, $69
Chambray looks like denim but feels like cotton, and is lightweight.
This option, from Nordstrom is just under $70, and is cut like a golf dress, so you have a collar and a bit of room in the body for comfort.
Available in sizes XS – XL(16) it's a bit limited in sizes. But, if you need it shorter, a hem is an easy alteration.
Below is the Basic Formula to focus on:

And here it is brought to life two ways: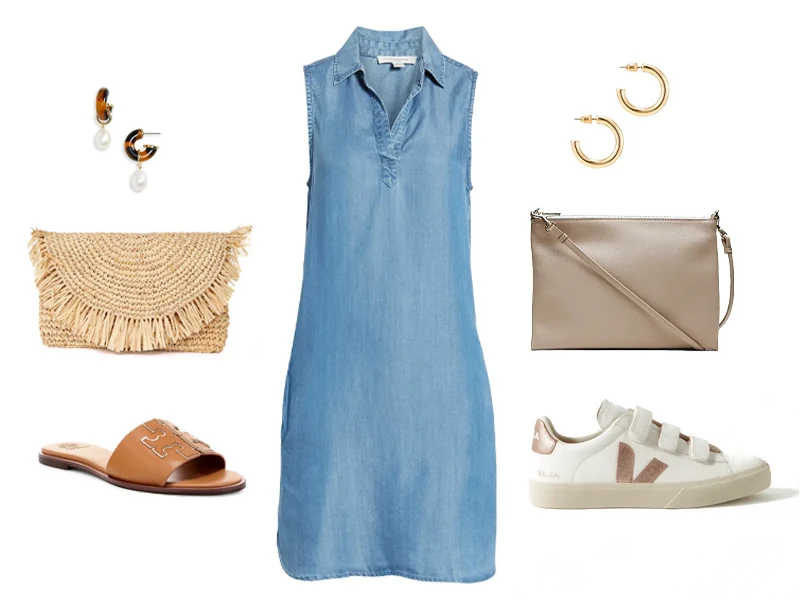 Leather Slides, $228 | Metallic Leather Sneakers, $110 | Woven Clutch, $39 | Leather Crossbody, $68 | Pearl Drop Huggies, $95 | Chunky Hoops, $14
This formula could not be easier, and you likely have many of the pieces already in your closet.
It's also a great example of how certain items have a specific style. Meaning, this dress is casual so you want to pair it with other items in the same category.
This is important to understand because creating outfits on your own means understanding how to mix and match the right pieces.
Casual Chic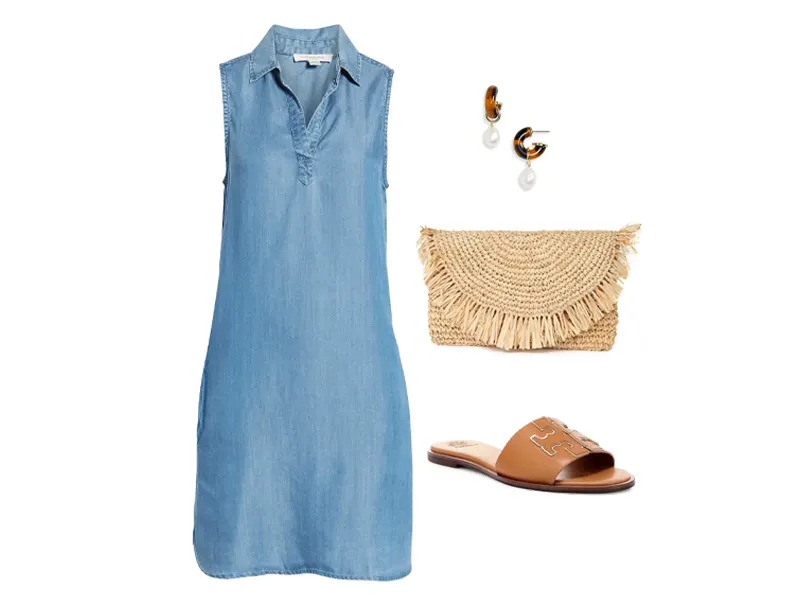 Leather Slides, $228 | Woven Clutch, $39 | Pearl Drop Huggies, $95
You know I like to repeat items so you get the most life out of your purchases as possible. Today, I'm using the Tory Burch Leather Slides.
These were on a special flash sale a few weeks ago and became our top seller of the month. Unfortunately, they are back to regular price and are limited in sizes, but they are a lovely choice if you have them.
A lower priced option that works just as well are these slides by San Edelman, I like the color "saddle" for $99. Other colors are available too.
Them, for texture, this fun woven clutch, only $40 at Lulus. It's so fun for summer.
For earrings I wanted to add something with a tortoise finish and thought these hoops with a fresh water pearl drop were beautiful.
Sporty Chic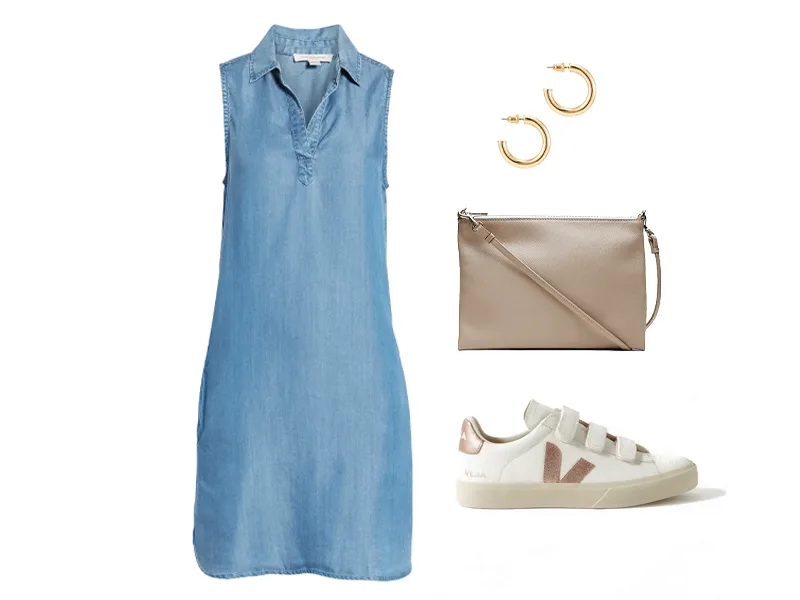 Metallic Leather Sneakers, $110 | Leather Crossbody, $68 | | Chunky Hoops, $14
Swap out the flat sandals for sneakers to make this sporty for a day of errands and running around. I love these from Veja with their hint of metallic detail.
Then, a leather crossbody that plays the color in the sneakers. This one is from the Banana Republic, and it's an additional 40% off at check out.
Finally, I've been seeing these chunky gold-tone hoops all over TikTok so I ordered them, and they are a fun addition to your costume jewelry. You have a few choices for size, I went with the smallest at 20 Millimeters. And they come in gold, silver or rose gold with a sterling post so I haven't had any issues with irritation.