The Trapeze Dress is one of the most universally flattering shapes you can wear.
It's cut narrow at the top and falls into an a-line skirt that typically hits slightly above your knee.
It's a classic silhouette gaining popularity and a welcomed alternative to the maxi dress that's dominated the rack for the last few seasons.
I appreciate how it falls away from the body and looks elegant, whether you are full or small busted, broad or narrowed shoulders, and tall or short.
On Sunday we shared this trapeze dress from Banana Republic Factory, available in regular, tall and petite in XXS – XXL, in black, blue and the print below called preppy navy.
I immediately ordered the print. It will be lovely for summer nights when I want to wear something easy but chic.
They are calling it a "mini" dress, but it's not. You can see it on the model who is at least 5'10.
If you are under 5'6 you may want to hem this to hit an inch or two above your knee.
And I wasn't alone, I woke up Monday morning to this being the day's best seller.
So I thought it would make a perfect key piece for an outfit formula.
You can use this exact dress, or any trapeze dress you come across.
Outfit Formula: The Trapeze Dress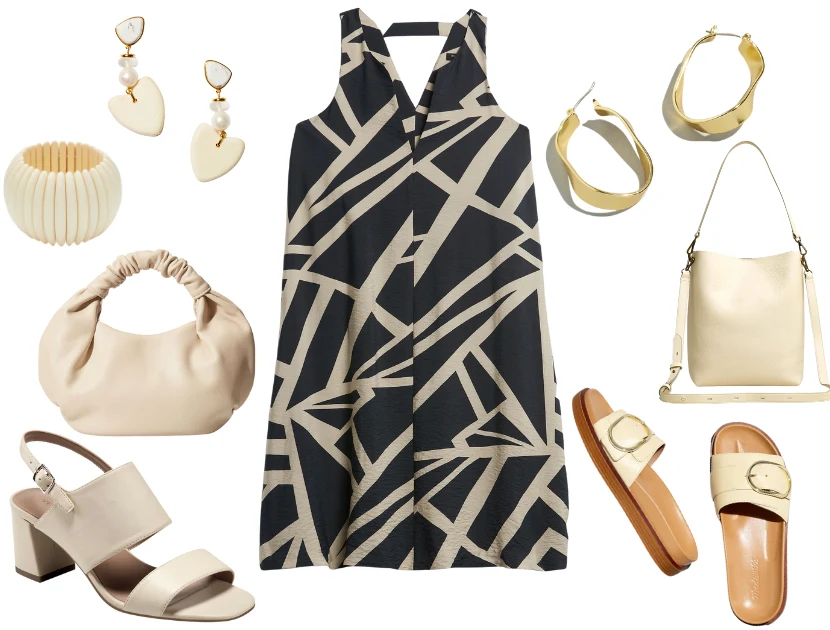 Each of these looks are really simple.
That's the beauty of this dress, it doesn't need much to be finished.
As always, look through your closet first to see what you have before you shop.
With a Heel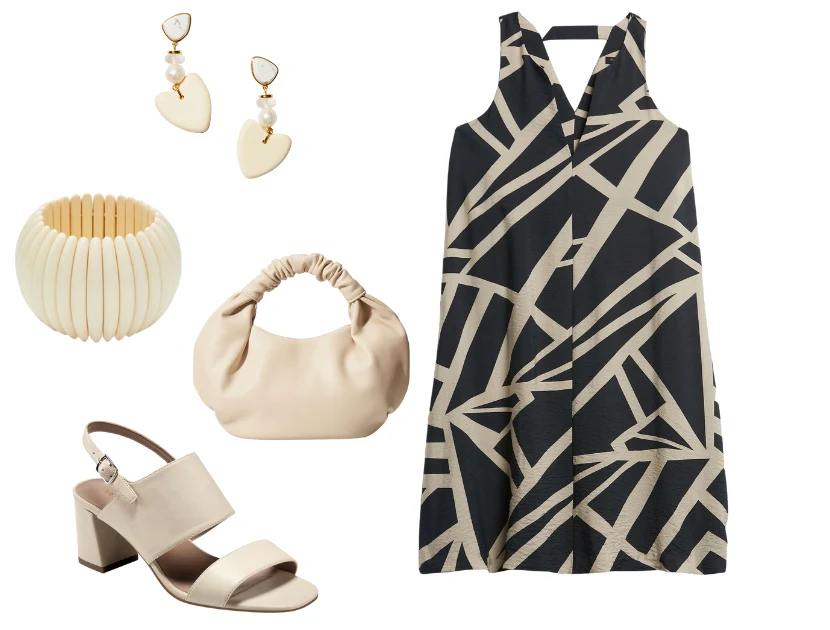 We're starting with a familiar heel.
We featured these Aerosoles Emmex Sandals with a block heel several times this spring. They are available at DSW for $99 in colors black, cognac and ivory.
The ivory works perfectly with the pattern and the block heel helps balance out the shape of the dress and the accessories.
Once I landed on the shoe I wanted to carry the color throughout.
We included this affordable bone-colored bag from Amazon's The Drop for under $40.
And I wanted the jewelry in both looks to feel organic.
These earrings from Tuckernuck are $58 and HUGE so keep that in mind. This style is out of my style comfort zone, but is growing on me.
So go for it if you can pull them off. (Note, the chunky heel helps balance the size of the earrings.)
I also included this fun cuff bracelet from Kenneth Jay Lane at Off Fifth. Off Fifth online is a fantastic resource for designer accessories and jewelry at better prices.
With a Flat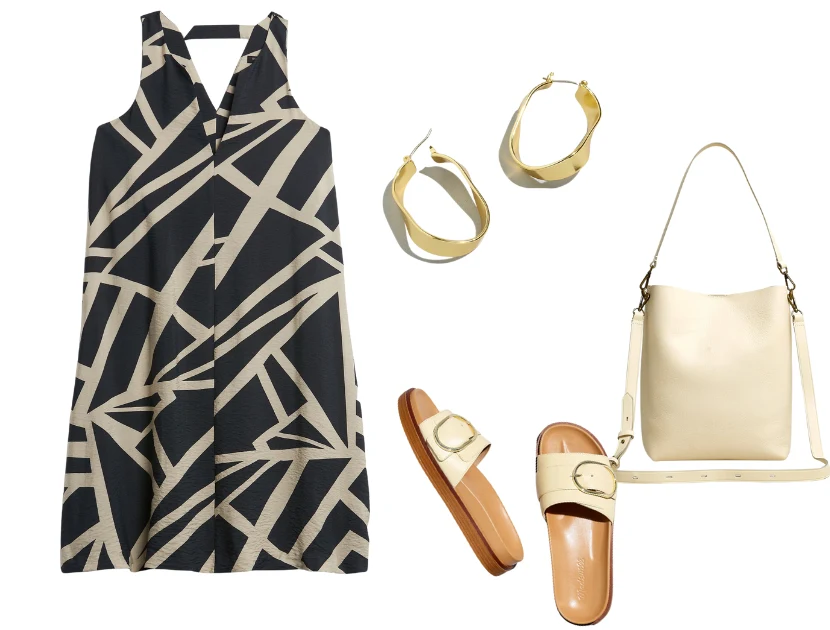 For a casual look, wear a flat.
I was going to show this with a sneaker, but, as much as I love a dress/sneaker combo, it doesn't work here.
Instead, I went with a sporty slide.
All of these accessories just happen to be from Madewell – it wasn't intentional.
The slides look like a Birkenstock but are more polished. LOVE them.
Then, I got it in my headed that this look needed a bucket bag.
I thought it would be cute for an afternoon out, getting lunch, going shopping, etc.
And Madewell's Transport Tote compliments with the dress and the shoe.
Finally, I added these gold tone hoops (also available e in silver )for only $34.